Investment Thesis
With an undervalued stock, a critically-acclaimed drug leading in its space and a barrage of financial and expertise-based backing, Sangamo Therapeutics (NASDAQ:SGMO) is the ideal vehicle for exposure to a market with high growth potential and a hedge against the antiquated methods (CRISPR/Cas9) of treating hemophilia. The same method has also been found to work to a high degree of accuracy on other genetic disorders.
Notable Achievements
Sangamo Therapeutics' accomplishments to date have helped to draw integrity to its operations and raise its profile against common competitors in the space (QURE, GSK, ONCE, BMRN, BLUE, BIVV (a pure-play hemophilia company). Principally, Sangamo has secured an exclusivity agreement (and subsequent vote of confidence) from Pfizer (NYSE:PFE) (also once a competitor) regarding the development and commercialization of gene therapy programs for hemophilia A (SB-525), which affects 85% of hemophilia sufferers (Nelson Pediatrics), bagging $70 million upfront and a potential $475 million in milestones and royalties (Reuters). (The Zinc Finger Protein Nuclease technology method adopted is targeted at diseases which are caused by genetic defects, as their removal is known to respond best to gene editing targeting, in particular, tauopathies, thalassemias, hemophilia, and HIV/AIDS).
Financial Confidence
The company's strong balance sheet was further bolstered by a raise of circa $78.1 million through public offering at a price of $7.25 per share, with a revised analyst share price target estimates from Jefferies LLC of $17 per share (jefferies.com), as a "financial investment hedge against emerging gene-editing technology of CRISPR," the CRISPR/Cas9 system, has seen less successful testing, coupled with scientific criticism for its reported high incidence of nonspecific DNA cleavage, mosaicism (failure to replicate mutant alleles in only some of the cells) and inversely, and overproduction of mutations in a given organism.
SGMO's latest 10-Q (SEC.gov):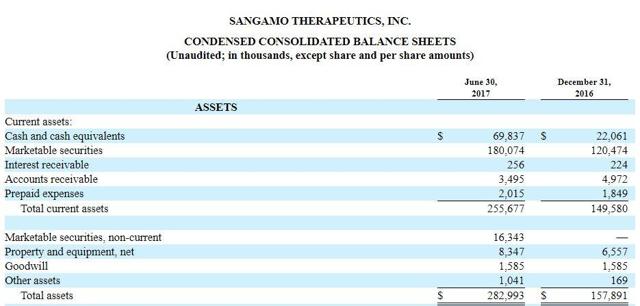 In the context of gene therapy, Sangamo ($707.16 million market cap) (capitaliq.com) was the only firm with innovative gene therapy drugs to advance in two clinical trials (namely the SB-728-T program in the Sangamo ZFP Therapeutic Pipeline targeting HIV/AIDS), and the first to conduct genome editing studies in clinical trials, as covered in the Financial Times. The stock's performance has been volatile, and investors were disinclined to back the drug lottery in gene therapy as biotech became heavily saturated in players, regulations and setbacks, stunting the prospect of any tangible advancement.
The Apex
Sangamo has jumped on the "radar" to become a buy. The FDA has authorized Fast Track designation, the scientific backing is legitimate (and has received industry-wide appraisal), the longer-term targets look plausible and Sangamo's management and consultants are capable of executing given their credentials and two decades of development.
By all measures of valuation, Sangamo is undervalued, and price-action enthusiasts will recognize the surge in trading volumes and the breaking of the 50-day moving average. Early riders would have capitalized on the short-term price depression triggered by the publicizing of the mucopolysaccharidosis Type I (MPS I) and MPS II delay, an overreaction from the market that posed a great value opportunity at the beginning of this month, whose benefits were felt just last week when the stock surged on the impressive FIH results.
Secondary Ideas
Gene therapy (and emicizumab) renders recombinant factor VIII/IX proteins redundant. This a slice of the industry that is represented by $8-10 billion annually (with 90%+ profit margins) shared by Shire (NASDAQ:SHPG), Bayer (OTCPK:BAYRY), Novo Nordisk (NYSE:NVO), Pfizer and Bioverativ (NASDAQ:BIVV), an overvalued stock whose current operations consist entirely of the moribund method of treating hemophilia - a potential sell. It recently acquired True North and thus entering into cold agglutinin disease market, a result of severe hemolytic anemia.
Sangamo now has the backing and leeway to make its drugs commercially viable, magnetizing further interest - 48 institutions have increased their respective positions in SGMO, with Wasatch and BlackRock leading the pack. The smart money and medical experts are backing Sangamo.
Bold tickers indicate potential buys should this thesis play out as predicted.
This is not investment advice, you are advised to carry out your own due diligence.
Disclosure: I/we have no positions in any stocks mentioned, and no plans to initiate any positions within the next 72 hours.
I wrote this article myself, and it expresses my own opinions. I am not receiving compensation for it (other than from Seeking Alpha). I have no business relationship with any company whose stock is mentioned in this article.