The Bitcoin segwit2x team officially announced that the proposed network capacity expansion for Bitcoin blockchain will happen in the month of November 2017. The whole exercise is done to increase the block size from the current 1MB to 2MB, which would enhance the computational capacity of the blockchain network. Increase in the non-witness data will be around 2 MB, with the total size no more than 4 MB. This Bitcoin upgrade will happen at Block 494,784. The current block is 476,808.
During the month of November 2017, approximately 90 days after the activation of Segregated Witnesses in the Bitcoin blockchain, a block between 1MB and 2MB in size will be generated by Bitcoin miners in a move to increase network capacity. At this point it is expected that more than 90% of the computational capacity that secures the Bitcoin network will carry on mining on top of this large block.
~ segwit2x.github.io
The upgrade to 2MB blocks has been agreed during the Hong-Kong Bitcoin Roundtable Consensus in 2016, and then ratified by the Bitcoin Scaling Agreement in New York on May 2017. The whole Bitcoin Cash birth story came later when some miners decided to withdraw support to segwit2x proposal.
How November Event to Impact Bitcoin Price
I am expecting Bitcoin to reach $6000 before the upcoming hard fork in November. Below are the reasons I have for you.
Perception Change-Stable Medium of Investment
Bitcoin is getting the tag of a stable investment medium for long term. The August 1st event was a positive booster for hedge fund managers and institutional players to start playing and investing with Bitcoin.
Recently investment firm VanEck filed for staring a Bitcoin based ETF. Bitcoin is already called as "digital gold" and analysts predict that a small percentage of gold's roughly $7.5 trillion market value will flow into bitcoin which would take the price even higher from here.
All popular medias like CNN, Forbes etc are giving excellent coverage to Bitcoin, which bring more investors community to the crypto market. This denotes the growing popularity and acceptance of the whole crypto space and especially Bitcoin.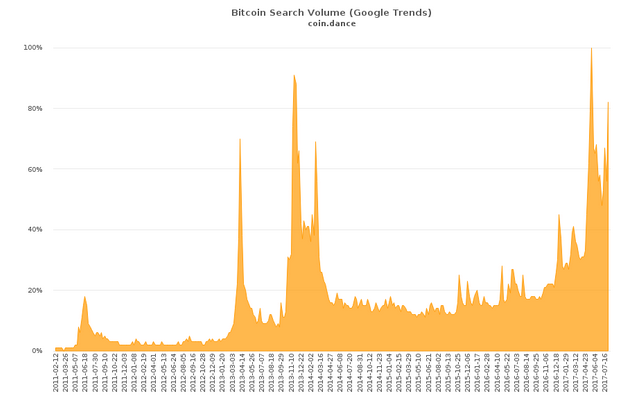 Perception Change-Hard Forks Should Be Welcomed
Whole media had created so much hype around the hard fork event which created some negativity before the event. But later investors realized that this so called "hard forks" are bonus which gives you free money in the form of another crypto currency. Bitcoin cash which trades at $300 is the living example. I presume that investors will be heavily betting on Bitcoin before this November event for the same reason of getting "free coin".
Technical Chart From TradingView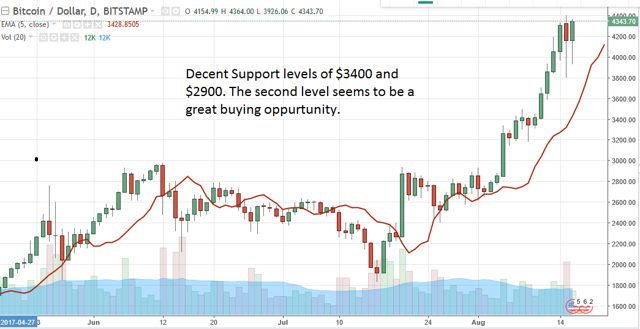 Conclusion
Any correction towards $3400 and $2900 should be used by long term investors to accumulate Bitcoin. Lets see if market gives an opportunity to do so!!.