Why do so many investment managers and mutual fail to beat the S&P 500 index consistently year after year? There are many theories, and I can't say I know the answer. But the reality of underperformance has made index mutual funds and ETFs exceedingly popular investment vehicles over the past couple of decades. After all, If you're willing to accept "the market's return," then it makes sense to simply buy an S&P 500 index fund like the S&P 500 ETF (NYSEARCA:SPY) - or perhaps the Vanguard S&P 500 ETF (NYSEARCA:VOO) (which has an expense ratio of just 0.06%).
But I have a new benchmark that seems as if would be even harder to beat over the longer term. It's essentially the S&P 1500, but without the S&P 500 dragging it down.
Here's a comparison of investing $5,000 each in the S&P MidCap 400 ETF (NYSEARCA:MDY) and the iShares S&P Small Cap 600 ETF (NYSEARCA:IJR) against a $10,000 investment in SPY since July of 2000 (assuming reinvested dividends):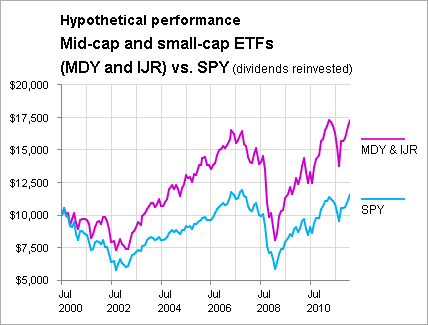 In fact, here's the cumulative profits if each month you'd shorted $20,000 of SPY against $10,000 each in IJR and MDY (accounting for both long dividends paid and short dividends owed):
Yes there was a multi-year period between 2005 and 2009 when that strategy would not have been very productive - and I'm not necessarily suggesting this as a hedge. But it does illustrate that the bottom two thirds of the S&P 1500 represents a fertile ground for gains and not nearly as risky as I had originally thought.
Is there extra risk involved with investing in small- and mid-cap companies? Common sense would say yes, but over the last decade, it wasn't all that risky on a comparative basis.
Virtually all stocks went down during the crash of 2008, but the mid-caps and small-caps would have lost you about the same 50% or so as the large cap stocks - and the smaller companies bounced back quite nicely.
A longer term look
Unfortunately, I don't have small-cap data for earlier time periods, but here's a comparison of the SPY and MDY (mid-cap) ETFs going back to late 1995.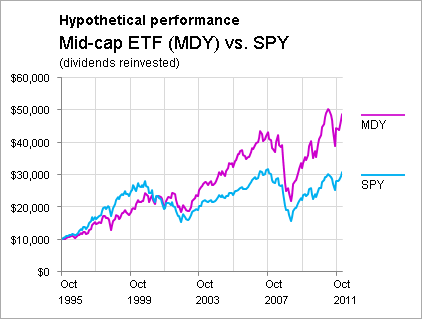 The mid-caps did not seem like a good bet during the late 1990s, but gained more ground after the tech bubble collapsed in the early 2000s,
One key thing to remember is that these are dynamic indexes. Companies that do well will move from small-cap to mid-cap and perhaps graduate to large-cap status. And companies that lose their mojo will move down the spectrum, or just disappear altogether.
Not being in large cap stocks means missing out on your share of gains from stocks like Apple (NASDAQ:AAPL), but you probably make up for that by being in companies while they're undergoing their most rapid growth. After all, stocks like Apple that grow from large-cap to super-duper large-caps are the exception, not the rule.
A look at the market cap spectrum
Finally, I took a look at the S&P small-cap, mid-cap, and large-cap indexes to see where the cutoff was between the categories - and was kind of surprised to find that it wasn't as exact as I had envisioned. As it turns out, the largest mid-cap stocks can be much larger than the smallest large-cap stocks. And the largest small-cap stocks are bigger than the smallest mid-cap stocks.
Here's an approximate view of the S&P 1500 spectrum. It's based on taking a look at the 30 smallest and largest companies in each index.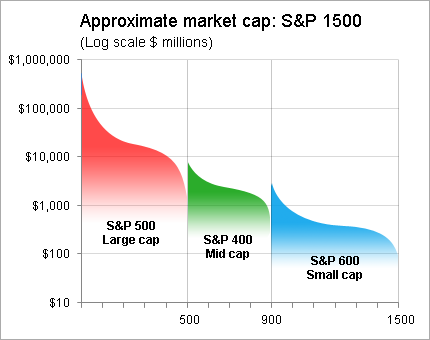 Why the discrepancy? Well it's probably because the S&P index committee doesn't make changes as frequently as market conditions might otherwise call for. That's probably a good idea because frequent index changes - especially for the S&P 500 - can end up being disruptive.
So if you're going to evaluate a mutual fund or ETF, compare it against a tougher benchmark. See how it did against the "S&P 1500 ex S&P 500," which puts to rest the whole notion that it was a "lost decade" for stocks.
Disclosure: I am long AAPL.