Advanced Micro Devices (NASDAQ:AMD)/ATI and Nvidia (NASDAQ:NVDA) have dominated the high-end graphics space for much of the last two decades. However, over the last decade, AMD has fallen behind NVDA both in the traditional GPU space as well as the emerging GPGPU space. After many years of playing second fiddle to Nvidia, AMD's new graphics architecture, Vega, was widely seen by investors as the solution that gets AMD back to leadership.
Performance Expectations
Beating Nvidia at GPUs, like beating Intel (NASDAQ:INTC) at CPUs, is no easy task. Both Intel and Nvidia sport market capitalizations that are in order of magnitude higher than AMD and have considerable resources. These companies have also had much better historic track record than AMD. Nevertheless, expectations for AMD Vega have run high. Part of the reason for the lofty expectations is that the specifications of the Vega chip and the buzz surrounding the chip have been stellar.
The previewed specifications meant that the raw megaflops performance of Vega was in between Nvidia's current generation Pascal and next generation Volta. Marketing by AMD also suggested that the Vega-based solutions will not only be better than Nvidia's current top-end Pascal but be competitive with the Volta.
We have written about Vega's prospects in the Artificial Intelligence, Machine Intelligence, and Workstation markets in an earlier article. In this article, we cover AMD Vega in the mainstream GPU/PC Gaming market.
As Nvidia's financials demonstrate (image below), much of the money in GPU business today is in gaming and it was imperative that AMD has a strong showing in the market.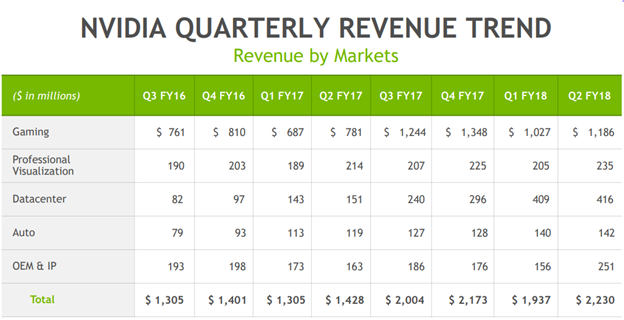 Vega Gaming Performance
On the all important gaming front, there has been much recent furor around Vega's performance, or the lack thereof.
The biggest criticism investors have about RX Vega is the perceived low performance. As can be seen from the images below, based on AMD's marketing presentations, the maximum frame rate of Rx Vega is comparable with Nvidia's GeForce GTX 1080.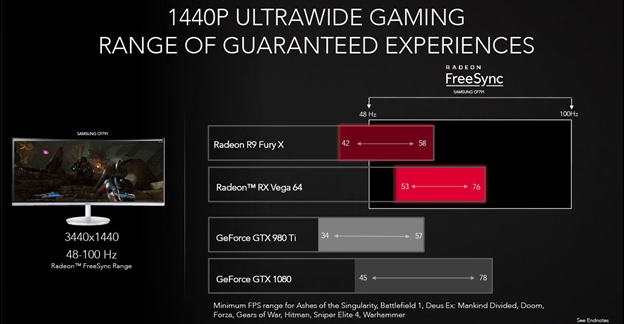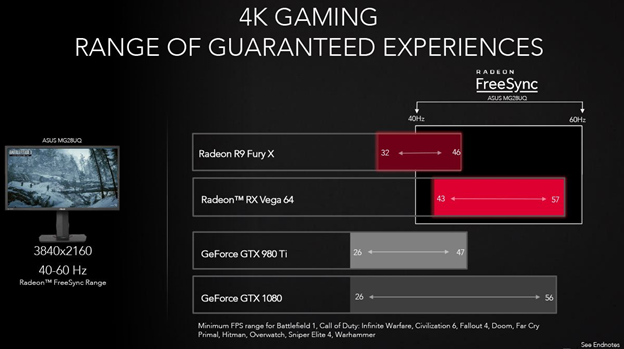 This benchmark data has been a disappointment for enthusiasts and gamers as many have been expecting Vega to better not just 1080 but also the higher end 1080 TI.
Not being performance competitive with 1080 TI is currently seen as bad news by many investors. Much digital ink has been spilled on the subject and AMD's stock price has taken a hit based on what appears to be an anemic launch.
Considering that the Instinct and PRO lines seem to go past Nvidia's top-end Pascal solutions, investors are mystified by why the RX Vega is being compared with 1080 instead of the higher end 1080 TI.
While there is some merit to these concerns, we believe these concerns are largely misguided. We suspect several potential factors may be at play here:
Most importantly, AMD seems to be of the view that current gaming performance metrics are not representative of gaming needs. AMD seems to be taking an Apple-esque path in focusing more on user experience than traditional gaming benchmarks. For example, AMD seems to be focused on increasing the minimum frame rate for gaming compared to the traditional benchmarks which measure the highest frame rate. AMD seems to be betting on an improved user experience with this approach. Limited testing by a game lab seems to support AMD's contention. In the linked test, gamers rate AMD Vega higher than Nvidia 1080 TI even though the technical data suggest that the chip is more of a competitor to 1080. What this indicates is that, in gamers' perception, Vega's performance will likely be on par with or better than 1080 TI. This will be increasingly the case as games get optimized for the AMD approach.
AMD may not have progressed far enough in having the market adopt its new architecture; i.e. the software or drivers for Vega are not ready or mature. With Vega, AMD has introduced 40 new instructions and has added several features, but these instructions and features may not have been implemented in the games currently in the market. This is typical for new solutions, and we can expect some progress over time. We can expect that, as future games adopt the innovations, Vega's performance will inch towards 1080 TI.
These concerns and root causes have a transient effect and can result in sub-par performance for the time being. Nevertheless, it should be noted that, based on respected third-party review sites, Vega products already appear to be very competitive.
It is certainly possible that AMD generalized RX Vega for multiple different applications and the solutions are not sufficiently optimized for gaming. Furthermore, AMD may have experienced, or has been experiencing software/hardware problems, with the platform and the platform is not fully optimized.
Nevertheless, at a minimum, without any future performance gains, Vega appears to be at a performance level slightly superior to Nvidia 1080. While this is not stellar, AMD is now firmly in the high-end gaming market above the $250 price point.
Die Size and Cost
The second biggest area of concern for investors is about RX Vega die size, cost structure, and potential margins.
Several analysts have noted that RX Vega has a much larger die than Nvidia's equivalent. While this is true, we note that AMD opted for a single die for all the products targeting various market segments whereas Nvidia has optimized solutions for each market segment.
The reality is that, being a much smaller and weaker company, AMD did not have the resources to parallel Nvidia's approach. Given lack of resources, AMD focused on a single solution to minimize R&D expenses. The downside is that AMD, for the most part, has much bigger die sizes than Nvidia for equivalent solutions. But, on the upside, AMD likely incurred much lower engineering expenses to develop Vega class of solutions.
While it is likely that Nvidia has a cost advantage at a die size level in several applications, AMD's cost disadvantage is somewhat offset by engineering cost advantage of producing a single die instead of producing multiple dies.
In addition to the larger die size, it also does not help that AMD uses a more expensive memory type than Nvidia for comparable products. With higher chip and board level costs, it is fair to say that AMD is unlikely to get Nvidia level gross margins for its high-end gaming products.
However, given the extraordinary ASPs in this segment, the higher costs are hardly a disaster for AMD. Also, note that while the gross margin is low, the net margin could be high due to the lower R&D allocation.
Power Consumption
The third key area of concern for investors appears to be power consumption. Several enthusiasts and analysts have noted that RX Vega consumes significantly more power than competing Nvidia solutions.
Two things to note about this subject:
Some of the power dissipation disadvantage will be mitigated as the Vega platform gains from software enhancements. With higher performance, the performance per watt metric will improve.
It is possible that AMD's design is inferior in terms of power management and it is also possible that by using a single chip to satisfy multiple applications, AMD may be at a structural power consumption disadvantage. This disadvantage will likely persist until and unless AMD releases optimized point solutions. It is unclear if and when the company will take such approach.
While these are certainly significant challenges for Vega gaming products at the current time, we can expect that AMD will price its product to account for the performance.
It should also be noted that, while many of the third-party reviews identify higher power consumption as a negative, no reputable web site considers this a critical factor for gaming applications.
Market Response
While the Vega is by no means an Nvidia beating product, it is certainly a solid product that can be evidenced by the OEM adoption.
The company seems to have largely missed the summer and back-to-school refresh but early indications of OEM interest are encouraging.
Dell's Alienware division has adopted RX Vega. However, as a sign of delayed product launch, it appears that initial Dell systems with AMD Threadripper will be shipping with Nvidia graphics solutions.
Apple (NASDAQ:AAPL) iMac Pro design win is already well known.
Consumer demand also appears to be healthy (although supplies are likely extremely limited in early stages). Newegg, for example, sold out its initial allocation of RX Vega 64 cards in minutes after it put the cards up for sale.
More importantly, Newegg also sold out of gaming bundles that include AMD Threadripper chip within days after the product bundles became available. Investors concerned about low margins for the Vega products should note that AMD is able to use product bundles to pull through demand for its high-margin, high-ASP Threadripper products. This bundling offers a significant cost advantage to gaming customers compared to equivalent Intel/Nvidia solutions and will have the impact of boosting AMD sales and margins significantly.
There is little doubt that AMD has re-entered the high-end gaming market. And there should be little doubt that AMD will take market share from Nvidia. It is not a question of "if" but "how much".
NVDA Competitive Response
With Vega now having become reality, the natural question for investors to ask is how Nvidia will respond to the competitive dynamic. Currently, Vega 64 is a rough equivalent to 1080 and Vega 56 is a rough equivalent to 1070. Investors may wonder if Nvidia will collapse the pricing of 1080 and 1070 products and starve AMD for margins.
However, such a prospect appears unlikely. One thing to note when it comes to Vega is that it is early in its life cycle. As time goes on, and as AMD products mature and software optimizations are adopted by game developers, the gaming performance of these devices will inch up slowly with Vega 56 potentially getting closer to 1080 and Vega 64 potentially getting closer to 1080 TI.
This dynamic gives AMD more breathing room to capture high-end ASPs. From a tactical perspective, we suspect that Nvidia has two options to compete with AMD:
Nvidia can accelerate its Volta roll-out into gaming but the company has effectively ruled out during the most recent earnings call.
Nvidia can introduce a Pascal refresh for gaming applications. While possible, this too appears unlikely given the language used by Nvidia CEO Jen-Hsun Huang used during the earnings call.
In effect, it is unlikely that Nvidia will collapse 1080/1070 pricing given no new products are being introduced. However, it is possible that Nvidia will push the 1080 TI to 1080 level and reduce the pricing across the entire product line by one step.
With such a move, we can expect AMD margins to suffer somewhat. However, AMD will still be selling gaming products at price points it had not had access to for several years.
RX Vega Prognosis
Nvidia is clearly the dominant player but AMD has put up a credible response with Vega.
AMD seems to be taking an interesting user experience based approach where Vega may trail 1080 TI in traditional benchmarks but do better than 1080 TI in user experience. It is unclear if this will be accepted in the market.
While there is little doubt that Vega has a few rough edges at the point, investors should realize that Vega is a competitive entry into the high-end market. Furthermore, Vega is in early part of the life cycle with room to grow in terms of performance.
Initial sales of product bundles indicate that AMD may be able to pull through substantial amount of high ASP Threadripper products with Vega. This dynamic can meaningfully increase AMD's revenues and margins.
Investors should not be distracted by Vega's challenges and lose the forest for the trees: It is no longer if AMD will play at the high end of the market, but it is about how much share Vega can take from Nvidia at the high end.
Our view of AMD: Strong Buy
Before it is here, it is on the Renewable Energy Insights subscriber platform. For timely and in-depth research and analysis of solar, wind, battery, and autonomous vehicle industry stocks and developing news, please consider subscribing.
Disclosure: I am/we are long AMD.
I wrote this article myself, and it expresses my own opinions. I am not receiving compensation for it (other than from Seeking Alpha). I have no business relationship with any company whose stock is mentioned in this article.
Additional disclosure: Long INTC puts