A robust supply of used cars is putting pressure on new vehicle inflation, which has turned negative last month. In fact, new car prices are now declining at the fastest pace since the recession - wrote the WSJ.
Last month I wrote an article about the unfolding 'Car-mageddon'. Since then, the market has gotten far worse.
And I am buying more long dated, out-of-the-money put options to make sure I benefit from any further worsening or negative volatility.
Let's look at how things are going...
Deflation in used cars has persisted due to the waves of vehicles coming off leases.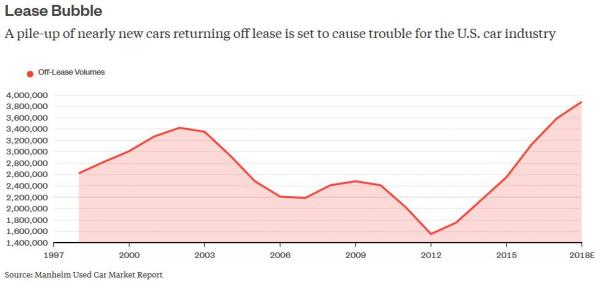 As the increasing amount of vehicle lease agreements are coming to an end, the dealerships will have a wave of vehicles coming back to sit on their lots. With inventories already increasing, and dealerships awaiting for the 2018 models, what room will they have for the 2013, 2014, 2015, etc. vehicles coming back?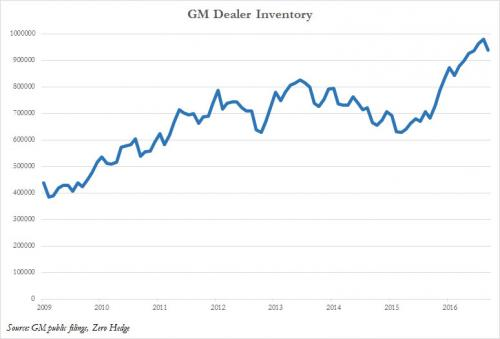 Imagine the stress this will be for the dealerships...
For instance, I live in Scottsdale Arizona. And there are Ferrari (RACE) and Porsche (OTCPK:POAHF) and all the other luxury car dealers along every major road. One thing Scottsdale is not in shortage of is over-priced cars being driven by over-indebted young adults my age.
What will the salesmen at these dealerships do once they have the 2018 models arriving, yet also inflows of older cars being returned from lease arrangements or defaults?
They will slash prices further just to get rid of them and reduce inventory. That's why there have been record incentives to get vehicle sales going. But if everyone is doing this, prices of vehicles - both used and new - will tank.
And it is already happening...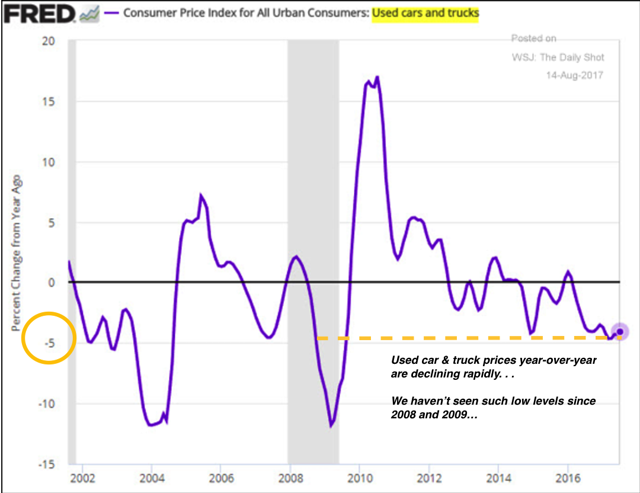 As used car prices keep falling, so will new vehicle prices. Why would anyone buy a brand new car when you can get a slightly used one much cheaper?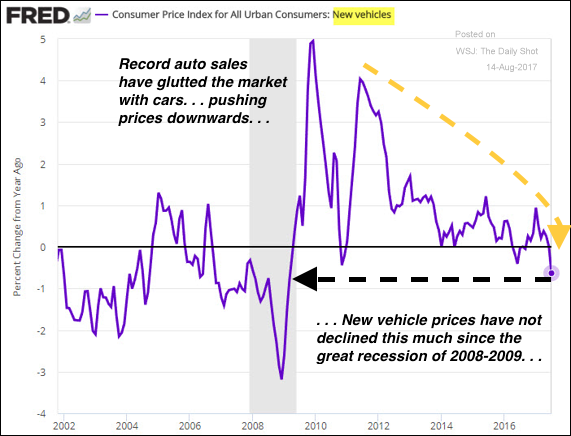 It looks as if these dealerships and car manufacturers don't even care about credit quality anymore. They just need to sell these cars.
The rampant growth in aggregate subprime loans being made, and lack of diligence in originations, is terrifying...
In late 2016, alarms were sounded when Edmunds made headlines that more vehicles are underwater than ever before. Or also known as having negative equity.
The fact is that increasing numbers of people have car loans that leave them upside-down [underwater]. In the first quarter of 2017, a record 33% of new car sales were made to people with negative equity who owed an average $5,147 on their loans. The same thing happens at used car lots. Edmunds, an online resource for automotive information, said a record 26% of trade-ins had negative equity averaging $3,854.
This means that the overall debt remaining for the vehicle you own is more than the vehicle is even worth if sold. For example, you still have 50 months to pay $15,000 for a car that has resale value of $12,000, and falling.
That isn't good...
So what have dealers and car companies done? They disregard the poor credit, allow you to put a sliver of money upfront as down payment, and let you trade in your used car for a new vehicle and roll your debt into the new, bigger, refinanced loan.
Let's say you owe still owe $10,000 on a car that is only worth $5,000. The dealer will pay off the $5,000 difference, but then roll that amount into the loan on your next car. So, if you needed to borrow $20,000 for the new car, the dealer rolls another $5,000 into the loan to cover the cost of paying off your previous loan and now you're borrowing $25,000.

Not only will your monthly payments be higher (and remember, not being able to afford the payments was what got you into trouble to start with), but you likely will be paying higher interest on the loan.

And, don't forget, you're going to add more negative equity to your situation when you calculate the 20% depreciation in value the new car will lose when you drive it off the lot - wrote Debt.org
Everyone wins.
The vehicle manufacturer makes a sale. The dealership makes a profit. The salesmen and/or loan officer make their commission. And you get a new car. All seems well.
But this couldn't last forever. And it is starting to unravel...
There are two big problems with this:
The first is that to keep rolling over these old debts and trade ins, the dealerships have to make loans to less creditworthy buyers. To put it plainly, they have to 'scrape the bottom of the barrel', and it is ugly down there.
In April 2017, Dodge (FCAU) was offering a "low credit score offer". Normally, one would make these kind of offers to individuals with good credit - not poor.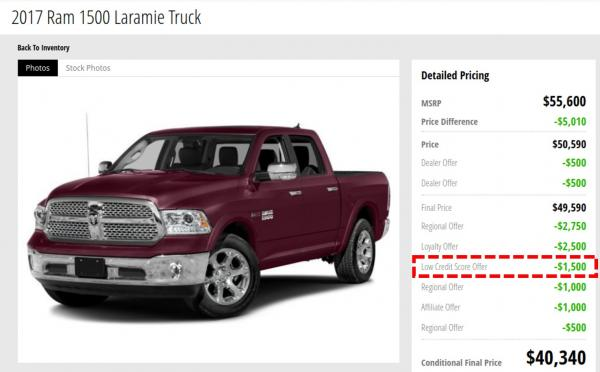 But, after years of an auto-loan bubble, all the high-quality borrowers already own a car. So they are now looking to 'broaden their addressable markets', or rather sell to anyone - no matter their credit score - that is willing to pay over $40,000 for a new vehicle.
No wonder 'Deep Subprime' auto lenders have been running rampant...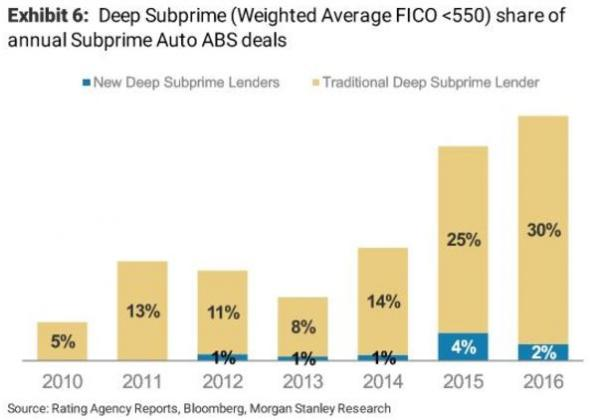 The second problem is, that, the borrowers who piled on more debt and now stuck paying higher interest payments, are increasingly delinquent. Simply, they can't (and couldn't to begin with) afford it.
Bloomberg just published an article stating that, "...deep subprime delinquency rates have ticked up to levels last seen in 2007, according to data compiled by credit reporting bureau Equifax."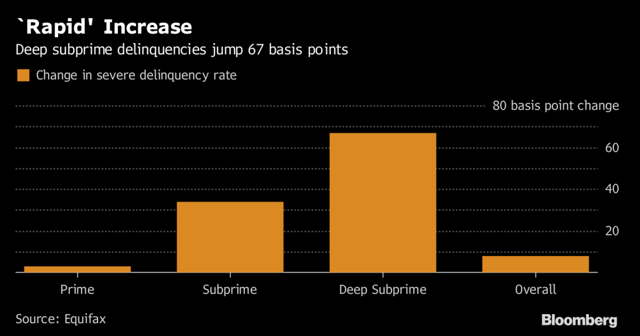 These two factors are indicating that the boom years are done. Falling car prices will continue, both new and used, and defaults/delinquencies will worsen.
Just as in 2008 with housing, once the lenders balance sheets start to get scrutinized for the awful loans they are making, there will be a significant sell off.
I still recommend buying out-of-the-money put options for select lenders and car manufacturers. Stocks like Santander Bank (SC), Ford (F), General Motors (GM), Wells Fargo (WF-OLD), Synchrony Financial (SYF), Capital One (COF), Ally Financial's (ALLY), Credit Acceptance Corp. (CACC), Avis Budget Group (CAR), Volkswagen (VLKAY) O'Reilly Autos (ORLY), Hertz (HTZ), Fiat Chrysler (FCAU), and Tesla (TSLA) will all suffer as prices and car sales fall and delinquencies rise.
Using as an example from my own portfolio, let's look at Ford put options...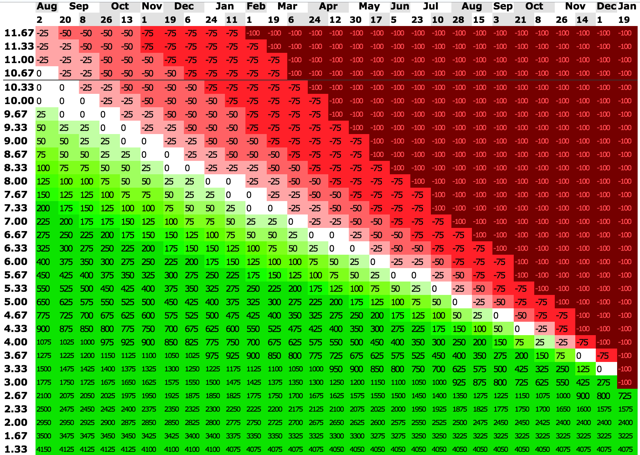 Buying 100 contracts of the $3.00 strike-price put options (way out-of-the-money) that expire Jan/2019 will only cost us $400.
That's it.
I don't know about you, but with how grim the vehicle market is looking and especially with the Fed in tightening mode, this is an asymmetric (low risk with high reward) opportunity.
We have roughly 18 months for the share price of Ford to fall. And if it does fall below $2 a share by Jan/2019, you would make 24x your money ($400 x 24 = $9600).
If it drops further - let's say $1.33 - then that $400 would be worth over $16,000...
And the risks?
Worst case scenario, we lose the $400 initial investment. No more than that.
But, for the low price of $22 a month until expiration ($400 / 18mo = $22), we have insurance that if Ford were to suffer from a weakening car market, hefty gains will be made.
As subprime borrowers dry up, loan originations cease, vehicle prices decline, and the 'boom' years quickly fade into the 'bust' years, make sure you position yourself to catch all the upside by risking as little as possible.
My optionality strategy does just that. Low up-front fixed risk/cost with massive gains.
Don't be fooled. Remember 2008? Things happen and bull markets fade, suddenly and sharply. A lot can happen in 18-24 months.
As parting words: during 2008, Ford's stock fell to $2. GM went bankrupt and needed the government to bail it out (commonly known now as 'Government Motors'). And Avis Budget Group imploded from roughly $30 in 2007 to below $0.70 cents in 2008.
Just some food for thought...
Sidenote: For more information on my optionality strategy and using the business cycle, read here. It will take you less than 10 minutes and it could be priceless what you take away from it and use in your own portfolio.
Disclosure: I am/we are short F, GM, COF, CACC, ALLY, CAR. I wrote this article myself, and it expresses my own opinions. I am not receiving compensation for it (other than from Seeking Alpha). I have no business relationship with any company whose stock is mentioned in this article.
Additional disclosure: I am not short their stocks, rather I own long dated, out-of-the-money put options.
Editor's Note: This article discusses one or more securities that do not trade on a major U.S. exchange. Please be aware of the risks associated with these stocks.