Tidal power is essentially a form of hydropower that converts daily tides into electricity. Tides, caused by the gravity of the moon, are one of the most significant sources of energy in the world. And due to the immense area that it is spread over, tidal power, as it's becoming more economical, has the potential to generate a significant portion of the world's energy as renewable energy. As we will see throughout this article, there are several ways to take advantage of this growth.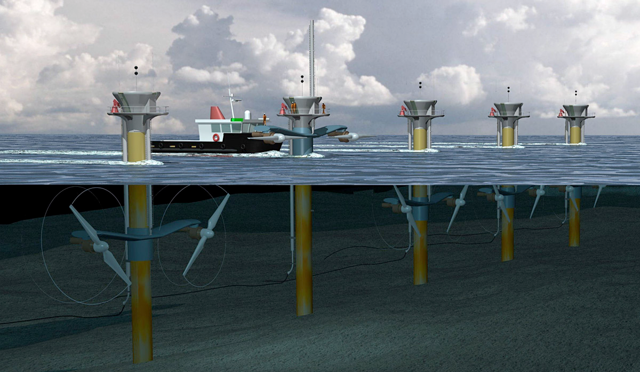 Worldwide Energy Crisis
Global warming is becoming a larger issue in the world, one that increasingly needs to be addressed.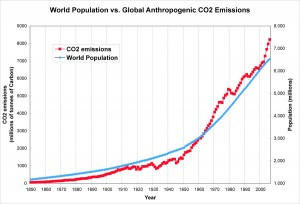 Greenhouse gas emissions have increased incredibly rapidly along with the world's population. This is all CO2 that is going into the atmosphere, and it isn't dissipating into nothing. Instead, it's trapping heat and increasing the global temperature of the world. And that heat is leading to irrevocable changes across the world, changes that will need to be addressed and addressed quickly.
The recently signed Paris Climate Agreement is focused on addressing this problem. And one of the best ways to do this is by replacing fossil fuel consumption with renewable energy. Several major industrialized regions of the world such as the U.S., the European Union, and Australia are all aiming for replacing 20% of their energy with renewable energy by 2020. That is a very significant amount of renewable energy. Tidal power represents a great way to do this.
Tidal Power Details and Growth
We have discussed tidal power a bit and the details of it in this article. Now it's time to discuss tidal power growth in detail.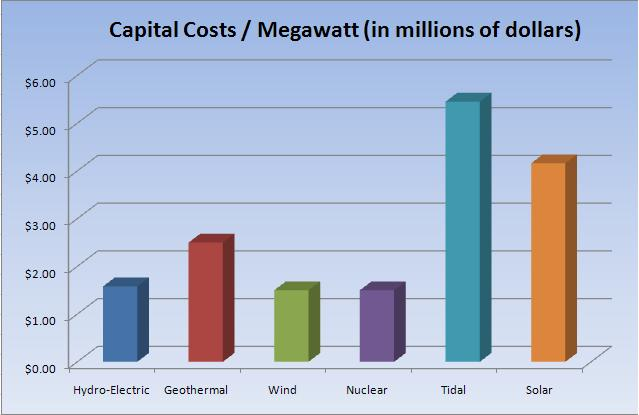 Tidal Power Capital Costs - Emaze
At the present time, tidal power is one of the most expensive forms of renewable energy. It costs just over $5 million per megawatt compared to $4 million per megawatt for solar power, or 25% more expensive. However, the difference is that solar power uses expensive land while tidal power uses offshore oceans, somewhere that tends to be much more available for tidal power installation.
Despite this, tidal power can still be very economical. The Rance Tidal Power Station in France has 240 megawatts of installed production and produces 500 gigawatt hours of electricity annually. That means a $5 million, 1 megawatt project will generate 2.08 gigawatt hours annually, or a cost of $2.4 per annually generate kilowatt hour. If the plant runs for 40 years, that means costs of just $0.06 per kilowatt hour.
More importantly, the costs for the France Rance Tidal Power station were completely recovered after just 20 years. That shows the economical nature of the project.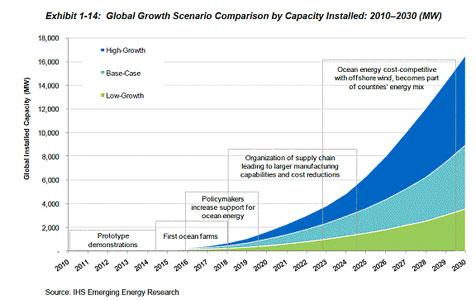 Global Growth Scenario for Tidal Power - Saveour Beaches
And tidal power is rapidly becoming more economical. A recent market report anticipates tidal power to grow from roughly $0.7 billion at the present time to more than $11 billion by 2023, representing several billion in annual investment into tidal power for coming years. Thanks to the signing of the Paris Climate Agreement and new renewable energy goals coming up, this might grow even faster.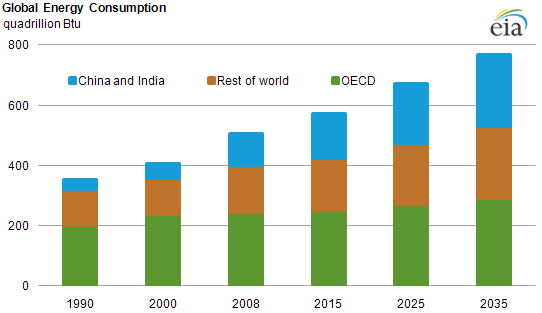 Global Energy Consumption - EIA
As we can see here, global energy consumption is anticipated to grow rapidly in the coming years. According to the EIA, global energy consumption is anticipated to grow from 590 quadrillion BTU to 780 quadrillion BTU over the next 20 years, or growth of almost 200 quadrillion BTU. Assuming 20% of this energy generation comes from renewable energy, that means 40 quadrillion BTU of new renewable energy.
Each quadrillion BTU of annual energy requires 141 thousand installed megawatts of installed energy production meaning that 5.6 million megawatts of renewable energy production will need to be installed. Even if tidal power can take up 1% of this market, that means 230 thousand megawatts of installed tidal capacity or roughly $200 billion in investment in tidal. That means could tidal power prove to be economical, significant additional capacity will need to be installed and that could mean significant growth for the tidal markets.
Investing in Tidal Power
So far we have established that the world is in an energy crisis and will need significant new capacity installed. At the same time, we have determined that tidal power represents an economical method of power generation that is anticipated to grow rapidly in the coming years. This rapid growth in the tidal markets will open up a number of investment opportunities for interested investors.
Brookfield Renewable Partners (NYSE: BEP) is a renewable energy company with a market cap of almost $6 billion. The company has major holdings, including a large number of hydroelectric earnings that are worth billions of dollars. On top of that, the company continues to offer investors a very respectable dividend yield in the mid-single digits that is anticipated to continue growing.
The company's focus on renewable energy, strong capital strength, and significant hydropower assets means it is in a prime position to invest the necessary capital for the renewable markets. This would be an interesting and safe play for growth in the renewable energy and tidal power markets. And it's one that I recommend to investors interested in becoming a part of the tidal markets.
For wealthier and more specialized investors, Zurich Private Capital runs a tidal energy investment fund. Tidal energy is an exciting and growing market, and one that, according to Zurich Private Capital, has provided investors with an incredibly impressive 25% return on capital. The company discusses how a number of projects are being focused on in the U.S., Brazil, Western Europe, and Africa.
Conclusion
Tidal power is a growing part of the worldwide energy supply. It is becoming increasing economical and represents a form of renewable energy that doesn't utilize space on land, while having the potential to produce a significant amount of energy with impressive reliability. As global warming becomes a larger issue, so too does demand for tidal energy.
For interested investors, I would recommend Brookfield Renewable Partners. While the company has no tidal power assets to speak of at the present time, it does have major hydroelectric renewable assets and billions in capital. As the tidal market grows, the company will likely invest. For wealthier investors, Zurich Private Capital represents a higher return option to invest in a growing market.