For those who have been in a cave for the past few years, Intel's (NASDAQ:INTC) behavior has been inexplicably erratic (to be gentle). First, it fired its tick-tock model, indefinitely delayed the public sale of its silicon photonics technology, fumbled the introduction of Optane over two years and has rearranged its road map like a Rubik's Cube.
One of those road map permutations is now upon us - a processor suite known as Coffee Lake, which was introduced in June of 2016 for projected sale in 2Q18 (where "CFL" stands for "Coffee Lake").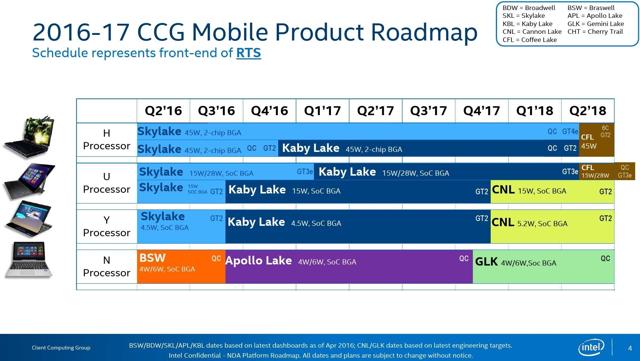 While that timing was expected to be accelerated by some months subsequent to AMD's (NASDAQ:AMD) surprisingly competitive Zen-based processors, nobody expected that Intel had Coffee Lake just sitting on the shelf ready to go. On August 8th, Intel pulled the trigger on the solar eclipse day media event to roll out its fourth processor to be built on 14 nanometer technology.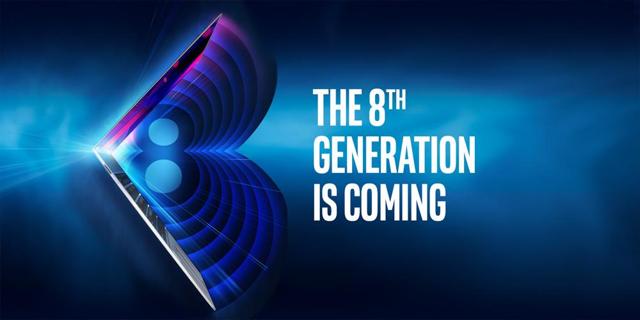 This Monday, Intel will unveil what I believe may reveal the explanations behind its erratic behavior. Allow me to connect the dots:
In September of 2016, Ashraf Eassa over at fool.com discovered that Coffee Lake was merely a 14 nanometer implementation of Cannonlake.
In March, I discovered from its patent applications that Intel's Cannonlake product is a modular processor - a huge departure from its traditional monolithic design.
Just weeks later, Intel confirmed that it would be switching to a modular processor design.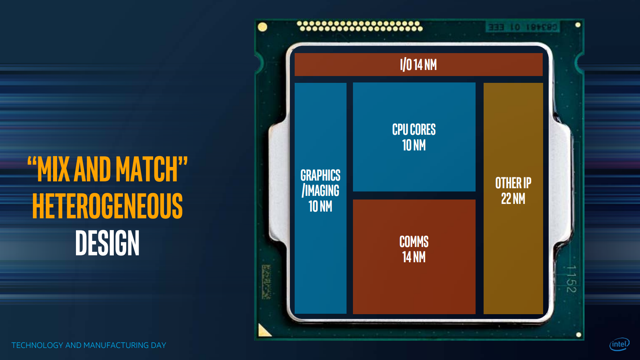 If all of this holds true, then Monday's Intel announcement may yield substantial opportunity for investors. To recap the advantages of modular design from the Intel patent application:
[0093] The embodiments described herein provide value on several vectors:

[0094] 1) Cost reduction: Two smaller 3D-stacked die have better yield than one large, monolithic die. A cost savings of up to $350M per server processor program has been estimated depending on the actual configuration used.
[0095] 2) Reduced time-to-market: The uncore (bottom) die can be designed ahead of time and the sea-of-cores built when the client core is ready. This will enable server processors to ship about 3-6 months after the client processor introductions (today this time lag is over one year). In particular, all the I/O circuits (DDR, PCIe, QPI) can be debugged on the platform ahead of the core availability.

[0096] 3) Better mesh RC performance: Since the uncore (bottom) die is built in an older process technology, it has lower mesh latency and higher frequency due to lower RC delays in the older process and shorter mesh routing underneath the cores. The mesh frequency increase is 10% with the reduced 1-cycle horizontal latency or up to 38% with the existing 2-cycle horizontal latency.

[0097] 4) Mixing odd and even processes: Can support both Core (even process) and Atom (odd process) cores with the same uncore die. This is particularly useful for the micro-server market segment where there are presently two different product lines and a lack of an integrated south complex with the large cores.

[0098] 5) Lego-like ability to incorporate big and little cores, graphics, FPGAs, customer designed accelerators and additional L3 slices: This provides an unprecedented flexibility to customize server processors at assembly time for specific OEM work-loads and compute requirements.
I believe that Intel's delays over the last couple of years were spent in perfecting this revolutionary new modular processor platform. If correct, next Monday's Coffee Lake will be the first public disclosure of this fruit. Cannonlake (server platform) and Gemini Lake (Atom mobile, low-cost and embedded platforms) are achieved simply by swapping out the CPU cores in the modular slide above - like "Legos".
I also believe that Coffee Lake was inserted into the road map late in the game because the architecture performed so well that there was no reason to modularize the existing 14 nanometer cores and still beat the competition while saving the 10 nanometer Cannonlake cores for the very high-end datacenter (and perhaps desktop) markets. No wonder that the company is going to deemphasize process sizes - its modular architecture is no longer apples-to-apples with the rest of the industry.
Note: For those who attempt to point out that AMD is already using a modular platform, realize that it is only gluing together a bunch of modular CPU cores at low-bandwidth (100GB/s). Intel's cores will be produced either as a single, full-bandwidth chip (as pictured above) or "glued" with a high-bandwidth photonic interposer (>1TB/s). For the medium and low-end markets, the AMD solution works just fine.
Breadcrumbs
There is some evidence to back this thesis. Most notably are the performance benchmark leaks. In June, a pre-production Intel processor appeared on Geekbench (although indicated as "Kaby Lake," there are six cores and other mysterious specifications):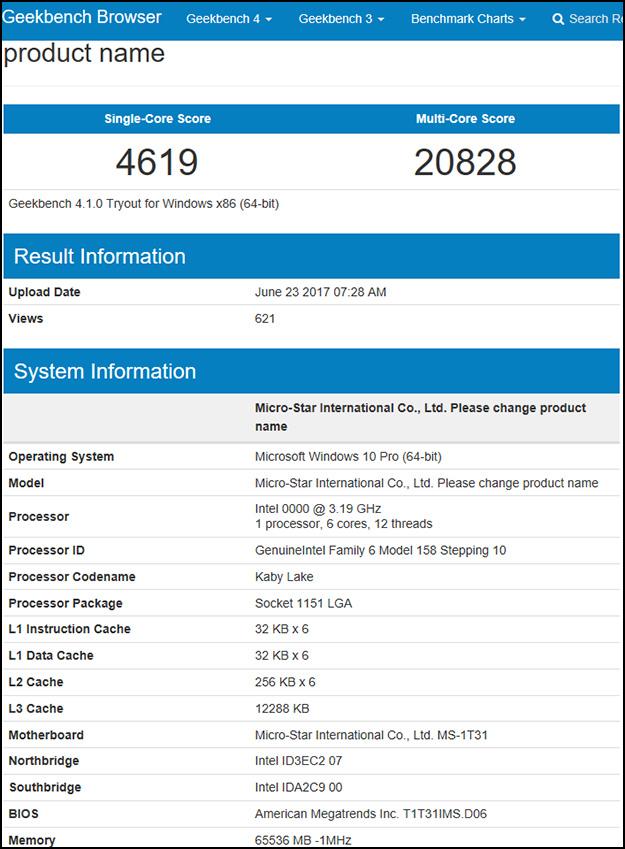 At just 3.2Ghz, this assumed six core Coffee Lake product bests a new AMD eight core Ryzen 1700X at 3.4Ghz in single-core performance (4619 / 4069 = 13.5 percent) while matching it on multi-core. What's important here is that Ryzen is AMD's first foray at 14 nanometers while Intel is now on its fourth so I expect to see a 30-40 percent performance increase in the final Coffee Lake product through sheer clock speed alone (and perhaps more through other efficiencies).
More recently, some mobile Coffee Lake benchmarks have leaked, showing even better performance clock for clock. At just 2Ghz with four cores, this 15 watt laptop processor bests an AMD's latest Ryzen 5 1500X desktop processor - especially in single-core performance. While AMD and its investors have plenty to worry about come Monday, I've noticed something that should have the rest of the semiconductor industry worried - the memory specification. A lot of these leaks reveal large amounts of memory. In the screen shot above, there's 64 gigabytes (i.e. "65535 megabytes").
Meanwhile, in Thailand, the specifications of an Acer Coffee Lake laptop have leaked to reveal that it has 20 gigabytes of memory. Read the comments in that article to see how people are reconciling what amounts to $150 worth of DRAM in a budget laptop ($750 est) with an Nvidia (NASDAQ:NVDA) "GTX" (no model supplied).
My regular followers already know what I've foreshadowed here: Optane as a replacement for DRAM. In 2015, I predicted that Intel and Micron (NASDAQ:MU) would introduce the technology. Please read that article if you need to bring yourself up to speed on the earthshaking implications of what may be about to happen.
The short version is that, as described in dozens of Intel patents, the Acer laptop may have some combination of DRAM and Optane on-package as part of the modular processor technology. Or, for wear-leveling purposes, perhaps it's under-provisioning 32 gigabytes of Optane with some smaller amount of DRAM? Any way you skin it, this would allow it to eliminate the very expensive external memory bus from the design.
Recently (February 2017), a Micron patent application has revealed that Optane "may offer comparable read/write speeds as DRAM" which certainly adds to the speculation. Since Intel and Micron won't disclose the actual Optane specifications, we simply don't know how much DRAM is required, if any at all.
Conclusion
Most of Intel's fan base are furious that they need to upgrade their motherboard in order to use a Coffee Lake processor. But I think that the explanation for this need will become clear on Monday after Intel drops its latest bomb. The numbers simply do not point to yet another churn of the same old architecture.
I'm not certain if Optane is being used in Coffee Lake. Regardless, Coffee Lake's performance is indicative of some dramatic change in architecture. It is important to note that the leaked benchmarks are much more impressive than what Intel is leading on behind closed doors. This is either one of two things:
A strategy to keep things a surprise.
I'm wrong about everything and it's just going to release another processor churn.
While I may be wrong, the best part is that we will find out on Monday - no need to stew over it. But I think that there's a good chance that I'm correct at least with the modular design. As such, I believe that good things are about to happen for Intel investors. Conservatively, Coffee Lake removes the need to worry about competition from AMD. If the pie-in-the-sky predictions above finally materialize, then we'll finally see Intel grab a sexy PE ratio.
But what do AMD, Nvidia, Samsung (OTC:SSNLF), Qualcomm (NASDAQ:QCOM), SK Hynix (OTC:HXSCF), IBM (NYSE:IBM) and the others do if Intel no longer needs an expensive external DRAM subsystem? Close their doors? More importantly, what do Apple (NASDAQ:AAPL), Amazon (NASDAQ:AMZN), Facebook (NASDAQ:FB), Google (NASDAQ:GOOG) (NASDAQ:GOOGL) and Microsoft (NASDAQ:MSFT) do? They become Intel's very well-behaved top customers - that's what they do.
I think that Monday may be the beginning of Intel's new eclipse of all semiconductor markets - datacenter, desktop, mobile, cellular, IoT and AI - everything including your toaster will have Intel Inside™. While I'm out here in left field, allow me to predict that I also think that a Micron acquisition might be a part of this.
If I am wrong, then I will learn a lot about computer architecture on Monday.
Disclosure: I am/we are long INTC, MU.
I wrote this article myself, and it expresses my own opinions. I am not receiving compensation for it (other than from Seeking Alpha). I have no business relationship with any company whose stock is mentioned in this article.