Honeywell (NASDAQ:HON) released their Q2 results on July 21, announcing earnings per share of $1.80. The company also updated guidance for the rest of the year, calling for earnings per share of $7.00 to $7.10. The forecast also called for increased margins across all four business segments. The quarter represented a strong start to new CEO Darius Adamczyk's tenure. Honeywell achieved a total shareholder return of 579% during the 15-year tenure of the previous CEO, David Cote. With new leadership in place, now is a good time to take a closer look at Honeywell's future.
Business Status
Honeywell is a diversified business that generated $39.3 billion in sales in 2016. Although Honeywell is primarily a manufacturing company, they have increasingly turned to software to fuel growth; the company now employs over 11,000 software engineers. Honeywell is organized into four operating segments: Aerospace, Home and Building Technologies, Performance Materials and Technologies, and Safety and Productivity Solutions.
Aerospace supplies a variety of parts, software, and services to customers throughout the aviation and automotive industry. The business unit produced 38% of Honeywell's revenues in 2016. Major products in the aviation industry include avionics and aircraft engines. Aerospace products include propulsion engines, communications, and navigation systems. Turbochargers used to improve fuel efficiency are the primary product sold into the automotive industry.
During the 2017 Paris Air Show, Honeywell signed a deal to install their GoDirect Connected Maintenance products in Cathay Pacific's planes. The monitoring and predictive analytics product reduced downtimes by up to 35% and saved several hundred thousand dollars in expenses during a trial program with Cathay. GoDirect could be a major driver of growth going forward if other airlines experience similar savings.
Major competitors for Honeywell Aerospace include General Electric (GE), Thales (OTCPK:THLEF), Rockwell Collins (COL), and United Technologies (UTX). Recent news reports suggest that United Technologies might be in talks to acquire Rockwell Collins in order to be better positioned to negotiate with plane manufacturers. The rumored deal comes after United Technologies declined a 2016 proposed merger with Honeywell. If the deal were to go through, it might prompt Honeywell to consider a deal of its own.
Home and Building Technologies markets a variety of controllers, meters, air treatment, and monitoring technologies for residential and commercial buildings. On the Q2 earnings call and accompanying slides, the company highlighted their new Wi-Fi enabled security camera and $80 million in smart meter sales to utility providers. Major competitors for the Division include Emerson Electric (EMR), Johnson Controls (JCI), and Siemens (OTCPK:SIEGY).
Performance Materials and Technologies sells process automation technologies and specialty materials/chemicals. The specialty materials line includes UOP catalysts and adsorbents that are used across the chemical industry, particularly in petrochemical production. The company recently announced the acquisition of Nextnine, a company specializing in cyber security and remote service capabilities. Nextnine is a natural fit for Honeywell's process automation business. Further, industrial infrastructure security looks to be an area that will experience major growth in the coming years as companies look to protect their operating assets from hackers. Competitors for this business unit include Albemarle (ALB), BASF (OTCQX:BASFY), Dow (DOW), DuPont (DD), and Emerson.
Safety and Productivity Solutions sells personal protective equipment and footwear, gas detection technology, warehouse automation equipment, and a variety of other products. During the Q2 call, the company highlighted sales growth of their senor tag technology that enables real time monitoring of products as they move along the supply chain. Other companies marketing products in this space include 3M (MMM), Mine Safety Appliances, Kion Group, and Zebra Technologies (ZBRA).
Prior to ascending to the CEO position, Adamczyk held roles in several of the Honeywell units. He previously served as President of Honeywell Performance Materials and Technologies, Honeywell Process Solutions, and Honeywell Scanning and Mobility. His familiarity with the automation and monitoring sides of the business should serve him well, as the company is looking to focus on differentiating technologies and software.
Sustained Growth
Honeywell's share price appreciation has closely mirrored EBIT growth over the last decade, with both more than doubling over the last decade. The earnings growth has been fueled by growth in revenue and operating margins.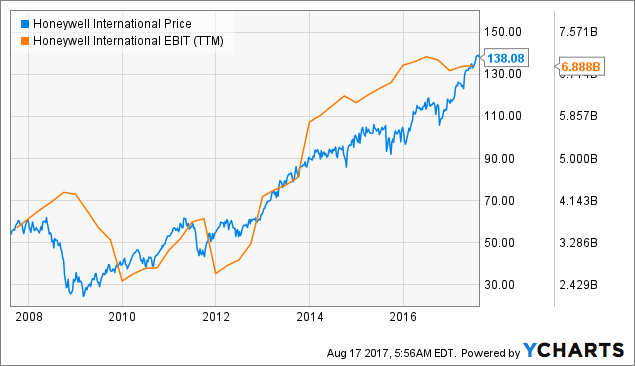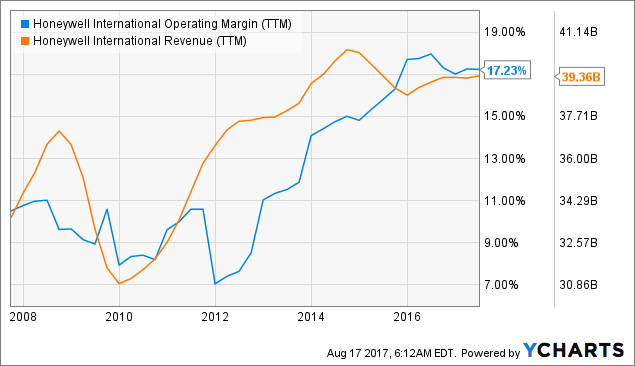 During the Q2 earnings call, CFO Tom Szlosek announced that the company had achieved organic growth of more than 3% during the quarter. Margins were up in both Aerospace (140 bps) and Performance Materials and Technologies (200 bps). Safety and Productivity Solutions margins were down 70 bps, but up 90 bps when adjusted for mergers and acquisitions. Home and Building Technologies had no change in margins. Heading into Q3, the company anticipates further margin expansion on the order of 120 to 160 bps and earnings per share between $1.70 and $1.75.
Last year, the company spent over $2.1 billion on R&D to help maintain organic growth. Honeywell has used acquisitions to supplement their organic growth and they indicated during the Q2 earnings call that additional acquisitions are being considered, but they will not acquire a company if the valuation is not compelling. The company went on to say that they were leaning towards purchasing overseas assets given the uncertainty of domestic tax policy, but they didn't rule out the purchase of an American assets. Going into further detail, they mentioned that there is close to $10 billion that could be deployed for an overseas purchase without having to rely on a debt issuance.
Risks
A significant portion of Honeywell's sales are subject to cyclical market demands. Changes in new construction, commodity chemical prices (e.g., oil), and government budgets all have the potential to significantly impact the company's revenue and profit in any given period. In the 2016 annual report, the company stated that it anticipates spending $546 million on asbestos claims and $250 million on environmental remediation in 2017. There may be additional product and environmental claims in the future. Honeywell sponsors pension plans that assume a somewhat generous rate of return of 7.75%. A 0.25% decrease in the return on pension assets would increase 2017 pension ongoing expenses by $40 million. The company stated during the Q2 call that they have hedging positions to protect foreign earnings from exchange rate fluctuations.
Value
Honeywell updated their earnings guidance for 2017 to $7.00 to $7.10 per share during the Q2 call. They also revised the free cash flow estimate to $4.6 to $4.7 billion for the year. With a current market cap of $103 billion, that would equate to a price to free cash flow of 21.9 if they reach the high end of the estimate. Although the company has a share repurchase plan, it is primarily used to offset dilution by stock-based employee compensation and savings plan contributions. With shares currently priced at $135, the company would have to achieve ~7% compounded annual growth in free cash flow over the next three years in order to get the price to free cash flow down to a more attractive level of 18. Below is Honeywell's price to free cash flow over the last decade. Alternatively, the stock would have to fall to $111 per share to reach a price to free cash flow of 18 based on the high end of the free cash flow guidance.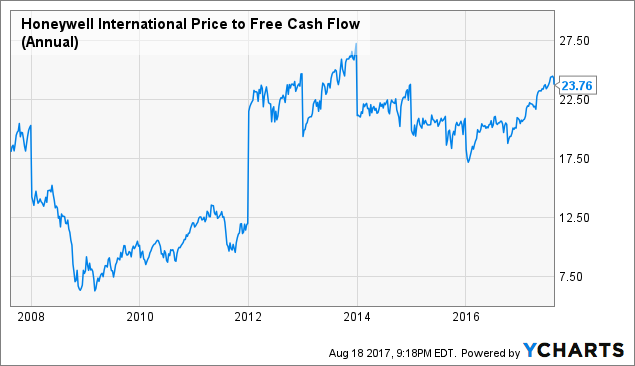 Dividends have grown from $1.00 per share in 2007 to the current $2.66 per share, resulting in a dividend yield of 1.9%. The current forward dividend payout represents just over $2 billion. Since 2011, dividend increases have been announced in the fourth quarter, so shareholders may see another increase announced in October. Honeywell has stated that they are looking to increase dividends at a faster rate than EPS growth.
Honeywell was authorized to grant over 46 million shares through the 2016 Stock Incentive Plan and Directors Plan, as of December 31, 2016. If the company continues the current share repurchase rate in the second half of the year in order to offset share dilution, that would account for nearly $2 billion of the remaining free cash flow. That would leave Honeywell with ~$600 million to provide shareholders with a healthy dividend increase in Q4.
Honeywell has averaged 14.1% return on invested capital over the last decade. The company spun off their resins business last year, which should help the company to focus capital investments on higher return generating projects in their remaining portfolio. Given their high return on capital, shareholders would likely be better served if the additional cash flow was directed to internal investment instead of another double-digit dividend increase.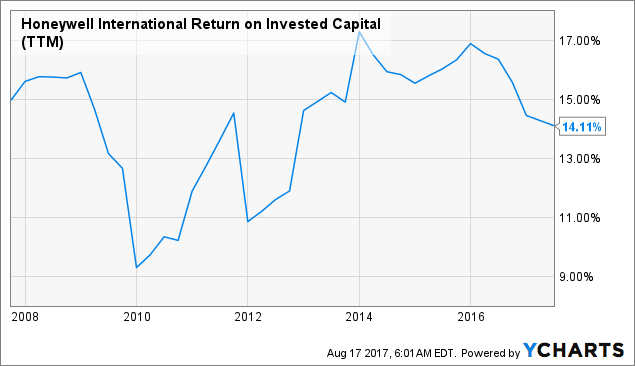 Conclusions
Honeywell has demonstrated consistent earnings growth over the last decade, more than doubling EBIT. The company has returned the earnings to shareholders by more than doubling dividends over the same time period. Honeywell is well positioned to continue growing, as secular trends in process automation and internet connectivity are well aligned with Honeywell's strengths. Value investors looking to establish a new position in Honeywell might be better served waiting for a better entry price, but current shareholders will likely be rewarded with another dividend increase.