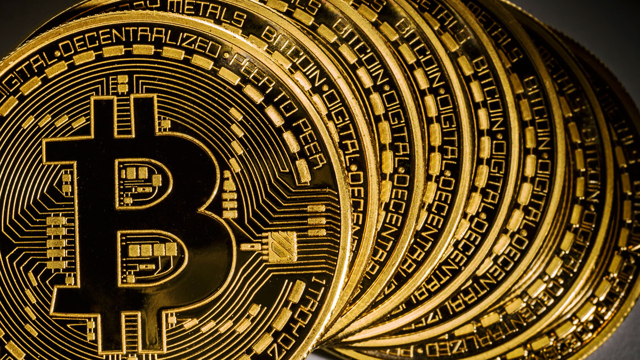 Source: plus.google.com
How Bitcoin has risen to today's levels:
Today, as Bitcoin surpasses $4,300 a coin, with a market cap of over $71 billion, more and more financial institutions are releasing their own commentary and opinions on cryptocurrencies. This is signaling that regardless of your stance on them, they will become increasingly difficult to ignore. Bitcoin has proven its ability to overcome challenges and negative coverage time and time again. Most recently, Bitcoin rallied following the hard fork on August 1st.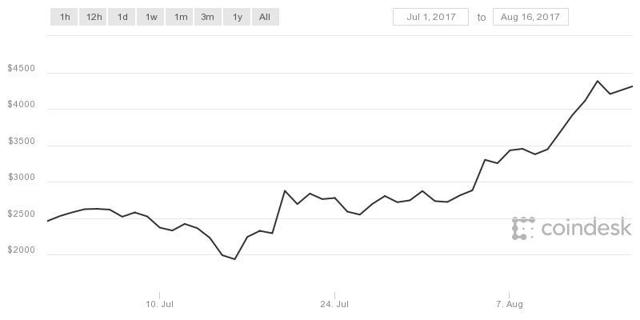 Source: coindesk.com
While Bitcoin has certainly remained volatile, it has managed to respond well to every negative story and narrative that has been created. Today, concerns are being raised as it seems likely that BTC will bifurcate again because of support for Segwit2x from some groups in the cryptocurrency community. Naysayers have continued to cite new reasons that Bitcoin's rise is not sustainable. In early 2016, a senior Bitcoin developer sold all of his coins, claiming that the cryptocurrency was a failed experiment. The chart below illustrates Bitcoin's performance since this developer's announcement in January of 2016.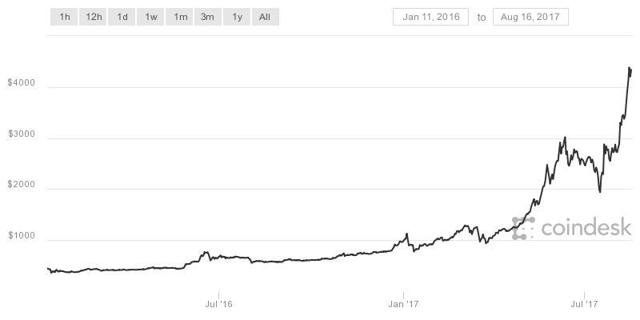 Source: coindesk.com
We can look further back to 2014, when an article from The Motley Fool cited three reasons that Bitcoin was doomed to fail. The first reason being, the currency is too volatile. The second reason is that there is simply no need for the currency. Finally, the article cited the shady activities that many use Bitcoin for. There are many other articles from this time period that enumerate reason after reason Bitcoin will fail. When these articles were published, it is likely that none of them could have pictured the likes of Goldman Sachs (NYSE:GS), Fidelity and the CBOE (NASDAQ:CBOE) discussing Bitcoin.
Sheba Jafari, an analyst at Goldman Sachs, predicted that Bitcoin could reach levels as high as $4,287 before falling below $3,000 to signal a top. Jafari's prediction is predicated on the theory that this is the "fifth wave" for Bitcoin, which leads to a correction.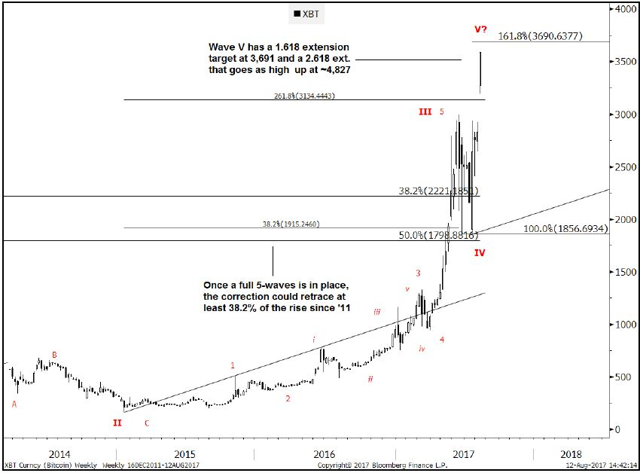 Source: Goldman Sachs
Regardless of the actual content of Jafari's prediction, it is telling that a Chief Technician from Goldman Sachs is issuing a note to clients on Bitcoin. In the very same week, Fidelity, one of world's most respected financial services companies, began allowing users to view their cryptocurrency holdings by verifying Coinbase. An SVP from Fidelity Labs, Hadley Stern, referred to Bitcoin as "digital gold", going on to say that blockchain technology will change the world. Stern also said that banning digital currency would be the equivalent of governments banning the open web. While this feature will only allow Fidelity customers to view their Coinbase balances alongside their other assets, it certainly helps to legitimize cryptocurrencies. It also raises the question, are cryptocurrencies revolutionary enough to be considered their own asset class?
In the first week of August, the CBOE announced their intention to launch derivatives and options on Bitcoin. Gemini Trust, run by the Winklevoss twins, will provide the data to the CBOE. This is another signal pointing to the legitimacy of Bitcoin. Jack Dorsey, a pioneer in the payment industry, referred to blockchain technology as "the next big unlock" when speaking with Lauren Goode.
It is important not to downplay the potential challenges that Bitcoin and other cryptocurrencies may face. Recently, the SEC made a ruling that some coins issued in ICOs should be classified as securities. While this may not be favorable to those hoping to raise funding through an ICO, it illustrates that the SEC can no longer turn a blind eye to cryptocurrencies.
Generally, when major news breaks about Bitcoin it moves sharply. This is something that potential buyers can use to increase their position size during panic selling. Metastable, a cryptocurrency hedge fund with backing from Andreessen Horowitz and Sequoia Capital, has benefited greatly from this very strategy. When Bitfinex was hacked, sending Bitcoin investors into a frenzy, Metastable more than doubled their position. The chart below illustrates the reaction to the Bitfinex hack.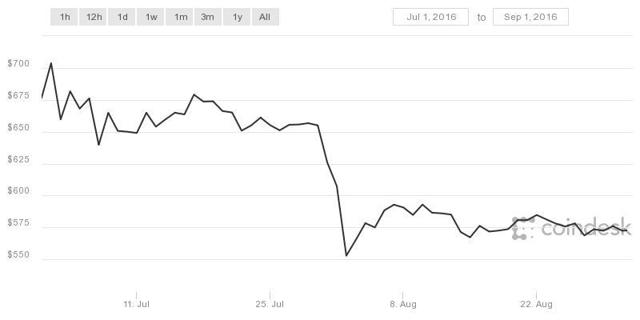 Source: coindesk.com
Employing a strategy of patience and logic to cryptocurrency purchase is of great importance. It should not be treated as a momentum play or catching a trend. It should also not be treated as a guarantee. Treat it as a store of value in your portfolio. You would not make a speculative play in an equity or commodity if you cannot handle a loss, so why would you do so with a cryptocurrency.
Average into your position:
It is important to be patient when making a move to purchase. It is comparable to moving in a volatile or high beta stock. You should not be trying to move in at one time, but you should instead be looking for opportunities to move in over a period of weeks. In the past month to date, Bitcoin has closed higher than previous day's closing price 19 times and closed lower than the previous day's close 11 times. Over this same time period (7/17/2017-8/16/2017), the average closing price of Bitcoin was $3,095. Today, Bitcoin is trading at well over 4,000 dollars. This small sample size of one month can serve as an example as to why you must approach the purchase of coins with patience.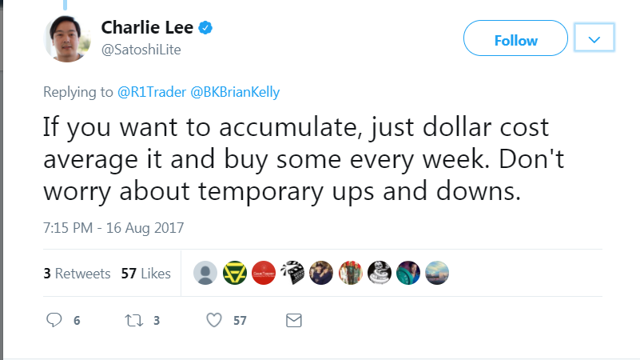 The founder of Litecoin, Charlie Lee, offers his beliefs on the best way to enter into a Litecoin position. This same strategy should be employed with any cryptocurrency.
Learning from another industry:
Having cash on the sidelines is pivotal for any investor. Rather than seeing Bitcoin's volatility as a negative, you should instead find opportunity in it.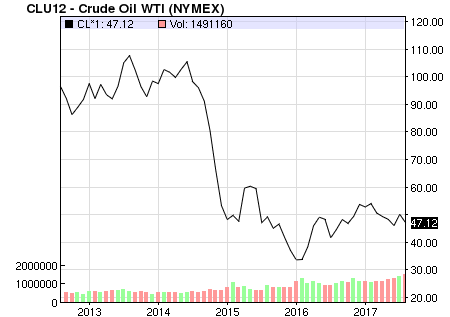 Source: nasdaq.com
The oil industry offers us an extremely valuable lesson in capital allocation. In 2014, when oil prices plummeted from above the 100 dollar mark, many oil companies were crushed. Breitburn Energy Partners (OTCPK:BBEPQ), an MLP charted below, was using almost all of their cash flow to pay out dividends and left some of their production unhedged. The chart illustrates what happened to Breitburn as a result. When prices crashed, they were not hedged and had no cash on the sideline to purchase cheap assets from distressed companies or investors.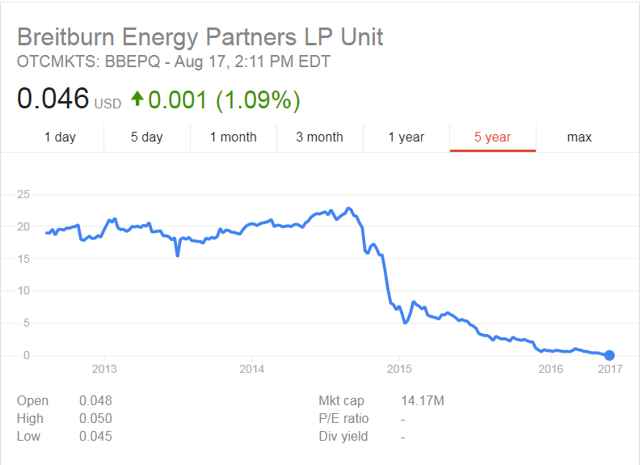 Source: Google Finance
During this same time period, EOG Resources (NYSE:EOG) offers an example of what happened to low-cost producers who had allocated their capital in a better manner. When oil prices crashed, companies that did not return their entire cash flow through dividend payments were able to purchase assets at a very cheap price from other distressed companies. As a result, EOG's cash cost for production and transportation of a barrel of oil is below $8 today.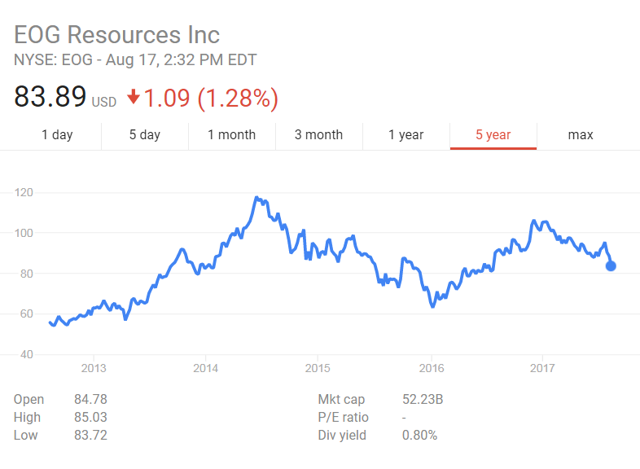 Source: Google Finance
What can we learn from this? Sometimes, cash on the sideline is the most valuable asset of all. This a specific example uses two companies that depend on the price of a commodity. This same idea can be applied to a portfolio of equities. When there is blood in the streets you should always be looking to buy. While it is not a perfect comparison, the above example illustrates something to consider when investing in Bitcoin and other cryptocurrencies.
In closing, cryptocurrencies, specifically Bitcoin, are becoming a more important and relevant topic in the financial world. In the past few months, financial institutions have begun to issue commentary on Bitcoin specifically. One financial services company, Fidelity, will now allow customers to view their cryptocurrency holdings alongside their other assets. All signs are pointing to a bright future for digital currencies. If you are invested in digital currencies, it is your own responsibility to stay on top of any developments in the space. Regardless, I believe it would be ignorant to maintain an attitude like that of Howard Marks. Investors cannot ignore the potential impact that digital currencies and blockchain technology might have on the world. If you do decide to invest in, you should always average into your position. Lastly, always keep cash on the sideline that you can mobilize during an event that leads to a major price drop. The idea of owning cryptocurrencies is off-putting to many, often because of a lack of understanding. Always complete due diligence before deciding to invest.
Disclosure: I am/we are long BITCOIN.
I wrote this article myself, and it expresses my own opinions. I am not receiving compensation for it (other than from Seeking Alpha). I have no business relationship with any company whose stock is mentioned in this article.
Editor's Note: This article covers one or more stocks trading at less than $1 per share and/or with less than a $100 million market cap. Please be aware of the risks associated with these stocks.