The latest Commitment of Traders (COT) report, showed another rise in speculative longs for the fifth straight week and a decline in speculative shorts for the fourth straight week. The net speculative long position has done a spectacular turnaround in the past few weeks and sits at the highest position since last September – with the long-short ratio at the highest level since gold was well above $1300 last year.
Silver speculators followed gold speculators up, though with a lot less enthusiasm as long positions on slightly rose while shorts cut their positions at a faster rate.
The big event last week was the release of Fed minutes on Wednesday which showed, according to reporters, a dovish Fed. We thought they were actually a bit bearish as they showed the Fed was serious about a potential tightening (via the Fed's bond holdings) as soon as September. But markets and precious metals certainly weren't reading that and proceeded to rise after the minutes release.
We will get more into some of these details but before that let us give investors a quick overview into the COT report for those who are not familiar with it.
About the COT Report
The COT report is issued by the CFTC every Friday, to provide market participants a breakdown of each Tuesday's open interest for markets in which 20 or more traders hold positions equal to or above the reporting levels established by the CFTC. In plain English, this is a report that shows what positions major traders are taking in a number of financial and commodity markets.
Though there is never one report or tool that can give you certainty about where prices are headed in the future, the COT report does allow the small investors a way to see what larger traders are doing and to possibly position their positions accordingly. For example, if there is a large managed money short interest in gold, that is often an indicator that a rally may be coming because the market is overly pessimistic and saturated with shorts - so you may want to take a long position.
The big disadvantage to the COT report is that it is issued on Friday but only contains Tuesday's data - so there is a three-day lag between the report and the actual positioning of traders. This is an eternity by short-term investing standards, and by the time the new report is issued it has already missed a large amount of trading activity.
There are many ways to read the COT report, and there are many analysts that focus specifically on this report (we are not one of them) so we won't claim to be the exports on it. What we focus on in this report is the "Managed Money" positions and total open interest as it gives us an idea of how much interest there is in the gold market and how the short-term players are positioned.
This Week's Gold COT Report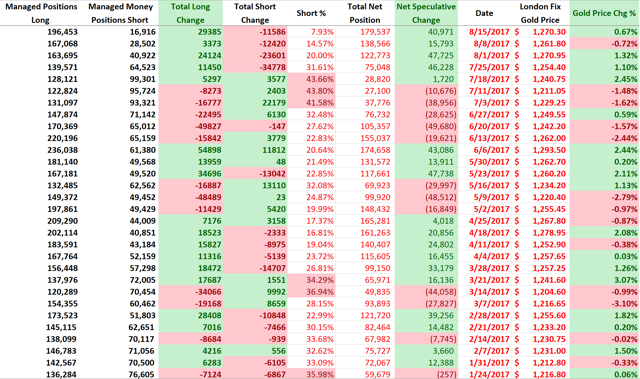 *Gold price data reflects the COT week (Tues-Tues) not a standard week (Mon-Fri)
For the week, speculative longs increased their positions by a chunky 29,385 contracts, which was a fifth straight week. On the short side, speculators closed their positions at a 11,586-contract clip for a fourth straight week.
The short percentage now sits at 7.93%, which is the lowest rate since last September when gold was trading well over $1300 per ounce. The total short position of 16,916 contracts is the lowest amount of short speculators going all the way back to 2014. These are warning signs for us as shorts have been completely obliterated by the recent price rise.
Moving on, the net position of all gold traders can be seen below: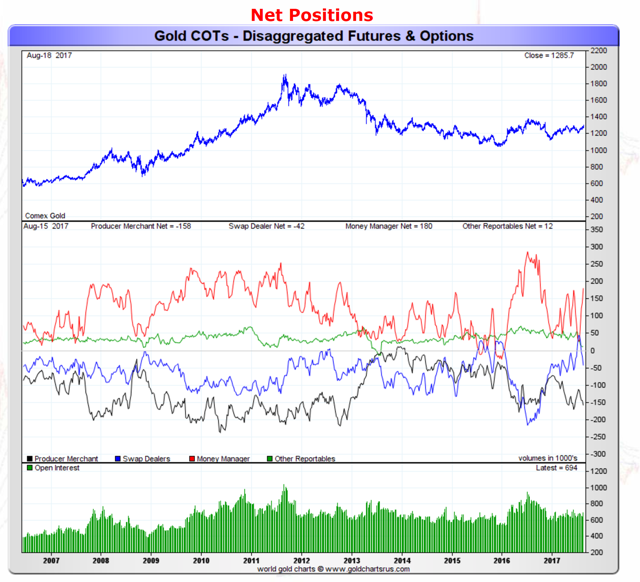 Source: GoldChartsRUS
The red-line represents the net speculative gold positions of money managers (the biggest category of speculative trader), and as investors can see, we saw the net position of speculative traders increase by 41,000 contracts to 180,000 net speculative long contracts.
As for silver, the action week's action looked like the following: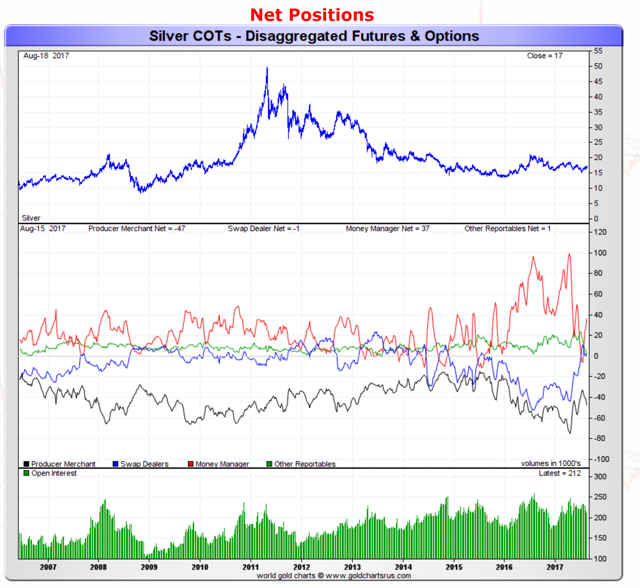 Source: GoldChartsRUS
The red line which represents the net speculative positions of money managers, showed an increase in the net-long silver speculator position as their total net position increased by around 10,000 contracts from a net speculative short position to a net long position of 37,000.
Our Take and What This Means for Investors
Last week our position in gold and silver was Neutral-Bearish, which turned out to be fairly accurate as despite the mid-week gains and touching $1300 per ounce, gold ended the week slightly lower by around 0.25% - a big chunk of that due to Friday's swoon.
In terms of this upcoming week, we think the big event last week was the ouster of Trump adviser Steve Bannon. While Bannon will continue to fight for the Trump agenda, his release suggests to us that the administration will become more orthodox and less unpredictable (and market-moving). Of course, we don't know for sure but for the next few weeks we think we'll see a bit of calm on the political scene – until the debt debates take center stage in September.
Without the political headlines driving uncertainty in markets, the other non-political factors should come into play for gold and silver - in our view there should be some caution. Demand across Asia is weak on higher prices as discounts in India widen to $13 per ounce – the highest in 11 months. In both China and Hong Kong premiums also continue to fall – suggesting Chinese consumers are a bit price sensitive at these levels.
Additionally, looking at the COT report we are very concerned about the extremely low levels of shorts – the 16,916-outstanding speculative short contracts is the lowest SINCE 2014. The short ratio of 7.93% is also extremely low and suggests that that market is imbalanced in terms of future opinion on the gold price.
The contrarian position here is undoubtedly the short side, and without strong physical demand, we would need to see continued significant political and geopolitical events to keep investors buying – any letup may see the short position pickup and drive late buying longs to sell.
Thus, investors need to be extremely careful here and we expect some weakness in gold simply because it's going to take larger and larger events to keep the gold price rising with such weak physical demand and such one-sided (bullish) investor positions. In fact, the only real bullish factor for gold that we see right now is the debt ceiling debates, and we think the firing of Bannon may suggest a less confrontational position for the Trump administration on this issue.
That's very little room for error and we think it is prudent to change our short-term stance on gold from Neutral-Bearish to Bearish.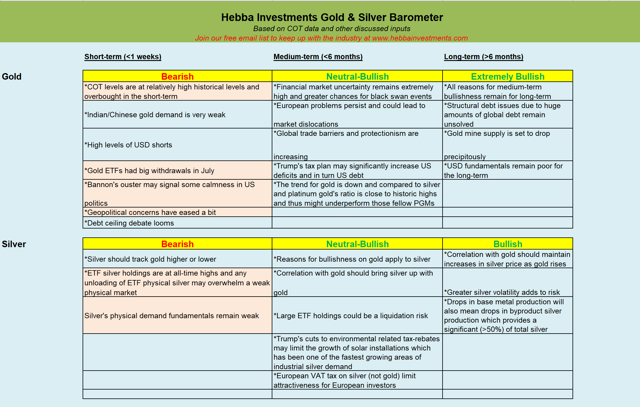 We know that the clear majority of readers will disagree with us especially considering Kitco's recent survey titled "Wall St., Main St. Look For Gold To Keep On Shining":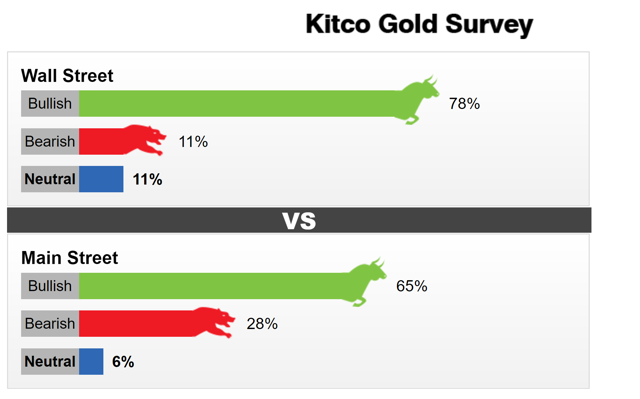 Source: Kitco
For the upcoming week then we are more confident in seeing a drop-in gold than last week, as the risk-reward in gold clearly favors caution here. Investors should prudently lighten up on gold and silver positions in the ETF's (SPDR Gold Trust ETF (NYSEARCA:GLD), iShares Silver Trust (SLV), Sprott Physical Silver Trust (PSLV), and ETFS Physical Swiss Gold Trust ETF, etc).
Disclosure: I am/we are long SGOL, SIVR.
I wrote this article myself, and it expresses my own opinions. I am not receiving compensation for it (other than from Seeking Alpha). I have no business relationship with any company whose stock is mentioned in this article.