MLPs declined another 3.3% this week, unable to rebound from a brutal few weeks largely because of a fund flow imbalance caused by a $1bn offering that had to be digested. The reeling MLP sector underperformed the broader stock market (S&P 500 -0.6%) and utilities (+1.2%). Oil prices were lower for most of the week before a rally Friday that brought oil to nearly flat vs. last Friday.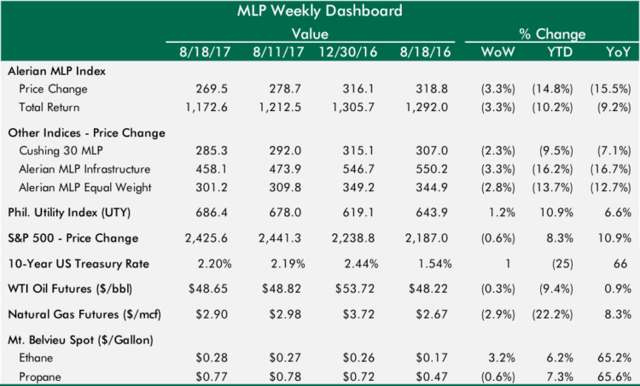 Why so Serious?
While in Las Vegas this week for a major MLP conference, some MLP management team members that read my weekly posts mentioned that recent posts have seemed dark. One even urged me to cheer up.
Recent MLP price action has been weighing on my sentiment, like everyone else. Here are some stats on MLP Index performance:
This week was the second worst of the year (second to last week)

It was the third straight 1%+ decline week (-8.6% over those three weeks)

It was the first back to back 3%+ decline weeks since the bottom in early February 2016

MLPs have had declines of more than 1% in 9 of the last 13 weeks (-11.7% total return during that time)

The total return index hasn't been this low since May 2016, and price-only AMZ hasn't been this low since April 2016
The bright side is that the last time we experienced weakness of this level, the rally off the bottom was the sharp. We can expect some sort of bounce soon. That bounce may coincide with renewed optimism (upon further reflection on earnings) that volumes through energy infrastructure (plants and pipelines) will ramp in the second half of the year. Those ramping volumes will improve leverage and could encourage generalist investors to take another look at the sector.
Another bright spot is Blackstone, which continues to deploy capital in a contrarian manner towards midstream investments. Blackstone acquired Permian-based Eagle Claw Midstream for $2bn earlier this year, bought a stake in the Rover Pipeline project from ETP. And this week, Blackstone announced it will buy an MLP asset manager of scale, Harvest (our neighbors in Wayne). Blackstone sees value in midstream assets and MLPs. While not quite the same as when David Tepper and Warren Buffett's respective funds purchased MLPs in early 2016, at least one sophisticated investor see value in the sector.
One final bright side is that maybe we've got a double bottom on our hands. Maybe this latest washout or hedge fund shorting success will drive short covering that sparks a rally that achieves escape velocity to get us back towards even for the year (+11.4% from here) or back to highs of the year (+20.9% from here).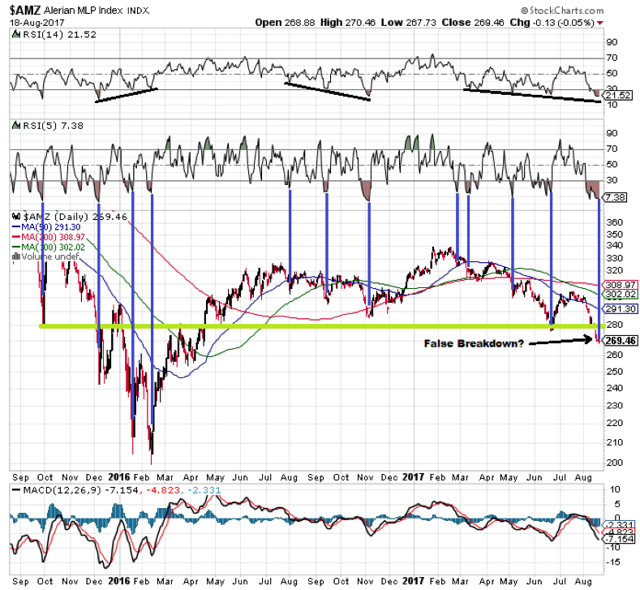 A Push is a Win
Being in Vegas this week, I did play a few games. When it comes to gambling, I often find myself struggling to get back to even. Sometimes the prospect of getting all the way back to flat feels insurmountable. In those instances, an old poker saying often comes to mind: "all I need is a chip and a chair". That saying is said to have originated at the World Series of Poker at the Horseshoe in 1982 when Jack Straus won the main event after being down to his last $25 chip.
Many of us at the conference witnessed an analyst win $149k on a single chip on a sucker bet at the blackjack tables. MLP investors aren't down to their last chip and MLPs aren't a sucker bet, but they still might be in for an epic comeback at some point. Maybe even one that gets them all the way back to even.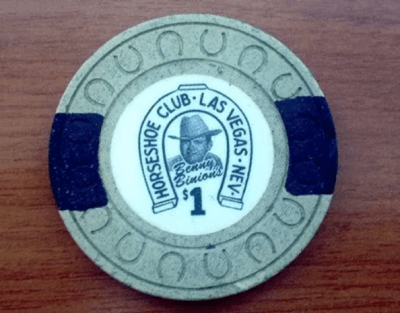 Winners & Losers
ETP was not a winner this week, but was able to issue $1bn of equity at a 5% discount in a very weak MLP tape and still not land in the bottom 5. PAA was unable to avoid the bottom 5 for a second straight week, with not even a dead cat bounce as the market continues to grapple with an uncertain distribution and potential credit downgrade.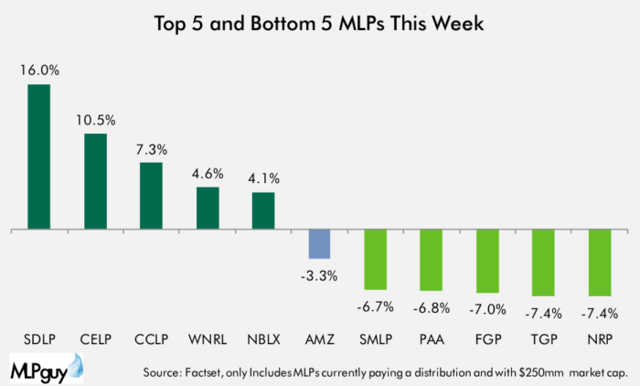 WNRL's merger announcement with ANDX helped it outperform while other positive moves defy explanation.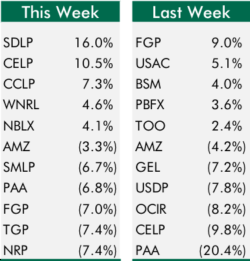 Year-to-Date Leaderboard
Not much changed on the fringes of year-to-date returns this week. PAA was a notable addition to the bottom five for the first time this year, down 37.7% this year so far. NGL's ongoing weakness has landed it in the last spot.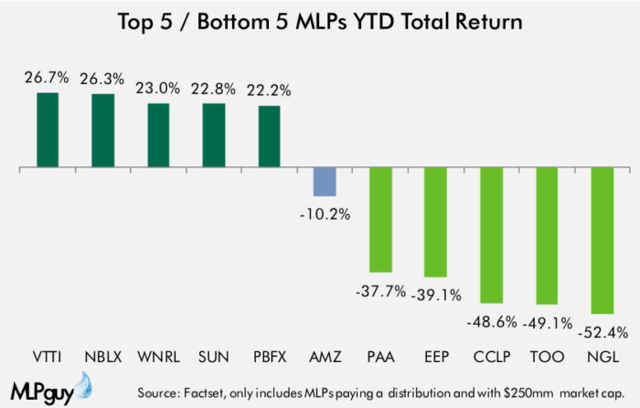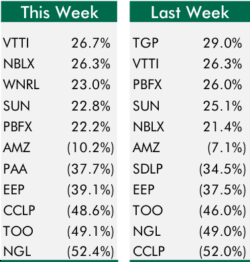 General Partners and Midstream Corporations
GPs and midstream corporations outperformed the MLP Index this week, but almost all of them were negative. Weak trading continued for PAGP, with additional S&L disclosure proving not helpful. NSH went from best performing last week to worst this week. ETE had one positive day on the back of an additional $1bn worth of units at ETP that increase IDR cash flow, but that pop faded.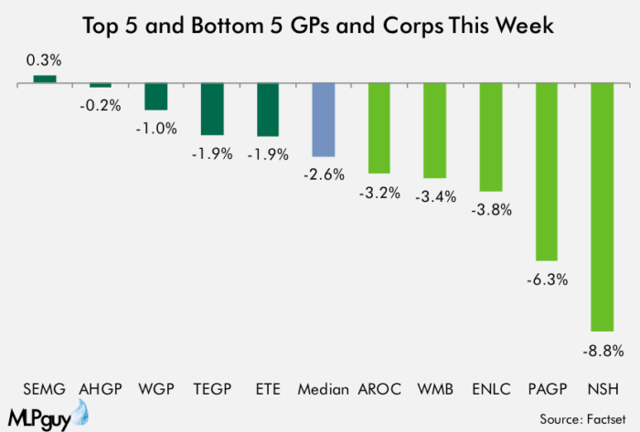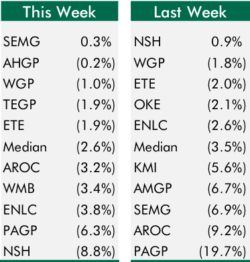 News of the (MLP) World
ETP's large equity deal was the big transaction of the week. ANDX's long-anticipated merger and IDR takeout announcement feels like it was weeks ago, but it was actually Monday morning. From here through the end of August, expect capital markets to stay dormant, licking their wounds and biding their time before they are tested again post labor day.

Capital Markets
Energy Transfer Partners priced public offering of 54.0mm units at $18.65/unit, raising $1bn (press release)

Overnight offering, priced at a 5% discount, and traded flat in the following session

Expected to take care of equity needs through mid-2018, a whole 12 months away!

ETP CEO Kelcy Warren purchased 1.0mm units in the offering, his second 1.0mm unit purchase this summer
Growth Projects/M&A
Andeavor Logistics announced all-equity merger with Western Refining Logistics and all-equity buy-in of ANDX incentive distribution rights (IDRs) by sponsor Andeavor (press release)

ANDX will acquire WNRL in a unit-for-unit exchange at a blended ratio of 0.4921, representing an enterprise value of $1.8bn and implying an 8.6x 2018 EBITDA multiple

Following the merger, ANDX will issue 78mm units to ANDV in exchange for the cancellation of ANDX's IDRs

WNRL public unitholders will receive 0.5233 ANDX common units for each WNRL common unit held

ANDV will receive 0.4639 ANDX common units for each WNRL common unit held

Post-merger, ANDV will hold 127mm ANDX units, representing 59% of common units outstanding

The merger and IDR buy-in are expected to close in Q4
Golar LNG Partners (NASDAQ:GMLP) announced acquisition via a purchase and sale agreement for a stake in the FLNG vessel Hilli Episeyo from Golar LNG Limited (NASDAQ:GLNG) (press release)

The purchase price is $658mm less net lease obligations under the financing facility for the Hilli that are expected to be between $468 and $480mm
Calumet Specialty Products (NASDAQ:CLMT) announced the sale of its Superior Refinery to Husky Energy (OTCPK:HUSKF) (HSE) for $435mm in cash (press release)
Other
Energy private equity firm, Silver Run II, announced the acquisition of Alta Mesa LP, an oil and gas producer, and Kingfisher Midstream, a pipeline and gas gathering company, to form a $3.8bn STACK pure-play (Reuters)

Former Anadarko (NYSE:APC) CEO James Hackett will be executive chairman of the combined company, which will be named Alta Mesa Resources and trade publicly under ticker AMR

Hackett commented about the possibility of a future midstream IPO
Editor's Note: This article discusses one or more securities that do not trade on a major U.S. exchange. Please be aware of the risks associated with these stocks.