Please take note this is only one aspect in weighing the attractiveness or non-attractiveness of the companies mentioned as an investment and should not be used independent of other factors. This article examines one segment of the companies' businesses, and other factors such as valuation are not addressed. This article is not a recommendation to buy or sell any stock mentioned.
Honeywell (NYSE:NASDAQ:HON) is ramping up its software capabilities and coupled with its array of aircraft hardware, the company is in a good position to benefit from the era of " connected aircraft".
The B2B market for IoT is poised for growth. Last year, there were 2.4 billion connected devices being used by businesses, and this year there will be 3.1 billion, according to Gartner, the research group. By 2020, it expects that number to have more than doubled to 7.6 billion.
By 2020, companies will spend an additional € 250 billion on IoT (over and above their normal technology spending).
The IoT market has several layers and only the top two layers of the technology stack, namely services, and IoT applications and analytics, are expected to see the biggest growth and capture the bulk of IoT spending.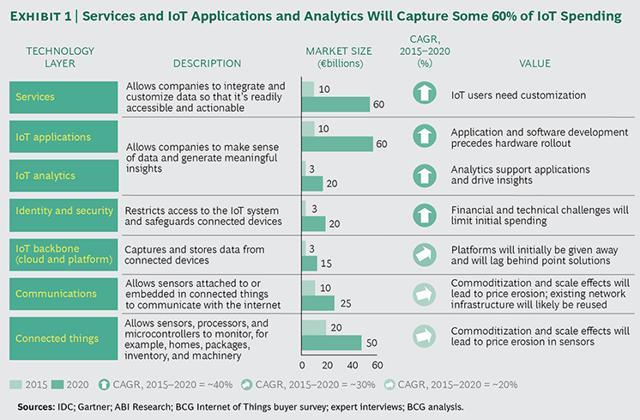 Source: Boston Consulting Group
This could explain why industrial companies have been ramping up software capabilities, spending billions in the process. Siemens (OTCMKTS:OTCPK:SIEGY) has spent $15 billion on US software companies since 2007 and has 21,000 software engineers. German engineering giant Bosch has more than 20,000 software engineers, of which 4,000 are focused solely on the internet of things. GE (NYSE:GE) has 14,000 software engineers and is planning to hire 6,000 more technical and support staff for its digital operations.
Honeywell has also focused on software in an effort to capitalize on this digital shift. Half of the company's engineers are dedicated to developing software. The company's new CEO wants to invest in software capabilities to drive growth. Software is a growth opportunity for the company; HSBC Global estimates that stand-alone software products will account for roughly 22% of total sales by 2020, more than double the level in 2015.
Of Honeywell's four operating units, aerospace, one of its highest margin divisions, is the largest, accounting for 37% of revenue and 40% of profit. While IoT-based "connected cars" have been making headlines, Honeywell has positioned itself in aviation IoT by offering software services for "connected aircraft" with its big data-driven software solution Go Direct which is a suite of more than 50 connected aircraft services which includes solutions for cabin connectivity, flight support services, fuel efficiency services and predictive maintenance.
The company demonstrated its array of connected aircraft technologies when it conducted a worldwide tour of its "Connected Aircraft" this year.
While the company's Go Direct software exposes Honeywell to several areas of the "connected aircraft" opportunity, the exposure to predictive maintenance, which leverages on Honeywell's position as a top supplier of aircraft equipment, could be a particularly profitable opportunity.
Among the many use cases for B2B IoT, predictive maintenance is expected to be a major growth driver.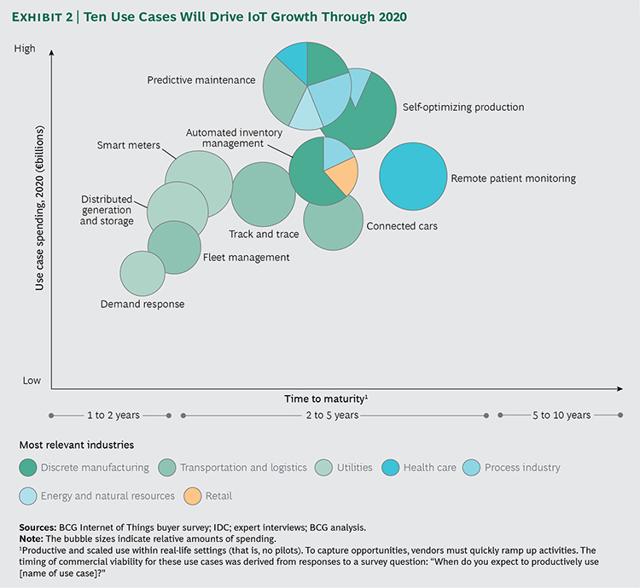 Source: Boston Consulting Group
Predictive maintenance is expected to grow seven-fold by 2022.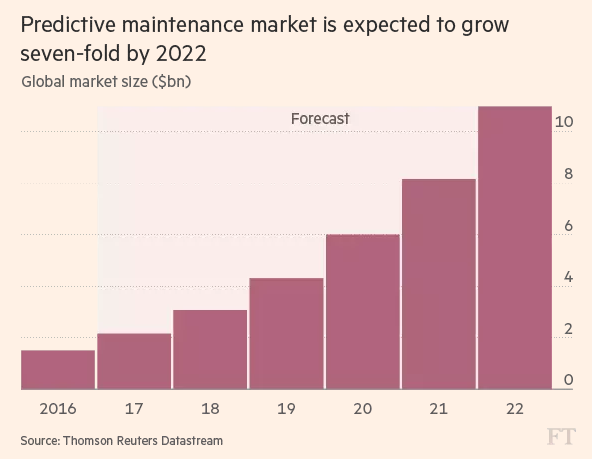 Source: FT.com
Civil aviation is one of the most asset-intensive industries in the world. Even the slightest improvements in asset functionality and maintenance (notably by reducing fuel costs and maintenance costs) can yield substantial cost savings.
For instance, the Airlines for America (A4A) industry trade association collected financial data for nine U.S.- based carriers - United (NYSE: UAL) , American (NASDAQ: AAL), Delta Air Lines (NYSE: DAL), Southwest Airlines (NYSE: LUV), Alaska Airlines (NYSE: ALK), JetBlue (NASDAQ: JBLU), Hawaiian Airlines (NASDAQ: HA), Spirit Airlines (NASDAQ: SAVE) and Allegiant (NASDAQ: ALTG) — and found they collectively reported a pre-tax profit margin of 11.4% ($9.2 billion) for the first half of 2017 which is down from a collective 15.5% pretax margin ($12 billion) during the first half of 2016. The reason for the decline was due to a "surge" in expenses in the first half of 2017, which outpaced revenue growth. The biggest increases in expenses were from fuel costs, labor and maintenance.
Record low oil prices, capacity discipline and increasing demand for air travel have helped airlines reach record profitability for their fifth consecutive year, according to PwC. To sustain this growth, airlines can implement additional measures to improve operational efficiency by cutting costs and improving reliability.
For airlines, cancellations and delays are a huge and expensive problem. Up to 30% of the total delay time is due to unplanned maintenance, hence predictive maintenance solutions which take advantage of IoT, are a compelling business case for the airline sector. Last year, in the U.S. alone, the cost of maintenance related delays was well over half a billion dollars.
Leveraging on its existing install base of aerospace hardware such as brakes, wheels, APUs and sensors, Honeywell has an opportunity to establish a position for itself in the promising predictive maintenance market. Honeywell has an array of aviation and aircraft components making it one of the top aerospace companies in the world.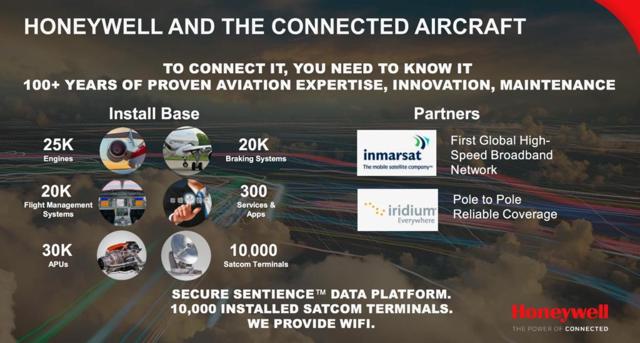 Honeywell dominates the market for Auxiliary Power Units (APU) with a 76% market share for commercial aircraft. Its market share in military and private planes is even higher. An APU, a critical component of an aircraft made by companies such as Honeywell and Hamilton Sundstrand (NYSE:UTX), is a small gas turbine engine which provides electrical power for starting an aircraft's main engines and runs air conditioning and other systems while the plane is on the ground.
In 2009, when a US Airways A320 flight that had just departed New York's LaGuardia airport struck a flock of geese, both of the aircraft's GE Aviation/Snecma-designed CFM56 turbofans were damaged and the associated electrical controls malfunctioned. It was the APUs during the final seconds that came to the rescue, providing the power needed to keep the flight controls, displays etc functioning to allow the pilot to touch down in the Hudson River.
In May this year, Hainan Airlines China's largest privately-operated airline, became Honeywell's first customer for its data-driven MRO (maintenance, repair, overhaul) service. Honeywell signed a deal with Hainan to provide predictive maintenance for Hainan Airlines' current fleet of 50 Airbus A330s as well as 40 more A330s when they are delivered in the future. Honeywell's Go Direct Connected Maintenance will be used to support auxiliary power units (APUS) by collecting APU data which will be used to predict possible issues and thereby reduce downtime.
After the Hainan Airlines deal in May, the following month, Honeywell won a contract to provide predictive maintenance for Cathay Pacific A330s. Honeywell's Go Direct Connected Maintenance program will be outfitted on more than 60 of Cathay Pacific's and Cathay Dragon's Airbus A330s. Cathay Pacific had been using the technology in a trial program which proved it can reduce inoperative systems by up to 35%, cut maintenance and operation costs amounting to several hundred thousand dollars, reduce delays (APU-related delay minutes were reduced by 51%) and aircraft downtime.
Building on this early-stage success, Honeywell is now eyeing the prospect of carving a bigger slice of the predictive maintenance market by broadening the scope of its Go Direct Maintenance services to other components (such as wheels, brakes and environmental control systems) including non-Honeywell components.
To conclude, the B2B IoT market is growing. A report by London-based research firm Techanvio expects aviation IoT to grow to US$ 14 billion by 2021 from nearly US$ 6 billion in 2016, representing a CAGR of 19% between 2017 and 2021. According to the firm, the prime driver propelling airlines to upgrade to IoT-enabled systems and architecture is to improve efficiency and reduce operational expenses. As a leading supplier of aerospace components and equipment, this is a growth opportunity for Honeywell, which derives over one-third of its total revenue from its aerospace segment which amounted to US$ 3.67 billion in the second quarter of 2017 with a profit margin of 22.3%.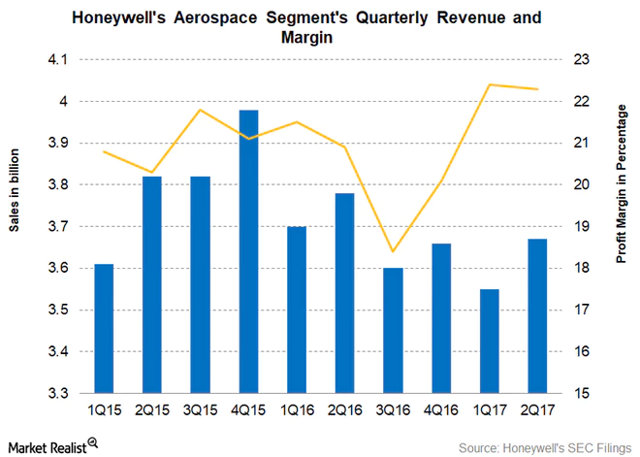 To tap the opportunity, Honeywell has been expanding its software capabilities and with its Go Direct software, the company offers a suite of technologies for the era of "connected aircraft".
Predictive maintenance is a promising growth area, and this is particularly applicable to the airline industry where fuel and maintenance are two of the biggest operational expenses. Leveraging on its wide install-based of aircraft components, Honeywell has the opportunity of carving a new revenue stream by offering big-data driven predictive maintenance services for its array of aircraft components.
Honeywell's Go Direct fuel efficiency software has also found success, bagging two new clients in August this year - Brussels Airlines and Air Serbia. The software uses data analysis, reporting and monitoring tools to identify fuel saving opportunities that make flying more cost-efficient, for instance, by communicating flight efficient paths to pilots. 20% - 40% of an airline's operating cost is associated with fuel expenses. These two airlines join a list of over 30 airlines using the software including Jet Airways, Lufthansa (OTCQX:DLAKY), Etihad, Finnair, Japan Airlines and Turkish Airlines.
Going forward, there is potential for margins in Honeywell's aerospace segment to improve, driven by the growth of connected aircraft which offers an opportunity for the company to add scalable software solutions to its existing install base of aircraft hardware. Higher software sales could have a particularly favorable impact on margins.