In this second article of a two-part series, we'll compare and analyze the financial ratios and the valuations of First Republic Bank (FRC) following its earnings reports for Q2.
The stock price for First Republic Bank is up over 40% in the past year, and the appreciation has been driven primarily by solid net interest income growth, growth in loans and deposits, and growth in fee income or non-interest income. As a result, the valuations of the bank have risen along with its stock price, and it's these elevated valuations that we'll analyze in this article.
We'll also compare FRC to its peers, including M&T Bank (MTB), KeyCorp (KEY), Huntington Bancshares Incorporated (HBAN), Zions Bancorporation (ZION), Citizens Financial Group (CFG), Regions Financial Corporation (RF), and Fifth Third Bancorp (FITB).
Revenue came in at $641M, which was up by 19.19% y/y, which missed estimates y/y by $25.32M.
FRC posted an EPS of $1.06 which missed estimates by 3 cents for the quarter.
Loan originations were $7.3 billion for the quarter and deposits increased to $63.3 billion, up 23.7% compared to a year ago.
The Bank grew net interest income by 20% y/y and non-interest income by 17%, and those numbers saved the quarter for FRC. For my income analysis on FRC, please click here for my earlier article.
Although First Republic posted impressive deposit growth y/y and net interest income growth in a low yield environment in Q2, the bank missed its revenue and EPS estimates. The stock price has held up, thanks in part to that solid income growth and an above average ROE. Although a slight retracement is underway for the stock, with the rich valuations, low yields, and an elevated price, FRC is at a serious risk of a major pullback of another 10%.
Company overview:
If you're not familiar with First Republic Bank, the bank targets affluent clients for banking services and wealth management services. Also, FRC offers capital markets services, including foreign exchange hedging for corporate clients, which is a growing trend for mid-sized regional banks.
It's an interesting business model whereby the bank is selective with the demographic areas that it chooses to operate. Most banks try to increase their market share by building out their branch networks (or buying the competition's branches), but FRC only chooses affluent cities. To compare the bank to another company that targets affluent areas, just think of First Republic as the Whole Foods (WFM) of banking.
As a result of this balanced approach to earnings, both fee-based wealth-management services and traditional banking products, the bank has seen incredible growth over the past year.
With the growth in the company, the stock has soared over the past year taking the valuations along for the ride.
Stock price performance:
FRC is up over 49% since July 2016 or when the bank stock rally began to take off.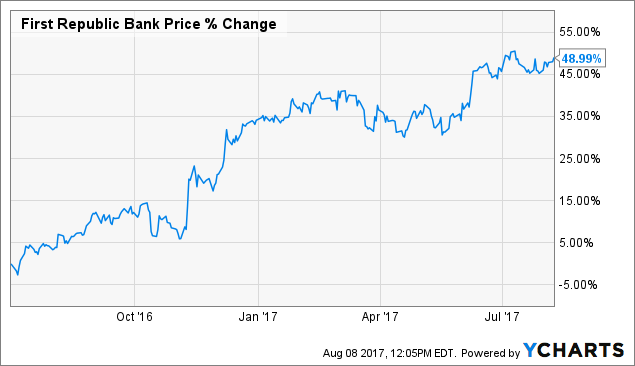 FRC data by YCharts
However, the stock price has stalled, and FRC is only up 5.71% since the Fed hiked rates in March of this year.
One would think that after three Fed hikes since December last year, a bank's stock price would be up by much more. In the next few charts, we'll see what's holding the stock back and could push it lower.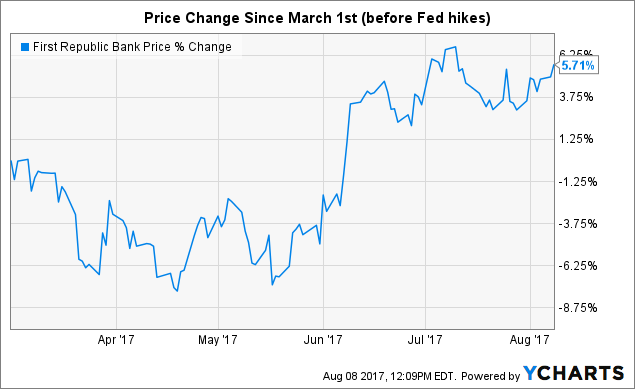 FRC data by YCharts
Why isn't the stock of FRC higher after three hikes in seven months?
As we can see from the chart below, the 10-year Treasury yield is down over 7% since December of 2016.
As yields fall, bank stocks suffer since banks earn less income on their loans. Lower yields impact net interest income for the bank negatively as the bank's loan spread narrows. The spread is the difference between what the bank pays depositors in interest versus what the bank charges in interest for loans. As yields fall, the spread narrows. Ideally, the bank wants solid economic growth pushing up yields resulting in a wider spread.
For FRC to post another quarter of solid NII growth, it will need a wider spread than what's currently trading in the bond market. If yields continue to fall or remain low, the chances of FRC missing its estimates again goes up dramatically and will increase the chances of a pullback in the stock.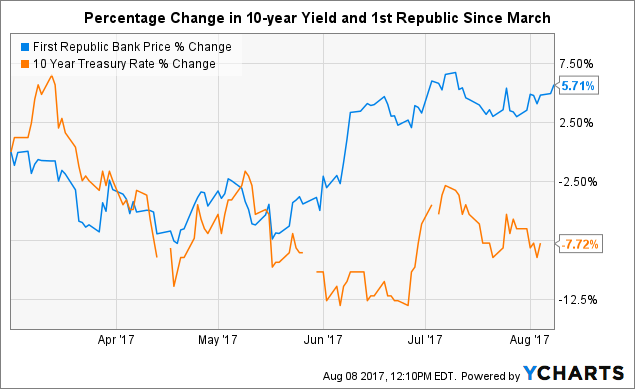 FRC data by YCharts
One of the chief reasons for the yield retracement has been waning confidence in the growth prospects for the U.S. economy. Unlike the two-year yield, which typically trades on short-term movements in rates like Fed hikes, the 10-year yield's value is based on growth and inflation expectations in the market.
As growth expectations have come down, so too have yields and, in the process, have capped the bank rally.
P/E Ratio Analysis:
The P/E ratio measures the current stock price to past quarterly earnings. The forward P/E ratio measures the current stock price to expected future earnings.
The below chart that shows a P/E ratio of 24.06 for FRC as of the end of Q2.
The forward P/E is currently 21.60 for the bank.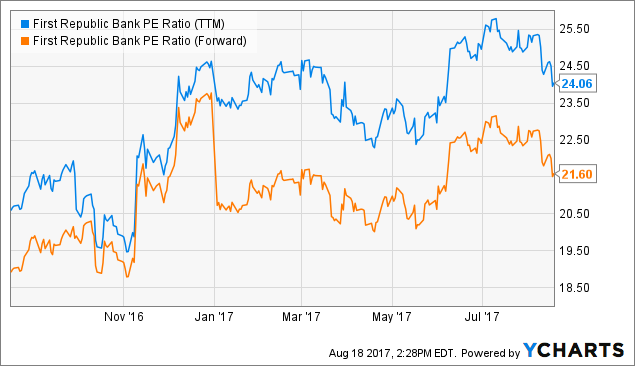 FRC PE Ratio (TTM) data by YCharts
P/E ratio compared to banks in the peer group:
The average P/E ratio for the bank peer group is 17.90 as of the end of Q2.
Currently, the price/earnings ratio for FRC puts the stock valued at a 29.69% premium to the average P/E of the peer banks.
Below is a graph showing the percentage difference between the P/E of FRC versus the P/E of each bank in the peer group.
FRC's P/E is trading at a premium to all the banks (by the percentages on the graph). Given the bank's high P/E relative to the peer group, the stock has a much higher chance of being overvalued than the other regionals. As a result, FRC will need to deliver bang-out third quarter results to prop up its valuation premium with its peers.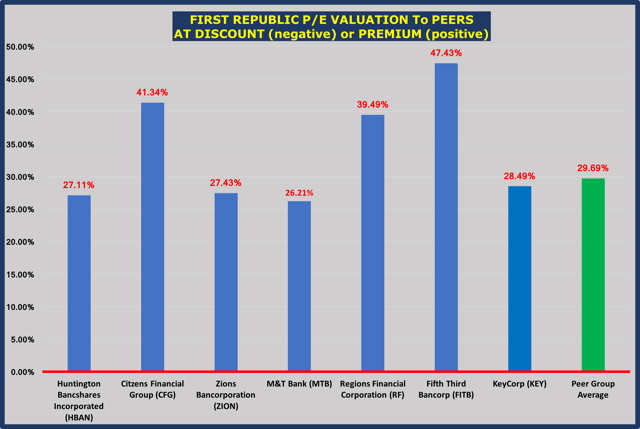 PE Ratio data by YCharts. Graph created by chrisbmurphy.com.
Book Value Comparison:
Book value is considered the value of a company's assets that investors would receive if the assets of the company were liquidated.
If a stock is trading over 2 price to book value, the stock is considered overvalued. Very few banks have a book value under 1 at this point in the economic cycle.
The below chart shows a book value of 2.466 for FRC.
For regional banks, a book value under 1.5 is considered good, and a book value under 1 is undervalued.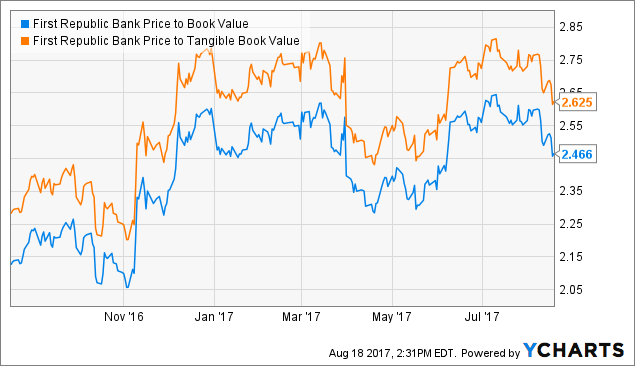 FRC Price to Book Value data by YCharts
The average book value for the bank peer group is 1.4649 for the quarter.
As a result, when compared to its peers, FRC is trading at a 43.83% premium in book value to the peer bank average.
From purely a valuation standpoint, both the book value and P/E is elevated relative to the industry. This is not an issue as long as the premium attached to the bank is justified. FRC is a very well-run bank as we see below as shown by the bank's ROE, but these valuation metrics are widely used by investors and will be under scrutiny if yields or growth fails to materialize in Q3.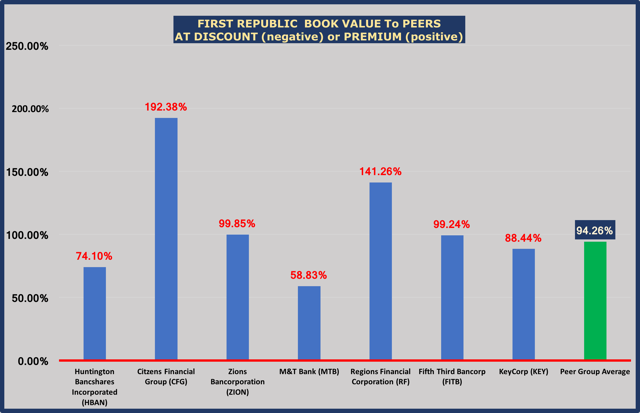 Price to Book Value data by YCharts. Graph created by chrisbmurphy.com.
Return on Equity or ROE is a measure of how well the management uses investments to generate earnings growth. Typically, a company with an ROE of 10 or higher is considered well run.
An ROE of below 10 is considered less than favorable by the market and is an indicator that improvement is needed.
The bank's ROE came in at 12.72% as of the end of Q2, which is a great number for any bank but especially for a regional bank.
The below chart shows how the ROE for FRC over the past three years.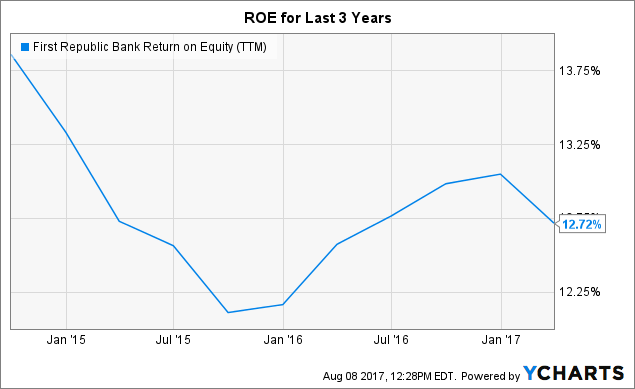 FRC Return on Equity (TTM) data by YCharts
ROE Industry Comparison:
The average ROE for the commercial banking industry, according to the FDIC stands at 9.32%, and FRC's ROE is 36% above the industry average.
First Republic's ROE is 40% above the 9% average for the regional bank peer group.
If you want to know whether the bank is using the money properly and getting a good return, the stellar ROE gives you the answer and shows in part why the bank's stock has traded at a premium for years.
Key Takeaways And Highlights:
While there are many more financial ratios and numbers to analyze, I hope the above analysis provides investors with a clearer picture of the valuation of FRC following the Q2 earnings reports.
First Republic is a great bank and income machine as shown by its impressive net interest income growth and the above-average ROE. As a result, expectations are very high for this bank and its stock. It's these expectations set against a low-yield environment, higher-than-average stock price, high P/E ratio, and a high book value that put the stock at risk of a correction if the bank is unable to meet those lofty expectations.
Considering, the bank missed estimates on EPS and revenue for the quarter, the seeds of doubt have been planted in investors' minds. In order to justify the high valuations, the bank will need to improve its earnings and post solid income growth. If not, investors might sell the stock for lower-valued alternatives. The better-than-average ROE may not be enough to stem a decline in the stock if the valuations don't improve.
What to watch:
The wealth management fee-based services are incredibly important to the bank, so watch yield volatility in the coming months as an indicator for fixed income spread revenue and capital markets income.
Since much of the outcome depends on how well the U.S. economy performs in the next few months, investors should keep a watchful eye out for revisions in Q2 GDP growth, since it drives the 10-year yield. Also, watch the Q3 GDP growth figure, which should be higher than Q2 and may help yields bounce off their recent lows.
Of course, watch the Fed, since any reduction in the balance sheet will likely impact yields, but if that reduction announcement is delayed or doesn't drive yields higher materially, there's a strong likelihood that First Republic will sell off further and may fail to beat its earnings estimates for Q3.
In short, First Republic Bank is a very attractive company with a high stock price and even higher valuation. As a result, it's going to need help from the market to keep it up near the top tier of bank stocks. Whether that help will come or where it will come from is still unknown, but that help will ultimately determine the stock price value at this time next quarter.
Good luck out there.
Author's note: If you like this article and would like to receive email alerts stay up to date on banks, equities, and commodities, please click my profile page, and click the "Follow" button next to my name, and check "Get email alerts" to receive these articles sent via email to your inbox.
You can also find the "Follow" button at the top of this article next to my name. And of course, feel free to comment below if you have any questions, or send me a private message by clicking the "send a message" link on my profile page.
Disclosure: I/we have no positions in any stocks mentioned, and no plans to initiate any positions within the next 72 hours. I wrote this article myself, and it expresses my own opinions. I am not receiving compensation for it (other than from Seeking Alpha). I have no business relationship with any company whose stock is mentioned in this article.