The U.S. oil inventory picture is rapidly improving, with inventories now "only" 86 million barrels above the 5-year average (compared to 146 million in February). While this bodes well for Western Texas Intermediate, the real bull thesis in oil can be found by looking north to Western Canadian Select heavy oil.
Starting with U.S. production, almost all of U.S. crude production growth is extremely light on an API gravity basis. The West Texas Intermediate benchmark has an API Gravity of 39 (the higher the number the lighter the crude, with an API Gravity <=27 being considered heavy). According to the EIA's latest Monthly Crude Oil and Natural Gas Production Report 51% of U.S. crude oil and lease condensate production over the past 12 months is lighter than West Texas Intermediate. This is considered extremely light, and 20% of U.S. crude oil production has an API Gravity over 45, which is not considered crude oil but instead condensate and NGLs.
The U.S. produces very little heavy oil, and furthermore, much of the production growth out of Libya and Nigeria that is concerning the market is light sweet crude oil. This is important, since most the glut the market is worried about comes from light oil.
There is strong heavy oil demand in the United States
While all the U.S. production growth (and most the global production growth) is light oil, there is still very strong demand for heavy oil in the U.S., particularly in PADD 3, which is the Gulf Coast. In the Gulf Coast, hundreds of billions were spent over the past couple decades adding coking capacity to refineries and making refineries more complex, to handle increased volumes of heavy oil. This is because at the time, light oil was thought to be becoming less abundant and heavy oil was considered to be the more abundant, cheaper alternative.
These refineries now need to process heavy crude oil, as they are considerably less efficient at producing light crude after they have been converted. The U.S. currently has 18.3 million bpd of refining capacity, and 9.7 million bpd of this is in PADD 3, which is also the largest heavy oil refining market in the world. 81% of this, or 9.7 million bpd, has coking capacity.
While this capacity is now growing slowly, it isn't going anywhere and will need imports to meet demand. Currently, imports of heavy, sour crude to PADD 3 are 2.3 million bpd.
Heavy Oil Production and Imports are Declining
Unlike light crude oil production, heavy and medium crude grades are actually in decline globally, and these declines are projected to continue. This is evident in this chart provided by AltaCorp: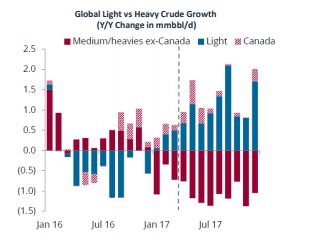 PADD 3 sources its heavy crude, in order of largest import volumes, from Venezuela, Mexico, Canada, Iraq, Columbia, and Brazil. With the exception of Canada, these sources of production are all in general decline, or are near current maximum production limits that will require much higher oil prices to resolve. Mexican production has fallen to its lowest level in 20 years due to natural declines on aging oilfields, and Venezuelan production is near 27 year lows to due economic and political problems as well as infrastructure issues and lack of investment. This is not to mention that Venezuelan production is some of the most expensive on the planet.
While OPEC is also a major producer of heavy and medium grades, OPEC has little spare capacity and break-even economics much higher than current oil prices: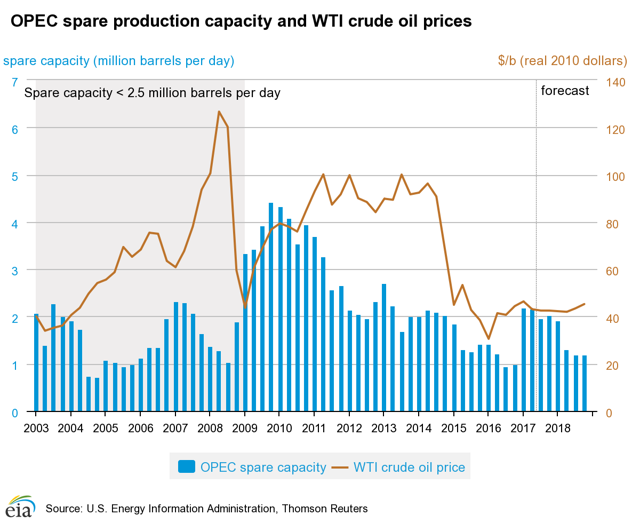 Canada will continue to take import market share
Canadian heavy oil has continually been taking import market share from Mexico and Venezuela, as one of the only growing sources of heavy oil production. Canada currently only provides about 400,000 bpd of the 2.3 million bpd of heavy oil imports to PADD 3, and this has significant opportunity to grow: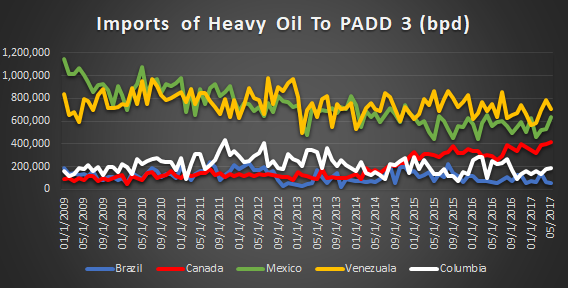 Source: Adam Mancini, EIA.
Canadian market share is now 52%, double the 25% back in January of 2009. This has only been exacerbated by the recent OPEC cuts, and the benefit has been evident in the Western Canadian Select/WTI spread. The spread in July was US$9.75, which is the tightest for that time of year in over 5 years. This tightness should continue, particularly if OPEC continues to cut production into 2018.
The main issue for Canada, of course, is concerns over takeaway capacity. 2019 should bring significant pipeline capacity, in the form of Enbridge's Line 3 restoration which will add 370,000 bpd of capacity. There are 2.8 million bpd of new pipeline projects being proposed for 2019 after. In the meantime, Canada will have to resort to more expensive crude-by-rail, of which there are still 600,000 bpd of spare capacity.
For Canadian heavy oil producers like Canadian Natural Resources (CNQ) and Suncor (SU), this a very bullish development, which I outlined more in my previous article. These producers have the benefit of heavy oil production, while trading at a discount to US majors and having excellent market access through midstream assets, particularly in the case of Suncor.
Disclosure: I/we have no positions in any stocks mentioned, and no plans to initiate any positions within the next 72 hours.
I wrote this article myself, and it expresses my own opinions. I am not receiving compensation for it (other than from Seeking Alpha). I have no business relationship with any company whose stock is mentioned in this article.