Political Chaos: Just More Noise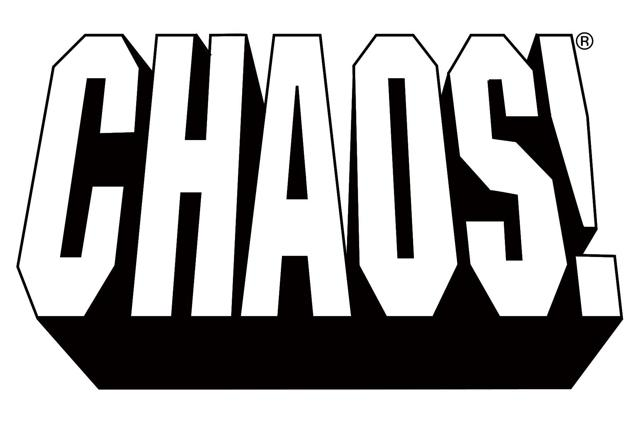 Just when it seems it can't get any worse, it gets worse. The unrest that enveloped Charlottesville, Va. last weekend spilled over into the markets' arena with each passing day last week.
Going From Bad to Worse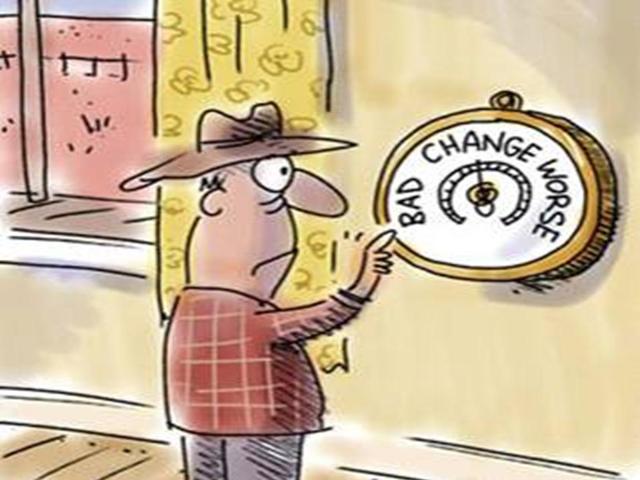 Politicians from the President's own party, including Mitt Romney and Lindsay Graham, forcefully encouraged the President to make an address to the nation to apologize for his delayed statement on the matter, followed by his doubling down by blaming "both sides" for the chaos.
If that were not enough, business executives on the President's business council abandoned him one by one until it turned into a flood as many members resigned their posts. Trump disbanded this council before the rest had a chance to jump ship.
Investors had looked to these business heads to work with and consult with the President to advance his agenda to rejuvenate the country's infrastructure. Stocks heavily tied to the infrastructure trade took large losses as the air was let out of that balloon.
The additional hope that these chief executives would work on tax reform proposals also flew out the window when they took a hike.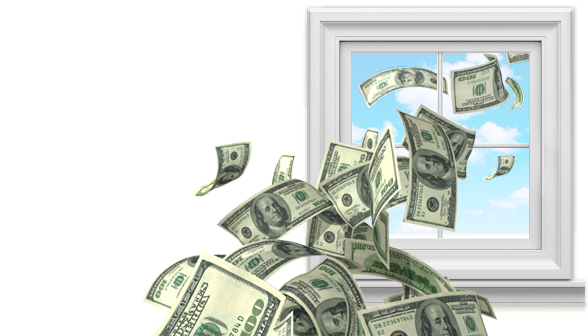 Market participants did not lose sight of the implication. It was an "emperor has no clothes" moment. More than one leg in the economic agenda stool had been kicked out from under it, and investors weren't feeling encouraged.
On Thursday of last week, the Dow gave up 275 points, its largest loss in two months. Friday saw more follow-through. The buy-the-dippers tried mightily to reignite the rally but ultimately failed, seeing the Dow lose 76 more points, putting it about 2.5% below its recent high point.
As if all of this were not enough, the President's arts council resigned en masse, submitting a letter of resignation excoriating the President's reaction to Charlottesville. Then, on Friday, Steve Bannon, the President's political strategy chief was fired. On his way out, he vowed "war". Nobody was quite sure whom he had declared war upon. Nevertheless, the boiling pot was stirred further, and the markets swooned.
What's An Investor To Do?
Well, first investors should try to keep in mind that the markets have been through much worse than this and still survived. All sorts of military actions and even world wars were not sufficient to derail the long-term progress of our stock markets. Sure, there have been some stumbles along the way, but taking the long-term view can carry you through the roughest of times, even these uncertain times. We discussed other moments of investor anxiety, especially surrounding the decision of when to retire and when and if to cash out, in "You've Accumulated $1 Million For Retirement: Time To Cash Out?" Feel free to add your opinion to over 1,000 already voiced by your fellow readers and get some additional ideas as well.
It's The Economy, Stupid: How's The Economy Doing?
Regardless of the political chaos swirling around, the economy is doing just fine, thank you. This most recent quarterly reporting period showed evidence of 9% growth in corporate profits. Unemployment is down to a very comforting 4.3%. Times were when most economists regarded 5% unemployment as "full employment". Now, that it's this low, how would they describe it? Super-charged hyper employment, perhaps? Sing it, Julie!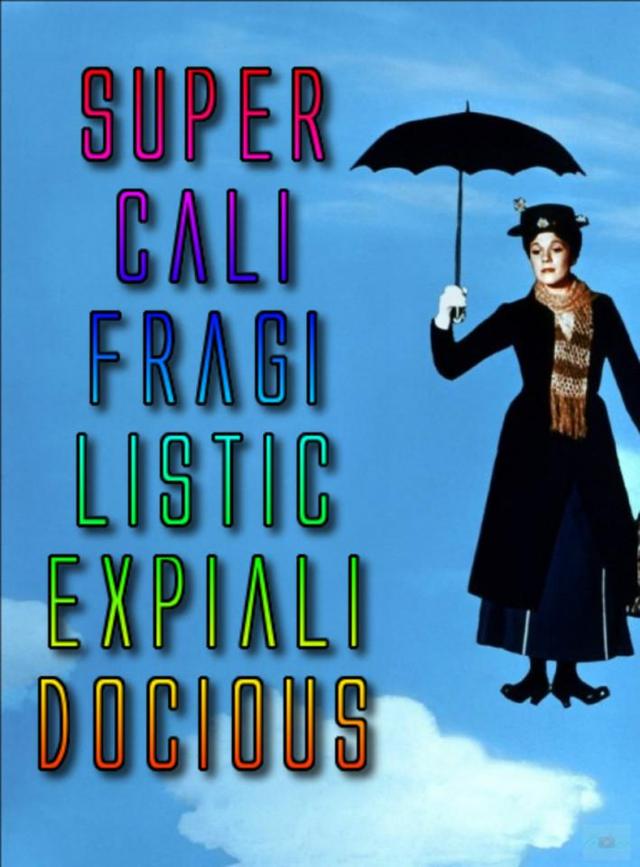 It appears that till now, the markets have functioned with a "business as usual" attitude and let the politics fall where it may.
What May We Expect?
It is certainly possible that as things continue to heat up in the political realm, the markets may experience the long anticipated correction, which we have not had for quite some time. Nervous investors may get spooked and disgorge their high quality stocks at sale prices. It is entirely within the realm of possibility that the next few weeks and months see the market selling down 10% to 15% from its recent highs.
Strategy Session For Price-Focused Investors
Investors with short time horizons - with investments geared towards a house down payment - might consider trimming some of their positions, taking some money off the table to assure the money is there for that purchase when they need it.
Parents who have invested monies to grow them for future college tuition for children might wish to determine how soon they'll need those funds. If they'll need to make the first tuition payment within a year or so, think about consolidating positions and raising some cash. If the children are still quite young, and funds for tuition won't be needed for five years or more into the future, no particular action needs to be taken at this time. Even a large correction or bear market should be over when funds are needed to pay those expenses.
Cash from these sales can be deployed into short-term Treasury bonds laddered to mature when funds are needed. This will preserve capital completely as long as they are held to maturity, assuring the funds will be there when needed. Investors can buy Treasuries directly from the U.S. Treasury at TreasuryDirect.
Investors unfamiliar with buying Treasuries might consider setting up a CD ladder at an online bank in order to maximize the interest rate received. Current CD rates can be found at Bankrate.com.
Strategy Session For Income-Focused Investors
Investors, near-retirees, and retirees who have no intended calls on their principal, who have paid off their homes and cars and don't have a near-term need for large amounts of capital to be at hand, should simply stay the course with dividend paying stocks. That especially applies to those names that continue to raise the dividend, come rain or shine.
Let's take a look at how the Fill-The-Gap Portfolio would have fared when comparing income from a year ago to today's income. There have been a few changes to the portfolio over the year, with Reynolds American (NYSE:RAI) being taken over by British American Tobacco (NYSEMKT:BTI) and a few new names added. For the sake of simplicity, we'll imagine that all of today's current constituents were owned a year ago. Remember, we're not addressing capital growth of the portfolio here, just income.
The Fill-The-Gap Portfolio At A Glance
Two and a half years ago, I began writing a series of articles on December 24, 2014, to demonstrate the real-life construction and management of a portfolio dedicated to growing income to close a yawning gap that so many millions of seniors and near-retirees face today between their Social Security benefit and retirement expenses.
The beginning article was entitled "This Is Not Your Father's Retirement Plan." This project began with $411,600 in capital that was deployed in such a way that each of the portfolio constituents yielded approximately equal amounts of yearly income.
The FTG Portfolio Approach
Your portfolio may look somewhat similar to this, very similar, or wholly different. If yours works for you, that's great. Followers of the FTG Portfolio as well as the subscriber portfolio have benefited from stable dividend growth. Sprinkled among the mix are some dividend aristocrats whose current dividend yields are low but often grow moderately or greater, depending upon earnings and the year at hand.
It also contains a healthy dose of REITs that are compelled to pay out 90% of their earnings as dividends, which naturally leads to a higher dividend yield for most of them. Several electric utilities and telecoms are included for their regulated, very stable cash flows and dependable dividend policies.
In addition, several tobacco companies are represented, also for their large cash flows and normally high dividend growth. Rounding out the mix are best in breed business development companies with investments diversified among hundreds of companies in diverse fields. This mix mitigates risk to the overall portfolio.
Diversification in the REITs we hold is achieved by the various arenas they specialize in, including education, entertainment, malls, stores, government office buildings, incarceration, rehabilitation and immigration facilities and storage, both physical and electronic, and shredding of corporate and government records and files.
The FTG Portfolio Constituents
Constructed beginning on 12/24/14, this portfolio now consists of 21 companies, including AT&T Inc. (NYSE:T), Altria Group, Inc. (NYSE:MO), Consolidated Edison Inc. (NYSE:ED), Verizon Communications (NYSE:VZ), CenturyLink, Inc. (NYSE:CTL), Main Street Capital (NYSE:MAIN), Ares Capital (NASDAQ:ARCC), British American Tobacco, Vector Group Ltd. (NYSE:VGR), EPR Properties (NYSE:EPR), Realty Income Corporation (NYSE:O), Sun Communities, Inc. (NYSE:SUI), Omega Healthcare Investors (NYSE:OHI), W.P. Carey, Inc. (NYSE:WPC), Government Properties Income Trust (NYSE:GOV), The GEO Group (NYSE:GEO), The RMR Group (NASDAQ:RMR), Southern Company (NYSE:SO), Chatham Lodging Trust (NYSE:CLDT), DineEquity (NYSE:DIN), and Iron Mountain, Inc. (NYSE:IRM).
Because we bought all of these equities at cheaper prices since the inception of the portfolio, the yield on cost that we have achieved is 7.69% since launch on December 24, 2014. Current portfolio income now totals $30,170, which is $1,600.00 more annual income than just last month. This represents a 5.33% annual income increase for the portfolio.
Let's take a look now at how the Fill-The-Gap Portfolio would have fared when we compare income from a year ago to today's income.
2016 Annual Dividend Income From The FTG Portfolio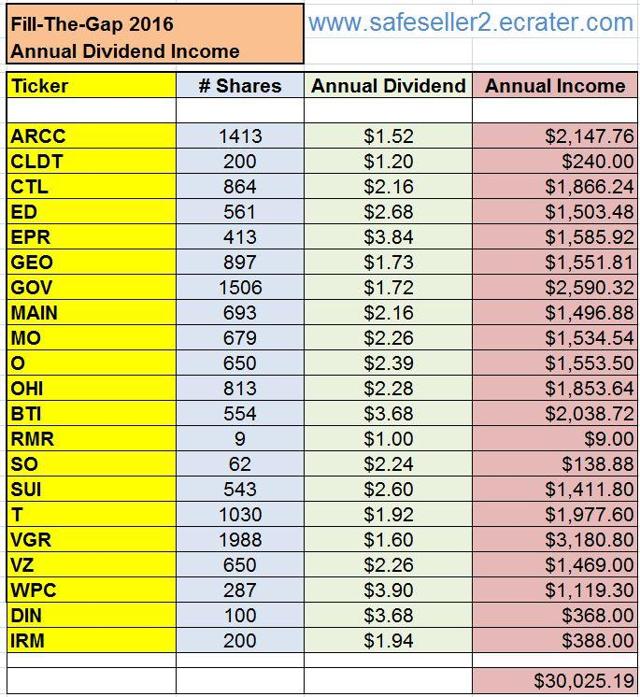 2017 Annual Dividend Income From The FTG Portfolio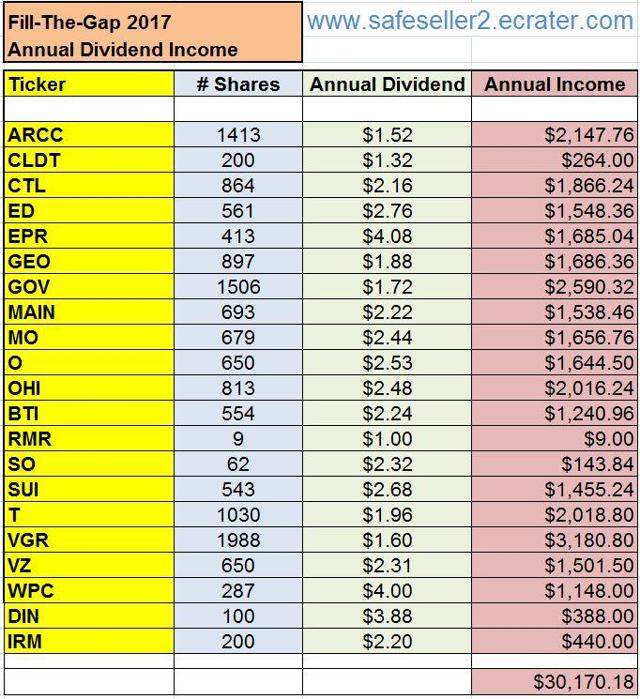 When we compare last year's income to this year's income, we come to an inescapable conclusion. Dividend income derived from this type of portfolio is dependable, reliable, and can be counted upon by retirees to pay the bills in retirement.
Overall portfolio income over this time period grew by just .5% YOY. This small growth is due in large part to our new portfolio constituent, British American Tobacco. In 2016, U.S. holders of BAT enjoyed a good dividend of $3.68 U.S. because of the strength of the British pound. This year, the opposite occurred. With a weaker pound, the dividend translated into fewer U.S. dollars. Alas, owning foreign stocks can be tricky when currency translation enters the picture. Along with our conversion of shares from RAI to BTI, we received over $31,030 in cash. When fully deployed, we'll be in a position to super-charge dividend growth in the portfolio, once again.
Aside from that, we've seen 10% growth in the dividend of Chatham Lodging Trust, 3% growth from Con Edison, 6.25% dividend growth from EPR Properties, 8.7% growth from The Geo Group, 2.8% increase plus several extra dividends throughout the year from Main Street Capital, strong growth of 8% from Altria, and 3.8% growth from Realty Income.
Additional 8.8% dividend growth came to us from Omega Healthcare Investors which I recently wrote about in "Tracking The Treasury Rate For A 9% Yield", 3.6% growth from Southern Company, 3.1% from Sun Community, 2.1% from AT&T, 2.2% from Verizon, 2.6% from W.P. Carey, 5.4% from DineEquity, and a whopping 13.4% increase from Iron Mountain.
Steady As She Goes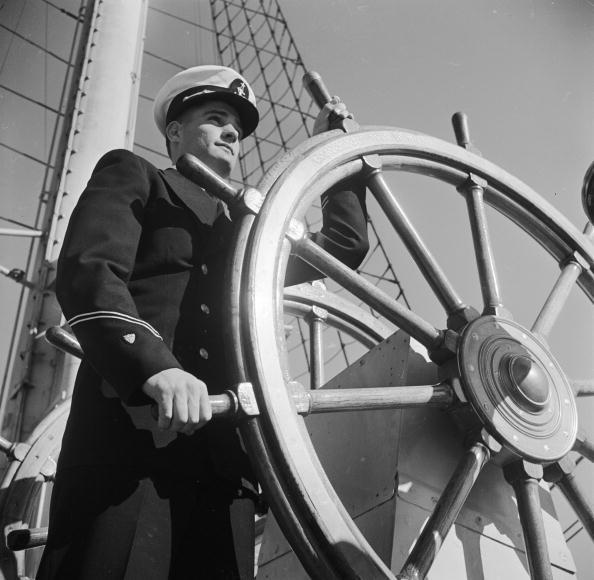 Regardless of the currents swirling in the political environment, business as usual will assure a steady stream of income from a portfolio such as this. In a capitalist society such as ours, the primary goal of publicly traded companies is to grow earnings. Dividend growth companies have made it their primary goal to pay out an ever-increasing stream of income to their stockholders who rely upon it to pay the bills.
As long as we invest in companies that make products, services, or utilities that consumers will demand, regardless of the state of the economy, these companies will continue to experience stable growth of earnings with which to pay shareholder dividends. Steady as she goes.
Your Takeaway
Political chaos in Washington, D.C. is beginning to wear on investors' nerves. There has been a certain amount of fraying in the compact investors expected with an administration that promised a large economic bounce from infrastructure spending as well as tax reform. As the fabric of the nation is torn, investors are fretting like everyone else and have begun to vote with their dollars.
While it is hard to ignore, and we should not bury our heads in the sand, we would do well to remember that the markets are nothing if not resilient. The companies that make up these markets have as their priority always to make money. If our interests align with that, we'll be fine, too.
A long-term perspective is crucial here. If you're a total return investor, accept the fact that your portfolio might lose 10%, 20%, or even 50% from here should the political environment deteriorate so that it sparks the next bear market. If you're not reconciled to this possibility, consider some of the stock trimming recommendations mentioned.
If you're an income investor, make yourself a spreadsheet similar to the ones pictured above. Update it whenever your companies raise your dividends. Look at it at least once a week to remind you why you're an income investor. Look at it whenever the market has a big sell-off. Let it remind you that large draw-downs are occasions to layer into quality companies at lower prices, beef up your positions to larger stakes and benefit from the higher yields you'll receive. Above all, remember, accidentally higher yields from temporarily lower prices mean higher income.
If we wish to fill the gap between our Social Security benefit and the actual amount we need to pay our bills, utilizing this type of strategy becomes crucial to fulfilling our goals.
Author's note: Should you be interested in reading any of my other articles detailing various strategies to enhance your returns on a dividend growth portfolio, you will find them here.
For a few more days, feel free to join hundreds of your fellow readers who have taken advantage of a free two-week trial to our premium newsletter subscription. Try before you buy, with no obligation.
My promise to you: With every exclusive article, email, instant text and chat, I'll help guide you to increased income for retirement, one dividend at a time.
As always, I look forward to your comments, discussion, and questions. Do you keep dry powder available, from dividend accumulation, to take advantage of lower stock prices? Have you conditioned yourself to ignore prices and focus on income? Have you benefited from buying on the dips? Please let us know how you deal with these situations in your own portfolio and how you arrive at your decisions.
If you'd like to receive immediate notification whenever I write new content, simply click the "follow" button at the top of this article next to my picture or at the bottom of the article, then click "Follow in real time."
As part of our premium subscription program, all subscribers receive a free Portfolio Income Tracker to track income production in the subscriber portfolio and stay focused on income production in their own portfolio.
To learn more about this premium service, see "Retirement: One Dividend At A Time."
Disclaimer: This article is intended to provide information to interested parties. As I have no knowledge of individual investor circumstances, goals, and/or portfolio concentration or diversification, readers are expected to complete their own due diligence before purchasing any stocks mentioned or recommended.
Disclosure: I am/we are long T, VZ, MO. I wrote this article myself, and it expresses my own opinions. I am not receiving compensation for it (other than from Seeking Alpha). I have no business relationship with any company whose stock is mentioned in this article.