The Market - "Black Monday" Becomes "Black Thursday" Now
U.S. stocks sold off last Thursday, with the S&P 500 (SPY) recording its biggest daily percentage drop in three months. Investors are worried once again about the Trump administration's ability to push through any of his initiatives such as healthcare reform, tax-related issues, and infrastructure agenda. The latest cause for concern was speculation over the possible departure of National Economic Council director Gary Cohn. Speculation about Cohn's departure came a day after Trump disbanded two business councils, with several chief executives quitting in protest over his remarks on white nationalists.
Barcelona's twin terrorist attacks last Thursday, in which 14 people were killed after a van crashed into dozens of people in the center of Barcelona, also weighed on the market action. The market tried to come back last Friday after a White House official said that Gary Cohn will remain in his position as director of the National Economic Council, and the speculation is just a speculation.
But the buying interest was not strong, as most investors sold their holdings on rally due to concerns for coming Monday's market direction. As a result, the S&P 500 had a slight loss on last Friday's session and closed at 2,425.40 (see the S&P 500 60-minute chart below).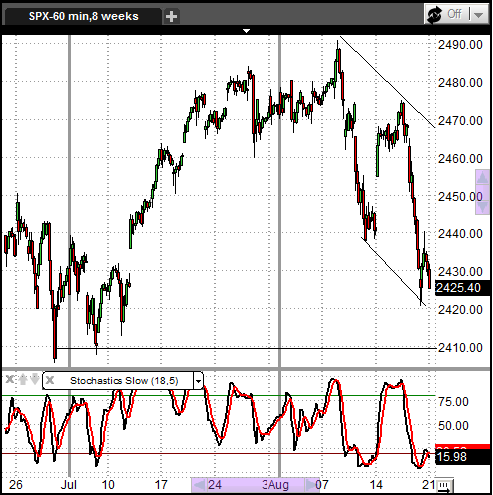 Source: Scottrade.com
So far, the recent market movement was exactly as I expected. I have repeatedly shared my view that 2,500 will be a strong hurdle for the S&P to overcome. The following is what I said in my July 23 update:
The market has run into its important resistance levels. For the S&P 500, 2,500 points becomes the hurdle to overcome. We have seen some divergence between the index and its technical indicators. While index is making new highs, technical indicators are making lower highs now. We will prepare for possible upcoming correction. The correction most likely will be in later August or in September.
I repeated my view in my Aug. 12 update. I also expected to see its current round of sell-offs to stop at 2,420 in my latest update. The S&P bounced back when it fell to 2,420 last Friday. For the coming week, I expect the market will bounce back. But I will be watching very carefully for another possible Thursday's crash. Will we see a repeat of "Black Thursday"?
The market was down two weeks in a row with lower highs. But the drops are all mild. The S&P only dropped 2.80% from its yearly high to recent low of 2,420. Its two strong support levels will be 2,410 and 2,356. I believe that 2,356, or a 5% drop, will be the most it may fall during this round of pullback and it might not fall that low. But be prepared for it.
My belief is that it is still too early to see a market correction. The most I can say is a pullback. On the last two Thursdays, U.S. stocks sold off and it was all politically driven. Trump and the North Korea situation was the cause for Aug. 10th stock sell-off. Now how many people are still paying attention to that? Last Thursday's concern is another case of speculation. Gary Cohn's departure proved to be just a speculation, not a fact. People will forget it quickly.
I agree that the market as a whole is a little overvalued based on the S&P 500 historical P/E ratio. That is why I think 2,500 will be a difficult hurdle to overcome. But the U.S. economy is in a good shape and very healthy. Based on the latest report from Factset, the U.S. economy is in its fastest growing phase now, which has not been seen in five years.
The blended Q2 earnings growth rate for the S&P 500 for the second quarter is 10.1% as of Aug. 9th, 2017. The expected Q2 earning growth was at 6.40% on June 30 and was 8.60% on March 31. If 10.1% becomes the actual growth rate for the second quarter, it will mark the second highest (year-over-year) earnings growth for the index since Q4 2011 (11.6%), and it will mark the first time the index has seen two consecutive quarters of (year-over-year) double-digit earnings growth since Q3 2011 (16.7%) and Q4 2011 (11.6%).
The U.S. stock market made an unstoppable run since bottoming on October 2011. Most economic data released recently were good such as inflation, unemployment rate, small business sentiment, production, retail data, etc. Trump's call to bring jobs back to the U.S. is also seeing its effects. Yes, Trump's agenda faces big hurdles, but nothing is dead just yet. The U.S. stock market is economically driven, not politically driven. Will we see new highs by year-end? It's very possible.
Gold Pushed Above 1,300 for the First Time After Two Previously Failed Tries - Where Will It Go Next?
Now let's turn our attention to gold. My latest article on gold was published on July 5th, titled "Gold And Gold Miners - Switching Gears, Gold Has Bottomed." That is the sixth call I made so far this year on gold's near-term direction. Since the bullish call, gold has gained over 6% and broke out 1,300 for the first time last Friday after two previous failed tries, then pulled back (see the SPDR Gold Trust ETF (GLD) daily chart below).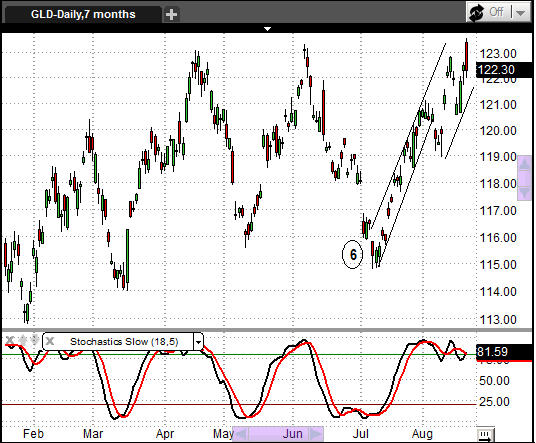 The gold price is clearly in uptrend now with higher highs and higher lows. The question is: Is it topped at 1,305? The chart so far has not given me sell signals yet. Wait for my seventh call for a possible gold top.
Crude Oil Reversed Its Trend, Spiked Much Higher Last Friday
I have been bearish on crude oil since it topped at $50.30/bbl, and my bearish view was confirmed when it double-topped at that price level. But oil price spiked much higher last Friday. The sudden rise in the oil price most likely came from the news that one of the U.S.'s largest refineries was shutdown due to an explosion. Also, oil inventory reduction and more U.S. rig closures could have added more fuel (see the five-hour chart below).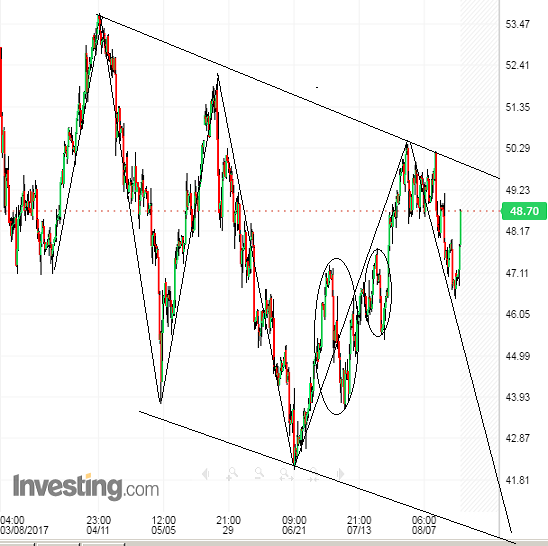 Source: Investing.com
But I will not change my near-term bearish view on crude oil. Oil refinery shut downs should reduce the crude oil demand, not increase it. Also, if demand is really higher, the idled U.S. rigs can become active at any time. There are just too many idled rigs now -- that is, ones that are drilled but not put into use.
Where to Put Your Money Next
But those ETFs all have huge time decays. They can rise and fall quickly and the net result is always to move into new lows. These ETFs are best played by experienced short-term traders and are not good for our investors.
Of course, if the market has a tool for us to play the CBOE volatility index (VIX), I may put money into it as VIX has no time decay and it will spike higher a few times each year. Buying and holding VIX should work. But Wall Street will never give investors such a chance to let them make easy money (see VIX one-year daily chart below).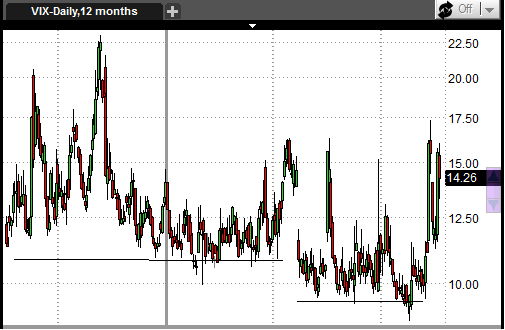 If any readers know of such a trading vehicle, please let me know and I will thank you very much for the information.
Disclosure: I am/we are long X,AKS,NUE,ENDP,VRX,SGYP,MU,AMD,JDST,FMSA,EMES,SND.
I wrote this article myself, and it expresses my own opinions. I am not receiving compensation for it (other than from Seeking Alpha). I have no business relationship with any company whose stock is mentioned in this article.