Periodically, our team at Seeking Alpha PRO fields inquiries about the performance of our articles.
We haven't previously presented aggregated performance data, and have hesitated to do so given the level of assumptions inherent in the process. Performance also isn't the Editors' primary goal - our main aim is to put credible and compelling research in the hands of our members, often on undercovered ideas that they might find interesting. The PRO Team isn't implicitly managing a 'portfolio', nor are we focused specifically on diversification. PRO members decide whether, when and how to invest in the investment ideas.
We will present the performance data next, but must emphasize the importance of reading about our calculation methodology, assumptions and challenges in the sections below. Of utmost importance, before even looking at the below charts, readers should understand that measured performance is in 'sets' of holding periods. The 6-month return data is not based on the past 6 months, but the average and median performance of each Top Idea over the first 6 months following article publication (because Top Ideas are published on different dates).
The performance data reflects Top Ideas published on or after October 1, 2015, which have at least 6 months of performance data as of June 30, 2017.
Recent Top Idea Performance
AVERAGES: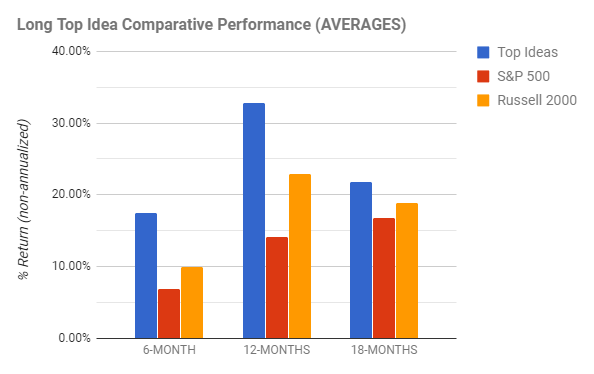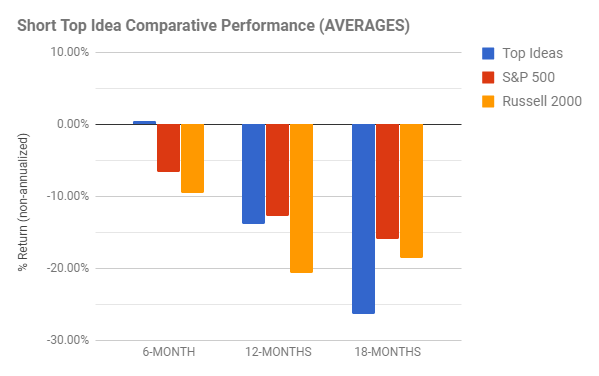 MEDIANS: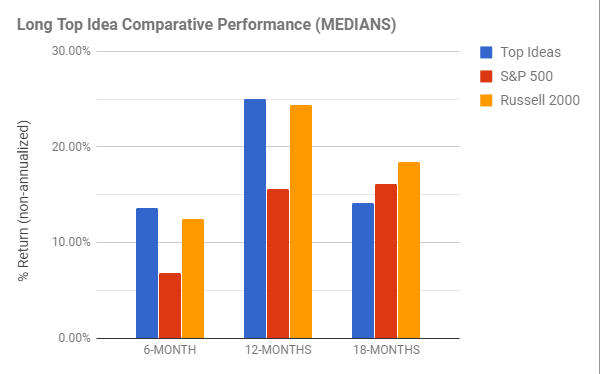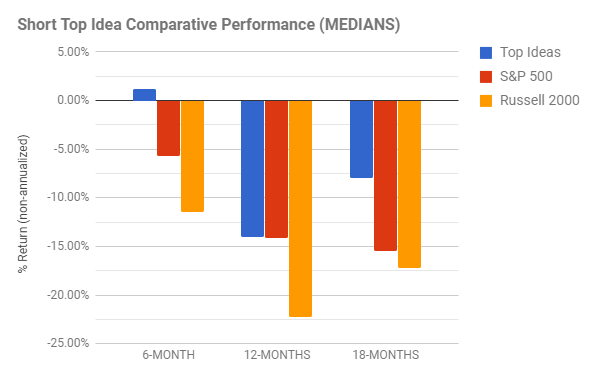 Measurement Walkthrough
To provide context of our measurement process, for Long Top Ideas published on-or-after October 1, 2015 which had at least 12-months of performance data as of June 30, 2017, the average return (excluding regular dividends) was about 33%. Over the same sets of holding periods, the Russell 2000 index returned about 23%, and the S&P 500 returned about 14%.

Before you say, "Wait, the S&P 500 was up more than 15% for the 12-months ended June 30, 2017", you need to remember that we're measuring multiple sets of 12-month holding periods. So for a Long Top Idea published in November 2015, we're measuring the performance from November 2015 to November 2016, and for an idea published in March 2016, we're measuring the performance from March 2016 to March 2017. And then we're averaging those performance numbers evenly across the number of ideas we have for that segment.
Performance Discussion
Long Top Ideas have been doing well, performance-wise, both on absolute and relative bases. In assessing relative performance, arguably the Russell 2000 is a more relevant benchmark given that the majority of our Top Ideas are on mid-cap and small-cap companies.

As alluded to above, our average Top Idea performance has been phenomenal (+33%) for the 12-months proceeding publication, well above the benchmark indices. The average performance of all 3 holding period segments (6-month, 12-month, and 18-month) has outperformed the benchmarks. This is due, in part, to some big winners, including:

The median performance of our Long Top Ideas is lower than the average performance (as a result of some big winners) but remains competitive against the benchmark indices.

On the Short side of things, our Bear Theses have performed well amidst buoyant markets. In fact, impressively, our Short Top Ideas published since October 1, 2015, have on average been in-the-money 6 months after publication. That has hopefully offered a valuable hedge and alpha generator to members. (Keep in mind that negative performance would be expected during a rising market, and that the S&P 500/Russell 2000 performance above represents the losses from shorting the index instead of the subject equity when a given article came out).

Short Top Ideas haven't been able to buck the upward trend of the markets over a 12-month holding period, although the losses compare favourably to shorting the Russell 2000 over the same periods. Over 18-month holding periods, Short Top Ideas have underperformed, although arguably many shortable catalysts are stale by that point in time.
Understanding the Data Set

Articles count for each of the 6-mos, 12-mos, and 18-mos segments, as long as a sufficient amount of holding period has been accrued. For example, the performance of a Top Idea article published in May, 2016, will be recognized in both the 6-mos and 12-mos performance segments, but not the 18-mos segment given that 18-months of holding period has not accrued as of June 30, 2017. Similarly, no articles published in 2017 will be represented in the results, since they do not have the minimum 6-months of holding period as of June 30, 2017.

Our performance tracking excludes regular dividends, both for the Top Idea stocks, and for the benchmarks.

We do make adjustments for payment of sizeable special dividends, and of course stock splits.

Performance is denominated in USD, even for foreign companies. For foreign companies we track the U.S.-listed or U.S.-OTC ticker, except where a U.S. ticker has poor/no liquidity. In these cases, we may choose to use a foreign-listed stock price and convert it at the appropriate currency exchange rate.

For simplicity, we've excluded Pair-Trade Top Ideas, which represent less than 1% of all Top Ideas.
The Challenges of Performance Measurement
As alluded to, the actual measurement of aggregated performance poses many challenges, notably:
Determining a holding period is subjective. We do not know when a contributor (or member) closes-out of their position - even when the contributor updates an investment in an article or comment, it is difficult to establish an objective system for tracking that.

Similarly, publishing a Top Idea doesn't constitute an actual trade execution. We use the closing price of the day prior to the article publication as the trade entry price.

Dealing with mergers, takeovers, and spinoffs, is another issue requiring imperfect assumptions. We generally consider a position closed upon a takeover (which may limit performance), but not always. We generally assume that the stock of a spin-off continues to be held in addition to the original stock. Dealing with mergers is even more subjective. Our tracking also doesn't consider reinvestment of funds from a trade closed early due to a takeover.
About PRO

PRO is an idea generation and research platform for serious investors. PRO Editors filter through all of the articles we publish on Seeking Alpha to present the most actionable long and short ideas to members, with exclusive access to articles initially and subsequently in our research library. Over 1300 contributors have written PRO articles, including fund managers, analysts, industry experts, and knowledgeable private investors. We are always on the lookout for the next great idea that can help PRO members invest better, and always open to new members subscribing to PRO.

Any questions about our selection process or performance tracking? Please let us know below. If you're interested in writing for PRO, send in an article here. And if you're interested in becoming a PRO member, see our PRO signup page.
(*)Disclaimers
*Returns presented do not include the effect of any management fees, brokerage commissions, borrowing costs (in the case of Short ideas) or other expenses which might be incurred by an investor.

*Returns do not include the reinvestment of any dividends (even special dividends)

*Past performance is no guarantee of future results. Investment ideas presented in the future on SA PRO Top ideas might result in losses or less attractive returns.

*SA Pro Top Ideas include small-cap, mid-cap and large-cap stocks, whereas the S&P 500 is populated by larger capitalization stocks. The Russell 2000 is comprised mainly of smaller capitalization stocks. In all cases, reported segments of Top Ideas may not be representative of benchmark indices in terms of average capitalization, sector allocations, risk levels, or other measures.

*The calculations have not been audited, and should be seen as meaningfully indicative performance returns, but not assumed to be perfectly precise.
Disclosure: I/we have no positions in any stocks mentioned, and no plans to initiate any positions within the next 72 hours.