It's been about 5 years since Jim Cramer and Bob Lang coined the acronym "FANG" for mega-cap high growth stocks Facebook Inc (FB), Amazon.com Inc (AMZN), Netflix Inc (NFLX), and Alphabet Inc (NASDAQ:GOOGL) (GOOG), the latter being the parent of dominant search engine Google.com.
In contrast to FANG's reputation for innovation, Chinese non-financial firms are stereotypically thought of as either copycats of or low-cost back-end manufacturers for Western (especially American) brands, and FANG's counterparts in China are the height of this stereotype. Users of wi-fi and local SIM cards within Mainland China notice that Facebook and Google (and many they own including Instagram and YouTube, respectively) are among the sites blocked by the "Great Firewall of China", requiring you to other sites to search for friends' photos and answers to questions within the PRC. The most widely heard acronym of China's version of the FANG companies is "BAT", which includes Baidu Inc (BIDU), Alibaba Group Holding Ltd (BABA), and Tencent (ADR: OTCPK:TCEHY, HKEX: 0700.HK). Sometimes Netease Inc (NTES) is also included in the basket, though its games and content might make NTES more comparable to Yahoo.com than any of the FANG stocks.
Here in Hong Kong, Facebook and Google are the dominant social network and search engine respectively, though for shipping proximity and content language, more online shopping here is done on Alibaba's sites than Amazon's and Chinese speakers may be as likely to watch movies on Alibaba's Youku.com or Baidu's iQiyi.com as on Netflix or Youtube Red. It is mostly when I take multi-day trips to the mainland (as I most recently did over the past week) or when I am working with someone in the Mainland that I myself am more likely to use
This article gives a quick comparison of the user experience and statistics of the FANG vs BAT stocks, and compares these statistics with other large-cap growth names not directly in the internet sector.
#1: Google vs Baidu
Google is almost without doubt the dominant search engine in the world ex-China, and has become a commonly used verb when we say "Google it". Within China, Baidu.com does much of what Google does, including news, translate and maps apps. A few quick clicks can give the impression that Baidu is a more basic site than Google, and lacks many of Google's services including Google Docs (Microsoft Office 365 and Bing.com are not blocked in China, and Office is still widely used in the absence of a complete Chinese Microsoft or Linux/BSD distro), and this is consistent with Google / Alphabet having 8x the market cap of Baidu despite having at most 4x the number of potential users (population of the world outside vs inside China).
#2: Facebook vs Tencent
A far more even match-up market cap wise are the $400-500bio social media giants Facebook and Tencent, who respectively own the two largest messaging apps WhatsApp and WeChat. WeChat itself is more like the full Facebook app and messenger than just a messaging app like WhatsApp, as WeChat has "Moments" (like the Facebook timeline) , but has the same numbers problem as Baidu vs Google for total potential users inside and outside China. What makes Tencent almost as valuable as Facebook are other features which Facebook does not widely offer yet including payments (more on payments later) and cloud computing (in competition with Alibaba and Amazon cloud, mentioned next).
#3 Amazon vs Alibaba
Of all the FANG vs BAT pairings, AMZN vs BABA has probably been the most widely compared since Alibaba's 2014 IPO, and they remain comparable in size (both around US$450bio) and the different types of businesses they operate in (initially online retailing and wholesaling, then cloud computing, and a variety of related businesses that had the Economist call Amazon a "digital conglomerate"). A recent SeekingAlpha article comparing the two in more detail was published here a few days ago. Unlike AMZN, which is more unified around the Amazon.com brand, Alibaba has its traditional wholesale business on Alibaba.com, and retail businesses on separate sites Aliexpress.com and Taobao.com.
#4 Netflix (and Youtube Red) vs Alibaba's Youku.com and Baidu's iQiyi.com
Netflix remains one of the cleanest ad-free online services for legally watching new and original full-length movies and TV series online for a low monthly fee, but Google, Amazon, and now also Disney offer competing content and streaming services in the US (and somewhat internationally). I most recently noticed Youku as one of the default media apps installed in many TVs in mid-range Chinese hotels in my latest trips through Guangzhou, Lanzhou, and Urumqi, and that they have at least a few full length US shows not on YouTube (probably for copyright reasons), but have longer ads and strongly push to upsell to a VIP subscription. A recent SA article commented that NFLX is the only FANG component without a true "moat" against competition, and it does seem to be under attack from more sides than the two leading sites in China.
#5 Payments
Unlike the US and FANG, a discussion of BAT would not be complete without discussing the payment war between Alipay and WeChat Pay / TenPay in China. Nowadays, Alipay and WeChat pay are almost ubiquitous across China, to the point that some restaurants and most bike-sharing services only accept these mobile payments and not cash. Although China has developed its own credit card network called China UnionPay to rival Visa Inc (V) and Mastercard Inc (MC), Alipay and WeChat pay seem to have leapfrogged credit cards altogether in China and transitioned much business directly from paper to mobile money.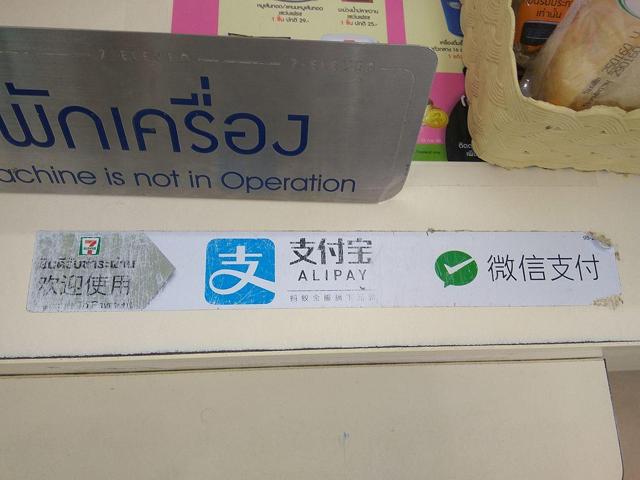 Image: Alipay and WeChat Pay (green logo on the right) have expanded beyond China and can now be used by Chinese instead of credit cards overseas, as in this convenience store in Thailand.
Source: WikiMedia, Creative Commons
It is important to note that despite the similar name and founder, BABA does not own Alipay, which has considered a separate IPO. (Source: CNBC, FT)
Statistics and some non-FANG, non-BAT alternatives
Below I've compiled a table of some main statistics for comparing the FANG vs BAT stocks, and some alternative large cap growth names in both the US and China. Some statistics worth noting:
FANG and BAT are among the largest US stocks and China ADRs by market cap, respectively
Among large companies, FANG and BAT also stand out by (and could be found by screening for) their high long-term growth rates, shown here as EPS growth, but also revenue growth, cash flow growth, and book value growth.
BAT firms report a very high 5-year average ROI (>20%), while FANG has much lower average trailing ROI ratios (Amazon notably has spent much of its history not booking profits).
FANG and BAT both look relatively expensive on a P/E basis, at least compared to other large cap companies with similarly high historical growth rates.
Symbol
Company Name

Market Cap

(US$bio)

EPS Growth

(5yr)

P/E (TTM)
P/Sales (TTM)

Return on Investment (5yr Avg)

BAT(+N)
BABA
Alibaba Group Holding Ltd
$423
56
58
16
20
OTCPK:TCEHY / 0700.HK
Tencent Holdings Ltd.
$400
31
50
14
20
BIDU
Baidu Inc
$77
9
43
7
20
NTES
Netease Inc
$36
26
19
5
24
FANG
GOOG
Alphabet Inc
$631
13
34
6
14
FB
Facebook Inc
$486
49
38
15
9
AMZN
Amazon.com Inc
$460
29
244
3
2
NFLX
Netflix Inc
$72
-6
203
7
5

Other Large Growers in China

LFC
China Life Insurance Co Ltd
$84
-1
31
7
CHL
China Mobile Ltd
$227
-5
15
14
TSM
Taiwan Semiconductor Manufacturing Co Ltd
$186
18
17
6
21

Other Large Growers in the US

BRK.B
Berkshire Hathaway Inc
$438
19
20
2
7
T
AT&T Inc
$229
26
18
1
6
V
Visa Inc
$235
14
38
13
16
PYPL
PayPal Holdings Inc
$71
9
48
6
7
MO
Altria Group Inc
$122
35
8
6
34
AMGN
Amgen Inc
$122
20
15
5
11
For the "Other Large Growers" comparables, I chose other large cap with relatively high growth rates of some metric (EPS, revenue, cash flow, or book value), and a range of sectors to diversify away from internet services and social media.
What should be notable is how much easier it was to find a wide variety of large cap stocks with high historical growth rates across sectors in the US, but it was much harder in Greater China. China Life is not a great comparable to Berkshire Hathaway (and I have yet to find a satisfying "Berkshire of Asia", though I hope to build my company into one), but I include both due to their book value growth rates and both being in the insurance industry. Hong Kong based CHL is a much closer comp to AT&T, and on top of their impressive growth rates (despite falling prices in telecom services), both sport a very attractive dividend yield. Taiwan's TSM has no good analog in the US yields over 3%, and I mentioned earlier that the best comps for V and PYPL are Alipay and WeChat Pay. Rounding out this list, I have included MO and AMGN to show that the US has high-growth large caps in other diverse sectors like tobacco (which many consider a declining industry, but averaged >25% EPS and book value growth over the past 5 years despite flat revenues) and pharmaceuticals, while China does not.
Performance so far
Since FANG was first coined about 5 years ago, performance of the FANG components have ranged from double the S&P 500's return (GOOG) to over 20x the S&P 500's return (NFLX).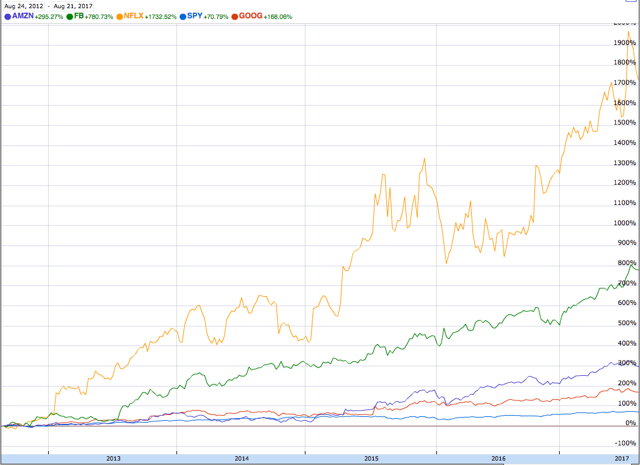 Source: Google Finance
By comparison, all four BAT+N components have also outperformed the benchmark iShares China Large Cap ETF (FXI), which holds both US-listed and Hong Kong listed Mainland Chinese companies, but Tencent and NetEase have been the knockout outperformers while Baidu and Alibaba have outperformed less dramatically. Tencent's performance has also made it the top-weighted component in Hong Kong's benchmark Hang Seng Index at 11.5%, surpassing HSBC's 10.4% weight in the index.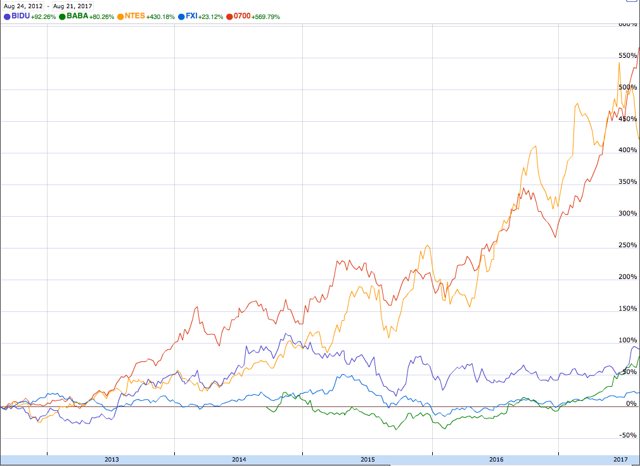 Source: Google Finance
Conclusion
Although both FANG and BAT stocks have performed and grown spectacularly over the past 5 years, their current elevated prices and valuations implies that they will continue to grow at double-digit rates for at least another 5-10 years. While this continued growth and outperformance is certainly possible, I have a personal and professional bias to invest in assets with low expectations and high implied returns with zero growth rather than stocks with high expectations and negative returns if growth is less than expected. For their heavy weights in major benchmark indices, I will continue to watch both FANG and BAT, but I will invest portfolios in the less expensive, dividend paying names with similarly high historic growth rates, but less implied growth, with the expectation of safer returns whether internet bubble 2.0 pops in the US, China, neither or both.
Disclosure: I am/we are long LFC, CHL, TSM, MO, AMGN, T, FXI, BRK.B.
I wrote this article myself, and it expresses my own opinions. I am not receiving compensation for it (other than from Seeking Alpha). I have no business relationship with any company whose stock is mentioned in this article.
Editor's Note: This article discusses one or more securities that do not trade on a major U.S. exchange. Please be aware of the risks associated with these stocks.