Technical Picture
Based on historical (seasonally-adjusted) implied volatility, there was a 68% chance this morning that natural gas price would trade in the range between $2.85 and $3.08 per MMBtu over the next five trading sessions. A narrower, statistically adjusted range was $2.90-3.03 per MMBtu.
Technically, the bias was still bullish, but our Cycle Deviations Tracker was signaling overbought conditions. The price was also facing strong resistance near 2.974, which is a 50% Fibo level from the February low to May high (on the continuation chart). Finally, the price was near the upper bound of a declining trend channel (see the chart below) and was approaching the upper limit of the statistically adjusted trading range (3.030) implied by market volatility.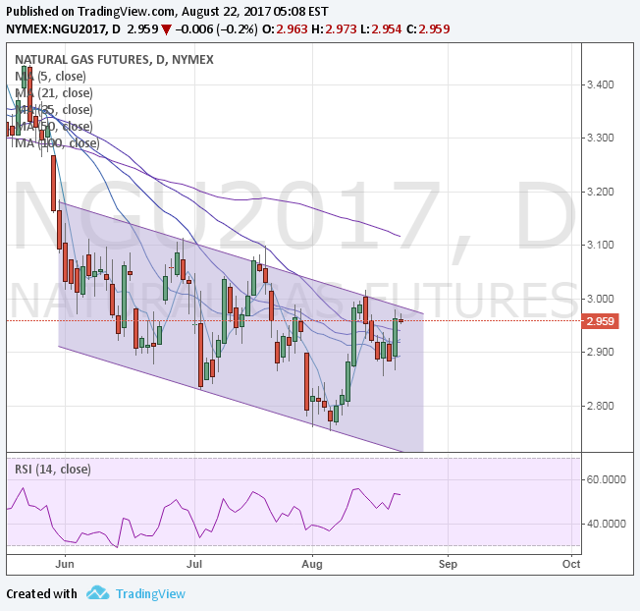 Source: CME Group
This morning, we communicated to our clients that a short-term correction was likely and that we would be tempted to open a mid-size short position near 2.990 and small long position near 2.940.
Fundamental Picture
However, technicals were not the only reason for today's pullback. We have also witnessed bearish 24h changes in market fundamentals. Most notably, our consumption forecast for August was revised down by 11.6 bcf (0.37 bcf per day) and storage outlook was up across all three time-frames (see the print screen below).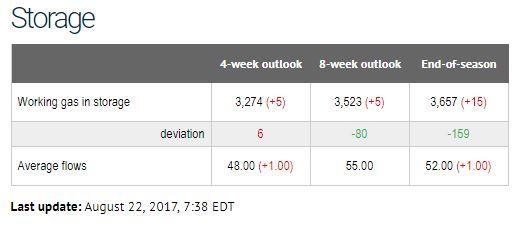 Source: Bluegold Research
Therefore, when natural gas price (prompt contract) suddenly jumped to $3.006 per MMBtu this morning, we knew that the rally cannot be sustained (at least in the short-term). Instead of entering a mid-size short position and thereby cover our existing longs, we decided to use this opportunity for profit-taking and enter only a small short trade. We closed all our long positions in October contract at 3.030 and opened a small short position in natural gas cash at 2.993. Later, as the market pulled back towards $2.940 per MMBtu, we re-entered October contract. Long exposure coverage has increased to 33.5%. Long positions in November and December contracts remain in progress.
If you wish to receive daily updates on key natural gas variables (production, consumption, exports and imports), as well as to receive a daily update on our trading exposure in natural gas market, consider signing up for our exclusive content.)
Disclosure: I/we have no positions in any stocks mentioned, and no plans to initiate any positions within the next 72 hours.
I wrote this article myself, and it expresses my own opinions. I am not receiving compensation for it (other than from Seeking Alpha). I have no business relationship with any company whose stock is mentioned in this article.
Additional disclosure: We are long natural gas futures (winter contracts) and short in natural gas cash.