As today's market rally shows, stocks still want to move higher. If it weren't for North Korea and domestic politics, then no one would even be worried about the "fear gauge". Instead, we'd be talking about the fantastic earnings season we just had, or the improving jobs picture, or the Fed taking its sweet time in raising rates. If you can keep your head while all your fellow investors are losing theirs, then there is still plenty of money to be made.
Therefore, the "Market Beating Growth Stocks" screen is as lucrative as ever. This is a tool that looks for Zacks Rank #1s (Strong Buys) that have a Zacks Style Score of "A" for Growth and projected EPS growth of 20% or more. If the market is going to keep chopping around as it moves higher, then these stocks could make sure you're always prepared for the dips and rallies.
Today's article has three stocks from this screen that were beating the market when stocks were soaring and should continue to do so regardless of which way the tides take us next.
Ultra Clean Holdings (NASDAQ:UCTT)
It's always great when a stock beats the market (which is what this screen is all about), but it's even better when it eclipses its own highly-ranked industry. The electronics - manufacturing machinery space is already outperforming the market with a gain of nearly 22% this year... and Ultra Clean Holdings has left its own industry in the dust. The company, which develops systems for the semiconductor equipment and flat panel industries, has soared approximately 140% this year!
Late last month, UCTT announced its fifth straight positive surprise (and 12th out of the last 13) with second-quarter earnings of 62 cents per share, beating the Zacks Consensus Estimate by 24%. It now has a four-quarter average beat of 27.7%. Revenue skyrocketed by nearly 76% from last year to $228.3 million; the Zacks Consensus Estimate was only calling for $213 million.
Earnings estimates have taken off over the past month because UCTT offered a third-quarter guidance that was well ahead of expectations. The company expects earnings per share between 62 cents and 68 cents for the quarter, while we were only expecting around 39 cents at the time. The revenue guidance of $235 million to $245 million was also well in front of Zacks expectations at $193 million.
Given such an overshoot in the guidance, it's no surprise that the Zacks Consensus Estimate for the third quarter soared more than 68%. The outlooks for this year and next year are also on the rise. At the moment, we expect UCTT to earn $2.22 per share this year, marking an advance of 29% in the past month as all four analysts raised their estimates. It's also up 6.2% in just the past week. As for next year, the Zacks Consensus Estimate of $2.30 has gained 20.4% in 30 days and 3.1% in 7 days.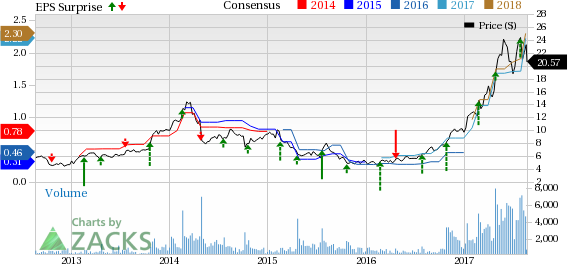 Ultra Clean Holdings, Inc. Price, Consensus, and EPS Surprise | Ultra Clean Holdings, Inc. Quote
Microchip Technology (NASDAQ:MCHP)
Back on June 5, Microchip Technology offered an updated guidance for its fiscal first quarter, which it completely trounced earlier this month with the official release. The company, a provider of microcontroller, mixed signal, analog and Flash-IP solutions, has been reporting better-than-expected releases for two years now and is outperforming its industry with a year-to-date improvement of practically 29%.
MCHP was expecting non-GAAP earnings per share between $1.22 and $1.26, but it ended up being $1.31. The result also bettered the Zacks Consensus Estimate by 6.5% while soaring 56% from last year. Net sales jumped 15.2% from last year to $972.1 million, which again was ahead of the company's guidance at $943.3 million to $956.8 million. The company stated that this quarterly performance represents an acceleration of our organic growth with its Microchip 2.0 initiative.
The company expects fiscal second quarter earnings per share between $1.33 and $1.37. At the moment, the Zacks Consensus is right in the middle at $1.35, having advanced more than 7% in the past month. Net sales are forecasted to make it all the way $1.001.3 billion, which marks a 14.6% improvement on a year-over-year basis.
Earnings estimates have moved upward in the past 30 days with strong agreement among the analysts. The Zacks Consensus Estimate for this year (ending March 2018) is at $5.26 per share right now, or nearly 7% better than a month earlier. Seven of the nine covering analysts contributed to this enhancement by raising their expectations. As for next year (ending March 2019), analysts see earnings per share of $5.67, marking an advance of 6.8% in 30 days. Again, agreement was strong as six of eight covering analysts raised their estimates.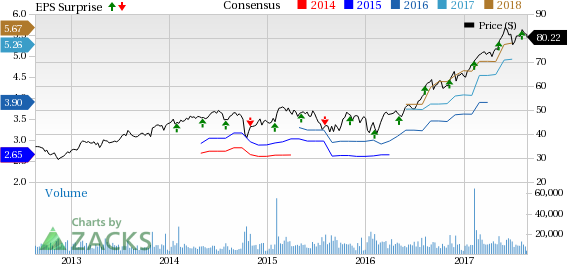 Microchip Technology Incorporated Price, Consensus and EPS Surprise | Microchip Technology Incorporated Quote
Arista Networks (NYSE:ANET)
All you need is one look at the momentum displayed by Arista Networks, and you know that this company is at the cutting edge of something big. In this case, ANET is a leader in software-driven cloud networking solutions for large datacenter and computer environments. It has been a public company for only about three years now, and it has never missed quarterly earnings expectations.
Earlier this month, it reported earnings of $1.34 per share for the second quarter, which was more than 41% better than the Zacks Consensus Estimate and marked a four-quarter average beat of 22.8%. That makes 13 straight quarters of positive surprises. The result also beat last year by an impressive 81.1%. Revenues soared by 50.8% to $405.2 million, thanks to the expanding cloud networking market amid rising demand for scalable infrastructure.
Shares of ANET have soared nearly 78% so far in 2017, reaching into the $170 range. Looking toward the third quarter, the company expects revenue between $405 million and $420 million. But it's not just investors or management that are expecting big things moving forward, analysts have been raising earnings estimates sharply since its earnings report. For both 2017 and 2018, 11 of 12 covering analysts boosted their expectations.
The Zacks Consensus Estimate for this year has jumped 17% in the past 30 days to $4.66 per share. Then, analysts expect earnings to jump nearly 15% more to $5.35 per share next year. That consensus is up 14.3% in the past month.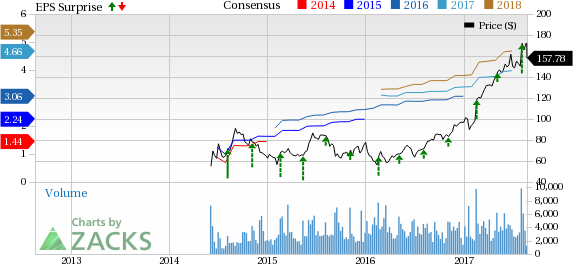 Arista Networks, Inc. Price, Consensus and EPS Surprise | Arista Networks, Inc. Quote