Unless you've been living under a rock for the past 6 months, you've heard about how mom and pop retail stores are dropping like hot bricks. More notable is the performance of the SPDR Retail ETF (XRT) components and the gloomy tape we're seeing on a daily basis. Here's a rundown of some of the popular names YTD.
SPDR Retail ETF -13%
Foot Locker (FL) -49%
Dicks (DKS) -48%
Macy's (M) -45%
Kohl's (KSS) -25%
Target (TGT) -23%
Best Buy (BBY) +39%
Wal-Mart (WMT) +14%
Now, XRT isn't the most ideal interpretation of what has actually been going on in the retail stores due to its composition. Amazon and Netflix are included in XRT, for example, which skews the picture a little less dismal. We recently saw a wave of earnings from some of the top guys on our list to get an idea of how bad things really are, or if this is just a run for the hills from investors as FOGA (Fear Of Getting Amazon'd) rattles nerves.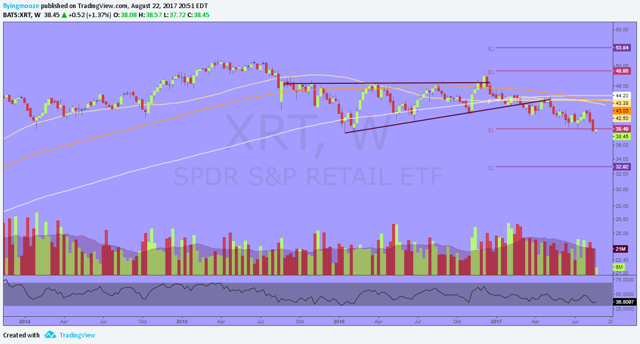 When we pull up a chart of XRT, the technicals on the weekly are deteriorating quickly as new lows is the path of least resistance. One of my favorite reversal indicators is when support becomes resistance and vice versa. You can see some nice higher lows being put in before the trend broke in early March. That same trend line became resistance in May before heading lower. With all moving averages above, the next downside target remains $33. Until it forms some sort of bottom on high volume in which a risk reward play can be made, buying remains a knife catching operation. There are some intriguing investments that can be made, however, if your time frame permits and you're able to weather a potential drawdown.
On August 16th, Target reported 2Q17 results that beat expectations across the board. Revenues of $16.4 billion exceeded expectations by $130 million, while adjusted EPS of $1.23 beat consensus $1.19. Comp sales of 1.3%, driven almost entirely by upside in the digital channel, came in 60 bps above average estimates. Earnings guidance for the year was raised while the range narrowed substantially, to $4.39 from $4.00. It's forward EPS is at an 18 month low of 12.5x while the supreme leader in brick and mortar Wal-Mart $WMT sits at 18.5x. The 4.4% yield, unlike Macy's 7.2%, Kohl's 5.7%, and Barnes and Noble $BKS 8.05% (wow!) is relatively safe.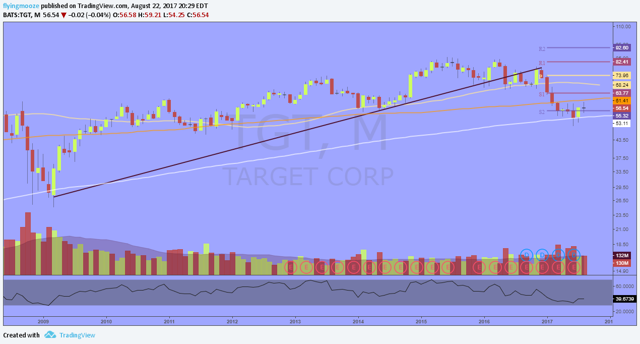 The monthly chart, which is more pragmatic for investors, looks constructive but still yells caution ahead. It broke its 2009 trendline and rejected it (used as resistance) in December before heading to new lows. The 200 day moving average caught a bid, but it still looks too vulnerable to trust 100%. Should the 200 day moving average fail, it is all air below, with $39 being the next target. At those levels, it would bring Target's yield to 6.35%.
Patience is key with retail names today. You don't have to catch the bottom in able to enjoy some return. Bottom picking retailers in strong downtrends is a dangerous game. I like Target as an investment, but I do think there could be a lot more pain on the way as investors take to the woodshed any brick and mortar regardless of quarterly performance. Stay patient and get ready to strike when it's time. Avoid retailers whose dividend payout ratio is over 50%. It's an unsustainable practice to be paying out over 50% of your earnings and doesn't spell good fortune for future endeavors in the business.
Disclosure: I/we have no positions in any stocks mentioned, and no plans to initiate any positions within the next 72 hours.
I wrote this article myself, and it expresses my own opinions. I am not receiving compensation for it (other than from Seeking Alpha). I have no business relationship with any company whose stock is mentioned in this article.