Back Story
I began my career in 2008 working in Beverly Hills as a "financial nanny" of sorts to Hollywood A-listers and several lesser-known writers and directors. My daily routine consisted of depositing royalty checks, paying all kinds of bills, budgeting (it's true, celebrities NEVER spend according to their budgets), creating personal financial statements, etc. One of my favorite tasks was estimating future cash flows for my clients' portfolio. It was fascinating to see that some clients were able to live comfortably off their income portfolio, despite having retired in their early 40s.
It was also at this job that I learned to appreciate compound interest and the beauty of long-term investing. As an economics major, I've always known that compounding is my best friend in saving for retirement, but I was not able to comprehend the extent of its power. I even see some older clients having positions that pay tens of thousands on a $5,000 cost basis.
Inspired by my clients' financial success and freedom, I set out to learn everything about finance, and especially income investing. I thought if I can build a portfolio and make sure the income increases every month/year, eventually, I will get to a point where my passive income can pay for all my expense and I would not need to work anymore.
In early 2009, I borrowed $20,000 from my dad's HELOC to start investing. I told him at the time "If I lose it all, 20k is a small price to pay for knowledge. If I am successful, well, there is no better time to get into the market than during the nadir of the worst financial crisis in our lifetime." I started out buying all kinds of high-yield stocks, had some home run ten-baggers and also some complete losses, but my timing proved to be opportune. As hindsight shows, there was no better time to grow wealth than be buying like a madman when everyone was selling.
My Strategy
Fast forward to today, my net worth is only marginally higher than that 22-year-old young man thanks to $130,000 in student loans, but I do wield a decent-size portfolio for my age. I refused to pay down student loans because I believe I can easily beat the 5.5% interest rate if I invested the money. As it stands, the monthly income from my portfolio is enough to pay half of my monthly student loan bill.
In 10 years, my loans will be paid off but the dividend stream will continue flowing in. I believe I am doing the right thing by not paying my loans off, essentially borrowing unsecured at 5.5%.
I hope to achieve two goals with my portfolio: One is to receive sustained growing monthly income to cover my living expenses, and the second is to grow the principal while minimizing downside. What I will not do is to chase artificial high yields.
To achieve these goals, I structured my portfolio into four main buckets and I constantly seek to "upgrade" my portfolio by opportunistically rotating between buckets, boosting yield and/or lowering risk through each move:
Reliable current yield between 6%-9% in the form of bonds and preferred stocks. These are long-term holds with maturity at least 2 years away. I am always on the lookout to lock in perpetual, ideally growing cash flow at bargain prices. This is the core bucket and where the bulk of income will be derived.
Hidden-yield situations where there is a chance for significant cash flow increases. Some stocks have sold off because the companies have depressed payout ratios in the short term due to financing or strategic concerns. I will look for stocks whose dividends have been eliminated or cut drastically but have a strong chance of recovery. I expect some principal to appreciate as well as a big boost to dividends within 2 years. I will decide whether to keep the positions or transition out depending on the yield based on the re-valued stock price post dividend resumption. Some of the positions in this bucket have moved into bucket #1, such as Starwood Waypoint Homes (SFR).
Corporate action and market neutral plays where I expect a certain payoff in a limited time frame. I put 5%-15% of my capital into corporate actions to lower my risk while growing the principal. For example, I would have positions in companies that are being acquired through cash, or buy a bond that is two months to maturity for a 1% return. I manage this bucket with an absolute return objective in mind, sort of like my own interpretation of Warren Buffett's first and second rule "Never lose money." Principal generated from this strategy will be reinvested into bucket #1 to further boost income.
Speculative high-yield situations at 13%+ yield - I put up to 10% of my portfolio in high-risk, high-reward "play money." Some positions will become three-baggers or give me a 25% annual yield, and some may drop by 60%. This bucket gives me upside participation and keeps my portfolio exciting to talk about and to look at.
The Millennial Early Retirement Portfolio
For full disclosure, I do have a (much smaller) ROTH IRA account with a different objective.
Here's my full portfolio, which accounts for 120%+ of my net worth: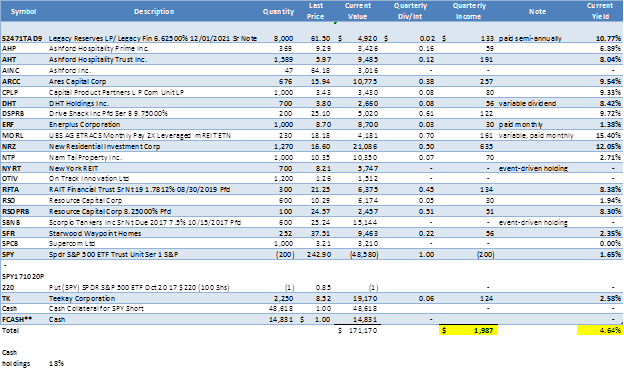 Or access the Google Doc version here.
Positions in Alphabetical Order:
Legacy Reserve 2021 Senior Notes: Low break-even E&P and higher position in the capital structure gives me comfort. The current yield is over 20%.
Ashford Hospitality Prime (AHP): Ashford Prime is a lodging REIT focusing on luxury and upper upscale properties. I received the shares as a spin-off from Ashford Hospitality Trust (NYSE:AHT) in November 2013 and added a few shares via reinvestment. I liked the ideas of lower leverage and focus on luxury properties. I regret not selling AHP back when it was above $20 a share. I hold it now for a well-covered yield and there is always a kicker of a buyout. There are higher and safer yields but I am waiting until I can utilize the tax loss before I would consider selling. Upside is much more likely than further downside.
Ashford Hospitality Trust: Ashford Trust is the higher leverage, lower portfolio quality older brother of Ashford Prime, and the original entity that spun out AHP and their shared external manager, Ashford Inc. I starting buying AHT in 2011 and added when stock was trading at less than $2. I knew they would survive because none of the debt was recourse. Including dividends and shares in AINC/AHP spin-off, this has been a three-bagger for me. I plan to sell when it bounces into the $8s because the upside is capped by the external management agreement, who would be tempted to raise capital to grow as soon as shares recover.
Ashford Inc. (AINC): As the external manager of AHT and AHP, any atrocity committed against shareholders of the managed companies will benefit AINC. This is as much a hedge as a bet on AUM growth.
Ares Capital Corporation (ARCC): I received my shares via the acquisition of ACAS. I do not underwrite capital appreciation for BDCs holdings, nor do I expect their dividends to grow. I am looking to sell out of ARCC and replace it with more "certain" income in preferred stocks or bonds.
Capital Product Partners (CPLP): I bought CPLP because I agree with fellow contributors' theses cited here and here. The distribution is safe and growing and the leverage is low. The overcapacity problem in shipping and the perpetual "grow at the wrong time" problems have been well-documented. I believe prudent capital allocation is the key to success in shipping stocks. By prudent I mean maintaining responsible leverage, not tempted to buy vessels at the top, and paying a sustainable dividend from (unadjusted) earnings.
DHT Holdings (DHT): Speaking of prudent capital allocation, I wholeheartedly agree with DHT management's approach of counter-cyclical growth and paying a variable dividend based on 70% of earnings. DHT is a crude oil tanker company. Shipping, no matter if it is container, dry bulk, or crude carrier, is an extremely cyclical sector and many managers choose to grow at the wrong time (and same time) and pay massive dividends.
DHT on the other hand does not cheap themselves by adding back depreciation to arrive at CAD and are smart enough to be flexible allocating between share buybacks, bonds repurchase, and paying a dividend. J Mintzmyer lays out a great long thesis for the stock here.
Drive Shack (NYSE:DS) Preferred Stock (DSPRB): I have been following DS's predecessor's predecessor NCT since 2009. The external manager, Fortress, will not let this golf venture sink easily. The 9.7% yield is attractive and well covered by assets.
Enerplus Corp. (ERF): Enerplus is a Canadian oil and natural gas producer and a company in excellent financial position despite being in a sector in a protracted downturn. I started out with 200 shares bought in 2010 at significantly higher prices and averaged down with 800 more shares in late 2015. ERF has very low leverage and break-even for a producer and will see significant earnings boost if oil ever recovers to over $60. The Dakota Access pipeline is also a dramatic boost to cash flow as it increases realized prices by ~$7/bbl.
ETRACS Monthly Pay 2x Leveraged Mortgage REIT ETN (MORL): I have held MORL since mid-2015 as a portfolio yield booster. I am down 5% in the position but it is well exceeded by dividend received. mREITs will not disappear overnight when rates rise.
New Residential Investment Corp. (NRZ): Received shares as spin-off from NCT in 2013 and added significantly more in 2015 and early 2016. NRZ is a beloved stock on Seeking Alpha and is not the hidden gem it once was. It is a big chunk of my portfolio and I will reduce it by half if the yield gets closer to 10%.
Nam Tai Property (NTP): Nam Tai Property is my bet on Shenzhen real estate. Shenzhen is the Silicon Valley of China and its real estate prices is already on par with the SF Bay Area. Conservative back-of-the-envelope valuation shows 40-100% upside can be easily achieved in 3 years once construction is completed.
New York REIT (NYRT): As I alluded to here, I bought NYRT as an event-driven, market neutral play. I regret not doing my own due diligence on this one and am sitting on a certain loss. Further downside is unlikely and I am waiting for sentiment to improve to exit the position.
On Track Innovations (OTIV): A legacy holding. Also sitting on a huge 55% loss because I did not do my homework.
RAIT Financial Trust (RAS) Baby Bonds (OTCQB:RFTA): I wrote an article on the common stock here and bought these baby bonds last week. The common stock is certainly a high risk/reward play, but I am almost certain the bond will be paid in full in two years. My wife's and mom's IRAs also hold RFTA.
Resource Capital (RSO): Resource Capital is another legacy mREIT trying to figure itself out. I bought in 2016 after C-III took over management by buying out the external manager REXI. New management kitchen-sank the write-downs and book value is stabilizing around $14. It is not that hard to make money in CRE and their return on BV should be at least 8%, which translates to over 10% for current buyers of common stock at a 35% discount to book. I expect a normalized annual dividend between $0.70-0.80 in 2019 and will not sell until it hits at least $12.
Resource Capital Preferred Stock (RSOPRB): Same thesis as above, but this is even safer. 8.3% yield is lower than I am looking for. I may sell and rotate into growing yields (such as PK) if it exceeds par.
Scorpio Tankers (NYSE:STNG) Baby Bonds (SBNB): A near-term corporate action/market neutral play. The note will mature in October 2017 and paying $25.47 including accrued interest, yielding me 1% in two months.
Starwood Waypoint Homes (SFR): Starwood is my singular bet in single-family REIT and it has paid off handsomely. Millennials have lower home ownership rates than their parents either due to affordability or choice, and the reality is a secular increase in the renter-to-owner ratio. I am holding SFR as a core position and as a hedge against rising home prices (I do not own a home yet).
SPDR S&P 500 Trust ETF (SPY): A hedge to reduce my beta. I see downside as more likely than upside at current market prices but am too enamored with my income stocks to sell them. I have been adding to my short position in SPY and selling OTM puts on them for income.
Teekay Corporation (TK): Another shipping name that is temporarily depressed and well-covered on Seeking Alpha. I am underwriting at least 3x to dividend once distributions from Teekay LNG Partners (NYSE:TGP) normalize. This would be almost 10% yield-on-cost for me. I will hold until distribution hike and decide whether to hold based on how high the stock rebounds then.
Conclusion
I enjoy uncovering income opportunities and watching my cash flow stream grow over time while protecting my principal. I believe the four pillars of my income portfolio will serve me well.
Reliable current yield between 6%-9% in the form of bonds and preferred stocks.
Hidden-yield situations where there is a chance for significant cash flow increases. For example, TK, ERF, RSO, NTP.
Corporate action and market neutral plays where I expect a certain payoff in a limited time frame. SBNB, NYRT, and ACAS from before fall into this bucket.
Speculative high-yield at 13%+ such as Legacy Reserve debt and RFTA
Do you agree with my investment approach? Am I too complacent on some positions? Or are there gems that I am missing out on?
Disclosure: I am/we are long AHT, AHP, AINC, ARCC, CPLP, DHT, ERF, MORL, NRZ, NTP, NYRT, RSO, SFR, TK, OTIV, SPCB.
I wrote this article myself, and it expresses my own opinions. I am not receiving compensation for it (other than from Seeking Alpha). I have no business relationship with any company whose stock is mentioned in this article.
Editor's Note: This article covers one or more microcap stocks. Please be aware of the risks associated with these stocks.