(Editors' Note: This article is meant as an introduction for The Turnaround Letter, a new Marketplace service by George Putnam).
I'm pleased to announce that The Turnaround Letter is now available on Seeking Alpha's Marketplace.
I initially became interested in turnarounds and distressed securities decades ago as a bankruptcy attorney. I saw first-hand how inefficiently priced these securities were, as Wall Street analysts ignored them and most investors assumed that they would never recover. What I learned then - and what remains true even today - is that often this is the point of greatest opportunity.
The Turnaround Letter is especially beneficial for value investors with a patient, contrarian approach. Some stocks have produced strong returns shortly following our recommendation, yet our out-of-favor orientation focuses on finding stocks whose biggest gains might not occur for a year or more because these ideas are well beyond Wall Street's short-sighted vision. We are fundamental-driven investors who dig deep into the company and its industry to look for asymmetric situations, where the upside potential is much greater than the downside risk. Our recommendations come with specific price targets and a discussion on how they were derived to help guide you.
As a member, you will receive a monthly feature recommendation of what we consider to be the best turnaround opportunity at that time. Each buy recommendation is supported by an in-depth initiation report. Members receive periodic updates on these names, along with all changes to our buy/sell/hold ratings.
You will also have access to articles discussing our contrarian insights into industries, sectors and other themes. The articles often include four to six specific stock ideas that fit these themes.
Members gain access to our proprietary lists of stocks and distressed bonds with fresh catalysts, including new management, bankruptcy exits, activist stakes, spin-offs and other events that might indicate a turnaround is at hand.
The Turnaround Letter has been recognized as one of the industry's most successful investment research advisory services. Our returns through July 31, 2017, which are calculated by Hulbert Financial Digest, an independent and respected performance monitoring service, speak for themselves: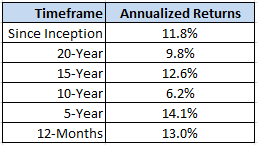 Our promise to you is two-fold. We will make every effort to help boost your investment returns by providing buy recommendations that we feel have great potential for patient investors. We will also give you the resources to understand how to incorporate turnaround investments into your overall portfolio.
To celebrate our new Marketplace partnership, we are offering a substantially discounted introductory rate of just $45/month, or $360/year - that's 30% less than the standard subscription price - through September 30th. We won't likely offer The Turnaround Letter at this low price again, so we encourage you to subscribe today.
Disclosure: I/we have no positions in any stocks mentioned, and no plans to initiate any positions within the next 72 hours. I wrote this article myself, and it expresses my own opinions. I am not receiving compensation for it (other than from Seeking Alpha). I have no business relationship with any company whose stock is mentioned in this article.