I have decided to make some changes to the model portfolio set up on Wall Street Survivor and explained in this Seeking Alpha May 5th article.
The +2.0% gain after trading expenses the last 11 weeks, +2.3% before trading expenses, is roughly in line with my goal return outlined in the first article of 5%-10% annually. I suggest readers new to pair trading and long/short portfolio design take a look at the opening article penned in May. I outlined the basic reasoning to consider a long/short setup,
The portfolio's value will change largely as a function of the longs outperforming the overall market and the shorts underperforming. This idea can be a little hard to grasp at first. I thought it would be a great exercise on Seeking Alpha to create a net-neutral example readers can track over time. The objective is to earn 5-10% annually, no matter where the market is headed, including straight down crash or regular bear market possibilities. The main advantage is earning returns far above those available from bank savings or low-risk bond market alternatives, without taking on the same long-only portfolio risk given an economic recession or poor stock picking.
On a compounded annual basis, the first 11-week performance span equates with a total return of 9%-10%, after trading expenses. The beauty of the design is we are slogging ahead, regardless of daily market fluctuations and volatility, or the price direction for U.S. stocks generally. This portfolio design could easily return the same positive performance, even if the equity market falls 20% in price the next 11 weeks.
The S&P 500 peer index price change has fluctuated between -1.7% and +3.9% since the portfolio's May 5th inception. The Victory Formation long/short portfolio sample has traded between -0.5% and +2.5% over the same span before trading expenses, with little correlation to up or down days and the degree of price change in the overall market. Also note the portfolio has risen slightly into midday on the 22nd vs. a nearly -1% price drop for the S&P 500 average equity in the month of August. Considering the portfolio is close to net-neutral in weighting for market direction (total longs about equal to the value of shorts), the +2% portfolio rise compares quite favorably with the 2.5% market rise. In review, the Victory Formation momentum picking system is adding real value to the portfolio. Slow steady gains are being achieved so far, no matter which direction Wall Street is moving day to day.
Changes made on August 22 to Wall Street Survivor portfolio
Enough time has passed for some new investment ideas to appear that I really want to include in this sample portfolio. Plus, I would prefer to eliminate the small cap Russell 2000 ETF (IWM) and Nasdaq 100 ETF (QQQ) in favor of several individual blue-chips, acting better from a momentum standpoint. Selling the smaller capitalization Brighthouse Financial (BHF) spin-off from MetLife (MET) makes sense in the context of this blue-chip design.
The Novartis (NVS) and Diageo (DEO) shorts need to be covered, as both have witnessed unexpected upside price change and buying momentum since early May. While I recommend a 20% stop-loss level in this portfolio design, when better ideas appear, cutting losses and replacing individual choices usually proves a wise decision down the road. As a professional or novice dart thrower, many attempts will miss the mark. Pick up another dart and keep throwing if you want better results. If you miss the board a few times, quitting is guaranteed to earn you nothing.
Below is a graphical listing of the portfolio's results to date, before changes were made. I have highlighted in yellow the stocks to be eliminated from the portfolio.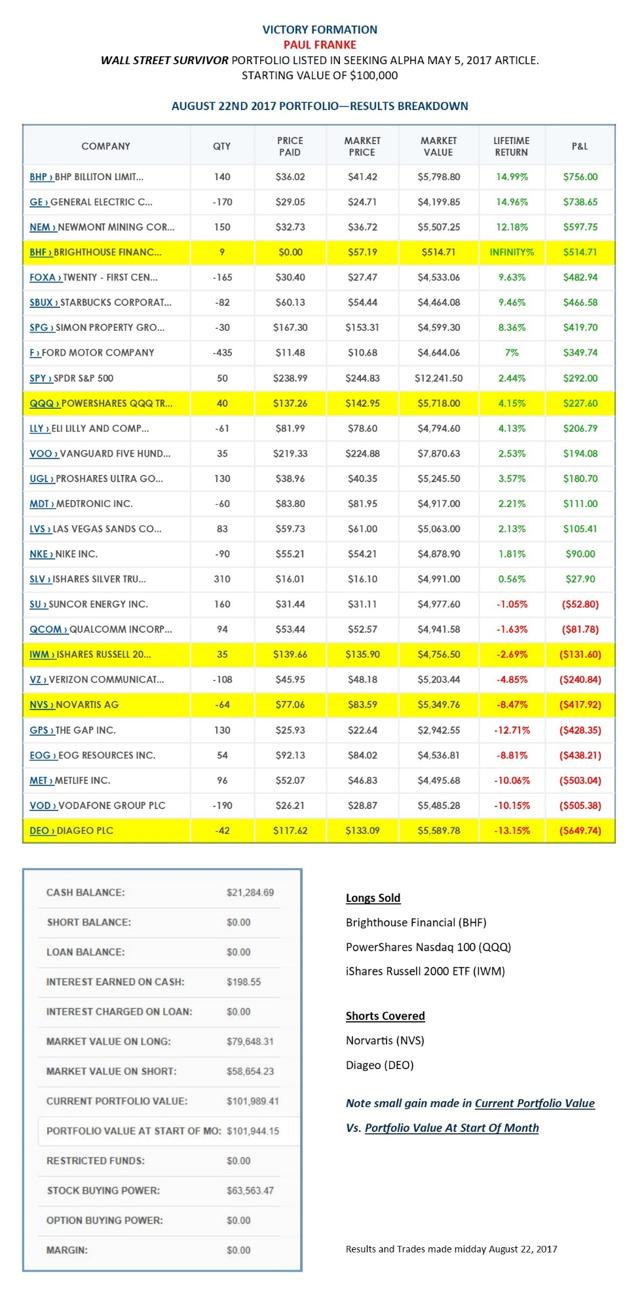 New stocks added to mock portfolio
I am initiating ten new positions, six longs purchased and four short sales. I will go through some basic logic for inclusion below. I wanted to mention I am increasing the net-long exposure from around 5% to 15%, simply because I desire a more fair competition for the picks against a potential bear market sell-off. My thinking is a slight net-long position that gains ground in a large equity sell-off will prove the worth of the Victory Formation long/short design. I am taking the 30% net-long position as represented on the long/short balances on the graph below (subtracting the total short value from the total long number), and deducting 15% of the long value for the uncorrelated gold and silver exposure. The remaining effective net-long position is around 15%, absent the gold/silver assets.
The hard money ProShares Ultra Gold ETF (UGL), iShares Silver Trust (SLV) and Newmont Mining (NEM) positions are key hedges and counterweights in the overall portfolio. Geopolitical risks and constant money printing should provide a steady wind at your back in these investments for years to come. Together the three precious metals investments have added about +0.7% in gains on the whole portfolio.
New Longs
FedEx
The portfolio didn't hold any transportation stocks in the beginning. I added representation to this important sector with FedEx (FDX). FedEx has nice medium-term upside momentum, a better than average balance sheet, and above average business growth potential. If it continues to expand as expected by Wall Street consensus estimates, the stock remains quite cheap on future earnings and cash flow generation, relative to the S&P 500 normal equity. FedEx is the global leader in ecommerce shipping, and has high exposure to a strengthening economy overseas.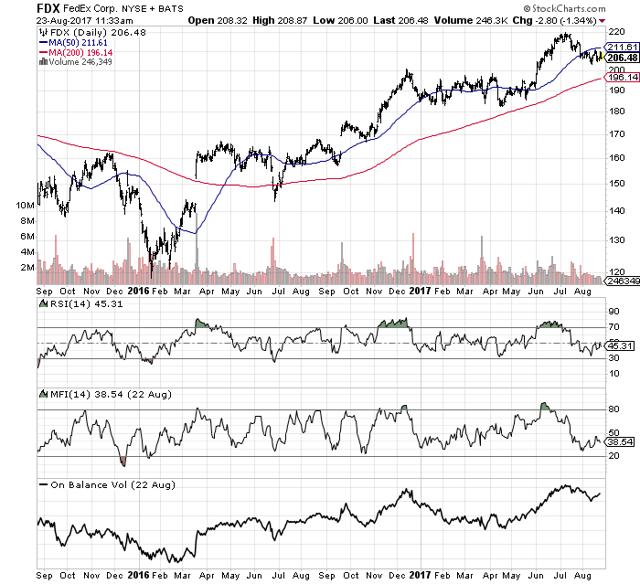 Celgene and Abbott Labs
I am now including biotechnology leader Celgene (CELG) and one of the top medical product companies, Abbott Labs (ABT) in the portfolio. At this point in the economic cycle, 8-years since the last recession, it is getting harder to find real bargains in the defensive health care sector. Both hold sound balance sheets vs. the S&P 500 average, have higher than typical projected business growth rates, and are witnessing buying momentum from investors in 2017. Their valuations are quite attractive if they can hit current anticipated business growth targets by Wall Street in 2018-19. I wrote about Celgene's truly interesting prospects for investors in an early August article here. It is my choice as the "long" position in a pair trade idea against Eli Lilly (LLY), already shorted in my example portfolio. Abbott was the focus of another article from July, if you want to understand my expanded logic for owning it.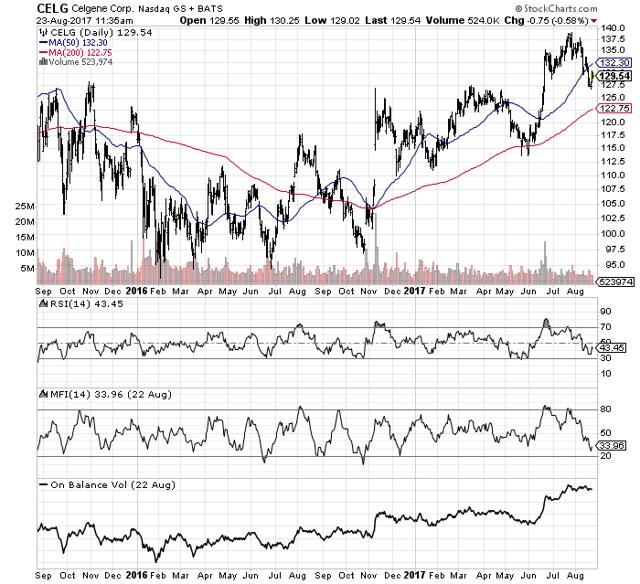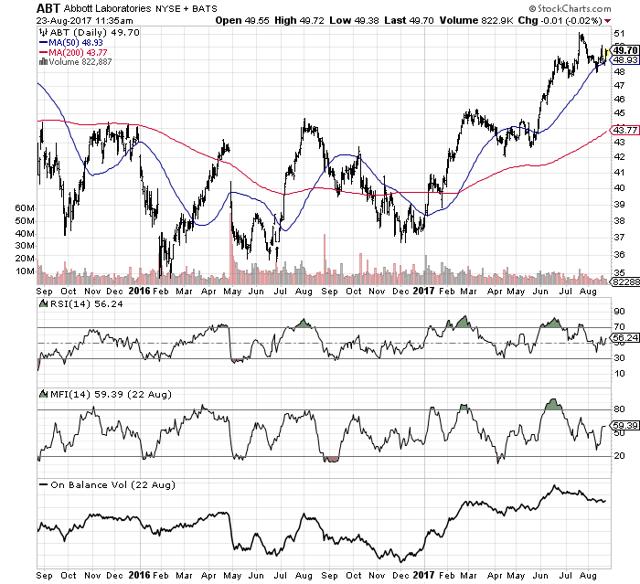 Chevron
I think it wise to increase the portfolio's big oil exposure, especially refining and retail marketing assets. I have added Chevron (CVX) to compliment the Suncor (SU) heavy crude production and largest Canadian integrated energy conglomerate asset, and EOG Resources (EOG) – one of the fastest growing U.S. shale production plays in the large capitalization sector. Chevron pays an exceptional 4.0% annual dividend yield right now, and is quite profitable overall at current low oil/gas prices from its downstream refining and gas station assets. Its PEG ratio [Price to Earnings Growth] is extremely low under 1.0 as growth prospects are way above normal from the cycle low point in energy prices during 2016-17. Investor buying momentum in Chevron is picking up, measured against both the oil sector and U.S. stock market generally. Its strong balance sheet means the company retains a significant margin of safety for investors vs. oil asset alternatives, given a continuation of low oil prices and/or economic recession in demand.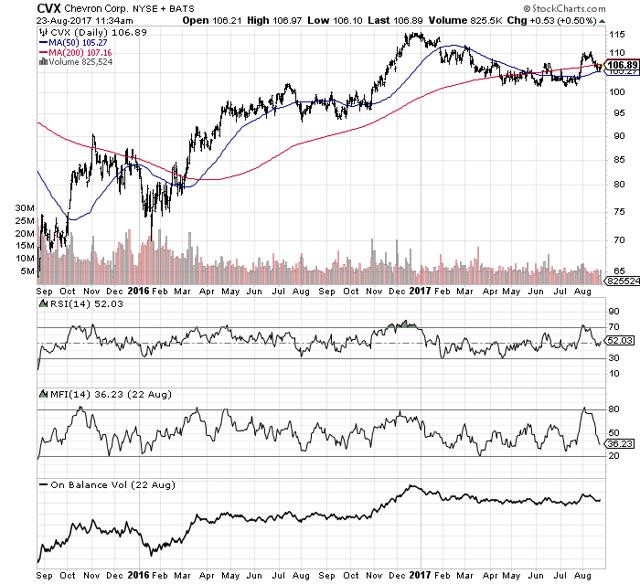 Allstate and Citibank
I cannot help but include a few more financials, although banks and brokerages are one of my least favorite sectors today. I wrote an article in July regarding the pair trade idea of holding big oil names long and financial stocks short the next 6-12 months. I would avoid the vast majority of trading banks and brokers, after a uniquely strong 2016-17 showing this late into an economic cycle. Typically, financials are weak at the end of economic cycle into recessionary bottoms, the most likely 2017-18 economic outcome in my view. Insurance companies and large money center banks, in certain economic backdrops have survived bear markets and recessions better than the average S&P 500 stock. We will see what materializes during the seasonally subpar fall months for the markets. Whether you are expecting good times or bad for the economy, the goal is to own the strongest momentum selections ready to outperform peers.
I am adding Allstate (ALL) and Citibank (C) attempting to prove the worth of picking the best stocks in a potentially down sector. The sample portfolio is now holding two insurance companies, when you include the existing MetLife position, and one of the largest retail money center banks in the world. All of them have super-strong balance sheets, much better prepared for recession than the last equivalent period of 2007-08. Assuming a normal economic growth period, each is projected to expand earnings better than the typical S&P 500 company by Wall Street consensus estimates in coming years. Each is showing signs of heavy accumulation and buying momentum, while prices vs. underlying business worth are not overly stretched.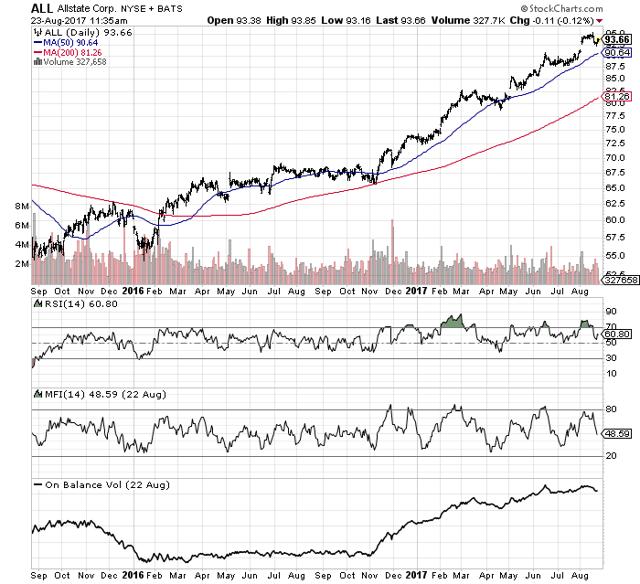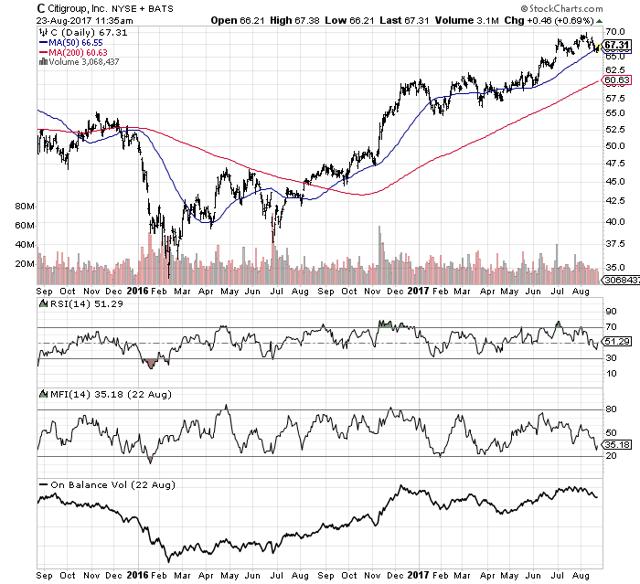 New Shorts
AT&T
I am particularly bearish on telecommunications. The portfolio already holds short positions in Vodafone (VOD) and Verizon (VZ). Basically, too much leverage and too much competition in an industry that requires heavy capital expenditures means profits and margins will surely come crashing down in the next recession for the whole industry. AT&T (T) fits this mold, plus it is about to acquire Time Warner (TWX) in a ground-breaking deal to create one of Wall Street's most overvalued company's in history vs. tangible assets. I wrote an article in May on the uphill climb AT&T investors are about to begin. The stock has fallen since then, and downside could be truly spectacular when the next recession arrives. A weak balance sheet, relative underperformance of the S&P 500 and fading momentum indicators the past 12 months should have investors worried. I fully expect earnings to plummet and the dividend to be cut in the next recession.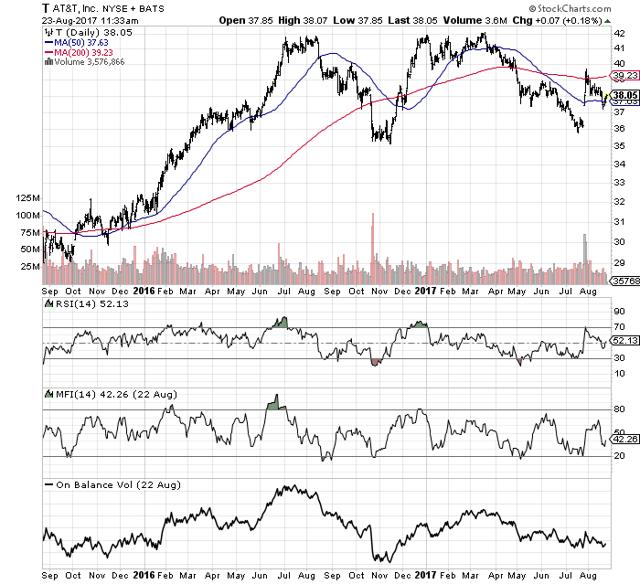 Costco
Costco (COST) was the bearish subject of my last article on Seeking Alpha. Expanding online/home delivery options and retail competition from Wal-Mart (WMT) and Amazon (AMZN), to name just a few, spells real trouble for Costco's wholesale marketing business model. Super low growth estimates by Wall Street don't mix well with the company's super high stock valuation. In fact, if we get a recession and sales/earnings stumble at Costco, the equity quote could fall 30%-50% without much effort. The company has increased leverage on the balance sheet in 2017. All upside momentum and rising stock price trends were smashed in June on the announcement Amazon plans to acquire Whole Foods (WFM) and compete directly with Costco's grocery membership model all over the nation.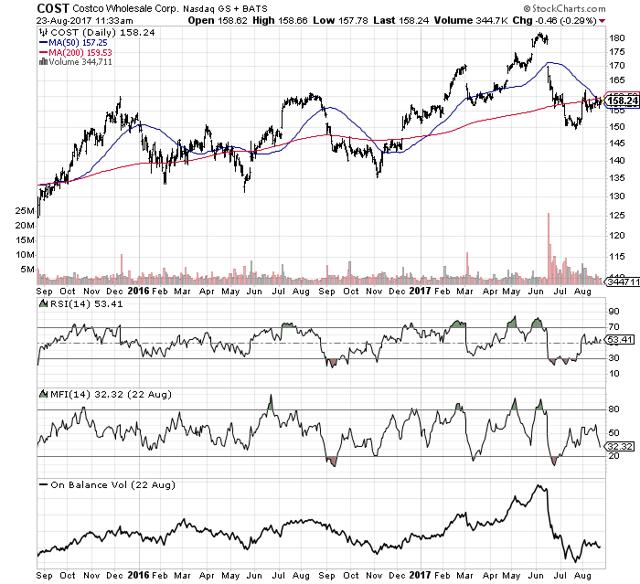 Mondelez and Anheuser-Busch InBev
I wanted to include some underperforming stocks with truly leveraged balance sheets as short positions. Mondelez (MDLZ), one of the largest food companies in North America, and Anheuser-Busch InBev (BUD), the largest beer maker on planet earth, fit this criteria best. Both stocks have flat-lined the last couple of years, and seem to be increasingly underperforming the S&P 500 equity gains of 2016-17. Both companies have stagnant business growth prospects, in a perfect economic world. What if we get something far worse during a recession? I wrote an article about the competitive pressures created by small local craft breweries on BUD's sales future in May. Both companies are part of hyper-competitive industries, so high debt and leverage levels require near perfect execution to grow the business substantially. With very low odds of meaningful growth when interest expense rises and/or the economy slows, their currently high stock valuations relative to the S&P 500 average blue-chip leave plenty of room for investor disappointment. In sum, they should underperform further advances in the general U.S. stock market according to my Victory Formation system, or be leaders to the downside when investors get more realistic about overvaluations.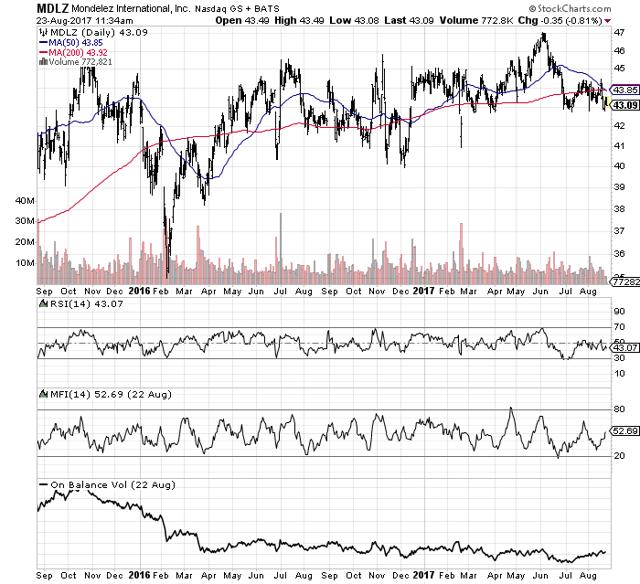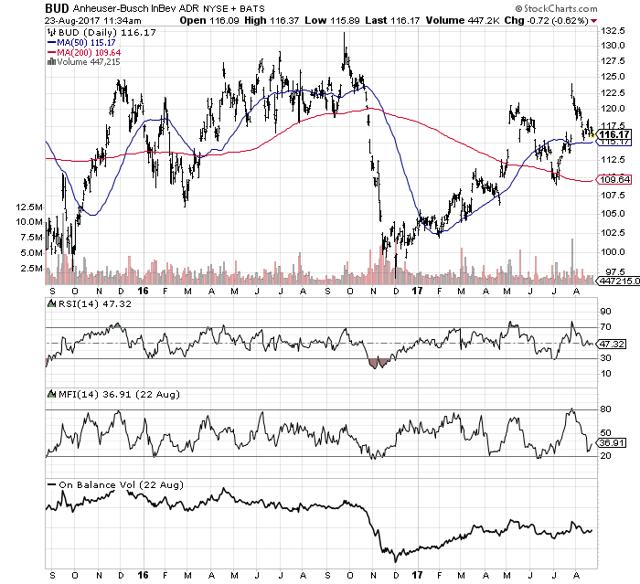 Portfolio review after changes
Below is how the Wall Street Survivor sample long/short portfolio looks after changes were made August 22, 2017. The new positions are highlighted again in yellow.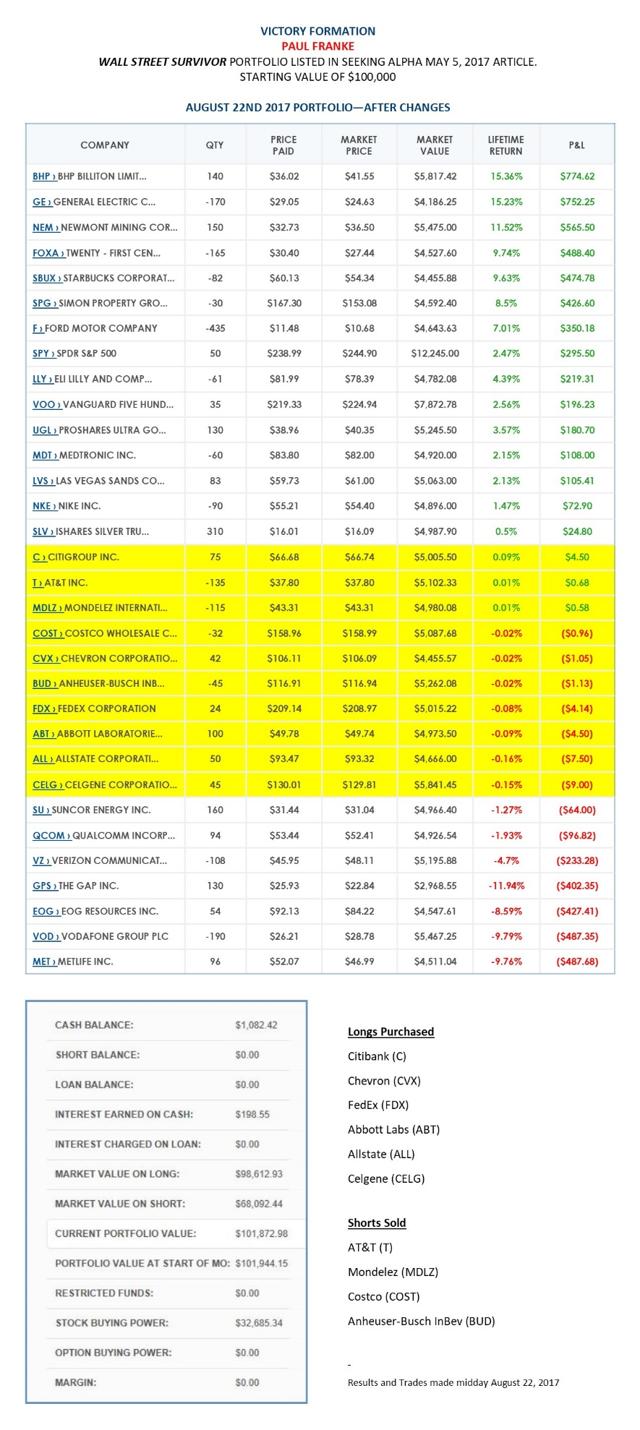 Final Thoughts
I suggest investors use a 20% sell or buy stop (depending on long or short exposure) to keep individual position losses to a minimum, while still allowing each to fluctuate in a normal fashion. That level has not been hit by any stocks the first three months, but could become important in a serious bear market sell-off for long holdings, or a takeover situation in any of the shorts. However, the odds of a material business combination or an acquisition of one of the largest U.S. capitalization equities shorted in this portfolio example is a much lower probability event than for smaller companies.
The Wall Street Survivor trading costs for the above changes amounted to $10 per position times 15 names or $150 in value. Adding trading expenses for the original 26 positions to the 15 changes listed equals 41 times $10, or $410 in commissions. With most discount brokerages charging $10 or less for individual trades, our theoretical portfolio would be easy to replicate in the real world.
A number of different economic scenarios and market swings in price could generate lasting gains for the portfolio. Its design allows for an individual stock to carry the group higher also. At its core, just minor outperformance or underperformance by a small number of equities can create slow steady gains for investors. The portfolio is all about stock picking, as opposed to making a market direction call or being fully invested in the S&P 500 and hoping for the best. Methodology, including some diversification and honest planning for a few picks to go wrong are key to controlling risk for the portfolio as a whole.
Please don't be afraid to consult a registered, experienced financial adviser regarding your risk tolerances, knowledge of the markets, and specific financial situation if you are interested in long/short portfolios and pair trading your account. Short selling and leveraged accounts like the model portfolio in this article are inherently riskier than a regular mutual fund or long only purchase, if executed incorrectly. Bad luck could also bring about losses, depending on the timing of your trades and temperament during volatile market price swings.
Disclosure: I/we have no positions in any stocks mentioned, but may initiate a long position in ugl,slv,celg,abt over the next 72 hours.
I wrote this article myself, and it expresses my own opinions. I am not receiving compensation for it (other than from Seeking Alpha). I have no business relationship with any company whose stock is mentioned in this article.