Rethink Technology business briefs for August 23, 2017.
Apple plans to build a new datacenter, codenamed Project Morgan, in Iowa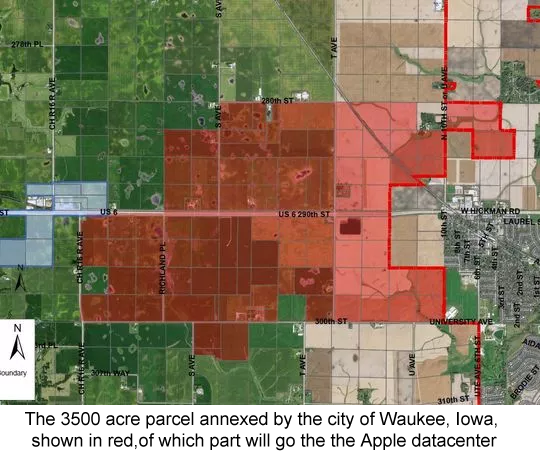 Source: The Des Moines Register
The Des Moines Register reports that Apple (AAPL) is in talks with Waukee, Iowa, for a large data center project. According to the Register, the Waukee City Council will hold a special meeting Thursday morning to take up the matter, listed as "Project Morgan" on the Council agenda.
The Council agenda shows plans for a development agreement with Apple and the sale of city owned property to Apple. Interestingly, the datacenter will occupy part of a 3500-acre site, shown in red in the above graphic, that the city annexed, apparently with the Apple deal in mind. As part of the annexation of what had been zoned for agriculture, the city will provide utilities such as water mains and sewers.
The Iowa Economic Development Authority board also plans a special meeting on Thursday morning to consider economic incentives for Apple. No details have been released about the incentives which, the Register notes, is unusual.
The codename, the lack of details, and no-comments to the press should be familiar, as Apple often doesn't talk about its projects until they're well under way. Apple would join Google (GOOG) (GOOGL), Facebook (FB), and Microsoft (MSFT) that have datacenters in Iowa.
Apple's rapid expansion of its Services business, which includes iTunes, Apple Music, iCloud, and the iOS and macOS App Stores, mandates an expansion of its datacenters and content delivery network, especially if Apple is to become a player in streaming video.
Apple currently has datacenters in California, Nevada, Oregon, and North Carolina. Overseas, Apple has a datacenter in China and plans for them in Denmark and Ireland. As I pointed out in a Rethink Technology report, Apple's ownership of the means of hosting and distributing its streaming content could provide a financial advantage when competing with companies such as Netflix (NFLX).
Apple TV falls further behind in streaming media players
Parks Associates regularly publishes research on Internet-connected streaming media players. The latest from Parks shows that 1/3rd of US households with "broadband Internet" own a streaming media player. Apple's share of those fell to 15% as of 2017 Q1.
Roku had the highest usage share at 37%, followed by Amazon (AMZN) at 24%, and Google at 18%. Amazon increased its share from 16% in 2016 Q1.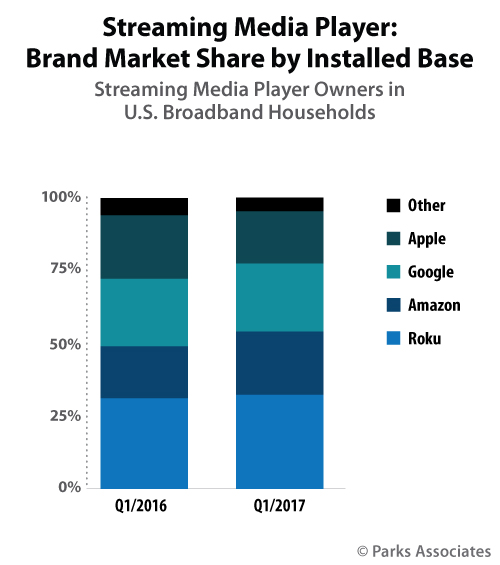 Clearly, Amazon gained usage share at Apple's expense. By the time Apple introduces its next iPhones in September, the 4th (and latest) generation Apple TV will be two years old. Amazon's Fire TV supports 4K Ultra HD TV and features Alexa voice control. Virtually, the entire industry is moving to 4K. Roku's Premiere also features 4K. Both the Fire and Premiere only cost $89.99. The low end 32 GB Apple TV costs $149.
Apple is rumored to be working on a 4K Apple TV. It had better. Apple is very much in danger of losing its position in a product category it more or less created as the "hobby" of Steve Jobs. Given that Apple wants to become a power in streaming video and expand its Services business, Apple very much needs a flagship platform in Apple TV, not just a hobby.
A note on usage share. The Parks report was very careful not to call its estimates "market share," but instead referred to "share of installed base" in its report. I wish the re-reporting of the Parks report were as careful. Apple Insider ran with the headline "Apple TV losing market share to streaming set-top box rivals Roku, Amazon." I continue to define, as most do, that market share is percent of sales, not usage.
Samsung reveals the Galaxy Note 8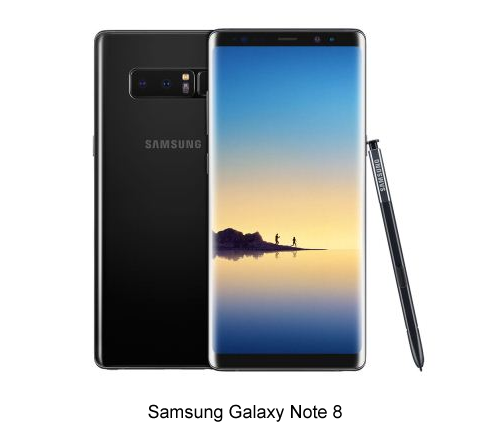 Source: Anandtech
At a special event today, Samsung (OTC:SSNLF) revealed the Galaxy Note 8, the successor to the ill-fated Note 7. The Note 8 closely resembles the Galaxy S8+, having a curved AMOLED screen a 10th of an inch larger than the S8+. The Note 8 carries forward the 18.5:9 aspect ratio screen, as well as also doing away with a front facing fingerprint sensor.
In addition to supporting a stylus interface that can be used for freehand drawing and note taking, the other main difference of the Note 8 is its new dual camera system. Similar to the approach of the iPhone 7 Plus, the dual cameras are used to provide wide angle and telephoto modes. Samsung highlighted the fact that both cameras sport optical image stabilization, whereas the iPhone 7 Plus telephoto camera does not.
The timing of the Note 8 release appears to be intended to steal thunder from Apple's next generation iPhone launch, expected in mid-September. Whether it will do that remains to be seen.
The rumors coming from analysts such as Ming-Chi Kuo, as well as an endless stream of "supply chain rumors" emanating from South Korea and elsewhere have created very high expectations for iPhone 8. As an Apple investor, I fear the consequences should Apple fail to live up to the various rumored features.
My concern is that Apple has been maneuvered by the media reports into a position where it can't help but disappoint. If Apple produces a phone with the rumored features of a curved AMOLED "edge-to-edge" screen, wireless charging, glass back, and no home button, it will be criticized as merely derivative of the Note 8/Galaxy S8. If Apple fails to deliver those features, it will be criticized as hopelessly antiquated.
Hopefully, Apple will avoid both negative comparisons. But I will admit that the Note 8 is a great looking phone and stylus support is a feature that Apple should bring to at least one iPhone model.
Apple is part of the Rethink Technology Portfolio and is a recommended buy.
Disclosure: I am/we are long AAPL.
I wrote this article myself, and it expresses my own opinions. I am not receiving compensation for it (other than from Seeking Alpha). I have no business relationship with any company whose stock is mentioned in this article.
Editor's Note: This article discusses one or more securities that do not trade on a major U.S. exchange. Please be aware of the risks associated with these stocks.