As the oil market rebalances, investors have focused increasingly on the EIA's weekly data ("WPSR"). No doubt, some of this is the EIA's fault for being timely, transparent and relatively accurate - one of the few trustworthy sources of oil information. As the US accounts for over half of the inventory above the 5-year OECD average, it's also one of the most important markets.
If investors do focus on WPSR, one thing has to be clear. Much of the information is based on survey data, forecasts and computations. Let's back up a bit to get the full picture. Here's the various EIA publications and how they depict production. Some summarize historical production data, and others forecast it. It's important to know what you're looking at and where you are.

For production data, we often see and hear the media and oil investors report that US weekly oil production increased by X amount, citing the WPSR. Often this information is conveyed as hard facts, when in fact, the figure reported in the WPSR is a calculation of 4 data elements, which are:
the most recent Short-Term Energy Outlook (STEO) model estimate (including interim estimates) for average daily production for the lower 48 States and the Federal Gulf of Mexico (GOM);
daily production volumes delivered from the North Slope of Alaska to the Trans-Alaska Pipeline System (TAPS) (reported to the EIA by the Alyeska Pipeline Service Company);
daily volumes of natural gas plant liquids produced on the North Slope delivered to TAPS (reported to the EIA by BP plc (NYSE:BP)); and
daily production for South Alaska estimated from monthly production reports (lagged by two months) from the Alaska Oil and Gas Conservation Commission (AOGCC).
As the EIA, in its WPSR methodology, states, "[m]ost of the uncertainty in the weekly estimate is associated with the STEO forecast for lower 48 and GOM production. For example, when lower 48 crude oil production is either increasing or decreasing rapidly, the accuracy of the estimate for any particular month is likely to be reduced. During tropical storms or hurricanes that affect Gulf of Mexico oil production, near real-time daily shut-in volumes reported by the Bureau of Safety and Environmental Enforcement (BSEE) are subtracted from the daily lower 48 estimate."
The weekly production estimates are reviewed monthly for disconnects between what's been calculated and the recent trends in domestic production reported in the more accurate Petroleum Supply Monthly (PSM) and other data. The EIA states, "[i]f a disconnect between the two series is observed, the weekly production estimate may be re-benchmarked on a monthly basis to address it. Any re-benchmarking of the weekly production estimate would be implemented on weeks when the STEO is released."
See the key word (which we've highlighted)? The WPSR production figures are "estimates," and estimates can differ from final figures. Case in point, the Petroleum Supply Monthly, which lags by 2 months and is based on collected data and more extensive surveys, has recently gapped wider from the WPSR production estimates.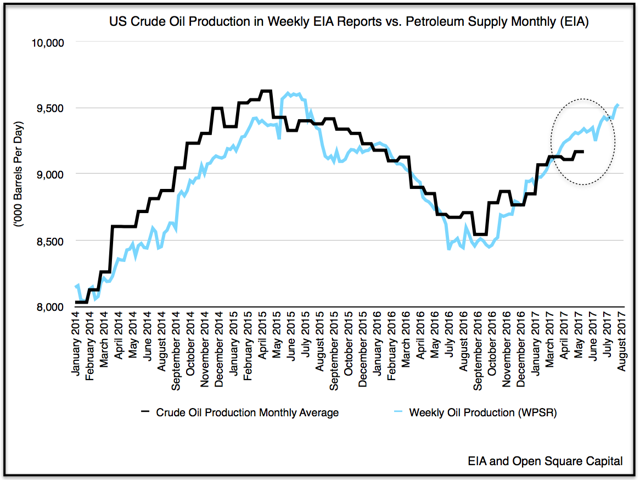 The latest figures (to May 2017) show a gap of almost 150K barrels per day (9.32M bpd in the WPSR versus 9.17M bpd in the PSM, or 4-5M barrels of lower US production over a month). We'll see if this gap closes in the next few PSMs. Perhaps production did increase and actually "caught up" to the WPSR estimates. We doubt it, but that's the point - the historical data is more accurate, and we should use that as our baseline when it's available. However, if actual production continues to come in lower in the PSM, that may foreshadow lower overall growth for US production and its shale basins. Today's 9.53M bpd may turn out to be an illusion, and oil bears that have been touting US shale as the basin which forestalls and eclipses global decline rates may be in for a rude awakening. For now, don't just look at the figures - dive deeper and understand what's behind them so you can maintain your edge.
As always, we welcome your comments. If you would like to read more of our articles, please be sure to hit the "Follow" button above.
Disclosure: I/we have no positions in any stocks mentioned, and no plans to initiate any positions within the next 72 hours.
I wrote this article myself, and it expresses my own opinions. I am not receiving compensation for it (other than from Seeking Alpha). I have no business relationship with any company whose stock is mentioned in this article.