Background
Let's face it, everyone is interested in what's going on in the cannabis industry. Whether or not people are personally interested in consuming marijuana, it can be difficult to ignore the massive growth potential of this space.
As the number of companies operating in the sector continues to grow at an astounding rate, it can be tough for the average investor to peg the individual winners and losers.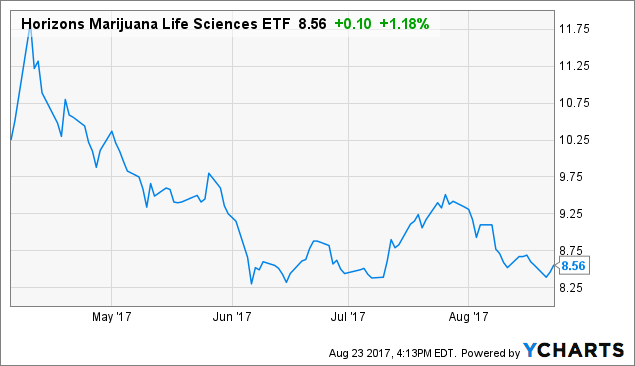 On Wednesday, April 5th the Horizons Medical Marijuana Life Sciences ETF (TSX:HMMJ) began trading on the TSX. HMMJ was the first-of-its-kind ETF offing investors direct exposure to a basket of marijuana-related companies based in Canada and the United States.
In June, Horizons announced that they'd be cutting the word medical from the fund's name to reflect upcoming changes in Canada's recreational marijuana laws and thus expand its investment objective to include a larger potential group of companies.
The re-named Horizons Marijuana Life Sciences ETF seeks to track the Solactive North American Medical Marijuana Index, which currently has 18 top-notch cannabis-focused constituents. HMMJ however gives investors exposure to 21 of the top cannabis companies in North America, as of data from August 22nd.
Since the ETF has more companies in its portfolio than the index, we'll go over the ETF's components to give investors an idea of 21 leaders in the space.
Marijuana ETF Components
Back in April, the ETF was tracking 16 different companies. While a majority of the components have remained, new companies have been added and weightings have changed substantially since then.
The cannabis companies that make up the Horizons Marijuana Life Sciences ETF (in order of weighting from highest to lowest) are as follows:
Which Companies Were Removed?
Companies that were removed include Cannaroyalty Corp. (OTCQX:CNNRF) and Maple Leaf Green World (OTCQX:MGWFF). Companies that were added include 22nd Century, ABcann Global, Arena Pharmaceuticals and more.
Investing in the Basket vs. Individual Companies
This article was meant to help investors utilize the diversified basket approach to investing in the cannabis sector. On the other hand, investors trying to pick individual winner companies out of the basket should be sure to conduct ample due diligence first and make sure your risk profile and time horizon are in-line with that of the company.
For instance, some of the aforementioned component companies have major stakes in late-stage applicants to become licensed producers of medical cannabis under Health Canada's ACMPR process. This makes for a great upside if Health Canada gives them the green light or if they are acquired, but offers potential for downside if the application were to have issues or be denied.
Also worth noting for those deviating from the diversified basket is the fact that some of the companies in the portfolio have contradictory interests in the cannabis movement. These opposing interests can lead to inverse correlations in the markets, thus decreasing volatility for the portfolio. The most obvious example of this is the interests of pharmaceutical companies vs. the cannabis cultivator companies. Insys alone spent half a million dollars to fight legalization in the last election.
Basket Replication
First we'll start by replicating the Horizons Marijuana Life Sciences ETF for those who want to closely track the newly launched ETF while still allowing for profit taking in an individual name if the opportunity arrises. The ETF's component companies (in weighting order) and weights as of the close on August 22nd are as follows:
| | |
| --- | --- |
| Company | Weight |
| AURORA CANNABIS INC | 11.65% |
| CANOPY GROWTH CORP | 11.21% |
| APHRIA INC | 11.01% |
| SCOTTS MIRACLE-GRO CO | 9.99% |
| GW PHARMACEUTICALS PLC | 9.48% |
| INSYS THERAPEUTICS INC | 6.72% |
| CRONOS GROUP INC | 6.07% |
| ORGANIGRAM HOLDINGS INC | 4.34% |
| SUPREME PHARMACEUTICALS INC | 3.44% |
| CANNIMED THERAPEUTICS INC | 3.43% |
| ARENA PHARMACEUTICALS INC | 2.53% |
| 22ND CENTURY GROUP INC | 2.46% |
| EMBLEM CORP | 2.26% |
| EMERALD HEALTH THERAPEUTICS | 2.21% |
| ICC INTL CANNABIS CORP | 2.21% |
| ZYNERBA PHARMACEUTICALS INC | 2.11% |
| HYDROPOTHECARY CORP | 2.02% |
| MARICANN GROUP INC | 1.75% |
| INVICTUS MD STRATEGIES CORP | 1.72% |
| ABCANN GLOBAL CORP | 1.67% |
| MEDRELEAF CORP | 0.90% |
Equal-Weight Basket
In order to replicate the performance of the Horizons Marijuana Life Sciences ETF, one would need to purchase each individual company in its relative weighting listed above. This could be a complicated and confusing option, so another option is for investors to equal-weight the index components. Equal-weighted indices are quite common along with market-cap. weighted indices.
In order to create your own equal-weighted basket of the cannabis companies above, one would just need to put equivalent dollar amounts into each company and re-balance that on a periodic basis.
Conclusion
The 21 component cannabis companies above are a mix of some of the most prominent as well as some of the up and coming names in the marijuana space. This list of companies can be used to either replicate the ETF as a diversified basket of cannabis companies, or it can be used as a list of companies to research further.
Regardless of if you buy the ETF directly, replicate the basket, or buy into a modified equal-weight version of the basket, many of these cannabis companies are sure to benefit from Canada's upcoming recreational legalization measures.
Be sure to follow us and stay tuned for more ongoing coverage of these cannabis companies.
Disclosure: I am/we are long XXII.
Business relationship disclosure: In the past, The Daily Marijuana Observer has been paid by Invictus MD to re-publish company press releases on DailyMarijuanaObserver.com. I wrote this article myself, and it expresses my own opinions. I am not receiving compensation for it (other than from Seeking Alpha). I have no business relationship with any other company whose stock is mentioned in this article.
Editor's Note: This article covers one or more stocks trading at less than $1 per share and/or with less than a $100 million market cap. Please be aware of the risks associated with these stocks.