U.S. stocks have a small problem. While U.S. large cap stocks continue to impressively rise despite a recent bout of volatility in recent weeks, U.S. small cap stocks have been showing signs of fatigue for some time now. Perhaps it is nothing more than a period of consolidation in a longer term uptrend. But given that small caps often move in advance of large caps in either direction, it is worth evaluating the recent weakness in small caps to determine whether something more might be at work beyond an ongoing short-term correction. Evaluating The Uptrend
U.S. small cap stocks as measured by the S&P Small-Cap 600 Index (IJS) remain in an uptrend. Following an extended period of consolidation lasting roughly three years from 2014 to 2016, small caps finally rediscovered their verve last November. And, they have largely held their ground ever since.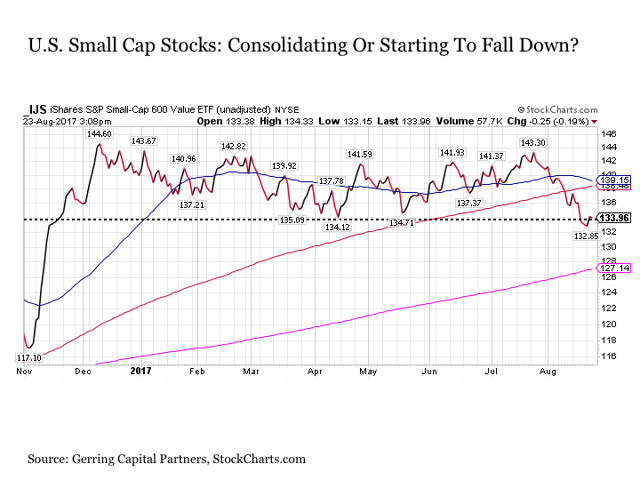 The first problem associated with small cap stocks in their latest upside rally is the following. Put simply, if you blinked, you missed it. Basically, in surging by +23% over one month's time from November 3 to December 9, 2016, a swift 24 trading days, U.S. small cap stocks registered virtually all of the long-term upside this segment of the market has had to offer over the past four years. And, they have spent the past nine months since trading sideways at best, if not working to slowly give these flash gains back.
Also, in the process of moving at best sideways over the past nine months since early December, U.S. small cap stocks have been sustaining increased technical damage against their long-term uptrend. For after six separate failed attempts in breaking out to new all-time highs through late July 2017, small cap stocks reversed and started making a sustained move to the downside. And, over the past month since, the S&P Small-Cap 600 Index has not only broken definitively below its 50-day moving average but has also since sliced through its 200-day moving average and, more recently, has traveled below its nine-month trading channel since last December.
With all of this being said, U.S. small caps are still holding solidly above their ultra long-term 400-day moving average, which is still in a strong uptrend in its own right. Thus, while technical damage has been done, the small cap uptrend still remains intact and should be respected until confirmation is provided otherwise. Put more simply, investors should not underestimate any segment of the U.S. stock market and its ability to suddenly rally in the still liquidity fueled (but perhaps for not much longer) current market environment.
The Fundamental Challenge
The more challenging issue for U.S. small cap stocks (IWM) looking forward resides not necessarily with the technicals but instead with the fundamentals.
Consider the following. At the end of last year and in the immediate aftermath of the dramatic +23% spike, investors had lofty expectations for the earnings performance for U.S. small cap stocks heading into 2017. This included expectations for sequential double-digit increases in annual operating earnings for each quarter in the 2017 calendar year. This added up to expectations for a robust +50% increase in annual operating earnings this year.
So, where do we stand on these measures with eight months of 2017 now in the books?
2017 Q1 annual operating earnings ended up increasing by +7% on a sequential quarter over quarter basis. Solid, but not the mid-teens growth that the market was originally pricing in.
And, 2017 Q2 annual operating earnings only edged higher by +4% quarter over quarter with nearly all companies in the index having now reported for the quarter. Once again solid, but nowhere close to the double-digit quarterly growth originally anticipated.
As for 2017 Q3 and 2017 Q4, these profit forecasts have also come down measurably and are likely to come down even further in the months ahead, given the trend for 2017 year to date.
The slashing of future earnings forecasts might be digestible for investors if the recent earnings history for U.S. small caps had been strong, but it has not.
As reported, annual earnings growth among small caps had initially been strong during the post-crisis period. But it has been an entirely different story for the many years since. For not only are current annual earnings still roughly -20% below their 2014 peaks through the current quarter but they are effectively no higher than they were six years ago during the summer of 2011. All of this is hardly the robust earnings surge in recent quarters that so many investors may have been anticipating late last year heading into 2017.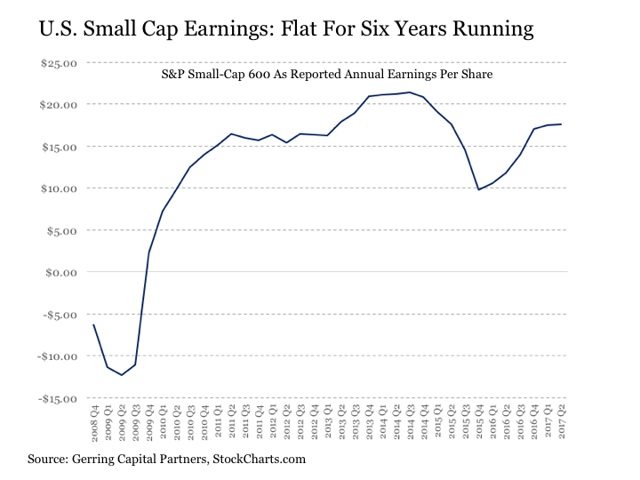 This ongoing lack of progress in small cap earnings for so many years has resulted in a group that was once trading at a more reasonable but still somewhat rich 26.5 times earnings in 2011 now trading at a far more rich 51.3 times earnings today. Perhaps small cap earnings will finally pick up soon to start to fill this valuation gap. But the trend in earnings revisions throughout 2017 has things going definitively in the exact opposite direction, thus placing this segment of the market increasingly at risk for the types of corrections that we have been seeing over the past month since its last peak.
Spillover Effects
What's happening in U.S. small caps does not necessarily stay confined to the U.S. small cap space. Historically, U.S. small cap stocks often move in advance of U.S. large cap stocks (SPY) in either direction by a few weeks to many months or more.
Consider the most recent notable U.S. stock market pullback starting in the summer of 2015. While U.S. large cap stocks as measured by the S&P 500 Index (IVV) were holding largely steady through mid-August 2015 before starting to fall into correction in earnest, U.S. small cap stocks had peaked nearly two months earlier in late June and were lower by as much as -6% from their recent peaks before the same downside impacts arrived in the large cap space. Today, we are seeing a similar set up starting to unfold.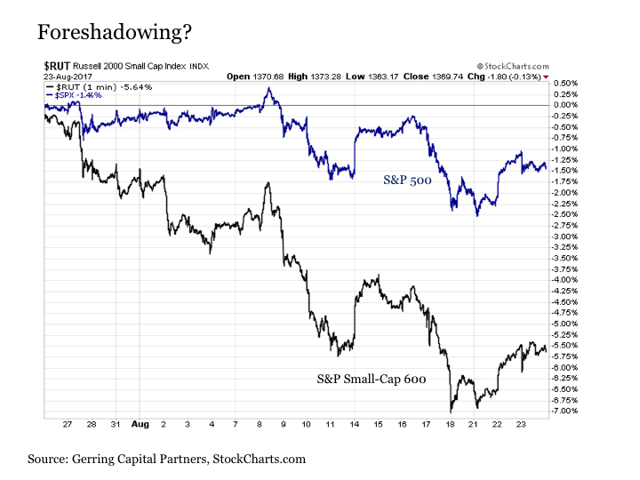 Of course, U.S. large cap stocks (DIA) have also shown the ability in recent years to overcome small cap weakness and continue to the upside. For example, while U.S. small caps fell flat for much of 2014, U.S. large caps continued to rise. And, it was U.S. large caps that ultimately won out during this round, as U.S. small caps eventually found their way to the upside to close out 2014 and into the start of 2015.
So, it is very possible that the recent weakness in small caps may eventually pass without incident. But it is also very possible that U.S. small caps could be signaling something more in store for U.S. large caps (VOO) to the downside. As a result, this divergence warrants continued monitoring in the days and weeks ahead, particularly given the fundamental weakness and stretched valuations among both U.S. large caps (QQQ) and U.S. small caps.
Levels To Watch
So, what are the levels where we can expect U.S. small caps to find support? For this, we will reference the Russell 2000 Index since it is more widely referenced in the financial media and thus may be easier for many to track.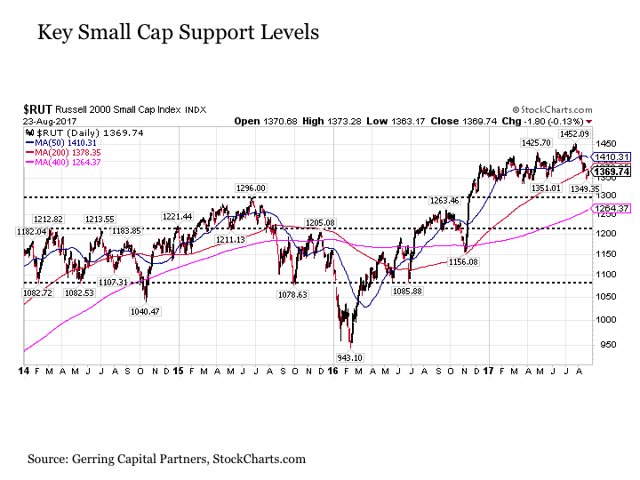 First, with support at the medium-term 50-day moving average (blue line) already broken, it will be worthwhile to see if the Russell 2000 can reclaim its long-term 200-day moving average (red line) in the coming trading days. The key level to watch is 1,378.35 and rising, which is above Wednesday's close at 1,369.74. Put simply, while 200-day moving average support is not yet lost, the Russell will need to reclaim this level sooner rather than later.
If U.S. small caps continue to the downside, the next major support level comes in the 1,265 to 1,296 range, which represented the previous highs in U.S. small caps prior to the late 2016 breakout to the upside. The bottom of this range also includes the upward sloping ultra long-term 400-day moving average, which is another key level of support. This would represent as much as a -13% decline from recent small cap peaks, which is certainly not outside the realm of normal market behavior in any given year prior to the post crisis period.
If the Russell 2000 Index were to break below this 1,265 to 1,296 range, this would signal that a longer term reversal to the uptrend may be getting underway. This will be worth monitoring if the downtrend in U.S. small caps continues into the fall.
But in the meantime, the uptrend in U.S. small cap prices remains intact, even if nearly all of the recent upside has been confined to a very narrow period of time late last year, and the latest correction should be viewed as short-term in nature.
The Bottom Line
U.S. stocks have a small problem. U.S. small-cap stocks have been fundamentally weak for some time. And, the hopes that came with the major price surge at the end of last year are increasingly falling flat as we continue through 2017. U.S. small cap stock prices have started to respond more definitively to the downside over the past month. And, as we continue to the seasonally more challenging period for U.S. stocks in general during the months of September and October, it will be worthwhile to monitor how the U.S. small cap space responds, for further weakness may be foreshadowing potential challenges ahead for the broader U.S. stock market.
Disclaimer: This article is for information purposes only. There are risks involved with investing including loss of principal. Gerring Capital Partners makes no explicit or implicit guarantee with respect to performance or the outcome of any investment or projections made. There is no guarantee that the goals of the strategies discussed by Gerring Capital Partners will be met.
Disclosure: I/we have no positions in any stocks mentioned, and no plans to initiate any positions within the next 72 hours.
I wrote this article myself, and it expresses my own opinions. I am not receiving compensation for it (other than from Seeking Alpha). I have no business relationship with any company whose stock is mentioned in this article.
Additional disclosure: I am long selected individual stocks as part of a broadly diversified asset allocation strategy.