Last May 2017, Jack Ma, Alibaba's (NYSE:BABA) founder and CEO did a quick trip to visit Buenos Aires, Argentina. In this trip, he officially met Government officials and announced new trade opportunities for both China and Argentina, as well as to support Argentinian merchants that are currently marketing products on Alibaba's e-commerce platforms. At first glance, the visit appeared as an ordinary diplomatic trip to meet with officials and know the Country in more detail. But I believe that Jack Ma's interest in visiting the Country was more oriented towards analyzing in more detail the overall e-commerce ecosystem in Latin America and thinking on Alibaba expansion into the region, who has MercadoLibre (NASDAQ:MELI) as the indisputable leader.
In this article, I present the case on why I think it makes significant sense for Alibaba to acquire MercadoLibre in order to enter the growing Latin America e-commerce market before Amazon does so. It is official that Alibaba has an interest to expand into Latin America and buying MercadoLibre is strategically the most efficient way to enter the region according to my analysis. I think shares can trade above $335 (~35% premium) in a potential acquisition scenario.
MercadoLibre: Latin America's Alibaba
MercadoLibre has many similarites to Alibaba. MercadoLibre operates an online commerce platform, which allows third parties to reach an audience of ~50MM monthly active users (MAUs). MELI operates in Argentina, Brazil, Mexico, Chile, Colombia, and eleven other markets in Latin America (and Portugal). The company offers its users an ecosystem of six related e-commerce services: the MercadoLibre Marketplace (~60% of revenue, similar to Alibaba or eBay (EBAY)), MercadoPago payments solution (similar to Alipay or PayPal(PYPL); ~23% of revenue), along with the MercadoEnvios shipping service (~5% of revenue), Classifieds, Advertising, and other (~13%). Both Companies are managed by its founders. MercadoLibre website closely resembles the look of an eBay, Alibaba, or Amazon.
Similar to Alibaba, MercadoLibre enjoys strong network effects which essentially makes very difficult at this point for new competitors to enter this market. MELI has the largest GMV and audience in LatAm, with a monthly desktop audience exceeding 50MM visitors. This makes very difficult for either Amazon (AMZN) or Alibaba to start competing from zero against MercadoLibre and quickly gain market share in this region. Market leadership is a key strategic advantage in e-commerce where the network effects play a major role in terms of competitive strength. In order for Alibaba to start from zero in this region, it has to attract all the buyers and sellers, who already operate efficiently in MercadoLibre's platform and has years of reviews and executed transactions. In addition, brand recognition makes MercadoLibre the top choice for most merchants and consumers in the region.
Strategic Rationale to Expand into Latam
MELI is the indisputable leader in the region considering its audience and diverse product selection. There are two other E-Commerce providers of scale including Cnova and B2W; however, they can be characterized as more regional and product focused. As for foreign competition, Amazon is active in Mexico since June of '15 and operates a books and Kindle business in Brazil, but has prioritized other markets outside of Latin America to this point.
LatAm as a region looks under-penetrated compared to many national markets like China, the US, and UK, which are closer to $560BN, $350BN, and $90BN in size. LatAm's E-Commerce penetration is low at just under 3% of retail sales, below the worldwide average closer to 6% or the US at 10%. MercadoLibre has a huge runway for expansion as e-commerce continues gaining popularity in Latin America over the decades ahead. Alibaba's management is fully aware of this secular trend in Latin America and already looked into Brazil for opportunities.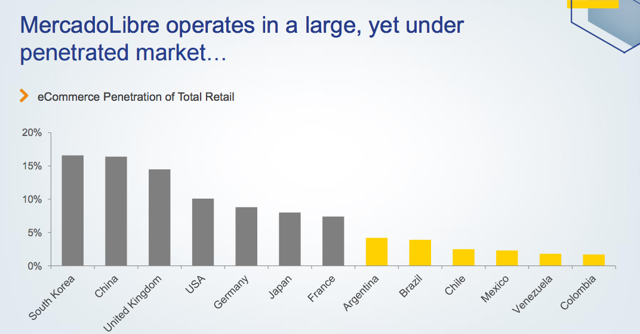 Source: MercadoLibre Presentation
In addition, bank account penetration is low at close to 50%, as is credit card penetration at ~20%. LatAm retains a stubborn reliance on cash transactions (~60%+). In other words, LatAm could remain an underdeveloped E-Commerce market for some time.
As I explained above, MercadoLibre enjoys powerful network effects which when more usage of the product by any user increases the product's value for other users (and sometimes all users). This advantage is truly hard to replicate for a new player who wants to seriously compete in this market. I think that at this point, it makes more sense for Alibaba to directly acquire MELI than starting building the whole ecosystem from zero in the region.
Financial Rationale to Acquire MercadoLibre
In terms of size, MercdoLibre is still less than 3% of Alibaba's Market Cap and less than 4% of its Revenues. The company is still a small target for Alibaba.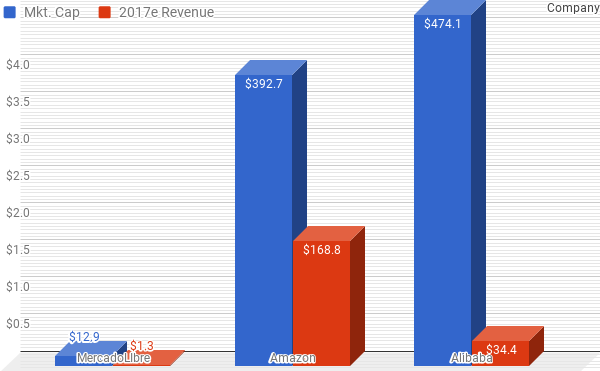 Source: Finviz
Alibaba would have no financial issues to acquire MercadoLibre. Alibaba is generating more than $78bn of Free Cash Flow in the LTM period, growing revenues at more than 50% y/y and EPS at 79% y/y. Impressive numbers which require new levers of growth and new potential markets for expansion.
Assuming that Alibaba pays a ~35% premium to acquire MercadoLibre at $330, this transaction represents just ~22% of BABA LTM Free Cash Flow and only 10% of current BABA cash position. Alibaba can even raise long term debt at sub-4% yields to finance this highly accretive transaction.
MercadoLibre will keep growing strongly on a standalone basis. MercadoLibre revenues reached $1.07bn in LTM period, up 52.5% y/y, but were significantly stronger in FX adjusted terms. I expect that revenues will grow 19% annually '17-'21 on a reported basis, rising from $1.3bn this year to $2.3bn by 2021. Given the structural growth opportunity ahead and the company's current market share, MELI is likely to be a beneficiary of the retail shift online.
I forecast EBITDA to rise from $240m in 2017 to $762m in 2021, a 26% 5-year CAGR. Additionally, EBITDA translation to FCF is strong (70%+), therefore I estimate strong FCF growth over the next 5 years as well. MELI distinguishes itself with high FCF generation. In 2017, FCF is expected to be $207m or 80% of EBITDA and consistent with the prior year. I project this trend should continue; therefore, given strong projected EBITDA growth,
I expect FCF to also grow 27% annually 2017-21, reaching $680m in 2021.
I think it makes sense for Alibaba to pay $14bn for a leading business in an emerging region that is capable to generate almost $700m of FCF in just five years and grow revenues at high double-digits.
Good Timing to Acquire MercadoLibre After -20% Share Pullback

Now may be the right time for Alibaba to acquire MELI, after shares pulled back approximately ~21% from pre-earnings highs due to specific temporary issues. MELI reported lower margins due to increased investments and a $25m impairment in Venezuela. MercadoLibre is setting a new bar for margins as it doubles down on free shipping and marketing spending to drive revenue and share by accelerating e-commerce adoption. Total revenue during the second quarter of 2017 was $316.5 million, a year over year increase of 58.5% in U.S. Dollars and growing 64.7% in constant currencies.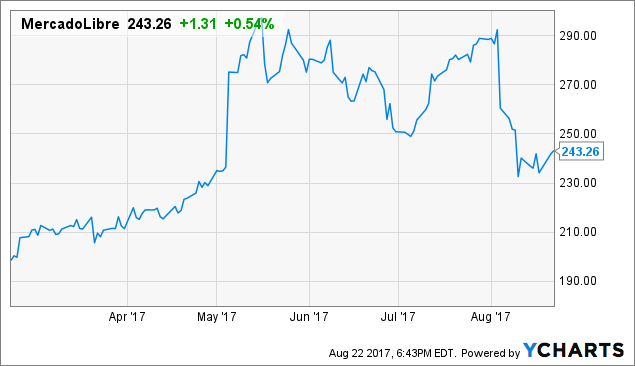 MELI data by YCharts
Fundamentally the business remains as sound as ever. Gross merchandise volume reached $2.7 billion last quarter, growing 35.8% in U.S. dollars and increasing 55.6% in constant currency terms. Items sold in MercadoLibre's marketplace platform grew 41%, reaching a new historical record of 61.5 million units. Mexico and Brazil were particularly strong during the quarter, with units growing 95.4% and 56.5% respectively.
The company's digital payments platform, MercadoPago, is delivering strong performance. In fact, penetration rates for both MercadoPago and MercadoEnvios improved substantially. Total payment volume reached $3.15 billion in the second quarter, a year-over-year growth of rate of 73.5% in U.S. dollars and 76.1% on a currency-neutral basis. Classifieds listings increased 114% during the period, to an all-time high of to 4.1 million.
I think it makes strategic sense for Alibaba to consider buying MercadoLibre after the recent 21% share pullback that occurred in less than 1 month. This short term pullback allows BABA to acquire MELI at a most attractive valuation than 2 months ago, considering the business is fundamentally sound and growing impressively.
Conclusion
MercadoLibre is an outstanding company featuring strong revenue growth (~65% x-FX), solid EBITDA margins, attractive market share and user growth. Also, MercadoPago is a compelling Payments asset LT, similar to Alibaba's Alipay. The overall business has many similarities to the whole Alibaba ecosystem.
It is official that Alibaba has a strong interest in entering LatAm e-commerce market, which looks under-penetrated compared to both developed Countries and China. In other words, E-commerce in Latin Amerca has vast room for growth. The region's retail e-commerce market is forecast to grow 18% annually over the next five years, but currently represents just 3% of total retail and 2% of the world market despite being 9% of the population.
MercadoLibre's strong network effects makes very hard for Alibaba to enter LatAm and start building its whole ecosystem in the region from zero. Considering MercadoLibre recent share decline and the fact that Amazon still hasn't entered the region, it makes sense in terms of strategy, timing and financial capabilities for Alibaba to acquire MercadoLibre in the short term.