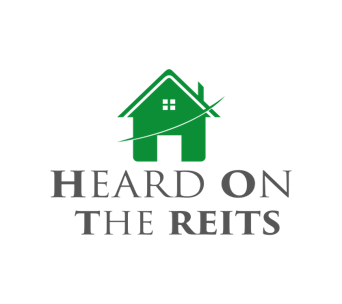 When we read about Infrastructure REITs, American Tower Corporation (AMT) and Crown Castle International (CCI) tend to steal the spotlight - SBA Communications (SBAC) is sometimes mentioned as a third wheel but let us give it the benefit of the doubt that it just converted to REIT status last year. All three of these REITs focus on transmitting data from one end of the world to another, and then into and out of buildings and phones. But the Infrastructure REIT sector also includes several energy infrastructure companies that don't transmit data, but rather, oil, gas, and electricity – three things arguably as addictive as mobile data.
Drivers of performance for each company, therefore, can be quite different. For example, the high demand for mobile data won't necessarily impact the demand for any of the energy commodities I mentioned earlier. Nor will changes in oil and gas prices affect our insatiable demand for more data. We mention this because as we assess the Infrastructure sector to determine where it is within the industry life-cycle, we will be faced with the challenge of two distinct sub-sectors that at times may deviate substantially from each other.
Finally, there are also differences among individual REITs within each sub-sector that may cause their performance to deviate from their peers. These differences are better explained within the research report for each company, but we will try to highlight some of them here while still maintaining a more macro perspective.
The Data REITs
There are four Data REITs within the sector that focus on data transmission in some shape or form. A brief summary of each one is below for reference.
American Tower has focused on leveraging its vast international tower assets to benefit from the expected capex investments in 4G from both domestic and international carriers. It is the largest by market cap with a market cap of over $60 billion and revenues of $1.6 billion. Crown Castle International is investing in small cell technology and fiber with an eye towards higher density, lower latency 5G networks, which aren't really going to be rolled out until 2020-2021. Crown Castle has a market cap of $43 billion and revenues of $1 billion. SBA Communications is also a major owner of cell towers but also provides site development services. It has a market cap of $17 billion and sales of $427 million. The lone Mid-Cap company in the space is Uniti Group (UNIT), whose stock was clobbered earlier this month after its largest customer cut its dividend. Uniti's market cap is $3.3 billion with sales of $213 million. It focuses primarily on fiber but also owns tower assets.
Data REITonomics - Data, Data, and More Data
There is no stopping the growth of mobile data usage anytime soon. In 2016, usage reached 1,342 petabytes per month and according to Cisco (CSCO),
Smartphone traffic will soon exceed PC traffic. In 2016, PCs accounted for 46 percent of total IP traffic, but by 2021 PCs will account for only 25 percent of traffic. Smartphones will account for 33 percent of total IP traffic in 2021, up from 13 percent in 2016. PC-originated traffic will grow at a CAGR of 10 percent, and TVs, tablets, smartphones, and Machine-to- Machine (M2M) modules will have traffic growth rates of 21 percent, 29 percent, 49 percent, and 49 percent, respectively.
Source: US Technology Update and 5G Introduction – June 2017
For the cell tower companies, revenue growth is driven specifically by capex spending by the major telecommunications carriers. The recent $19-billion auction of 600MHz spectrum highlights the intense competition in the industry and the race to keep up with subscriber data demands. T-Mobile paid $8 billion, Dish (DISH) paid $6.2 billion, and Comcast (NASDAQ:CMCSA) paid $1.7 billion to round out the top three purchasers of low frequency bandwidth. However, unlike in years past, when additional spectrum allowed carriers to charge premium pricing, those days are over and the additional bandwidth will be used primarily to enhance coverage to help reduce subscriber churn and lower customer acquisition costs. Despite the deflationary trend in pricing, however, capex is at its highest level ever and expected to climb.
The chart below shows Capex spending for several of the major global telecom carriers. While capex spending has had its ups and downs, it has remained relatively steady for AT&T (T) and Verizon (VZ), while T-Mobile (TMUS) has more than doubled its Capex since 2008. Lastly, both America Movil (AMX) and Telefonica (TEF) have slightly decreased their spending but both still invest over $10 billion annually.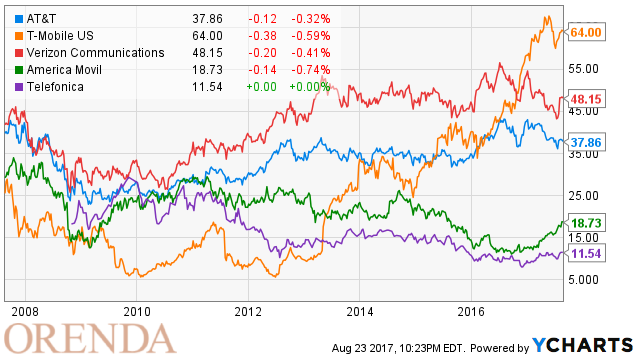 Needless to say, that is a lot of capital being invested, and one of the beneficiaries of that capital is the Data REIT sector.
So with pricing power for telecom companies all but gone, carriers must invest in better networks to fight for subscriber loyalty, especially as data demands increase and technology improves.
When new technology (i.e.4G) is rolled out, carriers approach their capex spending in two phases: coverage and capacity. The coverage phase is when carriers invest in a thin layer across a wide geographic area to essentially blanket their target area and provide subscribers with a basic level of 'coverage,' even if it's not optimal. Then as adoption gains traction, they invest in additional capacity to meet increasing demand for more and faster data.
We are currently in the capacity phase of 4G and with the rollout of 5G not expected until 2020, carriers must continue to expand capacity – by either deploying new spectrum or densifying their network with more cell sites per square mile – translation: more equipment per tower.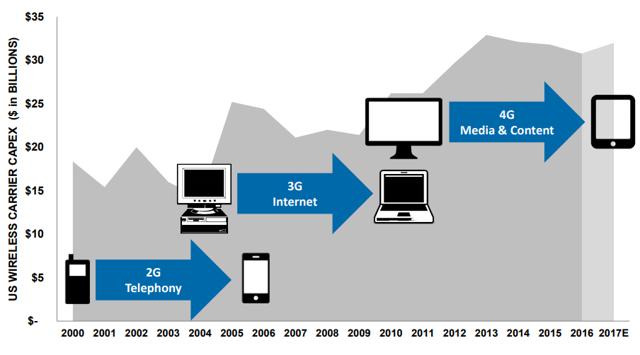 Source: US Technology Update and 5G Introduction – June 2017
Both coverage and capacity phases are beneficial for the tower companies but the 600MHz spectrum is more likely to lead to additional capex equipment on towers to enhance 4G coverage, than to go towards 5G investments not expected to generate any revenue until 2020. According to Bloomberg, we may start seeing some standards developed in the second half of 2018 but deployments aren't expected until 2020.
Industry leaders believe the first 3GPP 5G standards will emerge in 2H 2018 with initial mobile deployments beginning in 2020.
Unlike AMT, Crown Castle has focused its strategy more on small cell technology and its reliance on 5G. While this too could be a profitable strategy, I think that it is still a few years away and will take longer to evolve. However, the introduction of 5G doesn't necessarily mean the end of 4G. As the chart below shows, multiple networks tend to coexist and the lifecycle of each network is approximately 10 years. For example, 2G has gone from an 80% share of connectivity standards in 2006 to less than 10% in 2016. Meanwhile, 3G started expanding its share in 2010 until the introduction of 4G started gaining traction. In keeping with historical trends and cycles, I expect 4G to continue to take share from 2G and 3G until 2020, when 5G will begin a new technology cycle. Not knowing the exact timing of this shift from 4G to 5G is why I also have a position in CCI.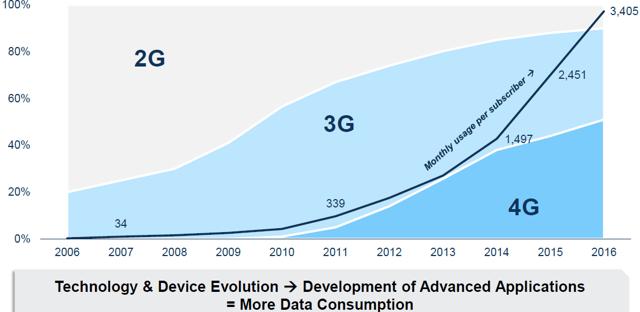 Source: US Technology Update and 5G Introduction – June 2017
For now, the enhancement of 4G and introduction of 5G will only serve to feed the insatiable appetite for data consumption. As higher data speeds become possible, more data will be used. The total number of mobile connected devices is expected to reach 1 trillion units by 2021, with an average 5.9 gigabytes of monthly data use, resulting in over 6000 petabytes of mobile data traffic by 2021 – a 35% CAGR. For those of us less technologically inclined, recall just a few years ago that our cell phone plans would charge extra for exceeding 1MB of data use in a month. By 2021, the average mobile connection will use 5MB/month. And if you have a 3-year old constantly watching the Disney app like I do, that data usage will potentially reach 10MB-20MB.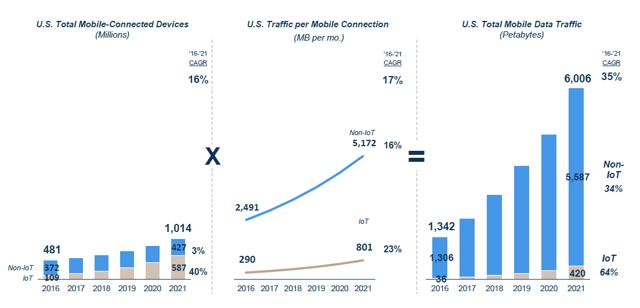 International Growth
I've mentioned the data demand growth potential of the US market, but internationally, there are huge opportunities as well. Some countries without the infrastructure necessary for traditional telecommunication channels have completely bypassed fixed line, 2G, and 3G networks. The mobile opportunity in India, for example, with a large number of mobile subscribers is striking, with current penetration rates of just 15%. The US, by contrast, has a penetration rate of over 90%.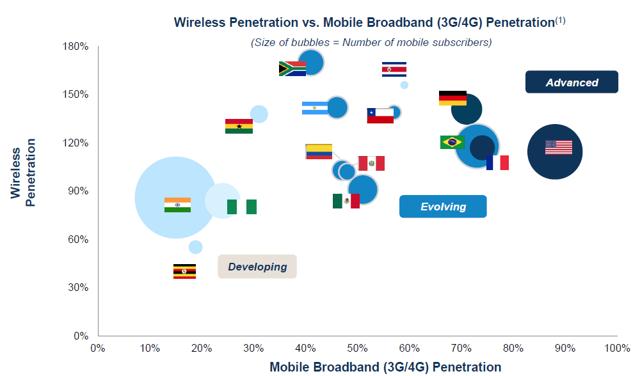 The chart below highlights the number of cellular subscriptions per 100 people for the entire World, the US, China, and India. While the US figure indicates more than one subscription per person, both China and India, each with population in excess of 1 billion, have a long way to go to catch up. India, with very low penetration rates, is only at 78 subscriptions per 100 people.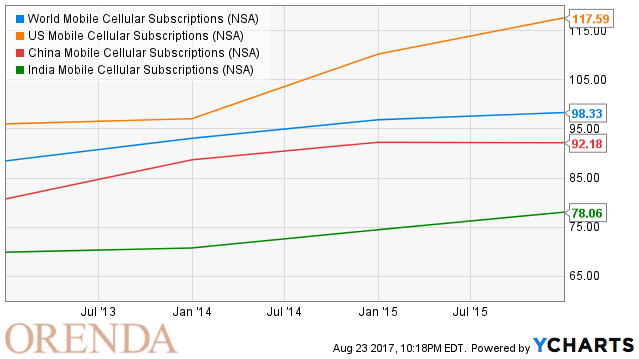 But India isn't the only country exhibiting strong mobile growth. According to Cisco, mobile growth in Indonesia, France, and China will exceed that of India in 2016. (No updated data yet) – all of which signifies attractive opportunities for Data REITs focused on international markets.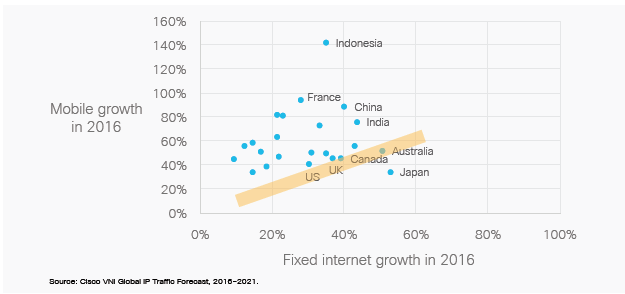 Energy Infrastructure REITs
There are three REITs within the sector focused on energy infrastructure.
InfraREIT (HIFR) focuses primarily on Texas and the Southwest. It owns the assets for energy transmission, like electric poles, etc. and leases them to a utility company – a subsidiary. All of the payments come All of the lease payments come from Sharyland. It has a market cap of $964 million and revenues of 40 millionCorEnergy Infrastructure Trust (CORR) runs the gamut of the energy value chain and owns the bones of energy transportation. We recently wrote an article on Seeking Alpha the highlights its 9% dividend yield. It has a market cap of $389 million and revenues of $19 million and growing. Lastly, and probably the most interesting, is Power REIT (PW), which is focused on renewable energy like windfarms and solar farms as well as railroad tracks (not for renewable energy). It is currently in litigation with Norfolk Southern for $17 million. It has suspended the dividend until litigation is over because of high litigation expenses. That said, the company is trying to minimize dilution by issuing debt and accessing private capital markets before issuing more stock. It has a market cap of just $14 million.
As we mentioned earlier, these REITs transmit a commodity that consumers are as addicted to as mobile data. The chart below shows the rise in both primary and renewable energy consumption in the US. Back in the mid-1980s, primary energy consumption spiked and reached 97 quadrillion BTUs. Renewable energy now seems to be on a similar path with its rapid ascent starting in the early 2000s and reaching 10.2 quadrillion BTUs last year.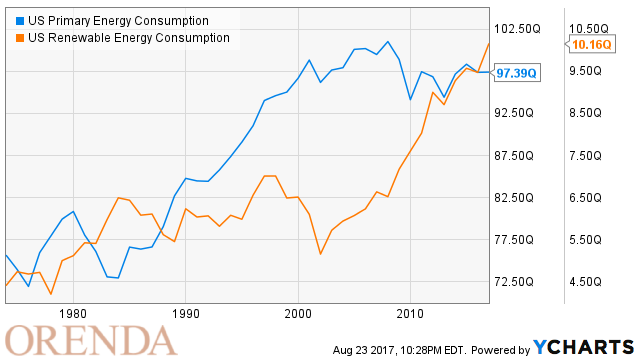 We expect demand to continue to accelerate for renewable energy but also forecast continued, albeit slower growth for primary energy. Our thesis is based on a growing population, more connected devices, and an increasing focus on climate change and alternative energy sources. While energy efficient products will certainly limit the rate of growth, we think the general trend is for there to be an increasing need for energy transmission companies for the foreseeable future.
Performance
Overall performance for the sector has been great over the last 12 months, except for Uniti. Even Power REIT, which is embroiled in litigation has managed a 6.7% return.
For investors concerned about volatility, we have included both standard deviation over the last 3-year period and Downside deviation over the last 5-year period. Its not surprising that the larger companies have more price stability than the smaller ones. That said, we note a considerable drop in the downside deviation of the smaller companies in relation to their overall volatility. So investors, willing to take on higher potential small cap investments, perhaps they are not as risky as they appear.
Company Data Metrics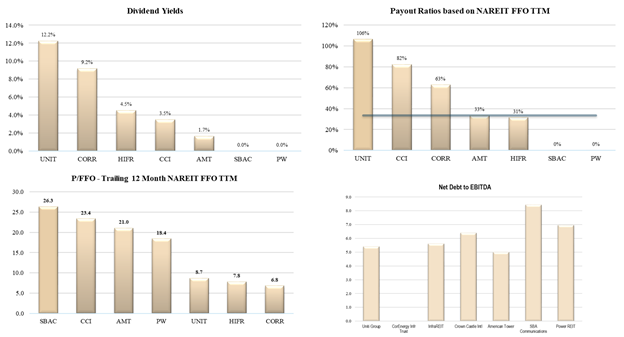 Valuation
We calculate our own price estimates for our coverage universe but are always mindful of what sell-side analysts are saying because of the impact their recommendations have on short-term price fluctuations. In the chart below, we have provided a chart showing the P/FFO vs. Potential Return based on analyst price estimates.
Note that the three largest companies trade at a premium to the others and have a lower potential return versus peers. As it happens, most of the companies listed have expected price returns of less than 10%, primarily due to the recent ascent of the sector. The two exceptions are Uniti Group, which was recently punished for its concentrated exposure to Windstream, and Power REIT, which has suspended its dividend in anticipation of continued litigation expenses. It obviously has a high price potential post-litigation but we would prefer to see how it plays out first.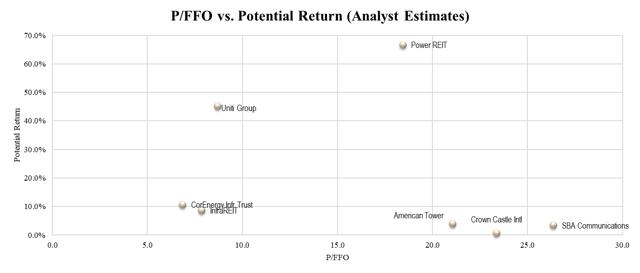 Market Cap Breakdown
The overall market cap breakdown of the Infrastructure REITs is as follows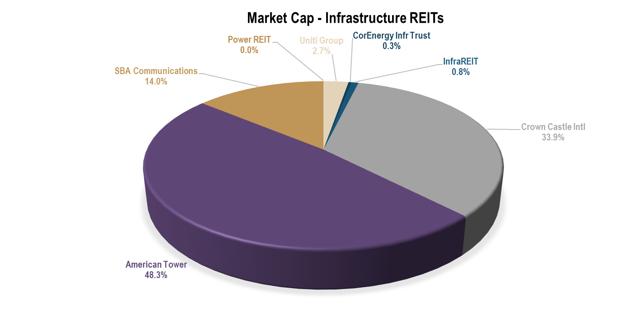 Industry Lifecycle Phase
We believe the Infrastructure REIT space is still in the expansion and growth phase. The amount of data demand combined with the looming number of new mobile subscribers worldwide is a tidal wave that will keep all of these boats afloat for some time.
We do, however, think that Data REITs have more upside potential before reaching maturity than the Energy focused REITs. So while we think they are both still in expansion mode, we think Energy REITs are closer to reaching maturity, even if that phase may still be years away.
Rankings
Our individual rankings of the companies in the sector are shown below. Note that in a portfolio context, the rankings may not be relevant to identify the best choice for your portfolio. For example, if you already have large exposure to American Tower Corp and Digital Realty (DLR), a data center REIT that is also driven by higher mobile data demands, you may not want to include Crown Castle, but diversify into CorEnergy instead. If you're a subscriber to our Premium service, by all means send me a note and I will help guide you if I could.

NOTE: These in-depth sector analyses will only be made available for free for a limited time before migrating to the Premium Service.
Please don't forget to click on the "Follow" link to the right of my name at the top of the article.
To learn more about the Heard on the REITs portfolio, click here.
Disclaimer: Please note, this article is meant to identify an idea for further research and analysis and should not be taken as a recommendation to invest. It is intended only to provide information to interested parties. Readers should carefully consider their own investment objectives, risk tolerance, time horizon, tax situation, liquidity needs, and concentration levels, or contact their advisor to determine if any ideas presented here are appropriate for their unique circumstances.
Past performance is not an indicator of future performance. This post is illustrative and educational and is not a specific offer of products or services. Information on this blog is not an offer to buy or sell, or a solicitation of any offer to buy or sell the securities mentioned herein. Information presented is believed to be factual and up-to-date, but we do not guarantee its accuracy and it should not be regarded as a complete analysis of the subjects discussed. All expressions of opinion reflect the judgment of the authors as of the date of publication and are subject to change. Any positive comments made by others should not be construed as an endorsement of my abilities to act as an investment advisor.
Disclosure: I am/we are long AMT, CCI.
I wrote this article myself, and it expresses my own opinions. I am not receiving compensation for it (other than from Seeking Alpha). I have no business relationship with any company whose stock is mentioned in this article.
Editor's Note: This article covers one or more stocks trading at less than $1 per share and/or with less than a $100 million market cap. Please be aware of the risks associated with these stocks.