Market tops are processes rather than one-off events
We all can agree that a market top is not something that happens from one day to another. A market top is a process that takes time, sometimes between a few weeks to several months or even years. I have been looking at common characteristics from previous market tops that lead to a correction of +10% since the year 2000, and I have found a common characteristic in all of them: a technical pattern known as shooting star.
A shooting star is a common figure among "candlestick" chartists that basically signals that a price run-up is about to come to an end (perhaps a correction). More specifically, it is a bearish formation that is formed when price action is pushed higher and immediately rejected, closing the session considerably below the opening level.
I have found that shooting star patterns have appeared in the S&P 500 in every major correction over the last 20 years, although sometimes it's true that the validity of the pattern itself can be called into question. I leave it up to the reader to judge the pattern validity as show below.
Year 2000
A shooting star appeared in March 2000 and lead to a two-and-a-half-year correction. The S&P 500 fell over 50% over the period.
Shooting star March 2000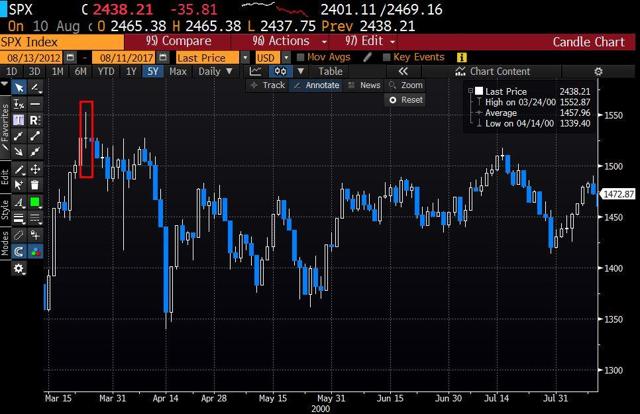 The S&P 500 fell more than 50% over the next two and a half years.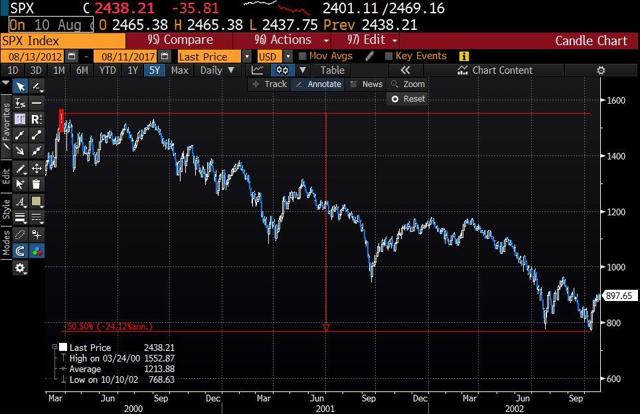 Something similar happened in the "Great Financial Crisis." Although it can be argued whether or not the pattern is a "true" shooting star, the price action suggests the same reasoning behind it -- i.e., price action -- led the index to all-time highs and closed the session well below the previous session's lows, recording an adequate market top.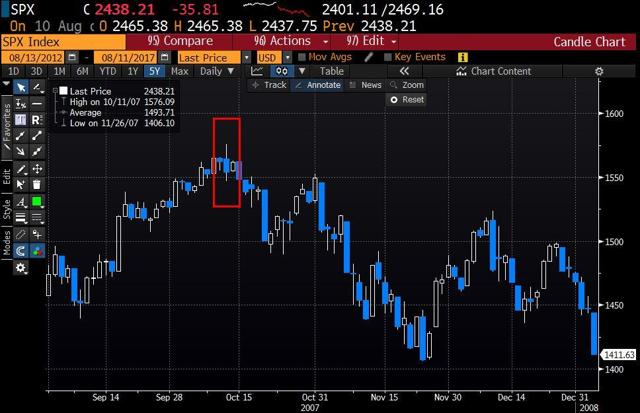 We all know what happened after: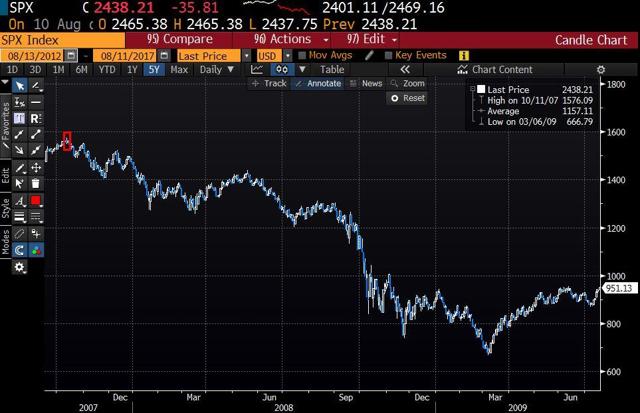 Year 2011
A shooting star marked the top of the market and, albeit in a less obvious manner, the S&P 500 fell +19% over the next three and a half months.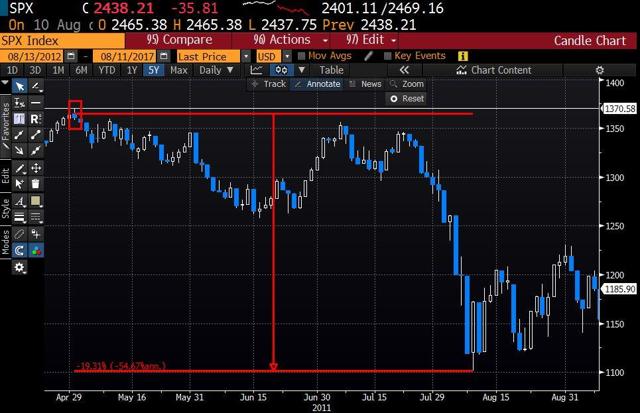 Year 2014
Again, we see a similar pattern formation and subsequent price action. The S&P 500 fell nearly 10% in less than a month.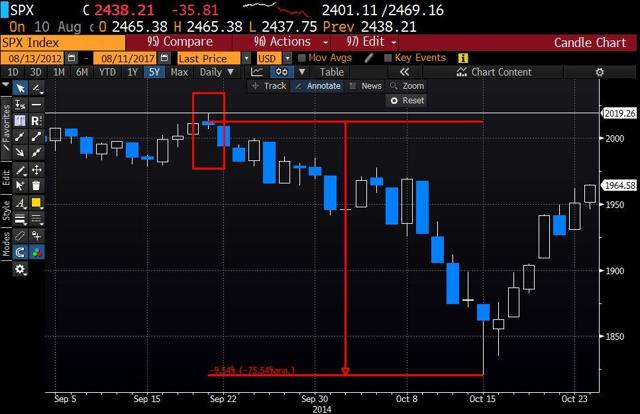 Years 2015 and 2016
Although a shooting star was seen first in May, similar patterns were repeated over the next three months before a drop of 12.23% in the S&P 500.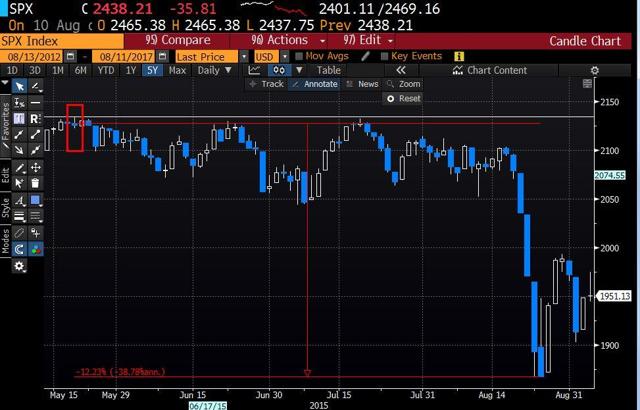 Ultimately, however, it was the last shooting star (July 2015) that denoted the market top and held across until a sharper correction in January 2016.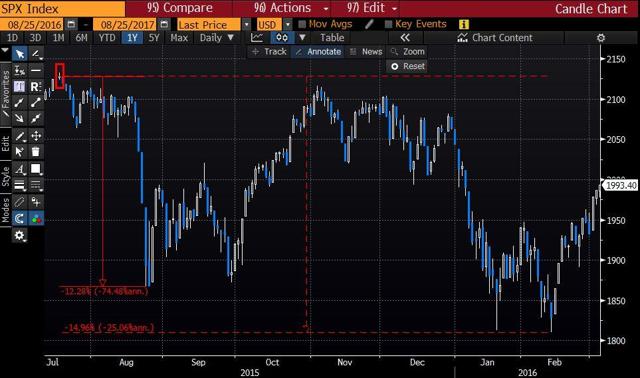 Where are we at nowadays?
On Aug. 8, 2017, the S&P 500 saw a new shooting star. What makes this new shooting star "special" from previous ones, since the correction in early 2016, is that this is the first shooting star that actually saw new all-time highs as opposed to previous ones.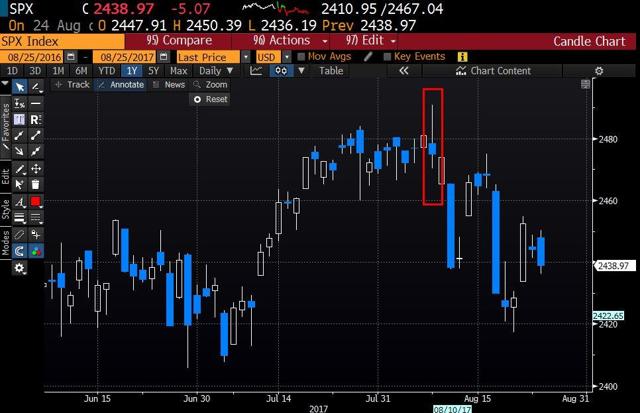 Importantly, we have seen lower highs and lower lows since the shooting star registered on Aug. 8.
Market sentiment
Regarding fundamentals and sentiment, a BofA Merrill Lynch Global Fund Manager Survey showed this month a record high of respondents worried about excessive valuations in equity markets.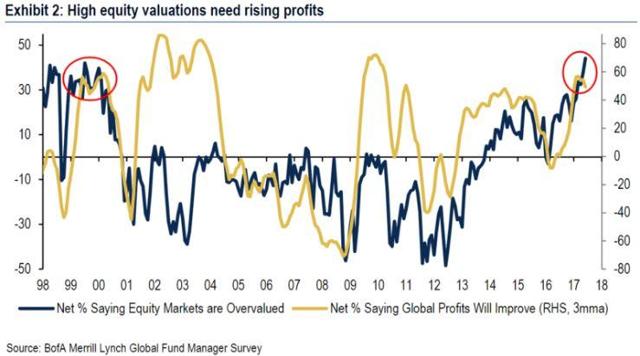 The highest concern comes from tech stocks, which have clearly dominated the S&P 500 upward trend since the end of June. Something worth mentioning is that the gap between the S&P 500 and the S&P 500 ex-technology started to shrink after the shooting star, discussed above, was recorded.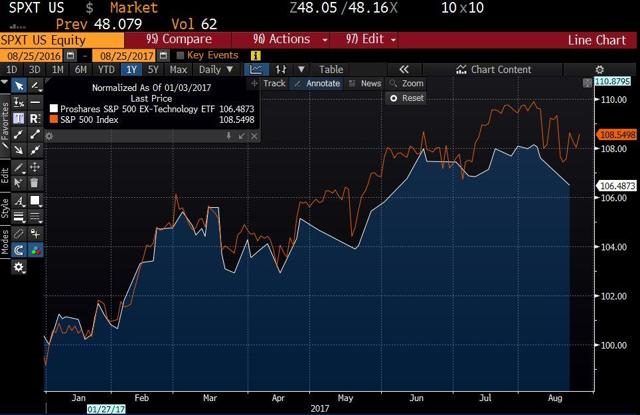 Conclusion
In conclusion, it appears as if technicals and sentiment suggest that a market top is forming. This process could take several weeks or months, as recent history has shown, and should be watched closely. There is an extensive debate among investors regarding whether U.S. equity markets are overvalued or not. This is not the purpose of this article.
Ultimately, I believe portfolios nowadays should aim to find protection against possible market downturns, particularly now that two of the three categories (technicals and sentiment) point in the same direction. Regarding fundamentals, there is plenty of research suggesting equities are overvalued -- in which case, all three categories suggest a market top is forming. I subscribe to this view and expect a healthy correction, not a recession, in the coming weeks.
Thank you for reading, your comments would be very welcome.
Disclosure: I am/we are short SPY.
I wrote this article myself, and it expresses my own opinions. I am not receiving compensation for it (other than from Seeking Alpha). I have no business relationship with any company whose stock is mentioned in this article.