Background
The Energizer (NYSE:ENR) spin-off as an independent battery company was two years old in July. Likewise, the spin-off of Duracell to Berkshire Hathaway (BRK.A) (BRK.B) was just over a year old in February. The expected improvements in Energizer vs. Duracell due to the increased focus on the core battery business had shown up, but have stabilized in the last several months after some short-term trade-offs between Energizer and Spectrum (SPB).
In our previous articles, we have focused on shares of alkaline as the key competitive segment. However, with Energizer's recent announcement abandoning EcoAdvanced® as its premium entry and now focusing on its lithium AA and AAA entries, we will be trying to look at the Energizer shares of total batteries.
Market Trends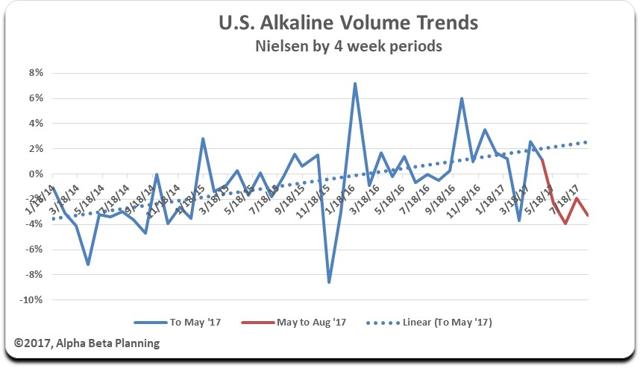 Average growth prior to the price advance announcements was running slightly positive as it moved from flat up to about 2% up; since the price advance announcement, trends are down several percent. Going forward, we expect to see a longer-term trend of flat to plus 1% as consumers get acclimated to the price changes. Ultimately, consumers will still need batteries for all their devices. Since the pricing announcement, we already see retail pass through even though the effective date is not until the end of the quarter, a good indicator for retail acceptance and battery company margins.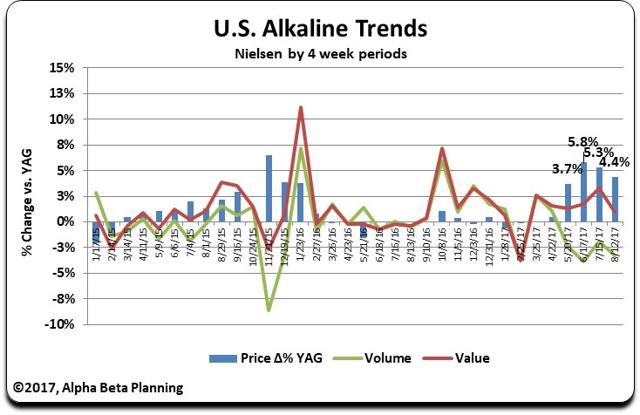 Brand Shares
We see share stability for Duracell since year end. The share gains we had seen for Energizer through the end of 2016 stabilized after some trade-off with Rayovac. Shares for all three companies and private label have also stabilized in the last four periods. We believe those Rayovac share gains were largely retailers clearing out excess inventory. As we head into the critical Christmas battery season, we see no signs of meaningful marketing or technical changes that should move shares.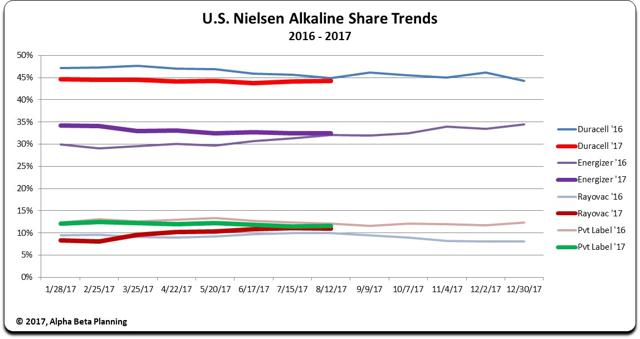 With Energizer now focusing on lithium as its premium entry after the abandonment of EcoAdvanced®, we need to look beyond alkaline to understand its performance going forward. Energizer has always had shares of the total battery category that were higher than its shares of alkaline due to its strong lithium and rechargeable presence. If Energizer's switch to lithium focus pays off, we should begin to see some gains in its shares of total batteries even if it loses ground somewhat in alkaline. I am cautious about this for the long term since it has previously focused on lithium before the launch of EcoAdvanced®. However, in the short term, as it swaps out facings of EcoAdvanced® for lithium with the trade, we should see some gains in total.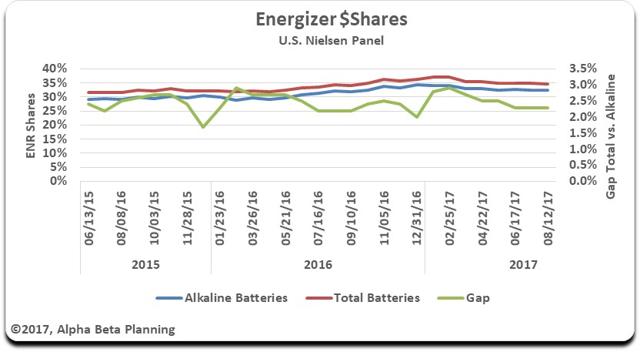 Conclusion
So far, as we head into the critical Christmas season, we expect stability at flat to plus 1% in the category size with some possible trade-offs in alkaline vs. lithium. We also expect substantial stability in market shares, again with the possible need to adjust for the Energizer trade-offs between EcoAdvanced and lithium.