MLPs hit a fresh 52-week low, then rallied each day the rest of the week, rallying 3.3% off Monday's close and 2.0% from last Friday. MLPs outperformed utilities and the S&P 500 for the first time in a while. Oil price weakness plus a looming Hurricane Harvey were not large enough factors to hold MLPs back from a bounce a brutal three weeks of trading. No equity issuance or negative news items probably helped nudge MLPs higher as the week progressed.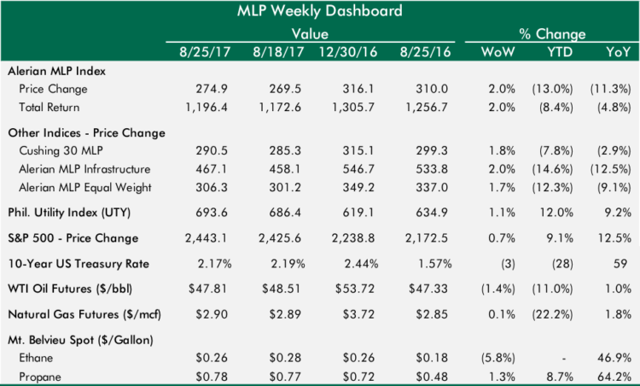 The pleasant lack of news was broken up around 2:30 Friday when PAA was halted, leading to a fun hour and half of speculation on what news could cause a trading halt. It turned out it was a larger distribution cut than originally telegraphed and a plan to de-lever meaningfully over the next six quarters. The late Friday announcement was due to Harvey making a Monday announcement difficult.
Next week should be unusually interesting for the week leading to Labor Day. While not much news is expected next week, there may be some end of the month pressure. Very weak August performance and another large-cap MLP distribution cut may lead to some challenges for closed end funds with leverage above 30% seeking to reduce leverage by the end of the month.
There could also be volatility around the hurricane and its impact on commodities and the energy complex broadly as the storm intensified late Friday beyond early expectations. In any event, MLP investors will be happy to put this August behind them and move another month closer to the second half ramp in volumes and improved MLP fundamentals that we're all waiting to see.
In light of those fundamental improvements around the corner and ongoing strategic transactions that will eventually put MLPs on firmer footing, its best to ignore the stock screens and just check in on this blog next week to see where the week shook out.
If you're in Texas, your power may be out for most of the week anyway, so try to stay dry and we'll hold down the fort for you. And no matter how bad it gets, do NOT watch Evan Almighty.
Winners & Losers
PAA recovered some of last week's losses this week (but not the losses from two weeks ago). Drop-down MLPs got a boost, with VLP and DM each up 5%+. SDLP repeated at the top of the sector, gaining 14.4% on top of 16% last week.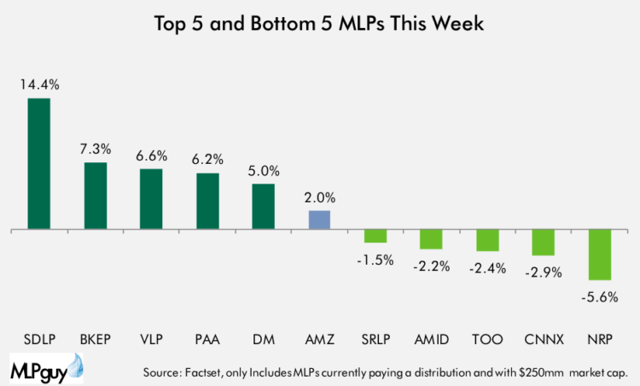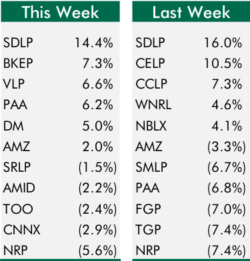 YTD Leaderboard
NBLX reclaimed the top spot this week and stands alone as the only MLP up 30% this year. TOO joined NGL in the 50%+ decline club. PAA's rally wasn't enough to escape the bottom 5.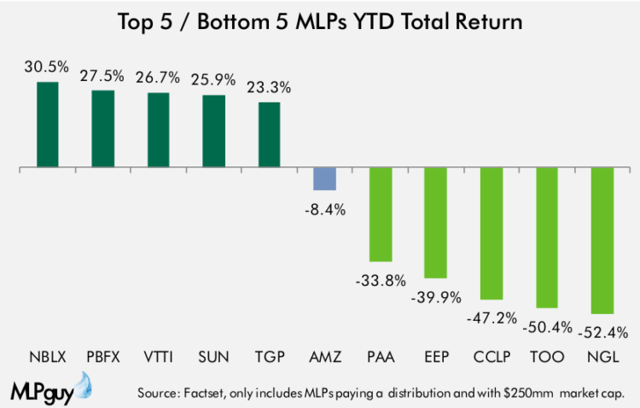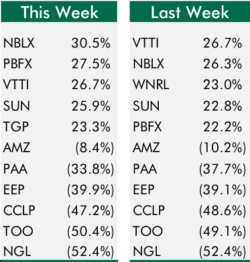 General Partners & Midstream Corporations
AROC caught an upgrade and rallied 15% to blow away other GPs this week. NSH was a strong performer, helped by insider buying from Chairman Bill Greehey.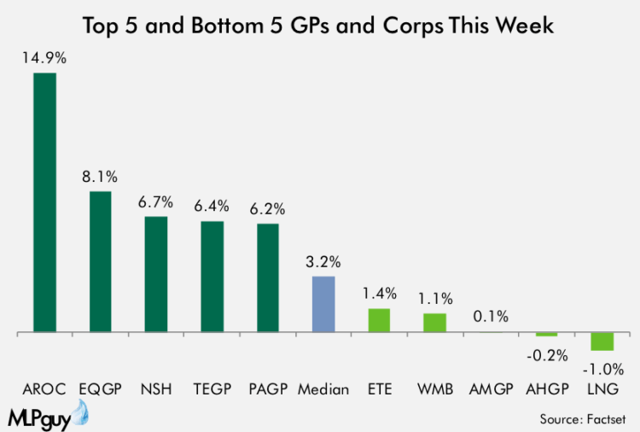 Just two GPs were negative on the week, LNG faded on Friday maybe due to escalating weather situation in the Gulf Coast.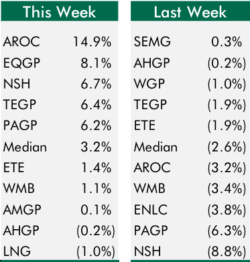 News of the (MLP) World
Super light news week. Expect even less news next week with Harvey grinding Houston to a halt and the holiday weekend looming for New York bankers. PAA pulled forward news that probably would have been pushed to next week without the Hurricane. Expect news to ramp back up post-labor day, including capital markets activity and hopefully some consolidations of projects and MLPs.

Capital Markets
Growth Projects/M&A
Other