Welcome to another edition of "Elroy's Elliott Wave Weekly". The aim of this series of articles is to review possible scenarios in various markets using Elliott Wave, fractals, and other technical analysis.
Equities
The bull market is in its last throes, but could still spike viciously higher one last time. This chart from my recent article explains where I think the Dow Jones (DIA) is in its long term trend (i.e. nearing the end of its blow off rally).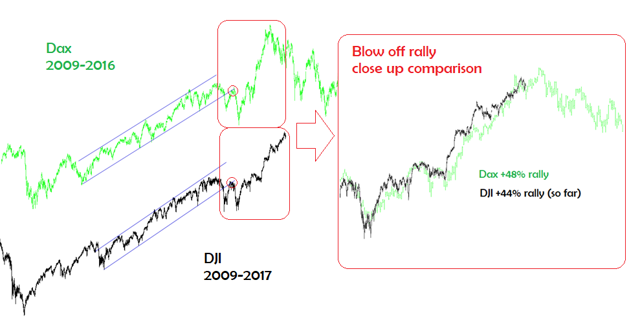 Now more than ever, tactics must suit your time-frame; in the medium and long term shorts could work well (I will buy early 2018 puts if we get the spike higher), while in the short term longs could still work for 2510ish (I bought S&P500 last Monday for a 3 day trade).
Last week the S&P500 recovered from 2417, but the move higher looks correctional. This opens up a lot of Elliott Wave options and instead of guessing which one of the three or four possible scenarios will transpire, I look to the market as a guide. This short term fractal from the end of last week could helps us navigate the 60 minute chart.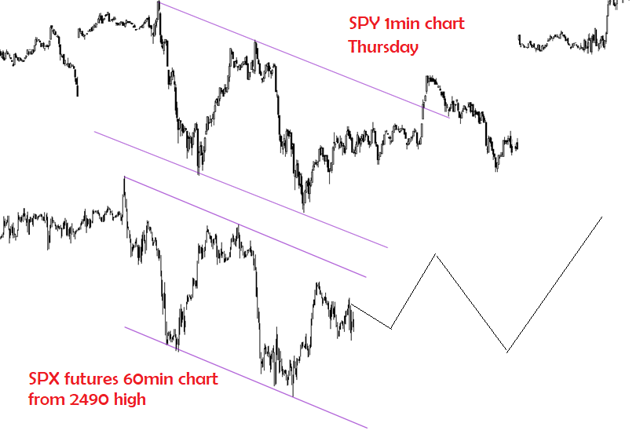 After a bit of chopping around, it seems the 2417 (and even the 2430 area) should now hold for new highs.

Precious Metals
Gold (GLD) spent most of the week consolidating gains below the $1300 high. This is bullish action and negates any potential bearish reversal related to the August 18th failed break. Genuine failed breaks knock the market off balance and reverse dramatically - quite unlike the slow sideways action we saw last week.
Actually, so little happened last week, I barely have to change the outlook at all.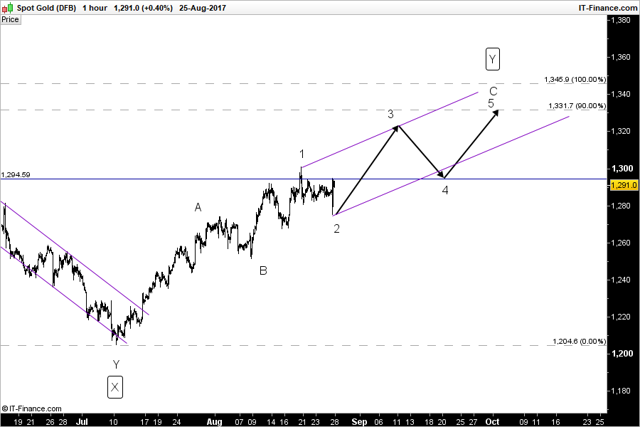 The target remains $1330, and while there are several options for the way it gets there, I prefer the choppy path shown. The market will likely get a bit over excited at the next break of $1300 so may draw a few longs in and then flush them out before continuing higher.
Oil (USO)
The reversal last Monday gives added weight to the idea $46.50 was not the low and I continue to expect a decline towards $45.
At the moment it looks like only one wave of the decline is in place. How the rest take shape should get clearer as the moves continue, but for now can only really be guessed at. Regardless, here is a rough sketch of one likely scenario: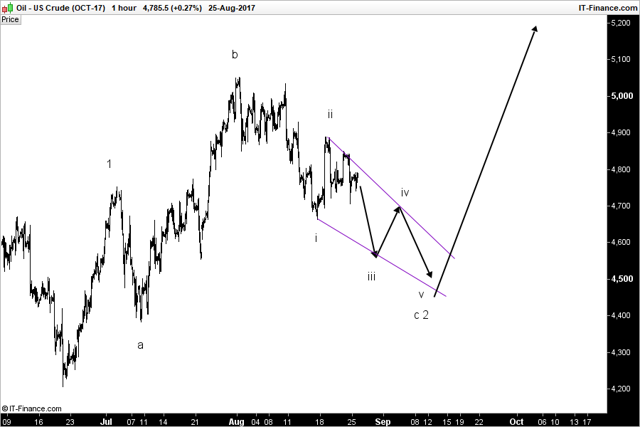 If an early reversal develops I will leave a message, but at the moment oil still looks destined for $45.
Natural Gas (UNG)
Until the red line in the below chart breaks (last week's brief rally got very close) I will continue to post the slightly bearish option which calls for one last low.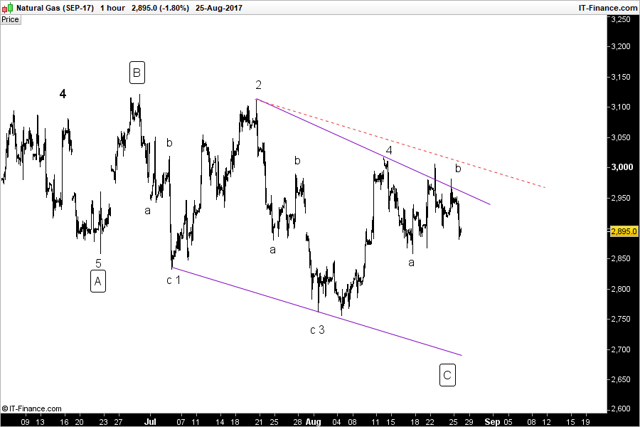 When the red line breaks I will start to track the bullish option, but I expect it will be fairly obvious to all observers when this materializes as price should rocket higher in a wave 3.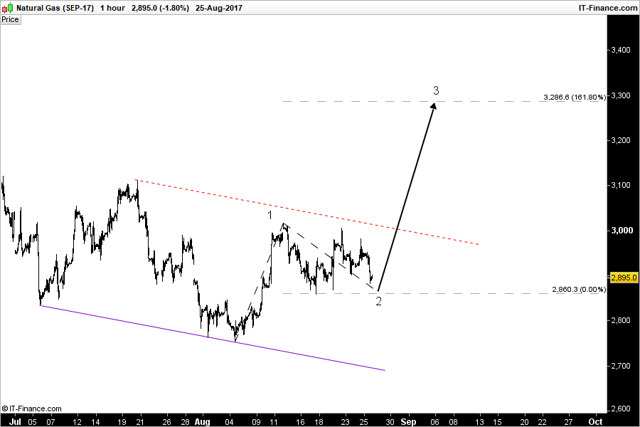 Again, in the short term there's nothing much to do until >$3 or new lows around $2.7. Longer term I have positioned myself long.
Bonds (TLT)
Bonds are still retracing the move lower from then 2016 high, and this may take a long and winding road. Traders often look for straight line moves from point A to B, when the actual path runs round most of the alphabet before finally getting to a significant reversal point. One only has to look at gold over the last few years to be reminded of this, and I posted the chart below back on June 3rd to warn TLT may be equally frustrating.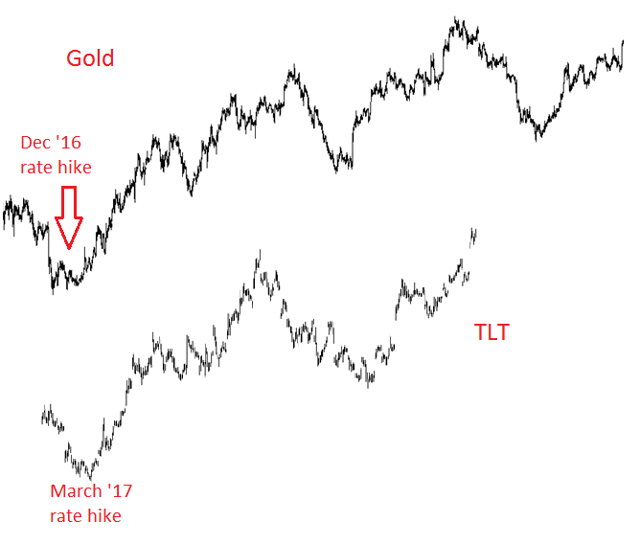 Here is an updated chart. Gold still appears to be leading TLT by about 3 months.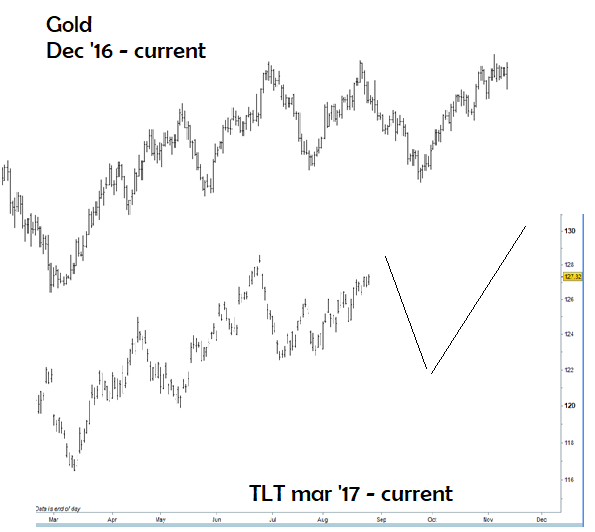 The chart below shows the likely count and a longer term view.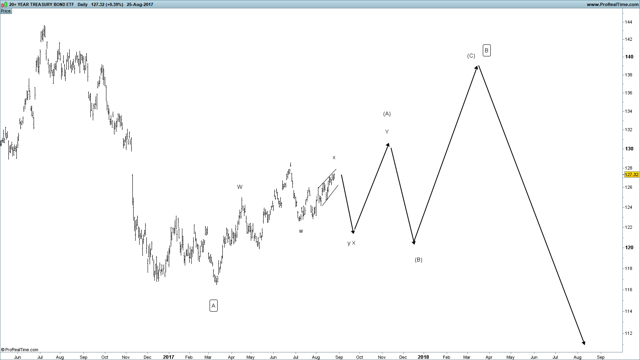 Although way too early to say, the large last leg higher in wave C likely equates to some sort of equity crash and drop in inflation.
The Dollar (UUP)
Last week the dollar fell to new 2017 lows and closed near the weekly lows. This suggests further weakness and the targets and view are unchanged from last week.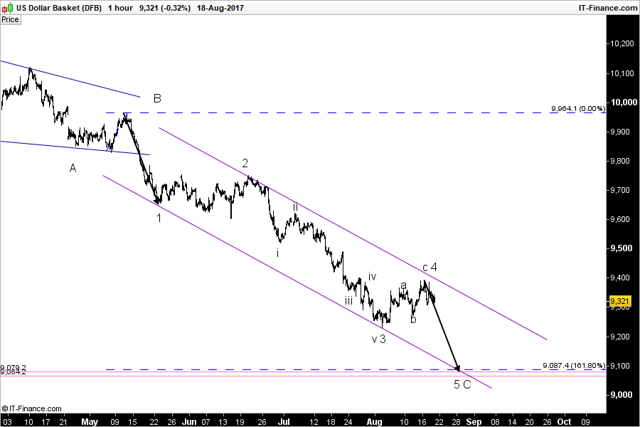 Conclusions
Equities will likely hold last week's lows and spike to one more high to complete a top.
Gold is still targeting $1330.
Oil is correcting to the $45 area, but is targeting just over $60 in the medium term.
Natural gas is unclear in the short term, but should still rally above $4 in the medium term.
TLT is trading in a sideways pattern between $120 and $130 which is likely to continue for some time before spiking higher.
The dollar is in the last stage of its decline targeting an ideal 90.8.
Disclosure: I am/we are long GLD.
I wrote this article myself, and it expresses my own opinions. I am not receiving compensation for it (other than from Seeking Alpha). I have no business relationship with any company whose stock is mentioned in this article.
Additional disclosure: I am long gold, oil and NG, plus various stocks.