The defense industry is one that has certainly been on the up lately. With geopolitical shifts having caused significant uncertainty across the political landscape, defense stocks have seen higher returns.
I am personally long Lockheed Martin (NYSE:LMT). However, other strong companies have made their mark in this sector, one in particular being competitor Northrop Grumman (NYSE:NOC).
Since 2015, Northrop Grumman has outperformed Lockheed Martin on a returns basis by an overall 20%.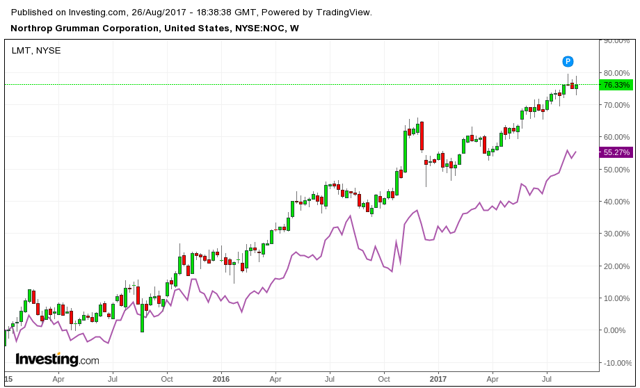 Even though Northrop Grumman has outperformed Lockheed Martin, the latter stock would appear to be undervalued relative to the former on a P/E basis, and EPS on a normalized, diluted basis has continued to grow sharply for both stocks.
Lockheed Martin - Earnings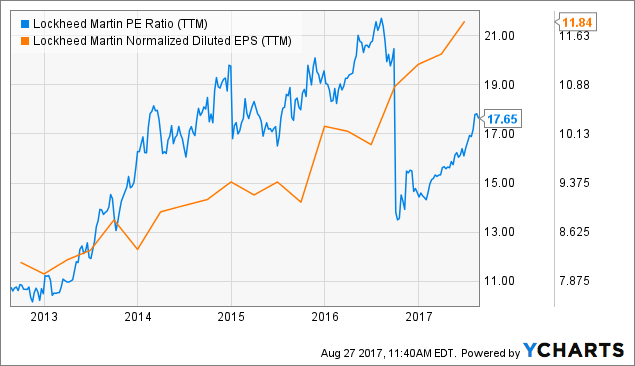 Northrop Grumman - Earnings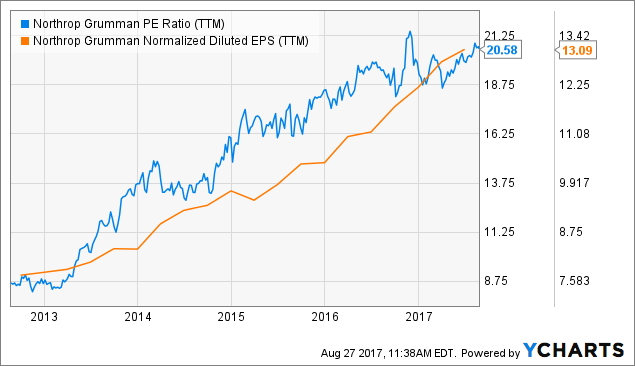 Therefore, does this mean that Northrop Grumman could have less room to run than Lockheed Martin? Not necessarily.
Valuations aren't everything, especially when it comes to the defense industry. As mentioned, if we assume that interest in defense stocks continues to grow due to adverse geopolitical conditions, then it is likely that such stocks will continue to grow regardless of valuations.
In terms of financial performance, there is not all that much separating the two companies when it comes to Q2 results for the past year. For instance, Lockheed Martin has seen total net sales increase by 10% while that of Northrop Grumman increased by 6%. However, a lower cost base for Northrop Grumman saw the two companies achieve an overall operating margin of just under 12%.
Operating Performance: Lockheed Martin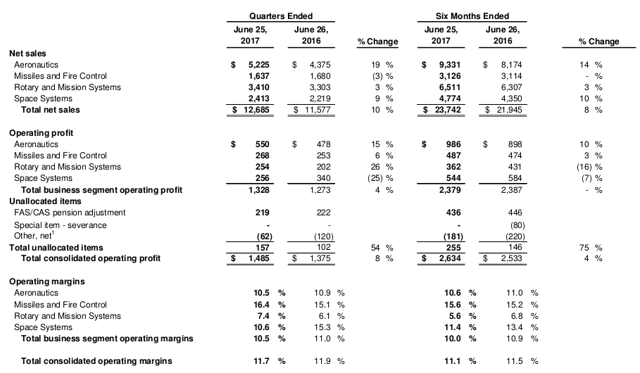 Source: Lockheed Martin Q2 Earnings Release
Operating Performance: Northrop Grumman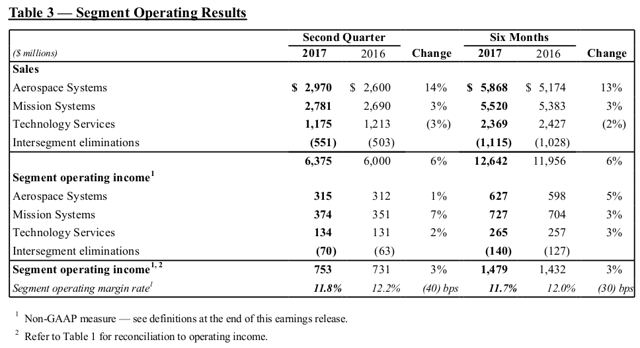 Source: Northrop Grumman Q2 Earnings Release
From a business standpoint, both companies have their advantages (and disadvantages). For instance, Lockheed Martin has continued to perform strongly with its F-35 model having bolstered sales in the firm's aeronautics business by 20%. On the other hand, the company could face competition from a European prototype in the coming year, and there is the risk that the company might be overdependent on the F-35 to sustain sales overall.
On the other hand, Northrop Grumman's sales in its Aerospace Systems business increased by approximately 14% as a result of higher demand for the firm's Manned Aircraft programs, such as the E-2D Advanced Hawkeye. Moreover, Northrop Grumman has also secured a $329 million contract to collaborate with Boeing (NYSE:BA) in replacing the Air Force's Minuteman III missiles. In this regard, Northrop Grumman appears to be a somewhat more diversified company than Lockheed Martin, but sales for Lockheed Martin have been more robust overall.
At the end of the day, both companies are on the up. My main concern regarding Northrop Grumman is that this company does trade at a higher P/E ratio than Lockheed Martin, and from this standpoint, there could be a lower level of upside. However, margins for both companies are quite respectable, and both appear to be thriving in what is a booming industry at this time.
In this regard, both Northrop Grumman and Lockheed Martin are good companies, and I envisage that an investor couldn't go wrong with either if they wish to gain further exposure to the defense sector.
Disclosure: I am/we are long LMT.
I wrote this article myself, and it expresses my own opinions. I am not receiving compensation for it (other than from Seeking Alpha). I have no business relationship with any company whose stock is mentioned in this article.