Introduction
As you know, every week, Splendid Exchange looks at seven major currency pairs in search of the evidence of popular delusions and the madness of crowds. The idea is to find anomalies and bullish or bearish divergences that will break the trend, not prolong it. It is a painful exercise, but also highly rewarding.
In order to find the most overbought currency, I conduct four studies: over-extension analysis, secular performance analysis, traders' sentiment and economic divergence.
Analyzed currency pairs: AUDUSD, EURUSD, GPBUSD, NZDUSD, USDCAD, USDCHF and USDJPY
Relevant ETFs (most popular): CROC, ERO, EUFX, FXA, FXB, FXC, FXE, FXF, FXY and GBB.
Click here to see last week's results. Click here for the studies' description.
Latest Results
Has anything changed over the past week?
I will not go through the results of each of the studies, but will instead illustrate the final ranking. If you want to see the individual results of each of the studies, scroll down to the charts section below.
I have ranked the currencies on the scale of 1 to 7 for each of the studies, where 1 is the least overbought conditions and 7 is the most overbought conditions. Therefore, the overall minimum score that any currency can have is 4, while the maximum is 28.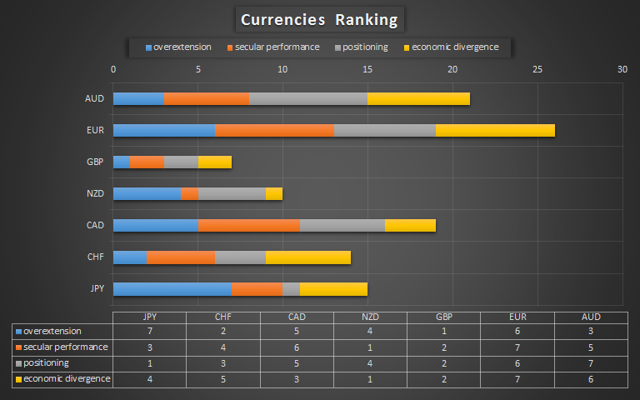 (Source: Personal calculations; ranking as of August 28, 2017)
The euro is still just as overvalued as it was a week ago. Its total score is 26, two points short of a maximum. The European currency remains the most overvalued one against the U.S. dollar (among the majors) in terms of secular performance and economic divergence. Speculative positioning remains extended, with 197,818 non-commercial long contracts outstanding in futures market, which is almost a 3-year high.
The Australian dollar is following second with a total score of 21, unchanged from a week ago.
My positions
From my previous article, you know that I was short EURSUD from 1.1830. Last Friday, I doubled my position by selling the euro at 1.1929. My average short is now from 1.1880.
Also, in my previous articles, I have already outlined the reasons why I am a euro bear, the major two being divergent monetary policy (between the Fed and the ECB) and the eurozone's relative sensitivity to exchange rates.
Now, I would like to present some more evidence to support the bearish case for EURUSD.
No doubt, classical technical analysis still shows that we are in a bullish trend. EURUSD remains within an upward sloping trend channel and is trading above all key daily moving averages. However, there are reasons to suspect that bullish trend is about to exhaust and result in a reversal.
Firstly, there was a sharp spike in exchange rates in the final hours of trading on Friday. Spikes that occur in mature, well-established trends often signal potential exhaustion. Indeed, the EURUSD has been rising almost uninterruptedly since January 6. The Weekly RSI has reached levels unseen since November 2007 (i.e., almost a 10-year record, which is a very unusual occurrence for a technical indicator), and there is now a bearish divergence in all major oscillators, such as Stoch RSI, RSI and CCI (see the chart below). Furthermore, the euro is about to face strong psychological resistance at the 1.2000 level.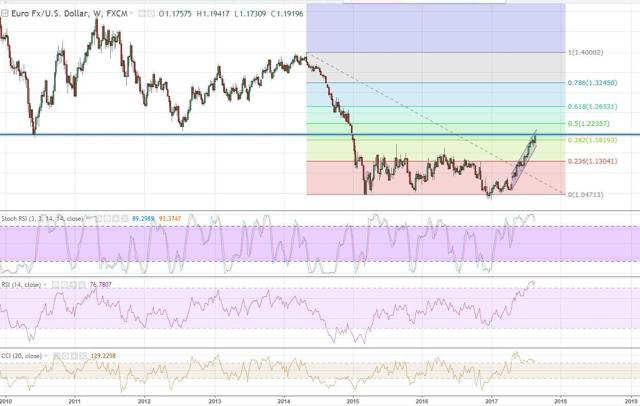 (Source: TradingView)
Secondly, the reason for Friday's spike was as dubious as it was irrational. The euro rallied on upbeat comments by Mr. Draghi, president of the ECB, who said that the "global recovery is firming up." However, he also said that significant monetary accommodation is still needed, and that inflation is not yet converging to the central bank's target. The fact that the market decided to focus on one thing, while ignoring the other, means that this most recent bullish action in EURUSD is very unstable and can reverse at any moment.
Secondly, there continue to be significant bearish deviations between the euro and fundamentals on the ground. Consider the following chart. It shows the EURUSD exchange rate and the spread between the PSI Financial Gross Return Index and the Prime Xetra Financial Services Index. The spread essentially measures the health of Portuguese financials (banks and other lending institutions) relative to the health of German financials. As you can see, the spread is still very low, indicating that lenders in Germany are in a much better state than their Portuguese counterparts. In other words, the spread shows that euro area bank stress is still an issue. Notice the spread's correlation with EUR/USD - there is now a clear bearish divergence.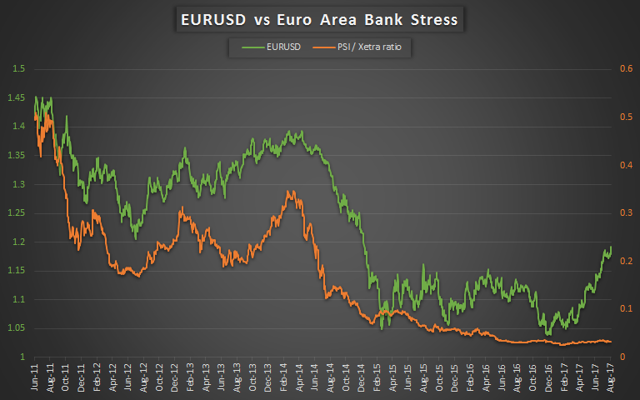 (Source: Bloomberg, FXCM, personal calculations)
The euro cannot disregard its most pressing economic problems and just continue to rally. If anything, the appreciation in EURUSD is making it more difficult for countries like Portugal, Spain, Italy and Greece to compete in global markets and pay out their mounting debts.
Charts Section
Overextension Analysis
The most overextended currency is the Japanese yen. As of this Monday, it was trading at almost 63% of its 3-year range. However, the euro is not far behind, trading at 62% of its 3-year range.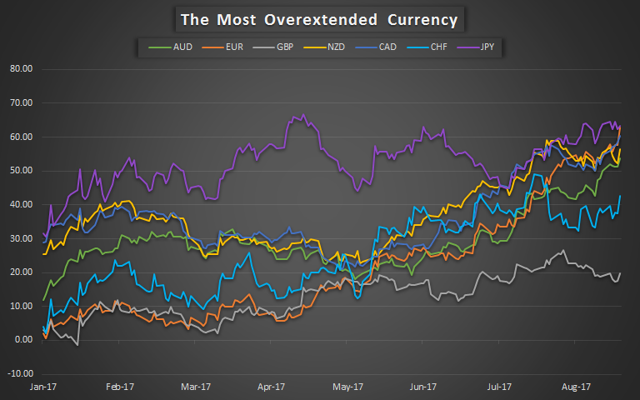 (Source: CMC Markets, personal calculations)
Secular Performance
Based on the 12-month running secular performance correlations, I have calculated that US dollar is currently undervalued by an average of 3.90% against seven majors. However, as of last Friday, it was most undervalued against the euro (6.73%) and the Canadian dollar (5.57%). In other words, EURUSD is the most overvalued currency pair based on secular performance.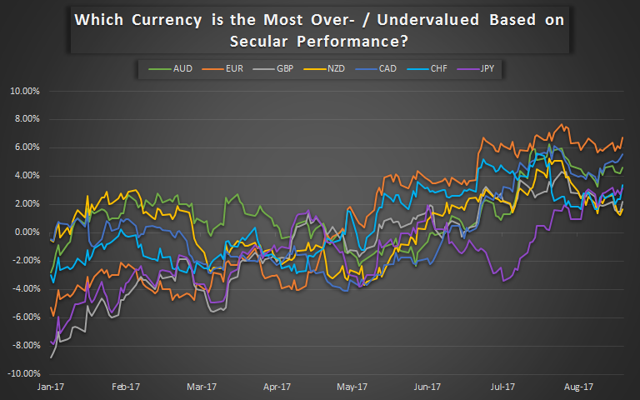 (Source: CMC Markets, personal calculations)
Positioning
On a 3-year percentile basis, the most overbought currency is the Australian dollar (non-commercial players have accumulated 91,558 long contracts in AUD futures, just 1% short of the three-year maximum). By the same measure, the euro is currently the second most overbought currency among the majors.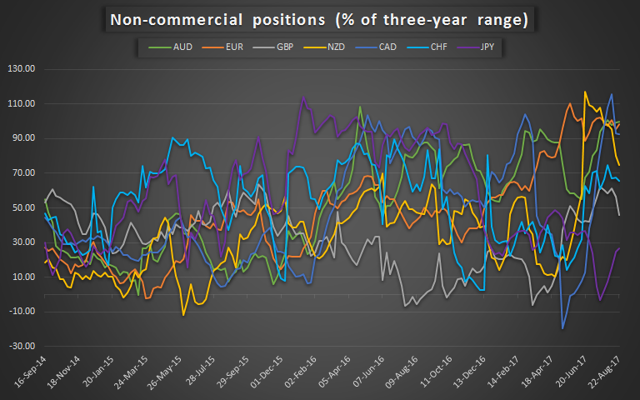 (Source: CFTC, personal calculations)
Economic Divergence
Based on the 12-month running 2-year bond spreads correlations, I have calculated that the euro is clearly the most overvalued currency among the majors and has significantly departed both from a long-term average and from other currencies' valuations. Notice, that by economic divergence metric, it is very uncommon for currencies to be overvalued by more than 6%. Indeed, all currencies except the euro have already started to return to neutral levels, while the euro has continued to remain strong. This cannot last indefinitely. Either US yields should fall and/or German yields should rise, or the euro must correct.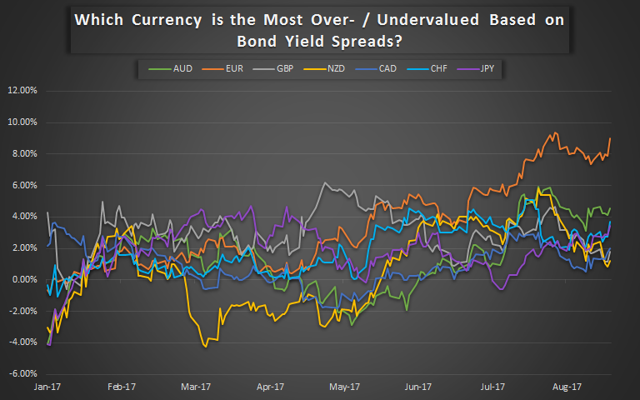 (Source: CMC Markets, Investing.com, personal calculations)
Disclosure: I/we have no positions in any stocks mentioned, and no plans to initiate any positions within the next 72 hours.
I wrote this article myself, and it expresses my own opinions. I am not receiving compensation for it (other than from Seeking Alpha). I have no business relationship with any company whose stock is mentioned in this article.
Additional disclosure: I am short EURUSD from 1.1880.