December gold futures (the most active contract) are trading at $1302.50 as I write this: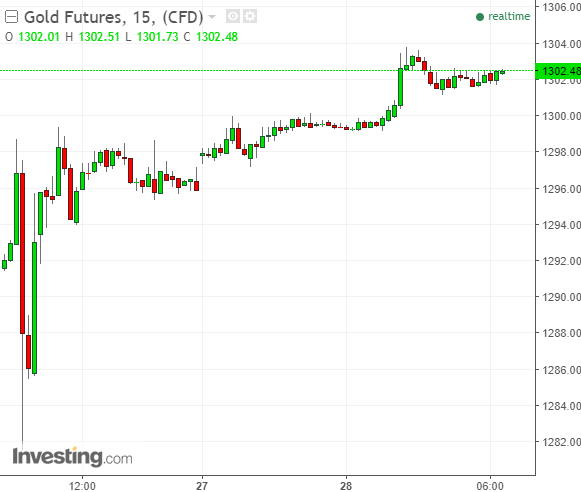 Source: Investing.com
It's a sleepy last week of August style of trade, however, price is truth and gold is north of $1300 for the second time in the last ten days. The fact that gold is breaking above $1300 after two failed attempts at the $1300 level earlier in the year (April and June) have gold bulls excited. However, from my vantage point gold is in a tricky spot and we may not see a straight line higher simply because $1300 has been eclipsed: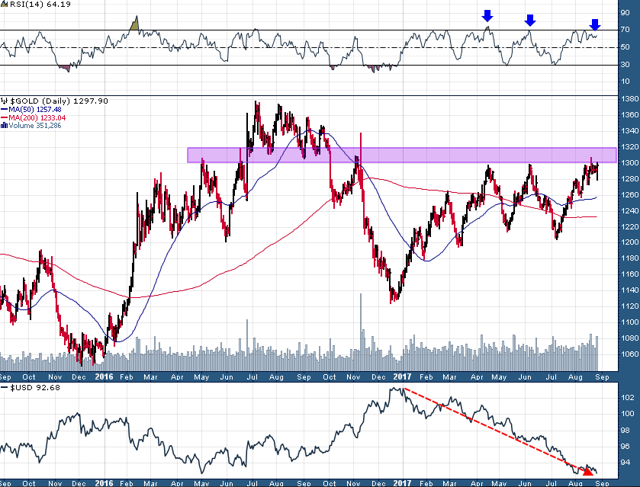 Source: Stockcharts.com
There are a few observations to make pertaining to the above 2-year chart of gold:
While price is slightly higher than it was at the April and June peaks, the Daily-RSI(14) is lower. This lower momentum is indicative of a more protracted, steady move higher (which has been the case). This is a slight bullish positive because it means that there could be ample upside fuel left in the move before gold reaches extreme overbought territory. The downside of 'waning' Relative Strength is that it simply indicates buyers haven't been as aggressive in accumulating and driving price higher.

There is so much price memory between the high $1290s and low $1320s from the last 4+ years that it would be impossible to overstate the importance of this price zone. Should gold make a decisive weekly close above $1320 many technicians would be forced to shift their current neutral/bearish longer term views of the yellow metal to at least neutral/bullish, or outright bullish.

The 'fly in the ointment' is that throughout 2017 gold in USD terms has benefited tremendously from a declining US dollar Index (bottom). To put it mildly the dollar has been clobbered in 2017. Given that the USD is the denominator in the US dollar price of gold, this dollar decline has given gold a powerful tailwind. There are many indications that bearishness on the USD may be a bit overextended and with the potential for a Fed tightening cycle to begin sooner, rather than later, there is significant risk that the dollar tailwind could soon turn into a headwind.
My primary takeaway is that while it is highly encouraging that gold appears to be the early victor in its assault on the $1300/oz level, this is not yet a confirmed longer term breakout and there is still plenty of risk that the current move could be a late-August bull trap.
I believe that North Korea concerns account for at least $20/oz in the current gold price, and the weak US dollar has contributed at least $100/oz to gold's $150+ upside move thus far in 2017.
Finally, gold mining shares may have finally found their sweet spot for outperformance. After spending much of the last five years cutting costs and right-sizing operations, the vast majority of senior and mid-tier gold producers are handsomely profitable at US$1300/oz gold. Moreover, they are positioned with excellent operating leverage to each incremental dollar added to the gold price.
Disclosure: I am/we are long GDX.
I wrote this article myself, and it expresses my own opinions. I am not receiving compensation for it (other than from Seeking Alpha). I have no business relationship with any company whose stock is mentioned in this article.