Recently a California jury ordered Johnson & Johnson (NYSE:JNJ) to pay $471 million to a woman who claimed that using the company's talc-based products since age 11 (like Johnson's Baby Powder) for feminine hygiene caused her to develop ovarian cancer. The ruling came from the Los Angeles Superior Court on Monday.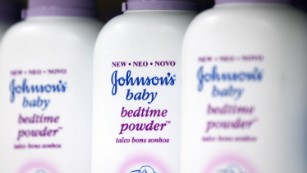 This suit is not the first case either because Johnson & Johnson has around 4,800 more similar claims nationwide. Furthermore, in Missouri, the company was hit with other verdicts that total over $300 million.
The reality is that, as another contributed pointed out, even if 10% of all the claims are lost in court, that would mean that the company would be liable for about $34 billion.
The largest award was $417 million, and the smallest was $55 million; the lion's share of the awards comprise punitive damages. The mid-point was $72 million in total. If J&J lost only 10% of its outstanding cases (480) and paid the mid-point of $72 million, it could potentially cost the company about $34 billion. Given the size of the punitive damages in prior cases, J&J's potential liabilities could be staggering. [Source: "California Jury Drops A $417 Million Talc Bomb On J&J."]
To put that into perspective, that means that since the company's annual revenues are about $72 billion, it could be liable for almost half (47%) of its annual revenues. The impact would be undoubtedly material to shareholders.
Product Liability
It's also worth noting that the company holds a bigger than normal exposure to product liabilities since it stopped purchasing insurance of this type since 2005:
The Company is subject to significant legal proceedings that can result in significant expenses, fines, and reputational damage. (…) Johnson & Johnson and its subsidiaries are subject to numerous claims and lawsuits involving various issues such as patent disputes, product liability and claims that their product sales, marketing, and pricing practices violate various antitrust, unfair trade practices and/or consumer protection laws. (…) The resolution of, or increase in accruals for, one or more of these matters in any reporting period could have a material adverse effect on the Company's results of operations and cash flows for that period.

Product Liability (…) As a result of cost and availability factors, effective November 1, 2005, the Company ceased purchasing third-party product liability insurance. The Company has self-insurance through a wholly-owned captive insurance company. (...) reserves against these receivables are recorded for estimated amounts that may not be collected from third-party insurers.
Source: Johnson & Johnson 2017 10-K SEC filing.
In other words, the company has insured itself through a subsidiary, which means it's not technically insured. It admits that these types of reserves won't be able to be collected from third-party insurers. For what's worth, this company policy has been in place since 2005, and it has an unmanageable product liability issue hasn't come up so far. Still, it's something worth keeping in mind as this matter develops.
Impact on Stock Price
Nevertheless, after the report about the verdict came out, the company's shares didn't seem to be affected. It appears that the market didn't care about the ruling, almost as if it was a non-event. So, what's happening here?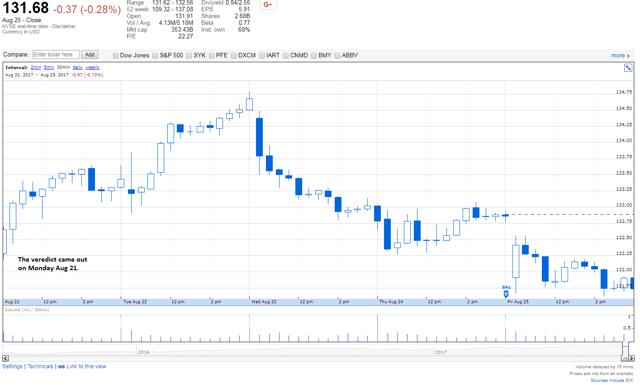 Source: Google Finance.
In a 2013 study conducted by Harvard University of 8,525 ovarian cancer cases and 9,859 controls, they determined a link between talc and the disease. However, the degree of impact was small, as they reported it increased the risk of different subtypes of cancer in a small-moderate measure.
In other words, the slight increase in the risk of ovarian cancer, which in of itself is already rare, adds up to an almost insignificant risk nonetheless. Because of this reason, the majority of women can still use talc, since ovarian cancer is sporadic, even if talc were to increase the odds of occurrence by a small-moderate degree, it'd have minimal incidence.
The weight of evidence does not support an association between perineal talc exposure and an increased risk of ovarian cancer. We are preparing for additional trials in the US, and we will continue to defend the safety of Johnson's Baby Powder. [Source: Physician Data Query Editorial Board, as reported by CNN.]
The reality of the situation is that the evidence that allegedly proves a connection between cancer and Johnson & Johnson's talc is inconclusive at best. Furthermore, the company maintains its position that talc related products are completely safe and are backed by "decades of scientific evidence."
So in other words, the market seems to be shrugging off the issue because it seems unlikely that these suits will have any meaningful impact on the company's bottom-line once all is said and done. Still, it's worth noting that some there's been some movement in funds, although some have decreased their positions, others have added to theirs. Regarding analysts, ten list it as a Buy, while eight and four lists it as a Hold and Sell respectively.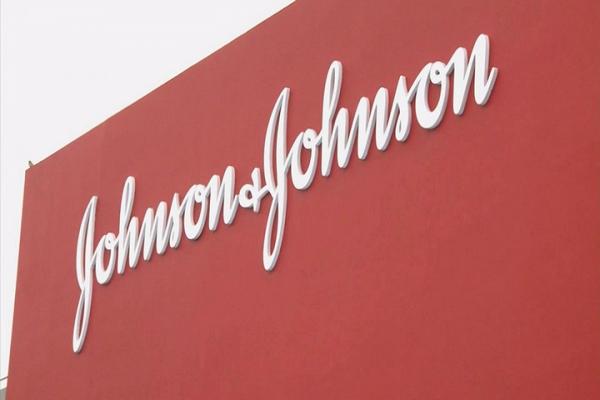 Lawsuits and More Lawsuits
Nevertheless, J&J is currently on a losing streak regarding this issue, and it keeps piling up, currently at 4,800 similar cases pending, as mentioned previously. It seems that it's a combination of factors. Mainly, it appears that the last plaintiff's attorneys have been successful at associating talc with asbestos:
Talcum powders are made of talc, a mineral comprised [sic] of bits of magnesium, silicon, and oxygen that absorbs moisture. In its natural form, some talc contains asbestos, a known carcinogen. (…) even so, the association stuck, said Dr. Ranit Mishori, a professor of family medicine at Georgetown University. [Source: "Evidence on talc cancer risk differs for jurors, researchers."]
Remember, there's no ambiguity on this issue: Asbestos is cancerous. Still, talc used in consumer products is supposed to be pure. In other words, free of asbestos.
Nonetheless, this situation, coupled with some natural empathy jury members have with a woman dying from cancer, and attorneys hungry for litigation money (so-called ambulance-chasers) can become problematic for any company. Furthermore, J&J is another faceless corporation with deep pockets, and suddenly the stars start aligning against shareholders.
However, I believe that at the end of the day, this whole situation is pure noise. These rulings aren't Sell signals because proving a direct causal connection between talc and ovarian cancer would be incredibly difficult. Not only that but showing that the plaintiff consumed as much as it claims she did, for as long as she did, with nothing else that could be blamed for her cancer is impossible.
A J&J spokeswoman said Monday that the company plans to appeal the latest verdict. Individual jury awards in mass tort litigation are idiosyncratic and are often reduced on appeal. At the same time, the outcome of early trials can give plaintiffs and defendants a better sense of how to value any eventual global settlement. [Source: "J&J to Appeal Verdict In Baby-Powder Case."]
Even the plaintiff's attorney seems to be aware that proving all the factors I mentioned above is close to impossible because the argument became about determining talc usage was at least a "substantial factor." This case would be easier to do, and it seems that the argument held in lower courts, but in my view, it's weak and could be refuted as appeals pile up and some verdicts start to become overruled.
Then the situation would look better for the company. And here lies the fatal flaw for the "sell because of cancer" argument for J&J. Once the company successfully appeals some of its adverse rulings, then the rest of the pending cases will lose steam. Not only that, at worst they'll probably be able to settle the suits at non-material amounts, or maybe be entirely dismissed.
All in all, the idea of a compensation of $724 million in five verdicts alleging talc caused ovarian cancer is highly unlikely if considered under common sense. I expect J&J to either manage to overrule the judgment at some point or settle for a much lower amount.
Aside from this issue, the attention brought to talc products and their possible link with cancer should have some negative impact on sales. Nevertheless, since Johnson & Johnson is a highly diversified company, the effect on the company's results as a whole should be negligible. Put differently; this too shall pass.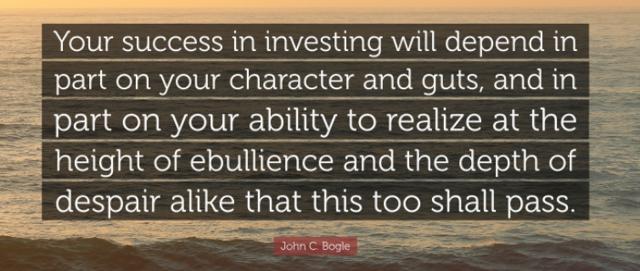 Source: John C. Bogle.
All in all, talc may or may not cause cancer, but at this moment it hasn't been proven to do so. Furthermore, there's a good chance that the company will be able to appeal some (if not all) of the rulings against it in the future. At this point, we should wait and see for further developments on this issue before jumping to conclusions based on speculation.
It's worth noting that even if talc does have a certain degree of causality in ovarian cancer, it'd be difficult to prove beyond doubt that the company sold the product knowing it was dangerous. This scenario would most likely be a mitigating factor when determining damages in dollar amounts (if it comes to that).
I mention that because, I believe that in the long term this talc issue will be a blip, not a disaster for the company. And for the investor, it might be a buying opportunity if it dips 10% or more because of it. Also, remember that the wheels of justice churn slowly, and as time passes J&J will reward patient investors with an attractive and reliable dividend.
Conclusion
From my research, it became apparent that any investor that has held for years (maybe decades) has seen numerous times news and articles about Johnson & Johnson encouraging them to sell for some reason or another. Still, the stock has kept on climbing higher, and it continues to be consistently profitable.
Often, it's exhorted to take profits and run once uncertainty hits, but if you're a buy and hold investor, it is best to avoid this kind of mentality. Not only are there tax consideration that should discourage you (especially for long term investors), but also the fact that more often than not, selling your winners and keeping your losers is paradoxically a losing strategy in the long run.
Also, it'd be unreasonable to talk about selling a stock that reliably pays its dividends and also continues to increase them yearly to their best of their abilities. Furthermore, management has proven worthy of shareholder's trust, and investors shouldn't ignore their focus on returning alpha to them.
It's evident that the J&J currently trades at a historically high valuation, nevertheless selling now would probably be unwise. It's safe to say that adding to the position at this moment would not be ideal either, but waiting for a potential pullback to buy more should pay off in the long run. Especially since its dividend will reward the investor for waiting, sometimes it's best not to make a move at all.
Remember, there is no Zugzwang in investing. Often the best move the investor has is waiting.
Disclosure: I/we have no positions in any stocks mentioned, and no plans to initiate any positions within the next 72 hours.
I wrote this article myself, and it expresses my own opinions. I am not receiving compensation for it (other than from Seeking Alpha). I have no business relationship with any company whose stock is mentioned in this article.
Additional disclosure: I'm interested in entering a position in J&J at a lower price. My target is around the 115-120 area for my first tranche if I get the opportunity. If I miss the buy, then I miss the buy.