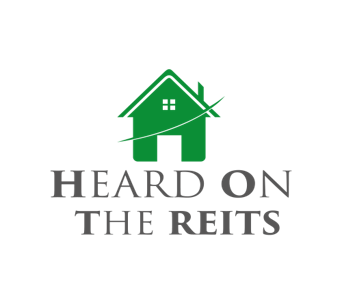 Data-Driven REITs Lead the Way
We started our REITonomics series this past week with the infrastructure REITs, and coincidentally, they were leaders in the REIT space with a 5.4% price return for the week. Next up were the data center REITs with a 4.1% return. The MSCI REIT Index (RWZ) outperformed the S&P 500 (SPY) with a 1.9% return, 120 bps better than the broad large cap index. On a YTD basis, it's still no contest, with the S&P 500 outperforming the MSCI REIT Index by over 800 bps.
Going back to the data-driven REITs, it's not surprising with the rise of mobile data demand and the expectations of continued demand growth that REITs sensitive to technology would be the best performers. Not only were data center REITs and infrastructure REITs the best performers this week, they also led the pack on YTD returns. Uniti (UNIT) stabilized from the prior week's free fall, but it was Power REIT (PW) that powered the sector higher with an 11.8% pop. The big boys in the industry has positive but muted returns. American Tower (AMT) appreciated by 3%, while Crown Castle (CCI) was up 2.8%.
Data center REITs were all up 3% or more led by CyrusOne (CONE) and CoreSite Realty (COR), with 6.1% and 5.1% price returns, respectively.
To the downside, single-family homes gave back some of the gains from last week with a 1.5% pullback. It was the only sub-sector with price declines this past week. Both Invitation Homes (INVH) and Starwood Waypoint Homes (SFR) pulled back after being up strongly last week after the merger announcement. American Homes 4 Rent (AMH) was relatively flat.
Other than SFHs, it was a good week for REITs.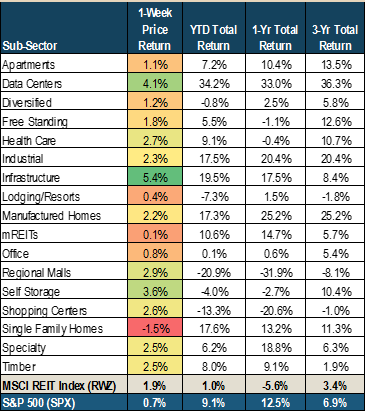 Note: 1-Week Price Returns are based on the average returns all REITs within each sector. Not market-weighted.
If you prefer to invest through a well-diversified REIT instead of picking individual securities, we have provided a list of REIT ETFs below. By the way, if you want us to include any we have missed, please pass them along, as well as any closed-end funds you may be familiar with.
Both iShares US Real Estate ETF (IYR) and Vanguard REIT ETF (VNQ) were up 2% - they are the two largest in terms of AUM with over $8 billion combined. The Guggenheim S&P 500 Equal Weight Real Estate ETF (EWRE) was up 1.8% - keeping pace with the market-weighted funds – indicating broad-based positive performance.

News
Education Realty Trust (EDR) is going to house almost 4,000 Gamecocks! It won the bid to deliver Campus Village, a 3,750-bed complex, at the University of South Carolina. The project will be delivered in phases from 2020 to 2024. EDR will be receiving fees for third-party development and construction oversight.
Global Medical REIT (GMRE) said bye-bye to CEO David Young. But Young will stay on as a consultant to the external manager providing acquisition and business development services.
Simon Property (SPG) settled a dispute with NY over alleged contracts the prevented retailers from opening outlet stores in the city. It will cost Simon $945K.

Store Capital (STOR) was upgraded at S&P to BBB with a stable outlook. This is good news for Warren Buffett – or was he the reason for the upgrade? The credit rating upgrade should reduce borrowing costs for Store.

Alexandria Real Estate Equities (NYSE:ARE)

announced it will issue $750M worth of common stock.



Sabra Health Care (SBRA) closed its merger with Care Capital Properties (CCP) and got a boost in credit rating from BB+ to BBB-, breaking into the lower rung of investment grade.

When the week started, there was but one sell-side analyst with a buy rating on PREIT (PEI). Not anymore. After the downgrade from Overweight to Neutral, the stock has zero buy ratings. Will contrarians step in?

Retailer results had a positive effect on retail REITs as well. There were positive returns across the board led by regional malls and shopping centers, with average price returns of 2.9% and 2.6%, respectively.

SBAC Communications (SBAC), which became a REIT just last year, has been added to the S&P 500, effective September 1.
Digital Realty (DLR) is building a $1B data center in a suburb of Dallas. DLR is getting a 40% tax abatement for 7 years and a deal from Garland Power & Light on rates.
Dividends Last Week and Next Week
REITonomics This Week
We continue to monitor home sales, and this week, new-home sales reported were 571K, lower than last month's 630K pace. The problem is still supply, not demand. There just aren't enough homes for sale. At least we have seen a sustained pace above 500k since 12/2015, so while we're not getting much more growth, the pace has stabilized at reasonable levels. Low supply of homes for sale, both new and existing, translates into higher rental rates. While apartment REITs are seeing increases in supply that could put pressure on pricing, not the case for single-family homes. There good be much more upside for the SFH REITs and particularly those with economies of scale that can be leveraged.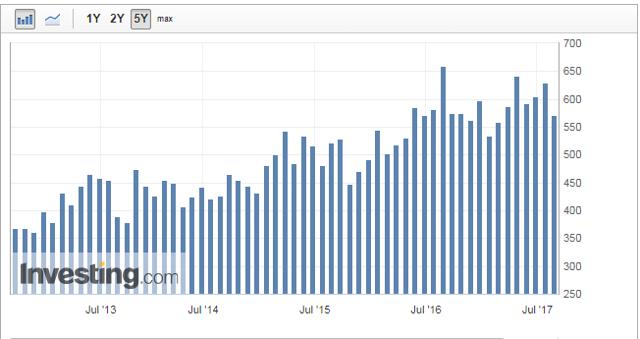 Existing home sales also declined from the prior month to an annualized rate of 5.44 million. Same story here. It seems no one wants to sell their homes. After all, where would they go? The news is positive for single family home rentals.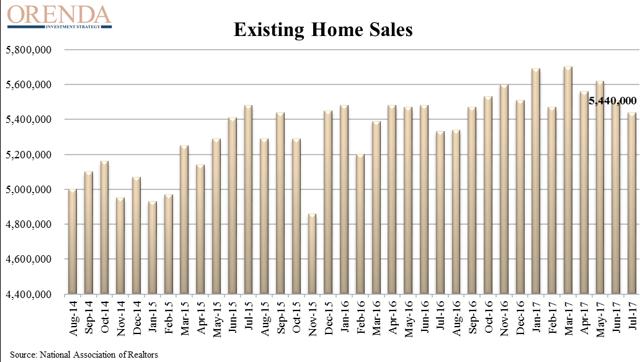 Core durable goods orders ex-transportation increased for the third consecutive month with a 0.48% increase. Investments in durable goods by business indicates confidence in the economy and the returns they expect to get from those investments. If we see some acceleration in business spending we may be in for a positive surprise on the next GDP data. Although we're not sure if that is good news or bad news anymore. A positive number could drive the Fed to increase rates faster. Rate increases might be negative for REITs in the short-term, but a robust economy tends to boost property prices in the long-term.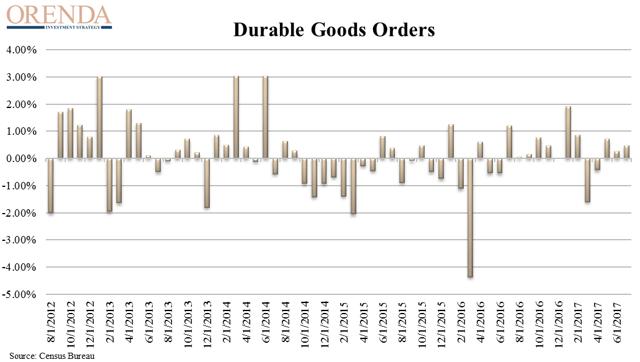 The status of the labor market is starting to become a broken record. We don't know what else to say except that it has remained resilient but we still lack wage growth. Continuing jobless claims stayed under 2 million again this week.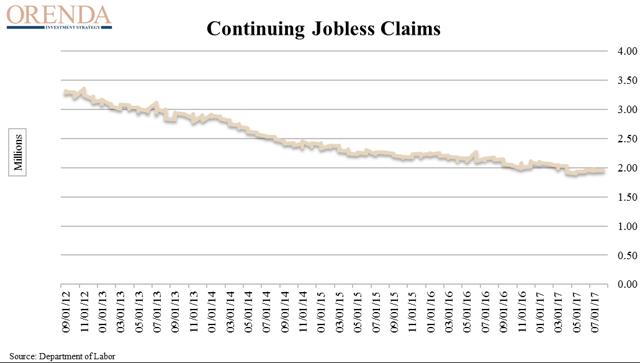 Initial jobless claims was reported at 234,000 – slightly higher than last week, but the 4-week moving average declined by almost 3K. So long as the consumer is employed, even if wages stay subdued, we expect continued spending on discretionary items. That means that despite the rise in internet sales, we are still bullish on retail because people still want to visit stores, restaurants, and entertainment venues. The REITs that embrace this strategy will do well; those that focus on the old and tired retailers will struggle.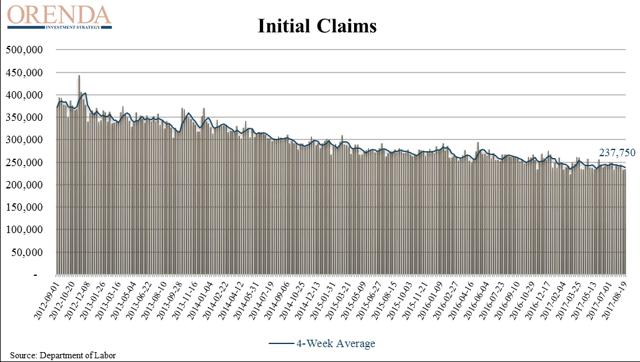 We recently wrote our REITonomics piece on the infrastructure REITs and highlighted the energy infrastructure REITs. While most of the attention goes to the tower, small cell, and fiber REITs, we think that energy consumption is also on a growth trajectory that will sustain demand for the pipes and poles necessary to transmit electricity. We note below that there was a slight decrease in the number of operating oil rigs last week but they are still at levels well above the low of 318 reached in May of last year. Oil prices have recovered somewhat and have been range-bound. Another price drop may lead to another reduction in oil rigs but the most likely scenario is that current rigs in operation are the most cost effective. It would take a dramatic decline to shut them down, and if OPEC sticks to their production cuts – likely in some form – oil prices should remain range-bound.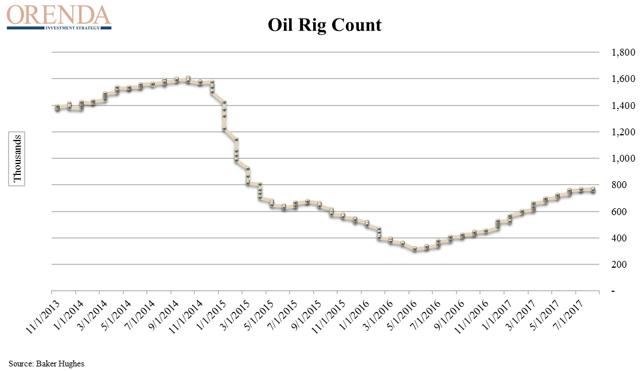 REIT Data
The data below doesn't change much from week to week, but we will continue to include it so readers don't have to go searching for it in previous versions.
The average dividend yield vs. payout ratio is shown below. After declining 30% on average over the last year, regional mall REITs still sport the highest dividend yield among the equity REIT sectors, which excludes mortgage REITs. Regional malls currently pay a 7.2% dividend yield on average and a very reasonable 66% payout ratio.
On the opposite end of the spectrum, single-family home REITs are quite stingy with their dividends even though a payout ratio of just 36.5% seemingly allows them to boost them. Perhaps the merger of Invitation and Starwood will be the catalyst? I'm not predicting anything, but if the company is boasting additional cost synergies, at least FFO will be expected to increase.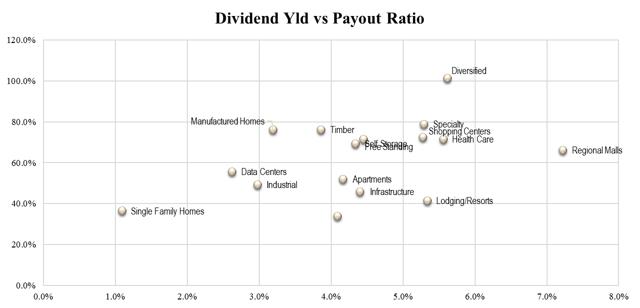 Comparing price multiples to potential returns based on analyst estimates, Regional Malls also look attractive with a P/FFO multiple of 11.1, slightly higher than last week's 9x - and a potential return of 17.2%, from a previous 21.2%. The sector with the highest potential return based on analyst estimates are the Infrastructure REITs, with the potential of 18%. Their P/FFO multiple of 16.4 is much higher than the regional malls but still reasonable in our view.
Manufactured homes, on the other hand, have returned 21% to shareholders over the past year and the valuations seem to have reached extreme levels – ditto for single-family homes, but fundamentals are still there for more upside.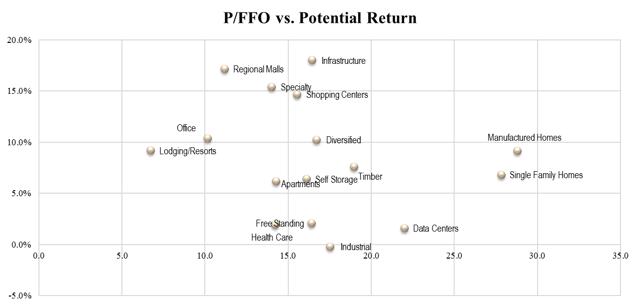 Note: Some adjustments were made to normalize the average numbers such as removing data points where P/FFO was negative due to negative FFO/share or where a low FFO would lead to an abnormally high P/FFO in a small population size.
As we continue to refine our offering, we will provide AFFO when it is viewed as a better indication of a company's current cash flow.
Market Cap Breakdown of REIT Sector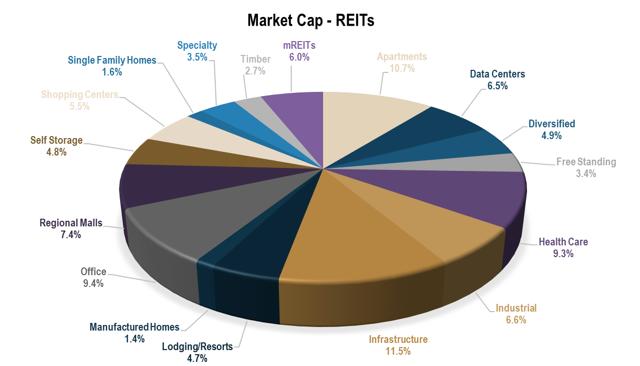 Please don't forget to click on the "Follow" link to the right of my name at the top of the article.
We have recently revamped our Premium Service to focus exclusively on REITs, which includes deep-dive analysis on individual names, sector analysis, and a real-world concentrated REIT portfolio managed to minimize volatility.
For the month of September, we will be offering an annual price of $500. That's $100 off the regular annual price and a $400 savings to the monthly subscription price.
The following samples were published for free, but these highly analytical reports will only be available in the Premium service from now on.
Sample Premium Research Report
To learn more about the Heard on the REITs portfolio, click HERE.
Disclosure: I am/we are long BXP.
I wrote this article myself, and it expresses my own opinions. I am not receiving compensation for it (other than from Seeking Alpha). I have no business relationship with any company whose stock is mentioned in this article.
Additional disclosure: Long
BXP
SLG
DRE
MNR
KIM
REG
SPG
GGP
SRC
O
ACC
EDR
UMH
AMH
AAT
HPT
CUBE
HTA
SNR
WY
AMT
UNIT
CCI
DLR
QTS
CXW
BXMT
Editor's Note: This article covers one or more stocks trading at less than $1 per share and/or with less than a $100 million market cap. Please be aware of the risks associated with these stocks.