Note: All figures are in USD unless otherwise stated. Some of the following stocks trade primarily on the Toronto Stock Exchange. If you like this article, please follow me using the link next to my name on top of the page.
Oil bull, I feel you. Canadian energy investor, I feel you.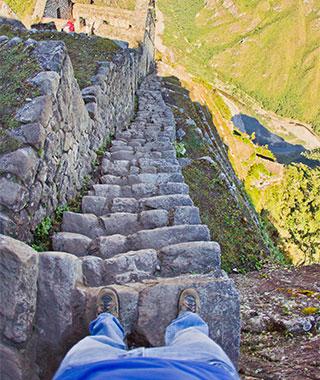 Source: Stock photo.
Despite the bearish sentiment out there, I added to most of my energy holdings. I even added shares of Point Loma, a speculative bet on higher oil prices.
As I said in March 2017:
The oil market should stabilize. Forget the noise: The long-term signal is alive and well.
Portfolio Update, March 17, 2017.
The long-term signal is indeed alive. Crude stocks are falling. Crude demand is at all-time highs. Most importantly, production from US shale has been subdued at current oil prices.
I added to my holdings in:
Gear Energy
Wells are outperforming on the field. Guidance is maintained. Insiders are buying. I am buying.
Granite Oil
The market has been too harsh on Granite Oil.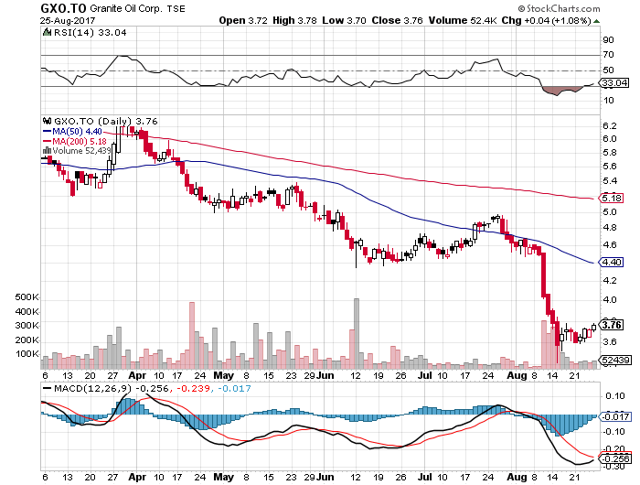 Source: StockCharts.com
Management announced lower capital expenditures for the second half of the year due to lower oil prices. In turn, oil production growth is expected to be lower and leverage higher. Temporary higher operating costs also contributed to the drop in share price.
The market is eager to see production grow to the level established by management in the long-term plan. However, as management said, capital will be spent first on infrastructure and then on adding production and wells. Some of this drilling development capital has been delayed to 2018.
The dividend will be safe if oil prices increase to $55 by year-end and to $60 in 2018. If oil prices remain subdued going into 2018, the dividend will be reduced. Keep in mind management has a strong incentive in keeping the dividend as insiders as a whole own 25% of outstanding shares.
I added to my position on the drop.
Painted Pony Energy
Needless to say it wasn't a good quarter at the pony house. We learned Painted Pony raised money, again. This time, debt was issued to Magnetar Capital. It will get its fair share of returns, with a nice 8.5% yield. This yield, of course, reflects the risks of investing in Painted Pony.
Execution is still on pace and on guidance, which is what matters when you're pedal to the metal. Some of the cost inflation seen by other gas producers isn't affecting Painted Pony for now. As long as execution is on pace and costs under control, investors should be rewarded.
We need management's outlook: What will happen to production after the Townsend facility is filled? It just seems like the company is pedal to the metal even though the driver can't see pass its windshield. It's definitely not a time to race blind, as the current sentiment in the energy market is very bearish.
The current AECO futures pricing curve is very low.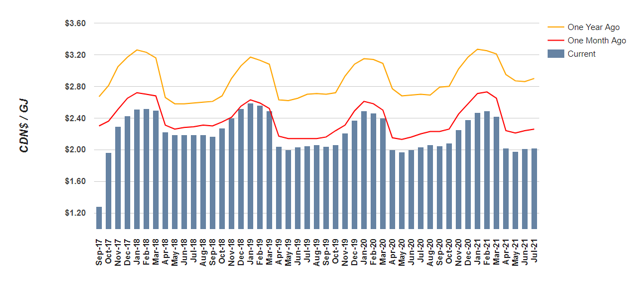 Source: Gas Alberta Inc.
There's a new sheriff in town: BC's new political coalition isn't helping to create a winning atmosphere for natural gas producers.
A combination of bad political environment, low futures pricing, and a very aggressive growth strategy (outspending cash flow) sent the stock to the cave.
Speaking of the devil, debt is piling up to drill all of those wells. Painted Pony will add another C$100M in debt until the end of the year, plus another C$75M in 2018, for total debt of C$425M. The higher debt level and the fear of seeing the credit facility cut in October means capital was needed (read senior notes at 8.5%).
But... What changed? Let's go back in time. Back in March, management believed the bigger credit facility unlocked after the UGR acquisition would be enough to execute the rest of the growth program. However, natural gas prices collapsed (Painted Pony is only modestly hedged). Cash flow from operations is lower because of depressed prices, and Painted Pony compensates with more debt. Leverage skyrockets as a result of both lower cash flow from operations and additional debt to compensate for lower natural gas prices.
I had a big position in Painted Pony after my first article on the stock in April 2016. I slowly sold some of my shares at the peak in late 2016 and early 2017. I sold a chunk when discovering how management was magically lowering its leverage in its presentation. Nonetheless, I am feeling comfortable to buy at C$3.60 per share. My position as a whole is still lower than that in 2016.
Point Loma Resources
Cash is scarce at Point Loma. Working capital is C$5.3M, C$1.8M by the end of the planned capital expenditures. The current capital program is far from what was planned in May (drill 4 to 5 wells) and in June (drill 3 wells). This is reasonable considering current oil prices and associated negative cash flow from operations.
Capital expenditures of C$3.5M are fully funded for late 2017 and early 2018. The company will drill two wells this fall, one in the Nordegg oil pool and the other in the Lower Mannville development. The two planned wells have higher liquids content and should be a cash positive for the company.
Keep in mind those production figures are for the first six months of production and are net to Point Loma.
| | | | |
| --- | --- | --- | --- |
| Well Location | Gas (boe/d) | Oil (bbl/d) | Total (boe/d) |
| Lower Mannville | 80 | 88 | 168 |
| Nordegg | 100 | 80 | 180 |
| Total | 180 | 168 | 348 |
Source: Company presentation and my own work
The two new wells will cost C$3M. Management is planning on spending the C$500K left by tying the new well acquired on August 8 (mostly natural gas) and working on reactivating behind-pipe production.
Behind-pipe production amounts to 580 boe/d. The Great Paddle River area will be brought online as soon as a deal is made with Tidewater Midstream and Infrastructure Ltd. This will add 330 boe/d of gas net to the company. The Thornbury area is expected to be brought online in the winter. In all, the company should hit 1,000 boe/d by late 2017.
This is where I am disappointed: Operating costs are still way too high, especially with Point Loma's production, high in natural gas. The key is to reduce costs and thus improve netbacks. Simply put, Point Loma has to get its operating costs down from the C$19 per boe level. If not, you simply can't compete with other producers.
I bought some more shares to bet that the activation of behind-pipe production will reduce those costs. I also want to ride the additional production of the two newly drilled wells. I will sell should I see no material amelioration by then.
Prairie Provident Resources
Management is working its way to building a cash machine, although it will take some more time because of lower oil prices. Indeed, Prairie Provident is slowing down capital expenditures to keep debt in check.
| | | |
| --- | --- | --- |
| Guidance | Original | New |
| Exit production (boe/d) | 7,500-8,000 | 6,000-6,500 |
| Annual production (boe/d) | 6,100-6,600 | 6,100-6,600 |
Source: Company press release and my own work
Nonetheless, the turnaround of the company is clearly reflected in the numbers.
| | | |
| --- | --- | --- |
| Financial | Q1 2017 | Q2 2017 |
| WTI ($/bbl) | 51.77 | 48.24 |
| Crude oil realized prices (C$/bbl) | 55.89 | 55.42 |
| Natural gas realized prices (C$/Mcf) | 2.97 | 3.00 |
| Natural gas liquids realized prices (C$/bbl) | 35.46 | 32.19 |
| Adjusted funds from operations (C$/share) | 0.06 | 0.06 |
| Net earnings (C$/share) | 0.02 | 0.01 |
Source: Company press release
Cash flow is very robust. Lower WTI prices were compensated by tighter differentials with Canadian oil prices. WTI is softer currently, but still within the same range as in Q2. Finally, management, by slowing its drilling, has shown discipline. The company is chugging along. I bought more stock.
The Stars Group
Clearly, the transformation of the company is finally complete. Who remembers Amaya? David Baazov, the controversial founder of Amaya, is gone. New management is taking over, including Rafi Ashkenazi, which is doing a good job focusing the company and executing its strategy step by step:
Renaming the company.
Tapping new talent with the appointment of new executives.
Focusing on repaying debt after the final deferred payment to Rational Group.
As we saw in Q2, online poker will experience very slow growth in the future. Nothing new there. Online casino is slowly adding users, while sportsbook is still a disappointment.
Leverage will be gradually brought down to 4X EBITDA by the end of the year and gradually to around 3X EBITDA in the long term. The strategy is going somewhat smoothly, but the stock can't shake its boringness.
Because online poker is boring, and online poker is still 70% of $TSG.
Laurent Cadotte, StockTwits, August 25, 2017
Yes, but it's not only that of course. There aren't new users to the Stars platform.
[...] we recorded approximately 2.1 million total quarterly active unique players on our platform in the second quarter, a decrease of 2% year over year.
Rafi Ashkenazi, CEO of Stars Group Inc., Q2 2017 Conference Call
It's not as bad as it seems. This decline is due to a decrease of players on the Full Tilt Platform. Excluding Full Tilt, quarterly active uniques would have increased 1% year over year.
Revenues are growing despite stalling users growth because the same poker players are spending money in the online casino. And, the online casino margins are huge, which affects the bottom line very quickly. In all:
The stock will remain boring while leverage is slowly reduced
Online casino has very high profit margins. Growth in online casino will substantially increase free cash flow.
Sportsbook growth needs to pick up.
I added to my position.
Conclusion
As you can see, despite some disappointments, namely Painted Pony and Point Loma, stocks are fundamentally doing good considering energy prices. The market is not rewarding those stocks, but it's good for us investors. Improving fundamentals and decreasing share prices means higher returns.
I said this in my last portfolio update:
I sold all overleveraged producers and non-high netbacks producers held in my portfolio.

I am now heavily positioned in the oil and gas sector with a strong presence in junior Canadian E&Ps with low leverage and high netbacks.

Those companies can survive at $50 WTI and thrive at higher prices.
Portfolio Update, March 17, 2017.
I soften this view slightly, with a bet on a combination of higher oil and gas prices in Point Loma. If fundamentals keep improving without the accompanying increase in share price, I will also start buying MEG Energy (OTCPK:MEGEF) again. Consider this a bet on the failure of the lower for longer scenario.
Hold on, energy bulls.
If you liked this article, please follow me using the link next to my name on top of the page.
Disclosure: I am/we are long GENGF, GXOCF, PDPYF, PRPRF, TSG. I wrote this article myself, and it expresses my own opinions. I am not receiving compensation for it (other than from Seeking Alpha). I have no business relationship with any company whose stock is mentioned in this article.
Editor's Note: This article discusses one or more securities that do not trade on a major U.S. exchange. Please be aware of the risks associated with these stocks.