By Gary Alexander
The Thomson-Jeffries Core Commodity CRB Index weighs 19 commodities, with a clear bias toward energy - crude oil earns a 23% weighting, while the other 18 commodities are weighted only 1% to 6%. Oil and natural gas prices are way down, so the CRB is down 7.6% for the year, but the metals are all up:

The recent surprise surge in industrial metals indicates a thriving global economy. Copper is at a three-year high and zinc is at a 10-year high. Aluminum and other industrial metals are also at multiyear highs, and iron ore is up 35% since the end of May (see WSJ, "Rally in Metals Signals Optimism," August 22, 2017).
Rising global growth is the major contributing factor to the rise in industrial metals prices. The IMF is now projecting 3.5% global growth this year and 3.6% in 2018, up from 3.2% in 2016. For the first time since 2007, all 45 major national economies surveyed by the Organization for Economic Cooperation and Development (OECD) are rising, even troubled Greece and Brazil. Most (33) are growing at a faster pace than they were growing a year ago (see WSJ, "Growth Takes off Around the World," August 24, 2017).
September is the Best Month for Gold and Silver
Over the last 50 years, September is the worst month for stocks, but September has also been the best month for gold and silver. There's a logical reason for this. Jewelry fabrication for a series of upcoming gift-giving holidays in several global cultures begins in September. Specifically, the two countries which generate 50% of global gold demand - India and China - celebrate major holidays in the fall and winter.
In October and November, India celebrates Diwali, the Festival of Lights, followed by India's wedding season, when it is auspicious to give the bride gold. "No gold, no wedding" is a common saying in India. Then comes Christmas in the West, when jewelry ads dominate the airwaves, followed by the Chinese New Year in late January or February, when gold is a widely popular gift. Then comes Valentine's Day.
Frank Holmes calls this series of family-oriented gold-giving holidays gold's annual "love trade."
Seasonal jewelry demand makes August to February the best time of the year for gold (see charts, below).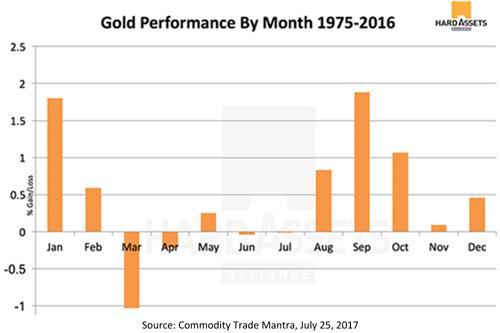 Graphs are for illustrative and discussion purposes only. Please read important disclosures at the end of this commentary.
Silver acts like "gold on steroids." It tends to go up or down with gold but in greater amplitude - rising faster in a bull market and falling faster in a bear market. Still, it follows the same annual pattern as gold, with September being the best month for both gold and silver (and January is the 2nd best month for both). Notice that silver is up an average 4% in September and 3% in January, while gold is up by less than 2%.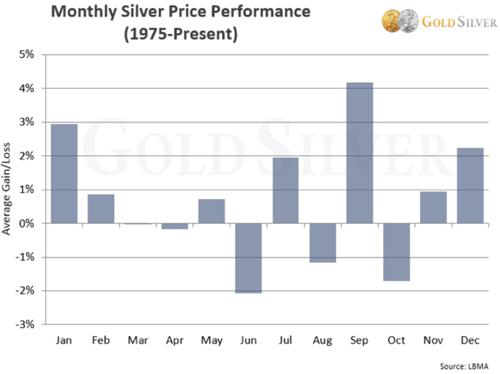 Graphs are for illustrative and discussion purposes only. Please read important disclosures at the end of this commentary.
I have been following the silver and gold markets for over 50 years, ever since LBJ took the silver out of U.S. coins in my college years. I wrote about the British Pound crisis of 1968 and wrote extensively about the hemorrhage of gold from the U.S. Treasury after 1968, leading to the U.S. dollar devaluation to gold in 1971. In the 1980s, I was managing editor of Gold Newsletter, but unlike other "gold bugs" I believe that the stock market is a superior source of long-term profits, while gold (to me) serves as portfolio insurance.
While gold bugs don't generally understand the value of stocks, the same is true in reverse. Mainstream stock analysts don't seem to understand gold. They compare gold to stocks and bemoan gold's lack of "earnings" or income. But gold does not compete with stocks. It competes with cash - it is a superior form of money. All forms of cash underperform gold, long-term. The U.S. dollar, the strongest surviving currency of the last century, is down 98.4% from a century ago and is off 97.3% since 1971 in gold terms.
Gold offers constant value, unlike paper money. At Freedom Fest last month, I heard a great example of this when one speaker said he ran into a former Treasury Secretary on the ski slopes of Vail, Colorado last winter. The Treasury official was complaining about the $165 ski lift ticket, but our speaker shot back, "I bet it's the same price in terms of gold." Together, they looked up the cost of ski lift tickets in 1967 - just $5. In terms of gold, it cost a constant one-seventh of an ounce of gold to ride a ski lift in 1967 or 2017.
Another example of Wall Street's lack of gold experience came in Friday's Wall Street Journal article: "Doubts Over Stocks Propel a Gold Rush: Yellow metal has gained 12% this year amid worries about debt ceiling, economy" (August 25, 2017). The Journal's main chart says: "Gold this year is rising faster than the S&P 500 for the first time since 2011, as investors resort to an investment that offers no claim on profits and yields no periodic returns..." Once again, the Journal compares gold to stocks and bonds, not cash. More important, they fall into the trap of thinking gold only rises on fear. Gold's "love trade" from September to February belies that simplistic conclusion. I think of gold as a response to prosperity, not fear. When millions in China, India, and elsewhere have extra money to invest, they tend to buy gold.
Gold can be a "fear" barometer at times, but that is a two-edged sword. For example, gold rose sharply over the saber-rattling in North Korea, then it fell when that threat of war receded. Over the longer-term, gold rises more due to global prosperity than fear, in my view. However, gold's peak six years ago (September 2011) centered around a debt-ceiling debate - a process that is about to be begin again - so either way, now would seem to be a wonderful time to consider adding gold and silver to your portfolio.
Disclosure: *Navellier may hold securities in one or more investment strategies offered to its clients.
Disclaimer: Please click here for important disclosures located in the "About" section of the Navellier & Associates profile that accompany this article.