We analyzed Fidelity's 13-F to determine its highest conviction bets (see Table), based on buy/sell size relative to market-cap, and percent change in position from Q3 to Q4. Thus, even though, for example, Fidelity bought $771 million of Wal-Mart stores (NYSE:WMT), that is not a high conviction bet as the buy is less than 0.4% of the current market-cap of WMT; conversely, its buy of $236 million of Fusion-IO (NYSE:FIO) is a high conviction bullish bet as it bought 9.7% of the outstanding shares of the company, and it almost tripled its position in the stock from the prior quarter (Please see at the end of the article for general fund description and holding statistics).
Based on that analysis, the following are Fidelity's highest conviction bullish bets in Q4 (see Table):
Michael Kors Holdings Ltd. (NYSE:KORS): KORS is a luxury lifestyle brand that markets accessories, footwear and apparel in 74 countries via a global distribution network that includes company-operated retail stores, leading department stores, specialty stores and select licensing partners. With $650 million or 7.4% of outstanding shares, this is the largest new position in Fidelity's portfolio for Q4. KORS just had its trading debut on the NYSE this past December at an offer price of $20, opening at around $25 for trading, and at Friday's closing price of $47.96, Fidelity has at least almost doubled its money on the stock. Even with Fidelity's giant well-diversified portfolio of about 2,900 positions, the return on KORS alone will generate between 50 and 70 basis points of return for the overall portfolio so far this year, which is no small achievement.
KORS just reported a stellar Q4 on February 14th, beating analyst earnings estimates (28c v/s 11c) and guiding March quarter forward EPS in-line and revenues higher; its shares have responded well, up over 40% since the report. They currently trade at 50-51 forward P/E and 23.3 P/B compared to averages of 14.7 and 3.5 for its peers in the apparel group, while earnings are projected to grow strongly at a 58.1% annual rate from 38c in 2011 to 95c in 2013. Of the nine analysts that cover the stock, all rate it at buy/strong buy; however, the stock is already trading at par with their price target of $48.
Ross Stores Inc. (NASDAQ:ROST): ROST operates 1,037 Ross Dress for Less stores®, the largest off-price apparel and home fashion retail chain in the U.S. and Guam, and it operates 88 dd's Discounts® stores in seven states that feature a more moderately-priced assortment of first-quality, in-season, name brand apparel, accessories, footwear and home fashion for the entire family. Fidelity added $925 million in Q4, its second largest buy in the quarter, to its $843 million prior quarter position, and it now holds 14.8% of the outstanding shares.
ROST has been arguably the strongest long-term performer among large-cap retailers, rising six-fold just in the past decade when many of its peers have flat-lined at best. Its shares are currently at all-time highs, trading at 16-17 forward P/E and 8.6 P/B compared to averages of 15.2 and 3.7 for its peers in the discount retail group, while earnings are projected to rise at 19.2% annual rate from $2.31 in 2011 to $3.28 in 2013. The company is scheduled to release its Q4 on March 15th before the market opens.
Other high conviction bullish bets by Fidelity in Q4 include:
SanDisk Corp. (SNDK), a manufacturer of non-volatile removable memory cards used in various computing and electronic devices, in which it added $272 million to its $814 million prior quarter position;
Fusion-IO , a developer of a storage memory platform for data decentralization, in which it added $236 million to its $116 million prior quarter position;
high-performance, low-emission engines and fuel injection systems manufacturer Westport Innovations Inc. (NASDAQ:WPRT), in which it added $100 million to its $51 million prior quarter position;
McDermott International Inc. (NYSE:MDR), a provider of engineering, procurement, construction and installation services to offshore oil & gas field projects, in which it added $82 million to its $98 million prior quarter position; and
broadband wireless network provider Clearwire Corp. (CLWR), in which it added $41 million to its $74 million prior quarter position.
The following are the highest conviction bearish bets in Fidelity's 13-F Q4 filing, based on that analysis (see Table)
Alcatel-Lucent ADS (ALU), the French telecommunications giant, that is a leading provider of telecommunications equipment and services to fixed line, wireless and Internet service providers, in which it cut $105 million from its $346 million prior quarter position;
Micron Technology (NASDAQ:MU), a leading manufacturer of semiconductor memory solution, including DRAM, NAND and NOR flash memory, phase change memory, and image sensors, in which it cut $503 million from its $975 million prior quarter position;
Denver-based independent energy exploration and development company Kodiak Oil & Gas (NYSE:KOG), focused on exploring, developing and producing oil and natural gas in the Williston and Greater Green River Basins in the U.S. Rocky Mountains, in which it cut $113 million from its $160 million prior quarter position;
Amarin Corp. (NASDAQ:AMRN): AMRN is a clinical stage Ireland-based global pharmaceutical group, which develops novel drugs for the treatment of cardiovascular diseases using its proprietary advanced oral and trans-dermal drug delivery technologies, in which it cut $60 million from its $115 million prior quarter position;
Nuance Communications (NASDAQ:NUAN), a developer of embedded speech and digital imaging software for customer service intensive industries, in which it cut $310 million from its $511 million prior quarter position; and
Transocean Ltd. (NYSE:RIG), a provider of offshore contract drilling for oil and gas wells worldwide, in which it cut $1.17 billion from its $1.41 billion prior quarter position.
Table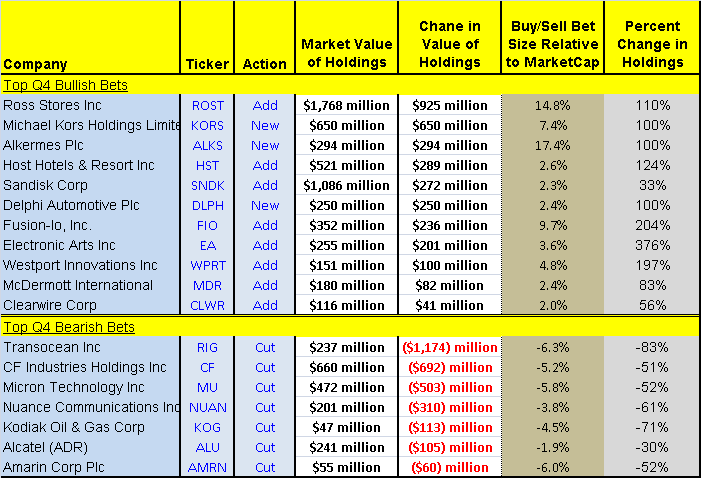 General Fund Description: Boston-based Fidelity Investments, or FMR LLC, is a global financial services corporation and one of the world's largest mutual fund companies with $1.5 trillion in assets under management, including $492 billion in 13-F assets in its latest Q4 filing. Founded in 1946 by Edward C. Johnson II, about half of the company is still owned by the founding Johnson family, with current Chairman Edward C. Johnson 3rd and his daughter Abigail Johnson at the helm. The portfolio is well-diversified into over 2,900 positions, with about two-thirds in large-caps, another quarter in mid-caps, and the remaining 10%-15% in small-cap equities.
Credit: Historical fundamentals including operating metrics and stock ownership information were derived using SEC filings data, Zacks Investment Research, Thomson Reuters and Briefing.com. The information and data is believed to be accurate, but no guarantees or representations are made.
Disclosure: I have no positions in any stocks mentioned, and no plans to initiate any positions within the next 72 hours.
Disclaimer: Material presented here is for informational purposes only. Nothing in this article should be taken as a solicitation to purchase or sell securities. Before buying or selling any stock you should do your own research and reach your own conclusion. Further, these are our 'opinions' and we may be wrong. We may have positions in securities mentioned in this article. You should take this into consideration before acting on any advice given in this article. If this makes you uncomfortable, then do not listen to our thoughts and opinions. The contents of this article do not take into consideration your individual investment objectives so consult with your own financial adviser before making an investment decision. Investing includes certain risks including loss of principal.