Welcome to my regular Sunday update where I look back at the content added over the past week, as well as several interesting reports/links or mention anything that would be of interest for you as a subscriber.
As per usual, I start with highlighting the companies that I added to the watch list and picking one or two favorites that might be the most interesting ones.


Note: The spreadsheet includes short commentary, basic fundamental information, and useful links, I have not included this so that one can view the watch list without the need to zoom in etc.
Note 2: As mentioned, this is only an excerpt, I have added 13 stocks to the OTC watch list that week.

This is a peculiar company focused on data and record management of federal governmental agencies. In short, it makes sure that all the data of the agencies is properly stored and searchable within a regulatory framework. Since its inception in 1968, it has several times changed its client base but was always mainly dealing with record and data management.

The obvious attractive features of the stock are the NOL base ($110 million) and its relatively strong business which generates a meaningful amount of cash flow. ANMP generated $0.7 million in operating cash flow in the past nine months, which compares well with the market capitalization of roughly $4.2 million. The margins that the company also routinely achieves are certainly interesting. It usually has a net income margin of above 10% (it even clocked in 20% in 2012). This means that the company is now trading around 12x P/E.

Thus, while the company now trades at a premium to tangible book (of roughly $2.5 million), it might still be a reasonable investment opportunity.
The main question connected to ANMP would be the state of its pension plan, which is its biggest liability. It seems that the defined benefit plan is severely underfunded, but the company does have a solid cash pile of $5.3 million which could be used to plug the hole if it is going to ever become a problem.

The other question would be aimed at the history of the business and how likely it is that ANMP will still have the opportunity to generate similar results. The focus of the company might not be that exciting as digitization is encroaching even into the notoriously 'inefficient' public sector, and thus, the services might not be as needed. The revenue stream seems to partially showcase this as it reported revenues of $16 million in 2012 but is likely to only report roughly $8.3 million in this year.

I can, though, imagine that, given the long history, the company might have built a fair amount of moat and that its revenue stream might not die off soon.

While I decided to highlight TTLO, many of the features that I am going to describe are also present in at least Amerityre (OTCQB:AMTY) and Environmental Tectonics (OTCPK:ETCC).

TTLO is what I would call a classic opportunity that relies on a catalyst connected to the operations of the company while the valuation is 'backed up' by a solid balance sheet. While these opportunities might be shunned by some investors as the thesis might not be as strong as in special situations or purely deep value plays, but I believe that they can be interesting.

I can use just one example that I have stumbled upon in the last week and that is Hickok (HICKA) which will make its way onto the watch list eventually. The company is producing several niche products (such as hoses) and has been trading as low as $1.40 per share in the last 12 months and, in past, has struggled to break even. After it won the settlement for $2.27 million from BP (NYSE:BP) regarding the Deepwater Horizon spill in 2016, it decided to buy a new subsidiary, and given the meaningful cash flow that it has showcased in the last two quarters, the company is now trading at $9 per share. I am not surprised to say that even after it won the settlement, the company was trading in the range of around $2 per share (which was not far off from the company's tangible book).

But back to TTLO. It is a company focused on niche electronic parts, most of which are connected to regulating voltage. I would say that these kind of businesses are likely similar to semiconductors where the margins are slim and revenue opportunities are not easy to obtain due to intense competition. TTLO has been able to earn a relatively stable amount of revenue, but profitability has been volatile due to slim margins that rely on flawless execution. The customer base is also similar to semiconductors as TTLO is mainly catering to military, aerospace, and industrial markets and is quite concentrated with the Department of Defense (DoD) being responsible for 54% of the revenue.
Lately, the company has hired new engineers, which increased the cost of operations, and the company recorded an increased loss compared to the previous year. This prompted a share price downturn in the recent months, which I believe could actually point to an opportunity.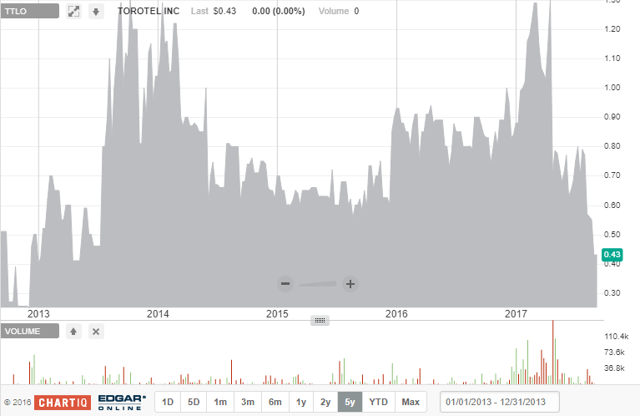 First of all, it is the reason for the operational weakness. The fact that it hires more people is not entirely negative. It could mean that the company thinks that it is able to win new contracts which will make use of this new team. At least the comments (taken from the latest 10K) tied to the backlog seem to point this way;

Our non-headcoil backlog as of April 30, 2017 as compared to April 30, 2016 decreased from $4.2 million to $3.0 million, a 29% decrease. This was due primarily to the shift in volume to long-term contracts. Despite the decrease in backlog, we anticipate that net sales for fiscal year 2018 will improve from fiscal year 2017. This is primarily due to the timing of newer program revenue that is projected to positively impact fiscal year 2018.

Secondly, if the operations can showcase return to breakeven, the valuation is likely unreasonable as the discount to tangible book is solid with the company's market cap being $2.5 million while the tangible book is around $4.9 million. The balance sheet is filled with account receivables and inventories, but given the past performance of the cash flow from operations, I believe that this should not be a significant issue.

The obvious question here is to assess the performance of the operations in the past and try to track any of the DoD contracts online, but I believe that the catalyst here could be tangible enough for investors to enter a position, especially given the margin of safety.

Last but not least, I have the following links to share;

Watch list for uncommon shareholder composition

While going through the OTC stocks, one can stumble upon various watch lists of companies which have been compiled by investors/analysts and include one or two stocks that I found to be possibly interesting. One such example is the following screen of 30 stocks with 'strange' shareholder composition compiled by Geoff Gannon, who has been covering the small/nano-cap space for a while now. He mentioned that a complex shareholder structure can usually lead to a value opportunity as the 'market' might not properly understand the situation or untangle the structure.

End of excerpt.

If you enjoyed this Sunday Update do not hesitate to reach out to me via SA in order to learn more about my OTC newsletter.
Disclosure: I/we have no positions in any stocks mentioned, and no plans to initiate any positions within the next 72 hours. I wrote this article myself, and it expresses my own opinions. I am not receiving compensation for it. I have no business relationship with any company whose stock is mentioned in this article.
Editor's Note: This article covers one or more microcap stocks. Please be aware of the risks associated with these stocks.