Once the emerging market darling of Wall Street, it is common knowledge that Brazil is facing its worst recession in history. Kicked off by the drop in commodity prices and fueled by the well-known corruption scandals involving high government officials, the dire economic situation in the country has been proving tough to overcome.
However, as more and more news come to light, the idea that Brazil has already seen its market bottom has begun to gain adopters.
If we take a look at the country's most traded ETF, the iShares MSCI Brazil Capped (EWZ), the fund has doubled in price since its Jan. 2016 low. But beyond this rebound, it's important to notice that this ETF has recovered all of its lost ground since an important event in the country took place.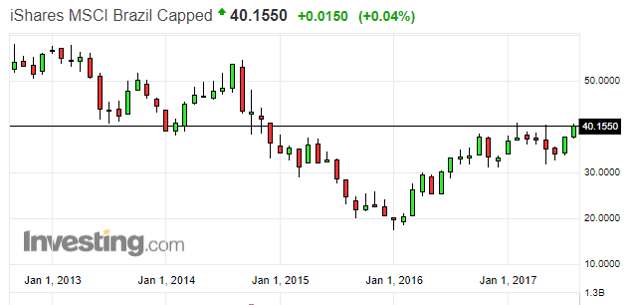 In late July, President Michel Temer managed to survive a massive corruption scandal, defeating the motion that would have put him on trial and forced him to step aside from office. This victory means that Temer has consolidated enough legislative support to ride out his term next year, and push his aggressive economic program.
The reforms
Temer is not just cruising though his presidential term. This president wants to reform taxes and labor laws, privatize behemoth state-owned companies, and also shake-up Brazil's pension system. All this before December 31 of 2018.
One recent step was passing a crucial labor reform. Under the new law, negotiations between workers and employers will be direct, allowing collective bargaining and reducing costly legal disputes.
Another big recent move was the privatization of Electrobras (NYSE:EBR), Latin America's largest power company. This transaction is meant to transform Electrobras into a corporation more like Brazil's aeronautics giant Embraer (NYSE:ERJ) or its iron-ore leading player Vale (NYSE:VALE).
Overall, the goal for Electrobras is to recover debt levels, boost profitability and resume investing in big energy projects, including with neighboring countries. The company holds a net debt of 23.4 billion Brazilian reais ($7.3 billion) as of June, which puts as the top raiser of debt on Fitch Ratings' Latin America ranking.
Regarding taxes, the aim is to make them more simple, homogenizing rules and rates between the states. The reform would act specially on ICMS tax, which levies on the movement of goods and services. This bill should be passing Congress by the end of the year.
All told, the hardest of all battles is certainly the pension reform. The current administration wants to cut pension benefits while making Brazilians work longer.
As imaginable, this attempt faces widespread opposition from other parties, and from the political class. And two thirds of the seats are needed in order to pass the controversial reform. Quite tough to pass, but not impossible.
The thesis
Beyond the rate of success in the latter endeavor, what is clear is that the country is doing the necessary things in order to allow for growth to really kick in.
Price action seems to point out that the probe on Temer was a major test, and the highest political figure in the country has passed it.
Given the result, from an investor's point of view, some Brazilian ADRs have started to show attractive prices. The country's major banks such as Banco Bradesco (BBD), Banco Santander Brasil (BSBR), Itau Unibanco (ITUB) as well as homebuilder Gafisa (GFA) could benefit from an uptick in activity levels given their current prices.
New wave of optimism
Adding to the recent political victories, some recent activity numbers are also quite encouraging.
For the past three consecutive months, Brazilian retail sales have been showing positive growth figures. This rise is quite important, as it comes after nine straight quarters of contraction. In fact, six out of eight publicly traded retailers have reported positive sales surprises, Bloomberg data shows.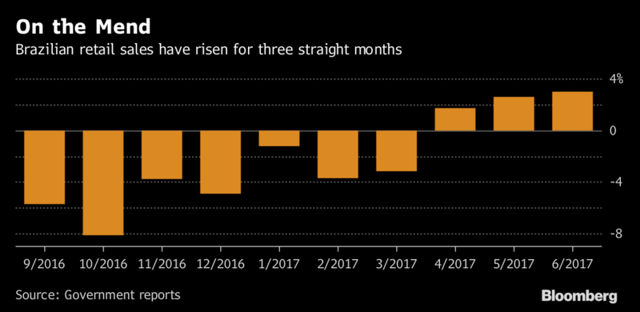 Although impressive, these good figures are partially credited to money released from the employee-savings guarantee funds, known as FGTS.
Starting in March, Brazilians were allowed to withdraw funds from these previously off-limit accounts, which hold 8% of employees' monthly salaries, in order to boost consumption.
By July, 41.2 billion reais ($13.2 billion) had been taken out, contributing to a 2.5% rise in retail sales, according to Rosenberg Consultores Associados.
Although temporary, this liquidity influx could work as a great kick start. If we add that the current administration has the green light to push a progressive reform agenda in a context of low inflation and low interest rates, the results could be impressive.
If you're interested in learning more, make sure to "Follow" me and you'll receive all my future articles.
Disclosure: I am/we are long PBR, GFA.
I wrote this article myself, and it expresses my own opinions. I am not receiving compensation for it (other than from Seeking Alpha). I have no business relationship with any company whose stock is mentioned in this article.