The devastating hurricane that is still creating havoc in large parts of Texas and to a lesser extent in Louisiana has been largely credited with a recent decline in oil prices, while the main story when it comes to energy remains the more immediate impact on gasoline, due to the refinery shutdowns. It is currently forecast to cause an increase ranging from 5 to 25 cents per gallon in the shorter term, but it remains to be seen what the real impact will be in that regard. Meanwhile, oil prices are declining as refineries that are offline are likely to cause a decline in crude demand in the next few weeks, or even months, depending on the damage done. The longer term effect on oil prices however could be positive, although it may come at a cost for some of the oil & gas companies operating in the affected region. Meanwhile, insurance companies as well as the government are looking at a huge reconstruction bill impact, which might not rival the financial costs and effects inflicted by hurricane Katrina, but it is certainly going to be one of the most costly storms ever. The economic, financial and investment impact of this storm is by no means negligible, therefore I think it is important to explore the probable outcomes of the storm's aftermath.
Offshore platforms evacuated, some possibly damaged.
By Friday, 86 of the 737 manned oil & gas platforms in the US side of the Gulf of Mexico were evacuated due to hurricane Harvey. It is more or less the reverse of what happened with hurricane Katrina where 75% of all platforms had to be evacuated. It remains to be seen how long it will take to get all those workers back, and it will also take a little while before we find out whether any of the platforms may remain off-line due to any damage that the hurricane may have inflicted. Depending on the final verdict in terms of the damage, we will find out whether the US oil production tally for the year was affected by millions of barrels, or perhaps tens of millions of barrels. Bottom line is that the market will receive less oil from the US offshore as a result.
Eagle Ford operations disrupted.
Unlike hurricane Katrina, the current disaster involves the disruption of a very important oil & gas field, which did not even exist as a significant factor back when hurricane Katrina hit. The Eagle Ford shale formation has grown since 2010, almost reaching the level of importance in terms of US oil & gas supply that the entire Gulf of Mexico offshore region currently boasts of. At its recent peak, Eagle Ford produced about 1.6 mb/d in crude and about 7 billion cubic feet of gas per day.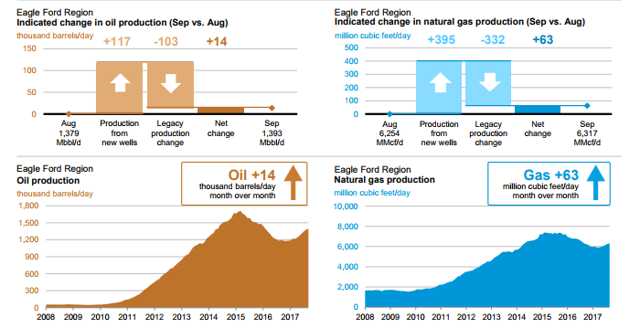 Source: EIA.
By comparison, total US Gulf of Mexico oil production is currently about 1.7 mb/d, while natural gas production is only half of what the Eagle Ford field produced at its recent peak. It is still unclear what the shorter and longer term implications of hurricane Harvey's impact will be on the Eagle Ford field, but we know that there has been a shorter term impact for sure. A number of companies announced that they suspended operations, including ConocoPhillips (COP), Baytex (BTE), Chesapeake (CHK) and Statoil (STO), which suspended rig activity ahead of the storm. Among the reasons, we have the issue of downstream activities ceasing, which makes oil production from Eagle Ford unnecessary.
One of the possible impacts to Eagle Ford may have nothing to do with storm damage to their production facilities or pipelines. All of that infrastructure may be spared, yet the producers invested in the field may still suffer a great deal indirectly if the refineries will remain offline for a prolonged period of time. I pointed out on many past occasions that Eagle Ford producers have suffered a great deal in terms of financial losses since the boom began in the field in 2010. In a recent article, I pointed out that collectively, they may have spent as much as $60 billion more on getting the oil & gas out of the ground than they earned in revenue from the sale of that oil & gas, since the boom started. While my rough estimate in terms of the size of the collective cumulative losses in the field may be off to some extent, which is something we could argue about, the fact that there has been a significant net loss is unquestionable. If on top of all these years of losses, we will now have a significant period of production disruption, due to downstream facilities being taken off-line for an extended period of time, it will potentially cost many of these companies the chance to survive for the longer term. many of them cannot afford any more financial hits, given that they are already on the brink and still taking losses on their operations.
Extended refinery outage scenario. Its potential impacts on gasoline prices and trade balance.
The current expectations for the impact that the current situation in Texas will have on gasoline prices is for this to be a relatively minor bump up in prices at the pump. It remains unclear however just how much damage to midstream & downstream oil infrastructure there is from the initial hurricane impact, as well as the seemingly endless flooding that is taking place. In the case of hurricane Katrina, it damaged 457 oil & gas pipelines. The surge in gasoline prices was in large part due to fears about refineries being out due to lack of power or because of flooding. Panic started to set in, so people started filling their gas tanks all at once, creating a sense of panic in regards to shortages. This time around there seems to be very little panic among people or on the market.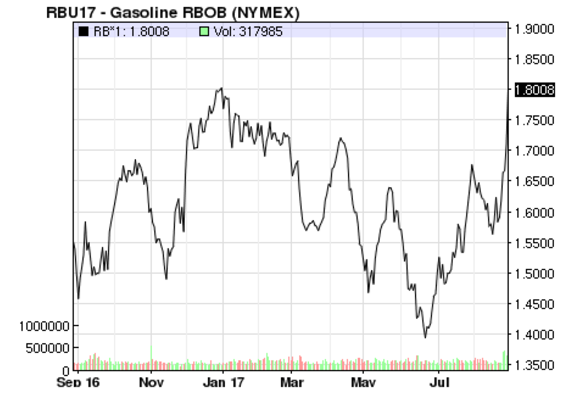 Source: Nasdaq.
As we can see, there is indeed a rally in the price of gasoline, but it is nothing out of the ordinary compared with other moves that happened on the gasoline market in the past year. Part of it has to do with the fact that inventories are still relatively high by historical standards. Another important factor is a general expectation of things returning to normal in the flooded area within a relatively short period of time. It remains to be seen how fast the ten refineries which have been taken offline since late last week will be brought back into full production mode. Currently, about a quarter of America's refining capacity is offline. If the refineries will stay offline for longer than currently expected, it may lead to a significant gasoline price spike at the pumps. That in turn would inevitably lead to an economic slowdown, if it were to persist for a prolonged period.
Another factor that would cause an economic slowdown would be the way it would affect America's trade balance. In the absence of adequate refining production in the US, the inevitable solution will be to import significant volumes of refined products from other places such as Europe. In effect, the US will end up switching from importing crude oil, to importing more expensive refined oil products. If this situation will persist for months to come, it will have a small negative effect on the trade balance, which by itself might not be a big deal, but combined with other factors such as the economic impact of higher gasoline prices, as well as other negative effects, it could contribute to an overall further slowdown in an already slow-growing economy going forward.
Third Quarter growth & beyond.
Previous major hurricanes that hit the US did in some cases lead to a slowdown in economic activity during the quarter when it happened.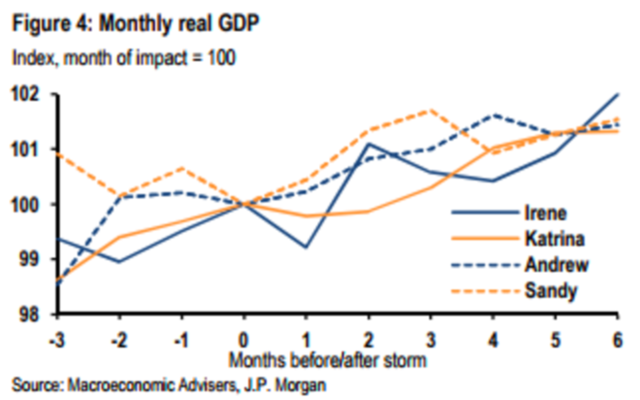 Source: Yahoo.
As we can see, hurricane Irene was particularly disruptive from an economic point of view, leading to an economic contraction, but then there was a significant rebound. With Katrina the effect was not as immediate, but the effect was felt for longer. When looking at all the factors surrounding hurricane Harvey, it is possible in my opinion that we will see a similar pattern as we did with Katrina, expect the effect will be deeper. One of the main reasons to expect this to be the case is due to the relative size of the regional economy that is currently being impacted. Louisiana's economy is currently estimated to be $216 billion, while the economy of Texas is over $1.6 trillion, with large portions of it currently being completely paralyzed. Assuming that only a quarter of the Texas economy is currently paralyzed, the loss in economic activity comes out to about a billion dollars per day. If the paralysis will be complete for another month, it means that as much as $30 billion in economic activity will be missing. That constitutes a 2% drop in total US GDP measured on a month over month basis. The disruption will likely continue for months after that, as many people will be displaced for a prolonged period and many businesses will be closed due to damage or other factors.
Beyond this initial negative trend, there is of course the rebuilding phase, which often leads to an economic rebound. If we look back at the chart, we see that within a few months' time, without exception the initial downturn phase is replaced by a boom phase. The reason for it is mainly because Federal aid and reconstruction funds flow into the area, giving rise to an increase in economic activity. In effect, it amounts to a stimulus program. Problem with these programs is that they do cost money. The federal deficit will likely grow significantly this year and next. It is yet to be determined by how much deficits will increase. Before the hurricane aftermath could be assessed, it was estimated that it will be perhaps the fourth or fifth most expensive storm in history.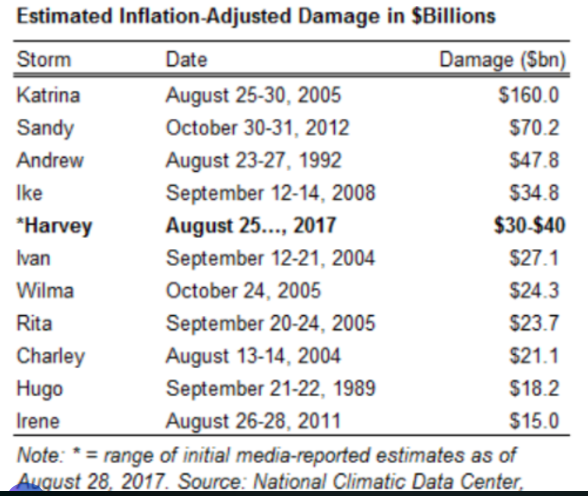 Source: Yahoo.
I personally think the magnitude of the damage will be more severe, which will add significantly to the US deficit. The reason why I believe this to be the case is because of the long duration of the flooding, which is likely to destroy far more infrastructure than we might expect. The economic disruption in the state of Texas is also likely to last longer than expected, because I believe the reconstruction phase will last a lot longer, especially when it comes to rebuilding public infrastructure and so on, which is essential to achieving a return to normality for the affected communities.
In conclusion, the storm is likely to have a relatively minimal effect on economic growth, once we factor in the stimulus effect of the reconstruction phase. It might be more net negative than might be expected, because of some of the factors I mentioned. The effect on US deficits and debt is likely to be larger than expected. Some people are inclined to think that these debts do not matter. I personally think that they do, especially now that the gross debt/GDP ratio is over 100%. It is a burden that just keeps growing in proportion. Some shale oil producers may end up running into financial difficulties as a result of the disruptions in the oil industry. Many of the Eagle Ford operators are already heavily indebted and struggling to make ends meet within the current oil price environment. A disruption in production can be disastrous, given the constant financial obligations that they have to meet every quarter. It remains to be seen for how long the disruption will last. A rebound in oil prices might be in the cards though, once things settle down, because after all, we are looking at a disruption in production, which will not be matched by a global demand slowdown. That should benefit some of the struggling Eagle Ford producers later on, as well as the oil & gas industry overall. The big winners of this tragedy might end up being construction companies and related industries, given that there will be increased demand coming as a result of the disaster. Retailers of all sorts should also see an increase in business as the affected families will look to replace their lost belongings. I hope and wish for all who are affected by this tragedy, a speedy recovery.