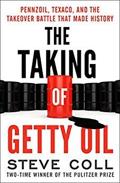 There are takeover battles and takeover battles. The Getty Oil-Pennzoil-Texaco battle in the 1980s was one of the ugliest and most litigious, finally resulting (thanks to Carl Icahn's shuttle diplomacy) in Texaco, on the day that it emerged from bankruptcy protection, owning Getty Oil and settling the Pennzoil lawsuit against it for $3 billion. In 1987, Steve Coll wrote a masterful account of the maneuvering for Getty Oil by a large, some still well-known, cast of characters. It has recently been republished - and is still a compelling read.
Coll, currently a staff writer for The New Yorker and dean of the Graduate School of Journalism at Columbia University, is the author of seven books, several of them winners of major prizes. A seasoned journalist who spent two decades at The Washington Post, Coll knows how to keep the reader engaged in a story, even one that's long (in this case nearly 500 pages) and complicated. For one thing, he uses a lot of dialogue. And he keeps the players in the drama, such as the "flaky" Gordon Getty, front and center.
I'm very glad that The Taking of Getty Oil was republished and that a new generation of business people and investors can make its story part of their knowledge base.