I was recently investigating the options for investing in preferred stock using the Schwab Preferred Shares Screener. This tool allows me to specify a variety of criteria for selection including current yield, ratings, sectors & industries, stated call, cumulative, convertible, and last closing price. Preferred stock generally offers high yield dividend payments coupled with a relatively (compared with common stock) stable price. The downfalls of this kind of investment include low liquidity and limited growth potential, aside from dividends. However preferred stock can make a great fixed income investment, especially considering the current bond market.
Preferred shares are often callable at a call price – usually the initial price of the security, which is often $25. I like to search for preferred shares that have a stated call and are currently trading for a price below the call price. This offers the added safety of a premium to your purchase price if the shares are called. If a preferred stock has a stated call date, this also suggests that the issuing company intends to buy back the shares at some point, which is a positive. I also like to filter for stocks that are cumulative. With this feature, when a company misses a preferred dividend payment, the skipped payments accrue and must be paid in the future to the preferred shareholders before any further dividend payments may be made to common shareholders. Convertible preferreds offer another possible advantage: they can be converted into common stock at a predetermined rate. This can be especially appealing for companies that have a potential for large amounts of growth. Owning a convertible preferred stock can give you exposure to this upside with more limited risk, while still collecting large dividends while you wait.
Preferred shares can be a less risky way to invest in the biotech sector. Common stock of biotech companies is notoriously volatile. The price fluctuations of preferred stock are usually less drastic than those occurring with the common shares. Coupled with a hefty dividend, preferreds offer a compelling way to gain exposure to this risky sector. Setting the screener to search for preferred shares in the Biotechnology industry, my search yielded two results that met my criteria: PPHMP and CYCCP. Both of these preferred issues are cumulative, convertible, have a stated call above the last closing price, and have a current yield (as of this article) of over 11%.
PPHMP is the Peregrine Pharmaceuticals 10.50% Series E Cumulative Convertible Preferred Stock. This stock had an IPO on 2/11/2014 of 700,000 Shares @ $25.00/share. Peregrine Pharmaceuticals focuses on the research and development of monoclonal antibody treatments for cancer. At the time of writing of this article, the preferred stock yields 11.68%, with a last trading price of $22.48. Let's take a look at the 1-year chart from Think or Swim. With a high of $23.73 and a low of $18.40, we can see price stability in the low 20's from October last year through January of this year, and the stock has been trading in the 21-22 range since March.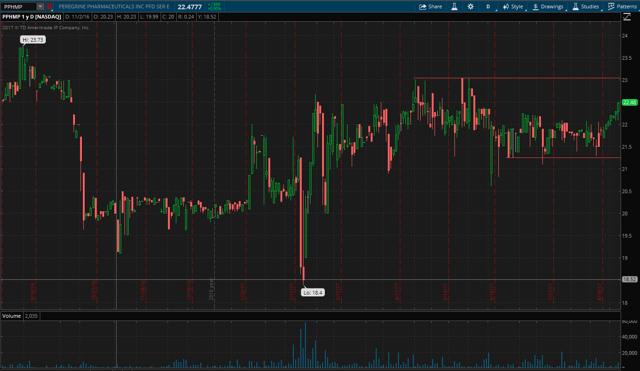 Now let's look at a chart of PPHMP since its inception. During 2016 we can see there were some huge price swings, with the preferred stock price reaching a low of $8.19. From these charts you can also see that volume is quite low.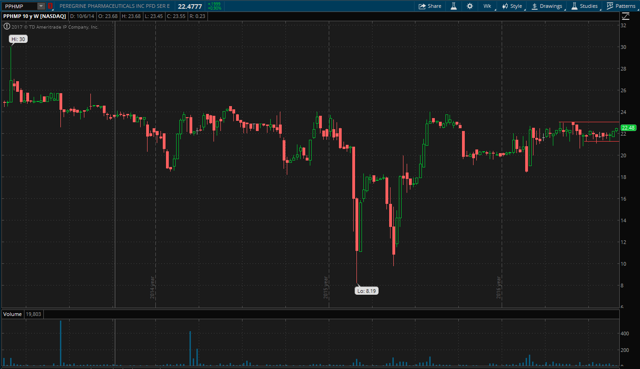 This is definitely a stock that I would buy with the intention of holding it for a long period of time. The best way to purchase or sell shares of this stock would be to examine price history and charts such as the ones shown here (along with shorter time interval charts) and to place good til' canceled limit orders at prices where the stock has recently traded at and/or where you would be comfortable buying or selling the shares. The next call date for these shares is September 24, 2017, but with the stock price below the call price there is no risk of a loss if the shares are called.
Now lets examine the common stock of Peregrine Pharmaceuticals: PPHM. The preferred shares of a company can often be influenced by the performance of the common stock of the company. Here is a 1-year chart of the common stock. Notably, there was a 1:7 reverse split in July.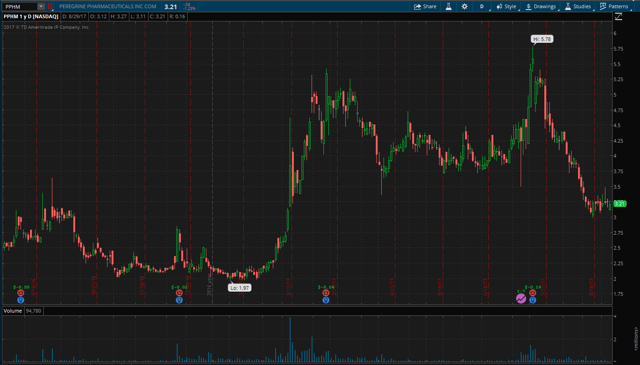 Now lets take a look at the 3-year chart.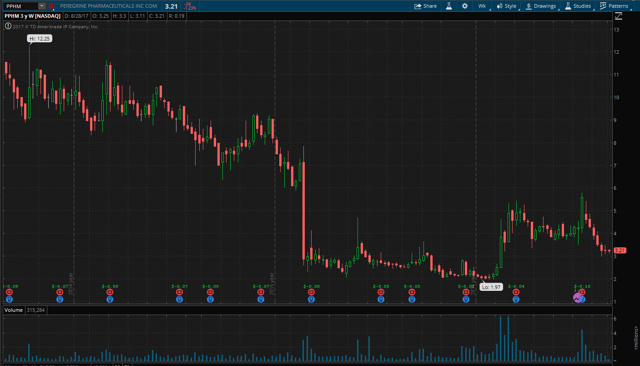 As you can see from these charts, PPHM is quite a volatile stock. There is a sudden drop in price in February of 2016 that coincides with the all time low of PPHMP. This drop was due to the failure of the company's lead drug candidate bavituximab's phase 3 clinical trial. Here is a link to the news release: Peregrine's lead product candidate flunks late-stage lung cancer study; shares plummet 63%.
One of the reasons I view PPHMP so favorably is because of the revenue generating manufacturing arm of the company, Avid Bioservices. Avid provides contract manufacturing services to other companies, including cell line development and commercial biomanufacturing. So far the research arm of the company, named "Peregrine," has not been very successful. However, in the event that they did reach a breakthrough, it is important to consider the conversion rate for shares of the preferred into shares of the common.
On the Schwab web page for PPHMP, the conversion rate is stated as "Cv into 8.33 of PPHM." This would suggest that one share of PPHMP could be converted into 8.33 shares of PPHM, and at current prices, this would be worth $26.74. My first thought upon seeing this was: "this is too good to be true." It seems the Schwab site is not taking into account the recent 1-for-7 reverse split. If we take a look at the press release for the July 10, 2017, reverse split, we can see that the reverse split:
...will also affect shares of common stock underlying stock options and warrants, as well as the conversion price of our 10.5% Series E Convertible Preferred Stock, that are outstanding immediately prior to the effective date of the reverse stock split.
As the prospectus for the preferred stock offering states that the conversion price is $3.00 per share, we can assume that the 8.33 conversion rate was the original conversion rate pre-split (25/3 = 8.33), and the new conversion rate is (8.33/7) = 1.19. This is much less attractive to us as investors and would require a common stock price of over $21 to make the conversion worth it.
The most recent news is that the company has cut its workforce by 20%, and is currently exploring strategic options for its research and development assets. This should reduce costs and could help sustain the dividend for the preferred shares, but the future of the company is uncertain at this point.
CYCCP is the Cyclacel Pharmaceuticals Inc. 6% Convertible Exchangeable Preferred Stock. This stock had an IPO on 10/29/2004 of 2.60 Million Shares @ $10.00/share. Notably, these shares have a call price of $10. At the time of writing of this article, the preferred shares yield %11.88, with a last trading price of $6.05. This is a significant discount from the IPO and call price, which might look like a bargain, but suggests that the market views this as a risky investment. Cyclacel develops anticancer drugs that act on the cell cycle. Let's check out some charts: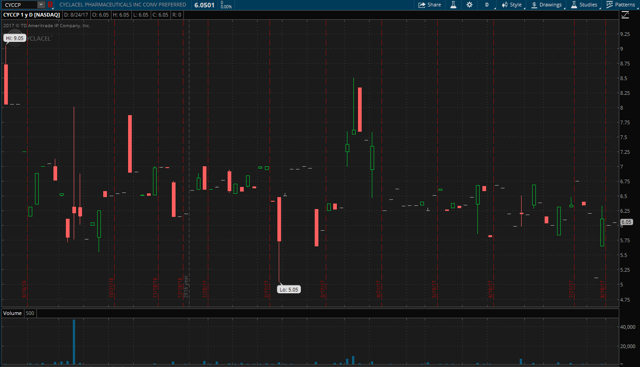 The one year chart demonstrates just how sparsely traded this preferred is. Volume is tiny and many days it looks like there are no trades at all. The price varies widely with a high of $9.05 and a low of $5.05.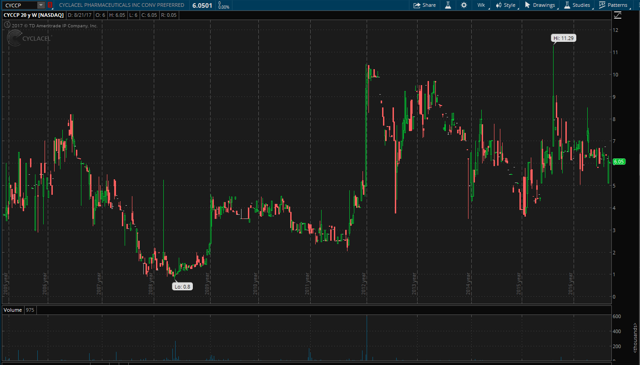 Here's a chart showing CYCCP going back to 2005. The IPO occurred in 2004 so this gives you some idea of the stock's price performance over its lifetime. (NB: Cyclacel used to be known as Xcyte Therapies, Inc., and the preferred was initially offered as XCYTP, with the common stock ticker being XCYT.) The stock reached a low of $0.80 in 2009, and has even popped above the call price twice, although very briefly.
Now let's examine some charts of the common stock CYCC. The one year chart of CYCC shows a highly volatile stock, with a high of $10.90 in April coinciding with the release of positive preclinical data for pipeline candidate CYC065. The sudden drop in price in late July of this year was caused by an equity offering.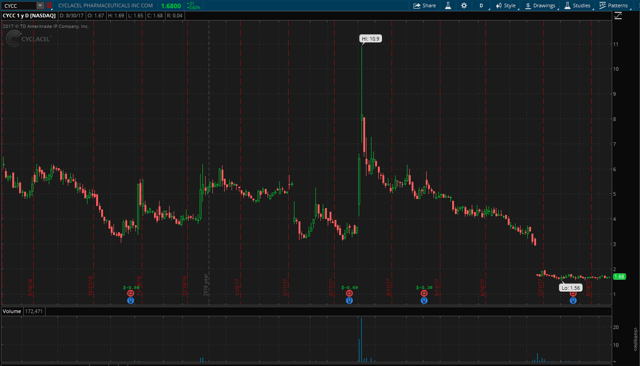 If we look at the 10-year chart, we can see high volatility and a steady erosion of shareholder value.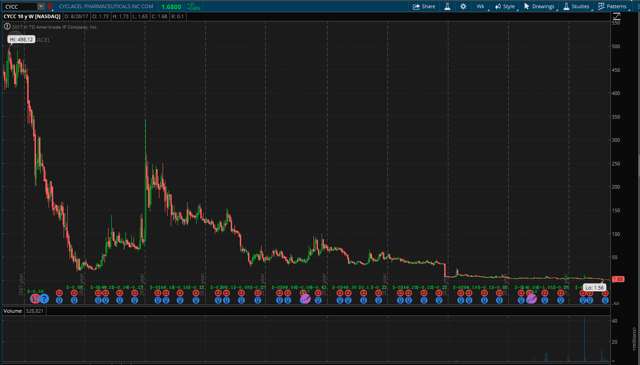 A history of consistent cash burn and losses, followed by equity offerings and dilution, as well as reverse splits, has not been kind to owners of the common stock.
The conversion rate for CYCCP is stated on the Schwab website as "Cv into 0.00507 of CYCC." This is extraordinarily low, giving us a current value for a converted preferred share of less than one cent. Let's see if we can verify this by looking at the prospectus and split history. The next call date for these shares is November 1, 2017. The preferred IPO prospectus states the conversion price as $2.35 and conversion rate as 4.2553 shares of common stock per preferred share. Looking at the Think or Swim chart and news articles from Seeking Alpha, I can locate two previous reverse splits. The first occurred on August 24, 2012, and was 1 for 7. The second occurred on May 27, 2016, and was 1 for 12. Accounting for these two splits, this leaves us with a conversion rate of .0507. Seems like one more 1 for 10 split would do the trick – lo and behold, I found this information from QuantumOnline.com:
March 28, 2006 -- Cyclacel Group plc announced today that it has completed the previously announced transactions with Xcyte Therapies, Inc. In connection with the closing, the previously announced one-for-ten reverse stock split was completed before the opening of the market on March 27, 2006 and the combined company was renamed Cyclacel Pharmaceuticals, Inc.
In this case it looks like Schwab's conversion rate number is accurate. The common stock would need an astronomical rally to make a conversion worthwhile.
Both of these biotech companies have had their ups and downs. Cyclacel is arguably in a worse position currently. Although Cyclacel has a much more active pipeline than Peregrine, it lacks the revenue generating stability that Peregrine has in Avid, and the threat of further dilution looms large. The price of PPHMP has been rising lately, however I believe this stock could be a good buy on pullbacks as part of a diversified portfolio. CYCCP seems a bit less safe of an investment, however it offers high yield and high discount to call price for its increased risk. Both stocks are also convertible to common stock. Although an increase in price of the common stock of these companies to the point where a conversion to common stock would be favorable seems unlikely to occur in the foreseeable future, I suppose it is possible. I do not recommend going long in the common stock of either company. If you are considering investing in any of the securities mentioned in this article, I encourage you to thoroughly research the respective companies and their research/development progress. I have only briefly touched on the operations of these companies in this article. I hope the article has given you some useful information. Thank you for reading, and feel free to discuss/critique or offer your own opinion in the comments.
Disclosure: I am/we are long PPHMP.
I wrote this article myself, and it expresses my own opinions. I am not receiving compensation for it (other than from Seeking Alpha). I have no business relationship with any company whose stock is mentioned in this article.