A few days ago, I wrote a few words about minimalism and how the typical millennial is rejecting the prior mainstream "bigger is better" mentality of consumerism. Minimalism is not just about going smaller. It's about improving your personal efficiency and providing the peak level of enjoyment and output.
The corporate world should be very familiar with these concepts. Efficiency is profitable. Wasted space and time is not.
Homebuilders may not be prepared for the millennial buyer. The evidence is in housing starts, which can't seem to pick up after many years of slow growth.
The reality, therefore, is that sales in coming months will not break out unless supply miraculously improves. This seems unlikely given the inadequate pace of housing starts in recent months and the lack of interest from real estate investors looking to sell." - Lawrence Yun, Chief Economist NAR
It was recently reported that the median home price of newly built homes was $315,000. This is a move-up market price, not a first-time Millennial home buyer price. Homebuilders like D.R. Horton, Inc. (DHI), KB Home (KBH), NVR Inc. (NVR), and Lennar Corp (LEN) are struggling to capture that Millennial market.
According to the National Association of Realtors, "limited inventory in millennials' price range, minimal entry-level condo construction and affordability pressures make buying in the city extremely difficult for most young households."
Taking a cue from minimalism, homebuilders should look to some recent trends to help design the home that Millennials desire. Here are a few of these design elements.
Efficiency
Obviously, the buzz has been around energy efficiency in recent years. However, Millennials may not just want solar panels (if at all). Instead, they might settle for elegant LED lighting, high-end efficient appliances, rainwater recycling, and sustainable building materials. They may prefer a concrete floor to something manufactured and placed over the floor.
This isn't just about global warming and all that. Remember that Millennials are money-savvy. They may be willing to pay more for high-end up-front costs that will save them money in the long-run.
Space Utilization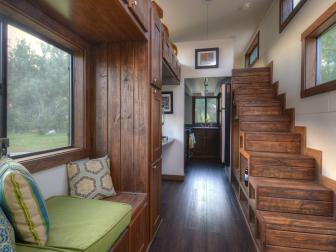 Walk in closets are so 1990. Sure that might be something a Millennial would want, but they also want efficient storage and no wasted space.
Great rooms are in. Dining rooms are out. A smaller home with efficient design will win the Millennial buyer.
Custom built-in storage solutions could make use of wasted space. (Like the storage built-in to this tiny house pictured above courtesy of HGTV.)
Millennials are aware of space usage due to trends and social media. Here's a sample heat map of space usage in a typical home. This type of information is thoroughly digested by Millennials who spend a great deal of time planning purchases.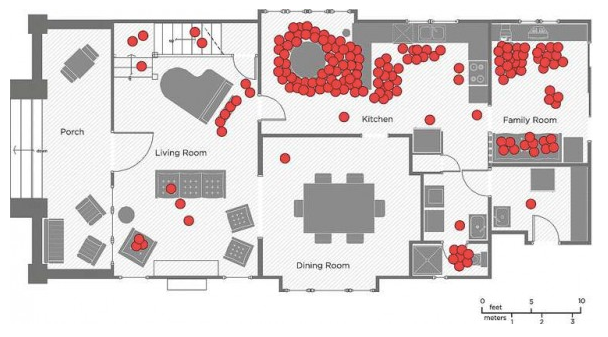 Connectivity
At the beginning of the 21st century, a lot of builders were doing things to try and make homes more connected. They may have wired ethernet to a couple of rooms in a house. Looking to the future, it's all about mobile devices.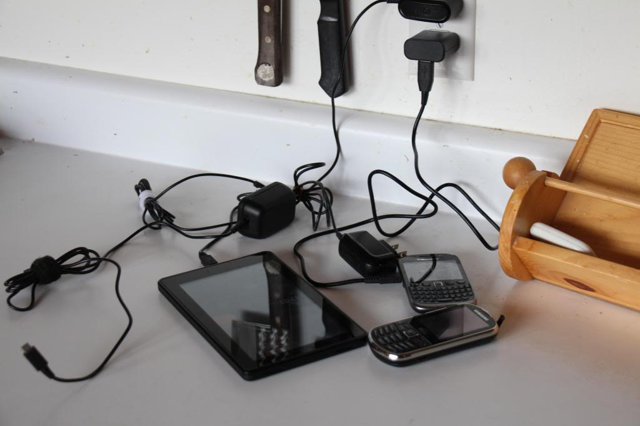 Finding a clever way to keep Millennials connected will win more of them as buyers. Small touches like USB outlets and hidden shelves would increase efficiency and draw in these buyers.
Access over Ownership
Research compiled by Goldman Sachs suggests that Millennials prefer to have access to services rather than ownership of goods. This may mean that they take an Uber or public transportation, rather than buy a car. Location of new homes built for Millennials should consider this desire.
How will we know when this trend is taking shape with new homes?
If homebuilders can address these needs, then they can tap that Millennial market. Here's some signs that they are finally catching on. Look for more centrally-located new home developments within a short distance of downtown. (Finding real estate may be a challenge.) These homes will be marketed as highly connected, sustainable, and efficient. The price tags will also be lower, as new home buyers can't afford the behemoths of the past. Of course the key result will be an increase in new home sales.