Today, I will be discussing my third buy of the month, which is Cardinal Health Inc. (NYSE:CAH). Their share prices have been declining in recent months. I find this opportunity to be a perfect time for investors to buy because of the recent acquisitions as well as CAH's growth in 2019 and beyond.
Let's get to it.
I added more shares to my portfolio with the purchase of Cardinal Health Inc.
18 shares @ $67.10 on 8/15/2017
This is my third purchase of CAH, and I currently own 52 shares. You can check out my whole portfolio on my website.

Fundamentals
CAH has almost 100 years of experience and employs about 50,000 employees in approximately 60 countries. They focus on providing medical products and pharmaceuticals that enhance supply chain efficiency from hospital to home.
Now we will look at how CAH has been doing for the past 10 years.
Note: CAH's fiscal year ends in June.
I like to first look at the top line and bottom line when looking at the fundamentals of a company.
Revenue grew at a compound annual growth rate (CAGR) of 4.51% from $87.408 billion in 2008 to $129.976 billion in 2017. The fiscal year 2018 revenue is expected to be around $137.04 billion. The following year, 2019, is expected to be $142.34 billion. Net income has actually been down from $1.3 billion in 2008 to $1.288 billion in 2017, which gives us a CAGR of -0.10% over this 10-year period.
Well, revenue has been growing at an OK rate. Revenue is also expected to continue to grow in the fiscal year 2018 and 2019. However, net income has a negative CAGR, which is not a good thing. We can actually see that their net margin has been decreasing. Currently, their net margin sits at 0.99%. In the industry, CAH's net margin is at the lower end when comparing to its competitors.
Here we see how thin their profit compares to revenue. Like I mentioned above, revenue continues to grow, but profit is either flat or decreasing.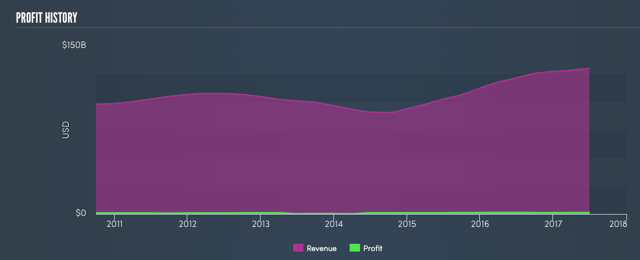 Source: Simply Wall St
So net margin is super compressed and net income has been decreasing every year. Why did I invest in this company?
Earnings per share (EPS) CAGR has been 1.36% for the past ten years. In 2008, CAH's EPS was $3.57, and in 2017, it was $4.03. Analysts expect 2018 EPS to be around $4.96 and in 2019 to be $5.56. Analysts also expect increasing EPS beyond 2019 as well. I agree with them because these increases have to do with the purchase of Medtronic's Patient Care, Deep Vein Thrombosis, and Nutritional Insufficiency segments. This is one of the reasons why I invested in CAH. I am a long term investor, and I see these purchases to continue to grow CAH balance sheet. This will absolutely help with the profit margin, in my opinion.
Furthermore, one of the reasons for the stock price to decline over 16% in a one-year time frame is because management has lowered guidance for fiscal year 2017 as well as fiscal year 2018. This has to do with the purchases of the companies I mentioned above as well as some other issues that I will talk about shortly.
Now on to the dividends!
CAH is a Dividend Contender (U.S. stocks that have grown dividends for the last 10-24 consecutive years). CAH has grown its dividend for 21 consecutive years. Its current dividend yield is 2.82% and its 5-year dividend growth rate is 15.3%. This means that CAH has a Chowder Rule of 18.12 (Chowder Rule is when you add the current dividend yield with the five-year dividend growth rate). Normally you want to look for a Chowder Rule of 12 or higher.
The most recent dividend increase was 3.01%, which was announced on May 3 of this year. This increase was much lower compared to its 3, 5, and 10-year dividend growth rate of 13.1%, 15.3%, and 22.7% respectively. CAH's dividend growth history is really outstanding. In my view, I don't see them increasing it at that same rate, but definitely at a high single digits rate.
CAH has a dividend payout ratio of 44.9%. The payout ratio is at a great level. Since CAH is expected to increase EPS going forward, this will lower the payout ratio by an estimated 14%.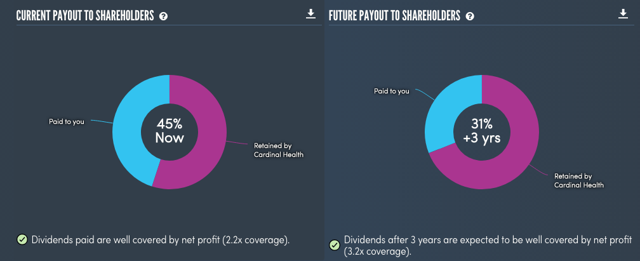 Source: Simply Wall St
So the dividend is safe and CAH will continue to increase it in the foreseeable future. Since CFRA is projecting a 10% EPS CAGR for the next 3 years, We might expect mid to high single digit dividend growth rate.
Risks/Uncertainty
With any investment there are risks. CAH is no different. Here I'd like to point out 2 different articles that talk about CAH's issues. One was written by Derek Getz and the other by Simply Safe Dividends.
One of the risks I have been reading is the fear that Amazon will start taking market share from companies like CAH. I see this as a non-issue, and I will continue to invest in CAH and hold for the long run. Another issue, that CAH is facing is generic drug price deflation. This is definitely a concern; however, the new acquisitions should offset this issue. CAH has a net margin of 0.99%, which has an extra benefit of scaring potential competitors and makes CAH scale-based advantage even more aggressive.
Yes, CAH is facing some headwinds, but in my opinion, they are short-term issues. I see this company continuing to make money and increasing its dividend for years to come.
Valuation
Now, how much should you pay for shares of CAH?
The normal P/E for 10 years sits at 15.4 as you see in the below picture from F.A.S.T. Graphs. CAH currently has a P/E of 12.3. CAH five-year P/E average of 27.3. This metric is a great sign that CAH is clearly undervalued when looking at P/E ratio.
Below is a picture from fastgraphs.com. Whenever the black line is under the orange line and/or blue line (depending on the situation for a particular stock), it is considered to be undervalued. You see that the black line is below both the EPS (orange line) and Normal P/E line (blue line). This translates that CAH is undervalued at current price level.
Base on this graph, CAH fair price is $74.15. This fair price value is based on the EPS multiple of 15. Looking forward, we see that the fiscal year 2020 will push EPS above $6.00 for the first time. All this information leads me to believe that CAH is indeed undervalued.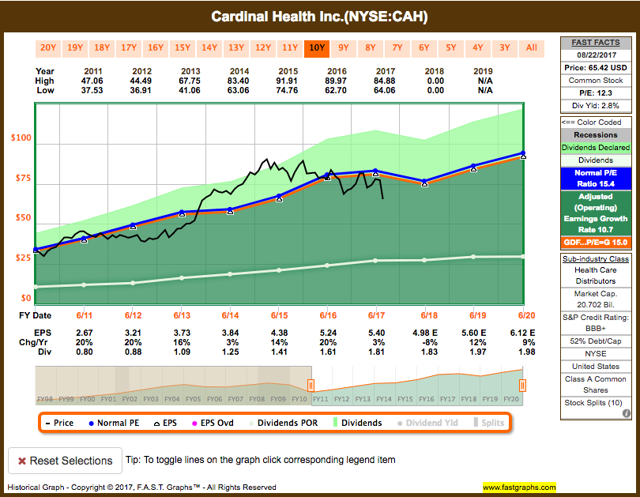 Source: FastGraphs.com
Another metric that I'd like to look at is the 5-year PE average. Which in this case CAH 5-year P/E average is 27.3. If CAH only moves to a PE of 14.7, we will be getting a total annual Rate of Return of 15.80%. This ROR happens if CAH PE hits 14.7 by fiscal year-end 2018. Now if CAH hits its 5-year PE average, we will be seeing an amazing rate of return.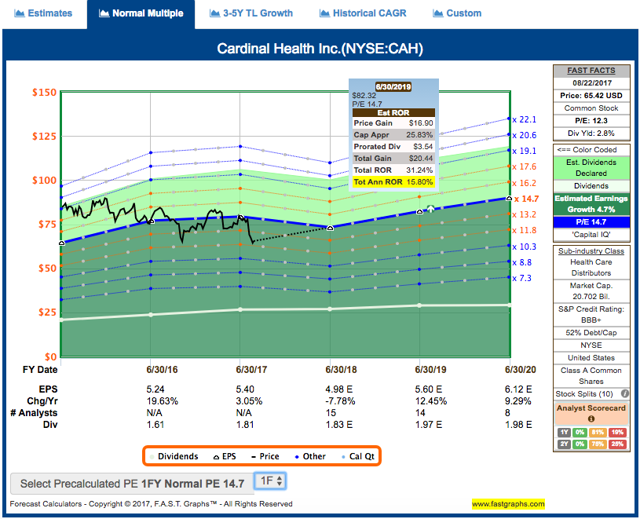 Source: FastGraphs.com
Another indicator I like to look at is the dividend 5-year average. CAH has a 5-year dividend average of 2.0%. CAH's dividend is currently at 2.82%. So we are getting a nice dividend yield with a great payout ratio. We also see here that CAH's dividend is the highest it has ever been. This is a great indicator that the stock might be undervalued.

Source: Simply Wall St

Source: Simply Wall St
So how much should you pay for this stock? My assumption of the DDM model is an 8% growth rate for the next three years. The years after that I give it a 7% growth rate. I also used a 10% discount rate.
My DDM Analysis: $67.80
CFRA Fair Value: $81.10
Fair Value from SIMPLY WALL ST: $119
Yahoo Analyst Price Target: $73.91
FASTGraps.com: $74.15 (using the EPS multiple of 15)
Averaging out the five fair price estimates gives us a fair value of $83.19 CAH is currently at $65.63. This means that CAH is 21.11% undervalued.
Conclusion
CAH is a great company with an outstanding track record. They had a rough 2017 fiscal year. 2018 looks to be the same with EPS expected to be lower than the previous year. However, EPS is expected to grow after 2018 and beyond.
I currently have 52 shares, and I plan to add more shares by using Scottrade FRIP.
With the purchase of 18 shares and the company paying a dividend of $0.46 a share, this will increase my annual dividend income by $33.12. My forward annual dividend income now stands at $4,091.90. You can check out my entire portfolio on my website.
These are just recommendations, and I recommend you to do your own due diligence before investing in any of the stocks listed.
Thanks for reading! If you like this article and would like to read similar ones in the future, please click the "Follow Link" at the top of this article.