Welcome to the weekly natural gas storage report edition of Natural Gas Daily!
The EIA reported a +30 Bcf change in storage, bringing the total storage number to 3.155 Tcf. This compares to the +46 Bcf change last year and +67 Bcf change for the five-year average.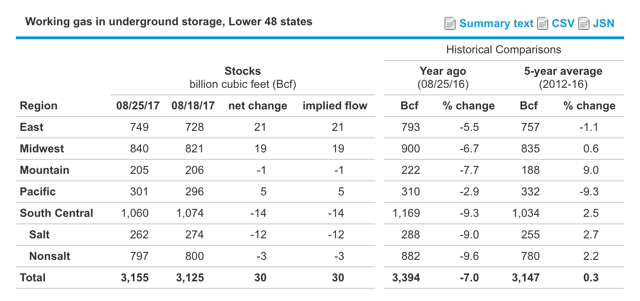 Source: EIA
Going into this storage report, a Reuters survey of 19 traders and analysts pegged the average at +32 Bcf with a range of +27 to +50 Bcf. We expected +29 Bcf and were 2 Bcf lower than the consensus average. We were off by 1 Bcf on this storage report.

Our estimates are currently 18 Bcf over the EIA's reported 3.155 Tcf storage figure, while consensus is off by 30 Bcf.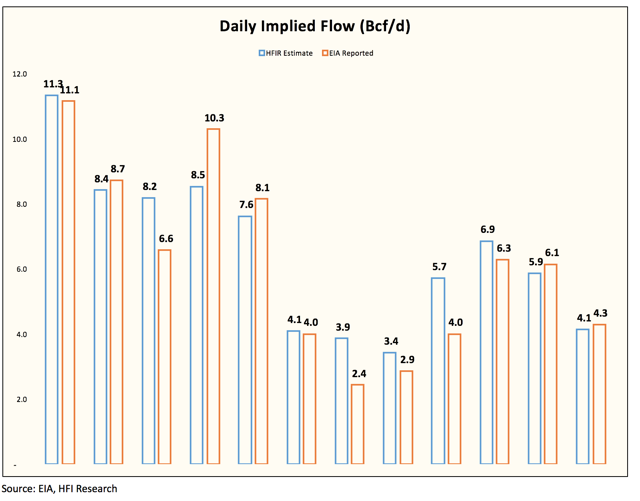 Looking at the implied flow chart, this week matched up to what we were seeing. In our natural gas storage report from last week, we said that the "stale price action in both directions is becoming frustrating or boring to watch." We pointed out two complacencies in the market today:
Consensus expects natural gas production to grow.

Bulls are calling for lower storage.
With storage now just 8 Bcf above the five-year average, it's irrelevant now whether storage will finish Nov. 3 at 3.85 Tcf or 3.73 Tcf. The 100 Bcf or so of difference isn't what's important for the traders; rather, it's the production growth estimates.
In today's EIA 914 report, EIA reported that overall natural gas production fell by 0.171 Bcf/d. The bulk of the decline came from a 0.954 Bcf/d decline in Alaska. Lower 48 production gained 0.782 Bcf/d month over month. Since the start of the year, gross production growth (excluding pipe loss) has totaled 2.988 Bcf/d. The 81.394 Bcf/d was higher than our estimate of 80.9 Bcf/d for June.
Over the weekend, we wrote a special report that detailed where we expect overall U.S. natural gas production to be by 2020. For readers interested in reading our detailed special report, along with getting daily natural gas fundamental updates, please see HFI Research for more information. For readers only interested in natural gas, HFI Research also offers a discounted natural gas only premium service. Please see here for more information.
Disclosure: I/we have no positions in any stocks mentioned, and no plans to initiate any positions within the next 72 hours.
I wrote this article myself, and it expresses my own opinions. I am not receiving compensation for it (other than from Seeking Alpha). I have no business relationship with any company whose stock is mentioned in this article.